Virginia
06.18.13
Blackburn Architects was retained to adapt this building from its original use as a candy factory into a center for the arts. The primary design goal was to preserve the character of the building's exterior two-tone brickwork and interior heavy-timber wood columns and beams while maximizing space for the new arts uses. The first floor contains an open gallery for exhibitions and demonstration activities. Second floor classrooms provide space for arts education. A 175-seat performance space on the third floor accommodates repertory and community theater productions, and the basement contains space for production and storage of theatrical props and scenery.
Client City of Manassas
Program adaption of a historic structure into an arts center
Completion 2002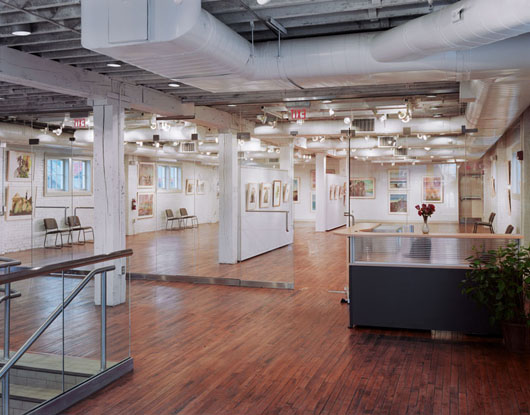 11.22.11
This private equestrian facility is located on rolling open fields in the heart of Northern Virginia's hunt country. Simple in design and functional in layout, the barn was conceived to meet the owner's specific program needs for the training of hunters and jumpers.
Program six-stall barn with attached enclosed arena and an elevated observation room, tack room, wash and groom stalls
Completion 2002
06.17.11
As a kid in Tennessee, I grew up around horses, though I had no interest in properly riding them. That I left to my twin sister, who kept her Tennessee Walker named Dixie in a neighbor's barn. For me, playing in the barn's loft for days on end in the summer was much more appealing.
I left Tennessee for Clemson University (B.A. Architecture, 1969), where I developed an interest in designing buildings inspired by context, environment, and function: I became a student of the philosophy that "form follows function." There was no doubt in my mind that I had left horses and the barn behind. After all, I never aspired to be an equestrian architect. I was a student of urban design. Ironically, over 25 years later, I earn a living designing equestrian facilities across the country. That is because a single interview changed my life.
Following graduate school (Washington University in St. Louis, M.A. in Urban Design, 1973), I relocated to Washington, D.C. in pursuit of its urban and robust economy as a place to possibly support a future architectural practice. My former colleague, Robbie Smith, and I began "moonlighting" on small side projects together and decided to create our own firm. As young architects, we'd happily take any project we could get our hands on. So, when Robbie received a phone call from a friend in the summer of 1983 about a fairly large potential horse project in Upperville, Virginia, we jumped. Forget that we had never designed a horse farm, or, for that matter, any other building of size of significance on our own. We had nothing to lose.
The Interview 
Preparation began for the big interview. We learned that the owner, Robert H. Smith (no relation to my partner, Robbie Smith), selected the renowned landscape architect Morgan Wheelock of Boston to plan the farm. Together, the owner and Wheelock sought an architect to design the farm structures to fit within the well-known Upperville and Middleburg, Virginia context.
Typically, during an interview you review your firm's portfolio of completed projects with the potential client. This was not an option for Robbie and me — we'd have to approach this interview differently. Since Robbie was from Middleburg, he was familiar with the area's building types. He spent a few days photographing various buildings in the area — forms, materials, and shapes — that represented Middleburg or Upperville in any way. Barns were certainly photographed, but we also considered residences, commercial structures, and other miscellaneous structures relevant. With plenty of images to inspire us, we selected a number of key examples. Many of these buildings were perhaps a hundred years old and probably weren't designed by an architect. However, we felt they strongly represented the area. We took the photographs and projected the slides on the wall of our small office, traced over them, and transferred the images to illustration boards to serve as our "portfolio" presentation.
I'm not aware of what the other interviewing firms presented, but ours did not include a single building we designed or were designed by any architect, for that matter. Our presentation documented the context of the area in a series of hand-drawn sketches — but, at least, if the owner's farm were to "fit" into the context, these were the shapes, forms, materials, and scale they should have.
We were hired immediately. Suddenly, we found ourselves with seven buildings to design with no staff in an unfurnished office space in a third-floor walkup in Georgetown — and we weren't about to complain. We were embarking on a project that would change our lives.
Horse Sense
Our client, Robert H. Smith, was a very successful developer in the Washington, D.C. area. While he had owned thoroughbred horses for several years, he stabled them at other farms or the track. Now he was ready to start a thoroughbred breeding operation, having acquired approximately 400 acres in Upperville, adjacent to the famous Rokeby Farm (owned by Paul Mellon) on one side and Route 50 on the other. Also included within the property were the grounds to the Upperville Horse Show, the oldest functioning horse show grounds in the United States.
Morgan Wheelock, the landscape architect, brought a background in designing horse farms to the project: with it, his theory that barn design, as well as the farm layout, should be driven by a paramount concern for the health and safety of the horse. The way the building is viewed and placed in the landscape, Wheelock believes, is as important as the design of the building itself. That's because both the farm layout and the barn design impact the health and safety of the horse; concerns possibly even more apparent when operating a breeding facility for thoroughbreds.
Barns are often perceived as dark, dusty, and uninviting buildings. However, it's also widely understood among equestrians that the best environment for a horse beyond the great outdoors is an environment that inspires just that. Wheelock bridged these inconsistencies with a design theory that focused on creating natural light and ventilation within the barn. It was a revelation. While the concepts Wheelock professed were simple, they worked — and beautifully — at our first barns at Heronwood Farm.
12.08.10
We just received a copy of Chris van Uffelen's new book called Re-Use Architecture from the German publishing house, Braun. This substantial book highlights adaptive reuse projects throughout the world: Blackburn's New River Bank Barn project is part of the stunning collection.
As van Uffelen asserts, building conversion is more relevant than ever as recycled and eco-friendly solutions are becoming the norm. It's a gratifying challenge for me to "save" an old barn or convert a worn out structure into something different while paying respect to its former use. I can't help but appreciate a book that makes showing off these type of projects a mission.
We've been fortunate to have received attention for the New River Bank Barn, which was a memorable and exciting project for our firm. I still can't help but feel proud when I look at the "before" photo of the 1800s bank barn, which was in severe disrepair. Most of the structure was preserved, but re-clad in SIPs panels to provide insulation and structural support. The SIPs panels are sandwiched between the original barn walls and a new board-and-batten exterior. The northeast-facing wall of the original structure was removed entirely and glazed, opening the interior to expansive (and very private) views of the property to the Potomac River. Steel columns were added and wrapped in indigenous fieldstone to support the new glass wall, which was designed with mullions that align with the original frame columns and purlins so that the framework fits aesthetically with the original structure.
Our work could only be done thanks to the owner's foresight to envision a new future for the old structure. I couldn't be more pleased to have been given the opportunity to "save" the bank barn, which now hosts gatherings and parties for the owner's friends and family. Re-Use Architecture is available at Amazon and major book retailers.
11.05.10
A few weeks ago, some of my staff and I were able to tour one of our recently completed projects, a new horse barn, arena, and residence (for which we did some renovations) in Marshall, Virginia. Marshall is located in the Northern Virginia piedmont, just outside of the well-known horse communities of Middleburg and Upperville. With beautiful, sloping land, the area is home to several farms, vineyards, and country homes.
The 8-stall barn has a lounge with an office on the second floor and an attached arena for the owner to practice dressage. I'm very pleased with how the new facilities have turned out and hope the owners are too. For more information on the scope of work, please see my previous post. [slideshow]
10.12.10
I'd like to pass along the following information from The American Horse Council for my Virginia, Maryland, and Washington, DC area readers.
The American Horse Council will be hosting a FREE Tax Seminar featuring Tad Davis on Thursday November 4, 2010 at 6 p.m. at the Tri-County Feeds in Marshall, VA.  This is an open invitation, so feel free to share it with other members of the horse industry so they can learn how current federal tax laws affect them and their equine businesses.  Please see the attached invitation for more details.
This invitation is also posted on the AHC website, so feel free to visit the Events Page on the AHC website for information.  We are asking that anyone that plans to attend please RSVP so w e can have an estimate of how many people to expect.   Please direct all RSVPs to Bridget Harrison at bharrison@horsecouncil.org or 202.296.4031.