"When you take a horse out of its comfort zone—the wild—it's your obligation to create an environment that protects its health and safety. A poorly designed barn can be worse than no barn at all." – John Blackburn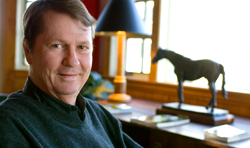 John Blackburn knows barns. As Blackburn's owner and senior principal for the past 25 years, John has designed over 150 equestrian facilities across the United States and abroad.
In his blog, Stable Minded, John rhapsodizes about the design process behind our horse barns and equine facilities as only he can. His blogs cover a variety of equestrian news and topics: from the story behind projects we've designed to equestrian and design issues, such as how to increase natural lighting in barns. For those of you with questions or comments about the nitty-gritty details we face when designing barns, John considers his blog an open forum to discuss what's on your mind.
If you're curious about the architectural process, like to view construction photos from start to finish, or have questions about how it all works, we invite you to read and comment at Stable Minded. It might not be literally straight from the horse's mouth, but we like to think it's pretty close.