Over the weekend, John Blackburn attended the 2013 Lisbon Christmas Horse Parade. The event first occurred in 2011, making Saturday's holding the 3rd annual occurrence. The parade benefits local Howard and Carroll County Food Banks and the Lisbon Volunteer Fire Department. The 2013 Lisbon Christmas Horse Parade was expected to be the most successful event since its inception with almost 120 entries, more than 600 horses, and over 70 sponsors. However, due to less than favorable weather conditions the parade had to be cancelled.
The weather did not completely end the festivities. Each year The Equiery puts on a Holiday Open House and 2013 was no different. During the open house non-perishable food items were collected for local food banks, patrons purchased wreaths for the Lisbon Fire Departments fundraiser, and a Vendor Gift Mart was held.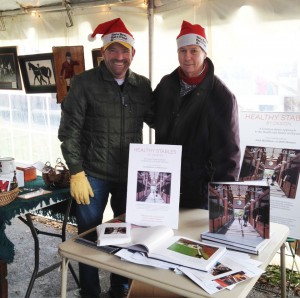 John was one of many who braved the cold and wet conditions to bring his book "Healthy Stables by Design" to patrons of the parade and open house. Despite a decrease in attendance John was still pleased to sell 6 copies of his book, raising $360, half of which will be donated to the Professional Association of Therapeutic Horsemanship (PATH) International's Wounded Warrior Project. "WWP's purpose is to raise awareness and enlist the public's aid for the needs of injured service members, to help injured servicemen and women aid and assist each other, and to provide unique, direct programs and services to meet their needs" (1). John also donated one of his books to the Howard and Carroll County Food Bank raffle.
During the event The Maryland Horse Industry Board presented its December Touch of Class Award (2). Ross Peddicord, the board's executive director, was on hand to present the award. He took some time to stop by John's table. The two are photographed above.
This event was John's final book singing event of 2013. While his book tour has, at times, been "long and tiring," John has found the entire process "rewarding." He raised over $7,000 for equine charities across the country.
Sources:
(1) PATH International
(2) Maryland.gov