The Lucky Jack Farm in Rancho Santa Fe, California has certainly held on to its namesake in the past year. The site played host to multiple charity events over the course of 2013 and the barn was selected for the cover of John Blackburn's book, "Healthy Stables by Design." The cover photo, depicted below, was taken by David Hartig.
On May 11, 2013, the owner's Patricia and Marc Brutten of Lucky Jack Farm hosted "Wine, Women & Shoes." The event, operating for the second year, featured "fashion, fine wine, and good cheer," and produced over $187,000 in donations and proceeds for Voices for Children. The nonprofit recruits, trains, and oversees San Diego County's court appointed special advocates (CASAs). These volunteers advocate for the over 5000 abused and neglected youth who pass through the San Diego County's foster system each year. The Voices for Children organization is the only agency of its kind designated by the Juvenile Dependency Court to provide CASA volunteers. Click here to view pictures from the event.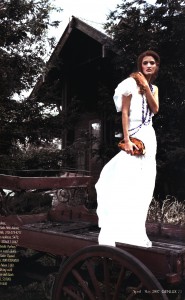 Blackburn Architects is proud of our design for Lucky Jack Farm and thrilled that the owner's are using the farm for such worthwhile and charitable purposes. We wish them well and another successful event in 2014.
Having designed well over a hundred barns and arenas over the past thirty years we have seen our designs provide the setting for numerous parties, receptions, fund raisers, weddings and settings for fashion magazine spreads such as the one at Lucky Jack Farm in 2013 and at Devine Ranch in Aptos, CA in the 2007 (see the photos from the April/May issue of Genlux Magazine below).
Though barns are designed for horses, they make great spaces for other events that can extend the benefits for more than just the horse and rider.  Think about it for your barn or arena.