Saturday, February 10th marked a celebration for two people at the core of Blackburn Architects—John Blackburn and his vibrant and very entertaining wife Jenni Blackburn. In recognition of the success of John's book Healthy Stables by Design and of Jenni's road to recovery from injury, over 60 of the couple's closest friends, family, and colleagues gathered in their Washington home to celebrate John and Jenni's success. Guests were treated to an impressive meal catered by Occasions Catering and an open bar. While the evening was full of fun, the couple did take a moment to thank the many people who played a part in their journeys.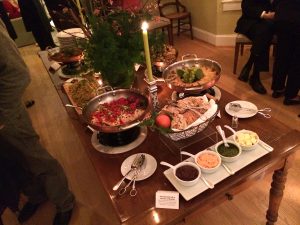 John shared that while he was apprehensive about writing a book at first he was very happy with the outcome and with the money he was able to raise for horse charities (all of the author's proceeds from sale of the book go to horse charities). During his moment of sentiment John shared this thought, "For 30 years horses have fed me—it was time that I fed the horses." Since September 2013 when the book was published, John personally sold about 300 copies of his book and raised $8,000 for equine charities. He also took a moment to note a major flaw in his book. As guests from the Blackburn office looked at each other in confusion John shared that he had forgotten to include in the acknowledgement of those who had contributed to his book the one person who had the most influence on the completion of Healthy Stabled by Design—his wife, Jenni, who stood by him throughout his 30 years of equestrian design and pushing him to get the book written.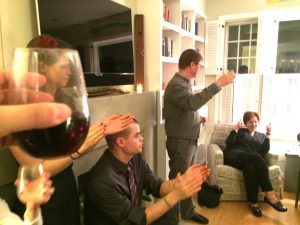 Jenni followed John with heartfelt remarks of a 7-year journey to recovery from numerous orthopedic injuries resulting from being hit by a car as a pedestrian in 2005, followed by two hip replacements (on the same hip) and a knee replacement, all on the same leg. Jenni recognized various friends, many who helped her along that road, from her best friends Kristin Eddy and Tinka Pritchett to her physical therapists Christina Stayeas and Nancy Menepace Wilson, her Pilates instructor Amber Yancey, her hair stylist Keith Spangler, and her manicurist Pascale Fernandez. While Jenni managed to bring tears to the eyes of many of the people in room she also made sure to inject her unique and undoubtedly hilarious brand of humor as well.
John and Jenni are two people who are passionate about life, horses (well, at least John), and who love to laugh. They keep the ship that is Blackburn Architects afloat and sailing smoothly. We all wish them continued success, healthy, and prosperity.
By Staff at Blackburn Architects