Pat Raia's recent article about the California barn fire blamed on exploding manure raises legitimate concerns about the dangers of improper waste management.  Standing piles of manure contain rapidly reproducing bacteria and methane gas build up (as the internal temperature rises you might see smoke rising off the mounds!). The impending "explosion" could ignite any combustible material in proximity to it and you could be left with a devastating mess similar to the California barn fire.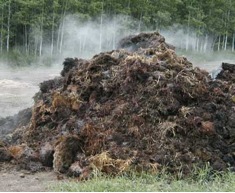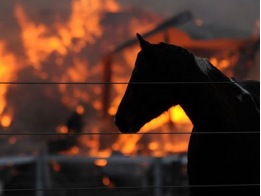 Manure storage in the barn is a fairly rare occurrence in my experience and I agree with the recommendation that it should be stored outside and away from the barn. Not only to reduce the catastrophic events that could be caused by spontaneous combustion, but also to prevent flies, mosquitoes, and odors (not to mention the unnecessary risk to the safety of the horses from outside service vehicles and haulers tending to it). I find that most people store their manure in a dumpster or muck pit. As an alternative, I recommend and frequently specify a composting system close to the barn. A composting system like O2Compost is great and can be designed to accommodate large to small horse barn operations.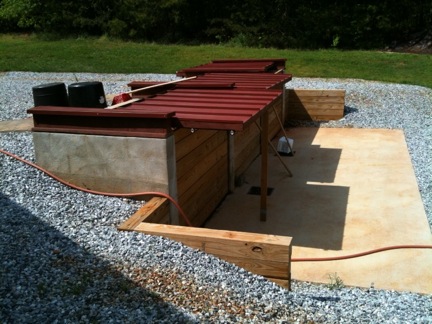 They're also compact, customizable and can quell the influx of flies and mosquitoes. The heat created by the decomposing manure "cooks" it until it is reduced to a manageable amount. It can then be used in more productive ways such as providing fertilizer for the farm and paddocks (the cooking process has killed the harmful bacteria by this stage) and preventing weeds. Always be cautious, though, when handling or transporting waste materials so as to avoid mixing with other combustibles. This could increase your risk for fire as well. Most farms do separate them because the hauler typically objects to combining other trash with manure.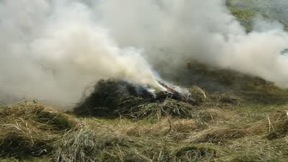 Spontaneous combustion is not limited to manure, however. Hay is a serious factor where barn fires are concerned, in my opinion. It is all too frequently stored in improperly ventilated barn lofts where it can easily ignite. Unfortunately, many owners house their horses alongside hay storage and have no idea how potentially deadly it can be. They think it won't happen to them. With daily convenience in mind, I usually design a ventilated, isolated area to accommodate only a week's worth of hay storage at a time. Generally, hay should not be amassed in lofts, but whenever it is stored there it should only be in small quantities. Special precautions need to be taken such as installing alarm systems and reducing exposure to electric lighting and equipment. I recommend natural lighting through a skylight or clerestory windows. I strongly encourage installing a sprinkler system in the barn. I know it's expensive but think of it this way, " can you afford to lose your barn, your horses, and everything else in there?" It may be worth the investment considering what's at stake.
I want to thank Pat Raia for writing the article, as it will, hopefully, raise our collective consciousness to the presence of latent hazards around the barn.Whenever designing for horses, my goal is to find every way possible to make the barn (and the entire farm for that matter!) a safe and healthy home for them and their handlers.
John Blackburn, AIA, Senior Principal at Blackburn Architects, P.C. and author of Healthy Stables By Design has over 35 years of experience in the practice of architecture. He is responsible for the overall firm management. His award-winning designs include a full range of project types and services, from programming, existing facility evaluation, and master planning to new construction, adaptive reuse, and historic preservation. Please contact him here