I had the pleasure of attending the 2nd annual Equus Film Festival in NYC recently, an event that Blackburn Architects sponsored last year and again this year.  Included in this year's line-up of activities was a tour of the Clinton Park carriage horse stables. Until just recently I had not had the opportunity to explore the city stables so this was my first visit. It was something I had long been looking forward to especially given the controversy surrounding the horse carriages. Now having toured the facilities, I thought I'd offer my perspective as an architect who specializes in the design of safe and healthy horse stables.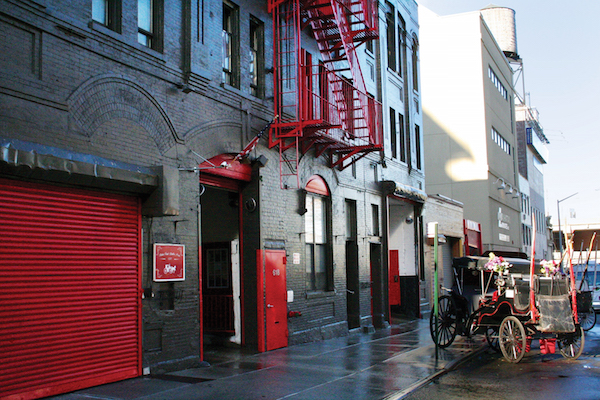 Having heard and read tales about the conditions the horses were living in and being an adamant proponent of horse health and safety, I was anxious to see the stables for myself and determine from my own expertise if or how the stable conditions contributed to or confirmed these claims of abuse.  The tour was lead by carriage driver and working horse advocate, Christina Hansen.
Clinton Park is the largest stable of the city's four. It was built in the late 19th century and has operated as a stable for horses serving the City since it was constructed. It is currently owned by a co-op of carriage owners. It houses over 70 horses and over half of the city's 68 carriages. The first floor is strictly "operations" and includes storage for carriages, maintenance for equipment and a couple small offices. Ramps lined with rubber mats lead to the 2nd & 3rd floor areas where the horses are kept. All the stalls are at least 60 sq. ft. or larger and each contains a fan and an automatic waterer. Considering the size of the carriage horses, I'd say the stalls are on the "cozy" side, but not alarmingly so. The stalls are mucked twice a day and the stables are attended to by at least 3 personnel 24/7.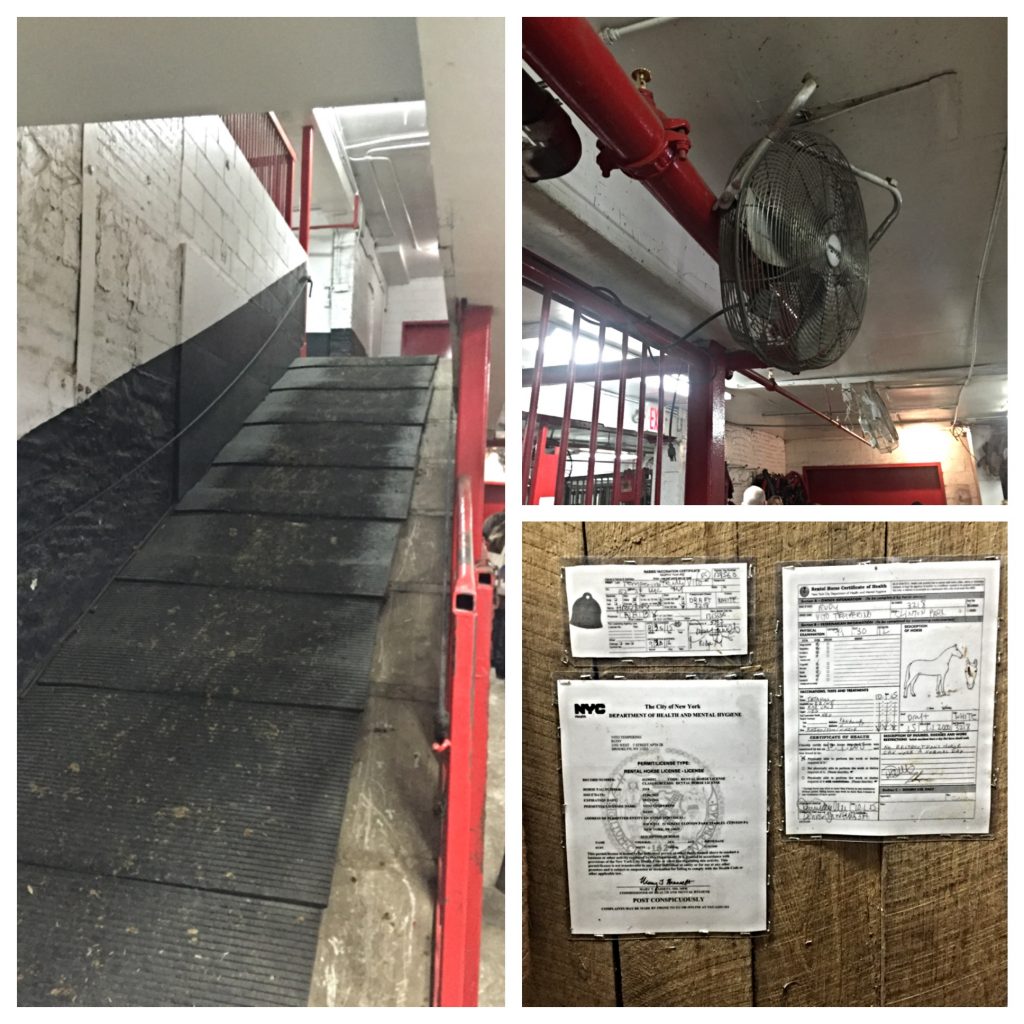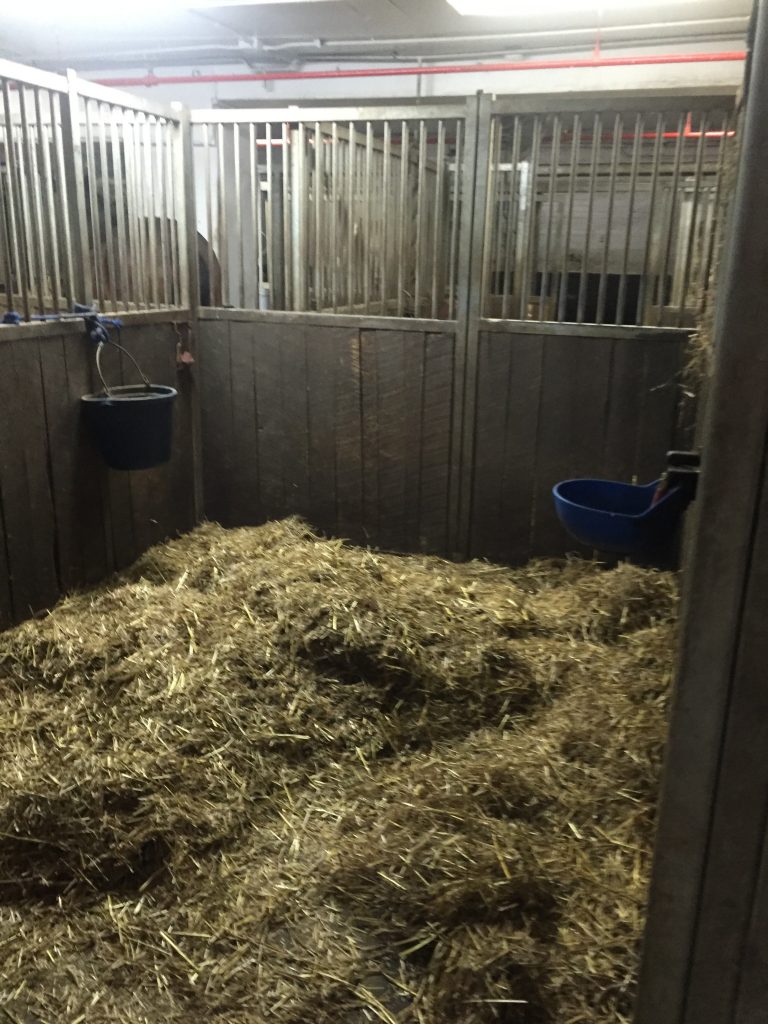 My tour took place during the fall (November), so I can't attest to what the facility is like in the dead of winter or the heat of summer.  However, I was impressed with the efforts and procedures put in place to provide adequate ventilation for both seasonal extremes (good ventilation is critical to the health of the horse in all types of weather.)  Furthermore, I was pleased to learn that the horses work on a rotation schedule where they are sent to the country for four to five months out of the year and work the remaining months – a work schedule many humans would love to have. Sign me up!
I've read recently, that Mayor de Blasio has modified his position on eliminating the horses all together in favor of reducing their numbers and confining them to Central Park. I've been a vocal advocate for horse activity to continue in New York City and have stood by the NYC Carriage Horse drivers in their pursuit to remain in operation. Like Mayor de Blasio, I too feel Central Park would be a great option to house some of the horses, however I don't support the idea of reducing their numbers. This visit has given me a new perspective on the current carriage horse stabling and I feel they should remain in operation. I do feel that Central Park, as a prominent tourist destination, could benefit from being "friendlier" to equine activity. More riding trails, expanded carriage lanes, rubber standing mats for carriage horses while they wait for patrons, and maybe a "living museum" or educational event that pays tribute to the city's equine past are just a couple ideas to get started on expanding the Park's equine amenities.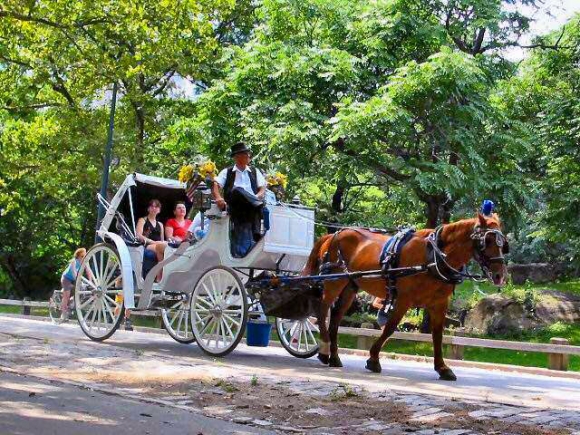 As for the existing stables, I did not witness conditions that I would consider detrimental to the horse's health or safety.  In fact, I was quite impressed by the care and concern that the horse owners, drivers and other handlers provide the animals.  Sure, they operate out of an historic structure that could use significant physical improvements, but in my 30+ years of experience designing for horses, I have never encountered an occasion where a horse required "new" finishes, fresh paint, or other nice finishes that humans enjoy. A horse's basic needs (light, natural ventilation, quality feed, comfortable/ clean bedding, regular exercise, etc) are what need to be met and I feel the Clinton stables provide that. I would, of course, be happy to provide recommendations for improvements should the owners ever want to upgrade. The stables embody a lengthy heritage of metropolitan horse stabling and continue to operate safely and effectively to that purpose.
Ultimately, we need to support the horse carriage industry and encourage more use of horses in the city, not less. I remain adamant in my concern for the protection, health and safety of all horses in all activities and I continue to fight for the preservation and expansion of equine related activities in everyday life (riding, showing, therapy, sport, etc).