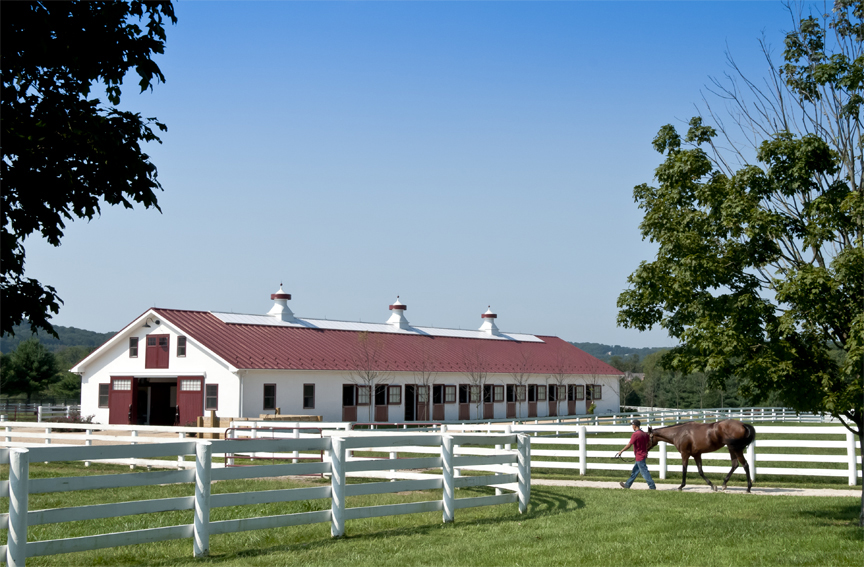 Might seem unlikely, but the designers at Blackburn Architects care about pastures. We think about them a lot.
For instance, did you know that now's the time to sample your pastures for soil fertility? Early spring and fall are the best times to take these samples, according to the University of Kentucky College of Agriculture, Food and Environment, which released the article, linked below, last week. The article recommends sampling the top four inches of the pasture, and dividing large pastures into "sub-pastures" for sampling based on the varying topography.
"I Recommend that any horse owner in the United States contact their local Soil Conservation District (SDC) for advice in their specific area," said John Blackburn, Senior Principal at Blackburn Architects in Washington, DC. "SCD's are one of the best services provided by the Federal Government to farmers and in most cases the services they provide are free. Some pay you for installing and pursuing Best Management Practices. By definition, Conservation Districts are "government entities that provide technical assistance and tools to manage and protect land and water resources in the United States. There are more than 3,000 in the United States. Depending on the state, they may also be known as soil and water conservation districts, soil conservation districts, resource conservation districts, or other similar names. Nationally and within each state, the districts are generally coordinated by non-governmental associations. District borders often coincide with county borders."
http://www.thehorse.com/articles/38847/fertilizing-cool-season-horse-pastures
From concerns such as pasture maintenance to siting roads and structures on a property, many people contact us who are unsure of when and how to begin working with an architect. Teaming with a property owner to master plan their site, either for the first time (no structures on a blank canvas) or "redefining" an existing property (which may not be planned for best use practices), is part of the first phase of work performed by Blackburn Architects. With an equestrian architect, you're purchasing a service rather than a product. The architect is there to resolve the needs of the owner, from overall site planning, programming, phasing, and design to overseeing the entire construction to make sure the barn is built as intended.
Typical services we provide include:
Pre-purchase planning. Prior to purchasing a farm, we work with clients to "test fit" the property against their program needs and to look for possible siting or property issues (wetlands, environmental restrictions, siting grading concerns, code issues, sufficient acreage, etc.)
Site planning: can reduce infrastructure costs (fewer roads, less fencing, better drainage, etc.) and improve the site to function at its best for your needs.
Programming: ensures that the whole farm (not just the horse barn but the entire collection of structures on the site, if applicable: residence, guest house, caretaker's quarters, hay/bedding, vehicle storage, etc.) operates efficiently and safely.
Code analysis: certainly the codes vary across states/municipalities. We've designed horse stables in counties with very specific codes and regulations and understand what to look for and how to work with the various officials to resolve issues. The architect can save you a lot of hassle!
Budget Development and Cost Control/Scheduling: I like to develop a budget as early in the process as possible and revisit it periodically during the project. My job is to determine if the owner's programmatic needs and budget fit the site, and if the design aesthetic suits their personal design goals. We can also plan to develop the barn or various structures in phases, if applicable.
Conceptual Design: Here we develop the character and massing of the structure(s) and prepare a preliminary floor plan and elevations to illustrate our ideas. At Blackburn, this is the final phase of what we call Master Plan Services (site plan, written program, conceptual design, and preliminary construction development). From here, we move on to more detailed design work.
Schematic Design: After we complete a master plan that works well for the owner, we begin to prepare detailed drawings to give you an idea of the layout and general appearance of the barn (and possibly other buildings). We'll talk about finishes, materials, stalls, tack rooms, etc. For a lot of people, this phase of design is the fun part!
Design Development and Construction Drawings: Here we'll really start to nail down the final design and specify the materials, stall systems, finishes, and other details and prepare construction drawings that instruct the contractor how to build the barn.
Bidding and Construction Administration: Because construction drawings are open to interpretation, it's important that the architect works with the contractor to oversee that the project is carried out according to the design intent. We're the owner's rep to make sure that construction is done well and done right.
Each step in the process leads to a healthy, safe, and functional facility. As architects, we want to study how you operate and design a barn that feels inviting and personal (because it is). No barn or farm operates exactly alike as each owner or barn/farm manager operates his/her facility in a particular fashion. While designing a barn from scratch is not realistic for everyone, if you are choosing between a design/build firm and an equestrian architect, we would strongly advise that you approach both for more information and weigh out your options carefully. It could save you your horse.
As always, we invite your questions and comments.