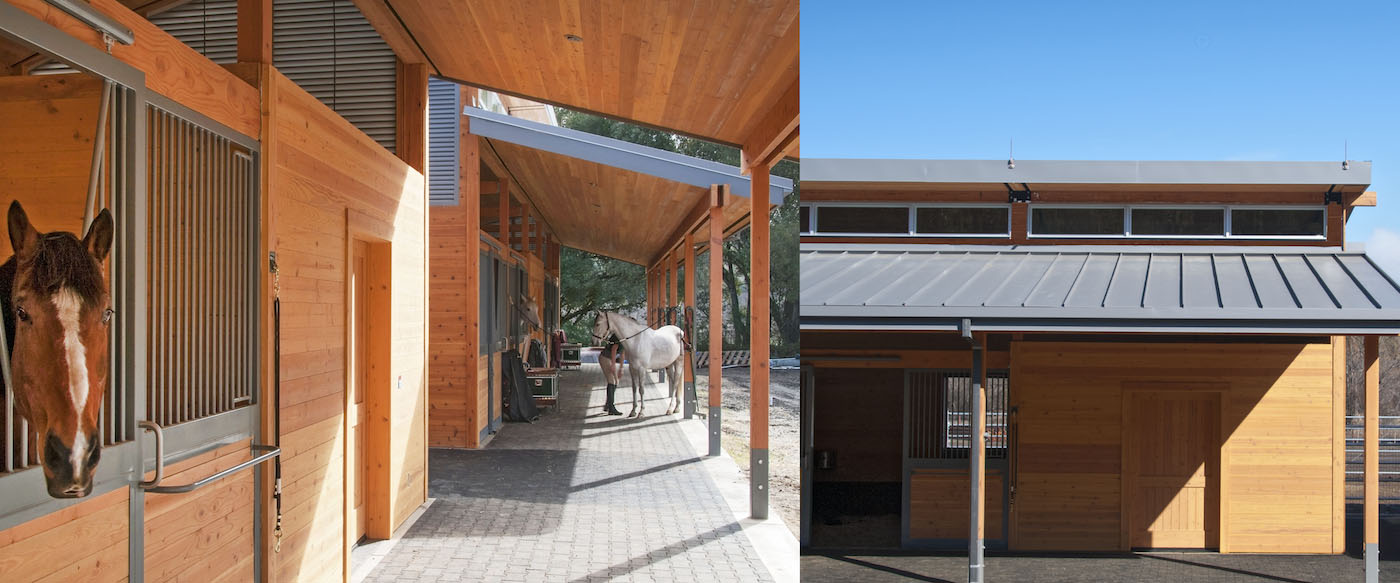 On Earth Day, April 22 2009, Blackburn Architects launched Greenbarns®, a line of pre-designed barns for eco- and cost-conscious horse owners. Eight years later, with heightened global warming and environmental worries, the line is more popular than ever. Horse owners, we know, tend to be highly aware of and concerned for, the natural world.
John Blackburn's mission for the past 35 years has been to deliver exceptional design through the creative blending of human need, horse need, environmental stewardship, science and art. When our studio created Greenbarns®, we did so to make healthy barns available to more of the country's estimated two million horse owners. The barns are designed to operate without electrical or mechanical dependence and their roofs can be energy producing. "Imagine how much energy you could generate — not just save, but actually produce — if you equip millions of roofs with active solar panels," John explained. "The energy can be sold back to the gird or stored and used on the property."
Using energy-saving "passive design" elements, Greenbarns® rely on natural lighting and ventilation. Eco-friendly materials and finishes are paired with optional add-ons such as solar panels and greywater collection systems.
When a client in southern California asked us for a Greenbarn® suited to their small, two-acre property, we delivered a customized 3-stall barn that included a composting station and solar panels. The barn and paddock take up just 1/2 an acre and are located behind the owner's existing home. Green materials include: light-colored roofing with a highly reflective finish, recycled content concrete blocks, low VOC stains/sealants, FSC certified wood products. Green systems include a manure composting station, and solar panels.
Blackburn Architects has formed partnerships with leaders in sustainable technology to connect our clients with the latest in composting, greywater and rainwater harvesting, solar power, and engineered bamboo products. Site planning, design modification, and design of other facilities such as storage buildings or residences are available as additional services in conjunction with the Greenbarn® line.