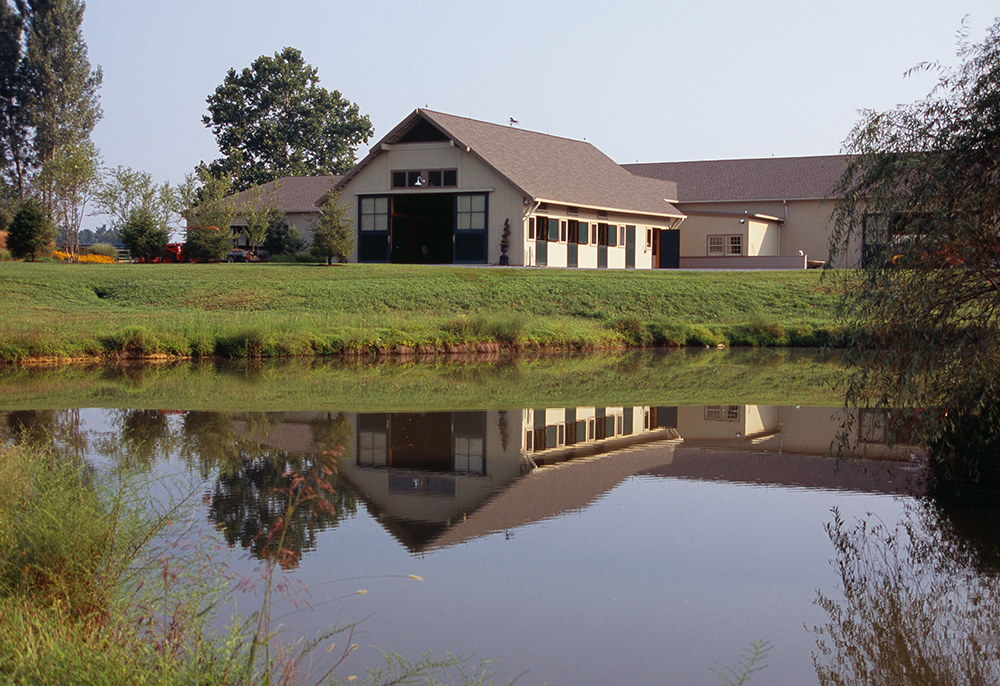 By John Blackburn
One of my favorite sayings regarding water on a farm is, "Certainly not possible in all cases, and not likely in many, but if at all possible, try to ensure the water that leaves your property is as clean as when it came onto the property."
My experience designing equestrian facilities, a personal interest in issues of sustainability, and my volunteer work with the Equine Land Conservation Resource, have raised my consciousness around land use issues regarding water. How a property drains it, where to find it, how to store it, and so on.
Whether your property suffers from too much or too little, water is an essential requirement for running an equestrian facility and has a significant impact upon the welfare of your horses, the efficiency of your farm and the budget of your operation. Water plays a big part in most Blackburn Architects equestrian projects. I thought I'd address a few solutions we can offer when there's too much coming onto your property (not your barn – that's another issue for discussion).
It's a problem that has come up recently at a farm in Texas, where clients face excessive stormwater runoff on their farm. When the rains started this spring, suddenly excess water poured onto their land from two different counties; displacing basically an entire neighborhood's volume of stormwater runoff onto their farm.
The team at Blackburn Architects will address this issue by determining the sizes of storages (dams or tanks) and diversions needed. Among the solutions that we'll apply to divert rainwater off pastures and away from buildings and high-traffic areas in the coming weeks and months are:
• Swales or Berms. Berms (elevated earth) and swales (shallow trenches) can act like gutters to redirect water away from areas that
get too much water. Planting grass, trees, and bushes will assist in stabilizing these natural water channels, so they don't become victims of
flooding over time.
• Catch Basins. A catch basin is an underground "reservoir" which collects water and drains it appropriately. Catch basins can
greatly improve farm drainage issues, allowing rainwater to flow through underground pipes leading to a sewer system or holding tanks (where it
naturally disperse). They offer a good method for moving water away from structures and off property, especially if you have to cross roads. At
Wyndham Oaks, in Boyd, MD, a Blackburn designed a system that takes water off the pastures and away from the structures, placing it into a long swale
that runs between paddocks.
• Retention Ponds. Retention ponds usually fill as a permanent pool of water, and they can also serve to temporarily detain excess
stormwater. When stormwater enters these ponds, it's released over a period of a few days, as water levels slowly return to normal.
All these methods of moving excess water can be interconnected. Run-off entering a catch basin flows through a daylight drain to swales located between paddocks. Before it leaves the site, runoff goes into a retention pond, which allows it to evaporate or gradually seep back into the soil, and recycle.