barn fire
07.25.19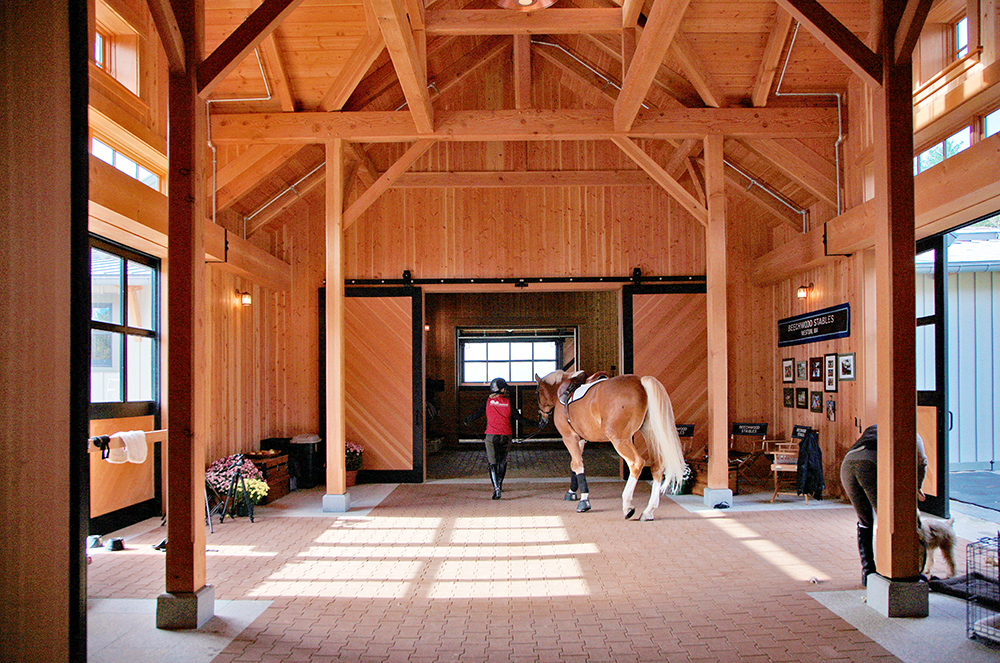 How can you can be proactive in the design of your farm and your barn to protect your horse from the threat of barn fires? What can you do to minimize the damage and loss of buildings and most importantly your horse and human life?
Prevent, Contain, Suppress
Prevention is your best protection and your first line of defense. There are any number of reasons why barn fires occur. Many are outside your control but there are steps you can take to prevent a fire from getting started. Never overlook important management practices – organize, clean and prepare.
1) Keep a clean barn/farm (dust, cobwebs, bird nests, debris).
2) Keep aisle ways clear.
3) Keep your barn neatly organized.
4) Develop a fire safety plan and practice it.
5) And, of course, NO SMOKING!
PREVENTION
Site planning is a critical component of farm fire prevention.
We recommend a separation of buildings and hazardous functions/materials from the barn.
Generally, we use a rule of thumb of 30' to 50' and sometimes 100' depending on the terrain, building codes and building materials used. Hay / bedding, equipment and other flammable materials should be stored separately from the barn and isolated if possible within masonry fire resistant structures.
Manure storage is a critical concern and can be a flammable substance if not stored properly. It should be isolated separately.
Egress from the barn for people and horses. In case of a barn fire, the barn should open into a contained area so horses can be let loose quickly yet contained. We recommend locating at least one good size paddock near the barn that can receive a number of horses at one time. If possible, provide perimeter fencing around your farm to contain horses that may get loose and out on a roadway. Consider access to the farm and buildings for the fire trucks (we recommend a 12' to 14' access road minimum) with adequate support and clearance for the trucks and other emergency vehicles. Provide adequate clearance under trees, power lines and over farm bridges. Make sure you have adequate turn-around space for the emergency vehicles.
A suitable water source is critical. Provide either an on-site storage ponds, water tanks (above or below ground) and your water supply. If it's from a well or municipal source consider the GPM flow, water pressure. You may also want to have a generator on the farm that can serve pumps if the power service should fail. And remember, fighting a fire will produce a great deal of water and that will turn into mud. So consider surface drainage for added safety around the barn.
Building layout is critical for preventing barn fires. Blackburn always designs wide center aisles. Keep them free of clutter. A shed row provides a safer layout for escaping a burning barn but they are not suitable in all locations.
Design your barn with no dead end aisles. Provide at least two exits for people and horses. We recommend openings of 1½ to 2½ the width of your horse (from stall and barn).
Consider the swing of doors – the direction of swing as well as latches used. We recommend sliding doors in the main aisle and hinged doors from stall to turnout stalls connected to the barn. The pin latch is far safer than the typical throw bolt latch. The pen latch is simpler in design (fewer moving parts and no springs and much faster to release.
The designers at Blackburn Architects make disaster prevention a priority through careful site planning and building design following THREE BASIC DESIGN PRINCIPLES:
1. BUILDING SYSTEMS/MATERIALS/FINISHES
The building materials and finishes are as critical as the barn layout. You should check your local building codes. (A good reference is the NFPA 150, 2019 edition). Though barns in many jurisdictions may be considered agricultural structures and not required to comply to building codes, we recommend you consult the NFPA code and adhere to it where possible.
There are four types of framing materials used in construction of equestrian facilities: light wood, timber, steel, masonry.
Light wood is the most common and lowest cost, but has the lowest resistance to fire. Timber frame is much safer. It will stand longer without collapse than light wood frame. Steel frame is flame resistant and can provide excellent protection. However, it is commonly used with light wood framing and other flammable finish materials that reduce its effectiveness in preventing or protecting from fire.
Electrical systems must be dust proof, rodent proof. Protect all light fixtures with cage or shatterproof lens. Remove or repair any frayed or damaged wiring. Do not use residential extension cords and do not overload circuits. Do not use household box fans. Heating systems within the barn should be kept to a minimum. Remember the barn is for horses, not humans.
Do not use portable space heaters and in warm rooms provide for installation of permanent heating equipment.
Lightning protection is another area of concern. Lightning rods are relatively inexpensive and should be installed on all barns if not all farm structures. Provide proper grounding devices and protection for all electrical equipment. You can install a warning system or rely on your phone weather app to alert you when lightning is near.
2. COMPARTMENTALIZATION
The second design principal is containment or compartmentalization. Compartmentalization uses firewalls and fire separations to contain the spread of fire and smoke. Insist that your builder close up all openings around beams, ducts, etc. Also, close up or limit attic or horizontal spaces thru use of fire curtains within those areas.
Your barn should insure proper ventilation for the health of your horse but you should be able to limit ventilation where necessary. The standard ventilation guideline is 1 sf per 100 sf of floor area in barn area or 1 sf for every 30 to 50 sf floor area in hay/bedding area.
Another design consideration to consider is to break up barns into smaller structures. A 24- stall barn is most efficient for a horse operation, but if possible it's better to create smaller barns or provide fire and smoke separations within the barn layout. This level of planning will provide a better level of protection thru isolation.
3. SUPPRESSION/DETECTION
The third design principal is suppression / detection. Early warning devices can be very effective, but they can be difficult in barn environments due to the dust and moisture. Always provide fire extinguishers throughout the barn and make sure they are inspected annually, they are the right type (A, B or C and we recommend having all three).
We also recommend including three types of detector devices; smoke, heat and flame. Each may be appropriate depending on the barn environment. For example, smoke detectors can be set off by dust and moisture. In those areas, you may want to consider another type, such as the laser light beam. Blackburn has used laser light beams in select areas, but they need to include some sort of delay mechanism so birds and other elements that can break the beam do not trigger an alarm. Consult with a fire detector manufacturer for the proper type and installation.
A smoke detector is your best line of defense, but a fire sprinkler is the best method you can install in your barn to suppress a fire. They come as either a dry or wet pipe system. The dry system is most common in barns that are subject to freezing temperatures. A wet pipe system is usually a lower cost but has limited use in unheated barns in sub-freezing areas.
Something to consider in a barn that may have nice finishes that could be subject to damage if the sprinkler system were set off by accident is the pre-action system. The Pre-action system is one that employs an automatic warning system that activates before the sprinkler system activates to protect from accidental discharge and protects damage to interior finishes
Finally, we strongly recommend that you consult with your local fire department regarding your fire protection plan and get your design approved.
Posted in
Equestrian News
,
News and Press
,
Sustainable Design
|
Tagged barn architect, barn architecture, barn fire, barn fire safety, custom horse barn, design horse barn, healthy horse barns, healthy horses, healthy stables, horse barn, horse barn design, sustainability in horse barns, sustainable barn
|
Leave a comment >
08.07.14
Pat Raia's recent article about the California barn fire blamed on exploding manure raises legitimate concerns about the dangers of improper waste management.  Standing piles of manure contain rapidly reproducing bacteria and methane gas build up (as the internal temperature rises you might see smoke rising off the mounds!). The impending "explosion" could ignite any combustible material in proximity to it and you could be left with a devastating mess similar to the California barn fire.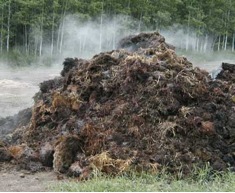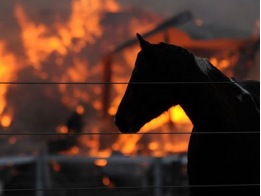 Manure storage in the barn is a fairly rare occurrence in my experience and I agree with the recommendation that it should be stored outside and away from the barn. Not only to reduce the catastrophic events that could be caused by spontaneous combustion, but also to prevent flies, mosquitoes, and odors (not to mention the unnecessary risk to the safety of the horses from outside service vehicles and haulers tending to it). I find that most people store their manure in a dumpster or muck pit. As an alternative, I recommend and frequently specify a composting system close to the barn. A composting system like O2Compost is great and can be designed to accommodate large to small horse barn operations.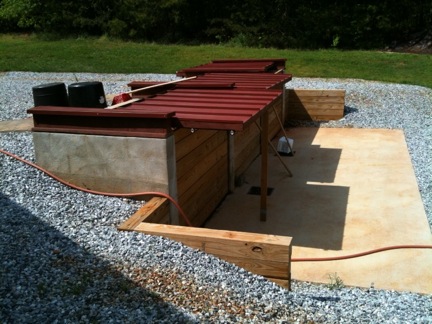 They're also compact, customizable and can quell the influx of flies and mosquitoes. The heat created by the decomposing manure "cooks" it until it is reduced to a manageable amount. It can then be used in more productive ways such as providing fertilizer for the farm and paddocks (the cooking process has killed the harmful bacteria by this stage) and preventing weeds. Always be cautious, though, when handling or transporting waste materials so as to avoid mixing with other combustibles. This could increase your risk for fire as well. Most farms do separate them because the hauler typically objects to combining other trash with manure.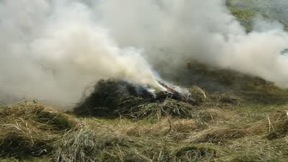 Spontaneous combustion is not limited to manure, however. Hay is a serious factor where barn fires are concerned, in my opinion. It is all too frequently stored in improperly ventilated barn lofts where it can easily ignite. Unfortunately, many owners house their horses alongside hay storage and have no idea how potentially deadly it can be. They think it won't happen to them. With daily convenience in mind, I usually design a ventilated, isolated area to accommodate only a week's worth of hay storage at a time. Generally, hay should not be amassed in lofts, but whenever it is stored there it should only be in small quantities. Special precautions need to be taken such as installing alarm systems and reducing exposure to electric lighting and equipment. I recommend natural lighting through a skylight or clerestory windows. I strongly encourage installing a sprinkler system in the barn. I know it's expensive but think of it this way, " can you afford to lose your barn, your horses, and everything else in there?" It may be worth the investment considering what's at stake.
I want to thank Pat Raia for writing the article, as it will, hopefully, raise our collective consciousness to the presence of latent hazards around the barn.Whenever designing for horses, my goal is to find every way possible to make the barn (and the entire farm for that matter!) a safe and healthy home for them and their handlers.
John Blackburn, AIA, Senior Principal at Blackburn Architects, P.C. and author of Healthy Stables By Design has over 35 years of experience in the practice of architecture. He is responsible for the overall firm management. His award-winning designs include a full range of project types and services, from programming, existing facility evaluation, and master planning to new construction, adaptive reuse, and historic preservation. Please contact him here
09.07.10
From Ray Paulick's blog, the Paulick Report comes some very sad news; three barns were destroyed and at least 27 horses are confirmed dead after a Labor Day fire at the Charles Town Races in Charles Town, West Virginia. The cause of the fire is not yet reported, but the Washington Post says the damage is estimated at $1.2 million and several of the horses were worth at least $10,000.
A couple years ago, I wrote a post about preventing barn fires– I thought I'd share it again. Accidents will happen, unfortunately, but there are several ways to help ensure the safety of your horses. My thoughts are with those affected by the tragedy at Charles Town Races.
FIRE SAFETY AND WHAT YOU CAN DO:
Often owners ask about designing sprinklers in barns or to frame the barn in steel to make it more "fireproof." However, by the time the construction estimates come in, those seem to be the first items cut. Though both are credible for preventing fire, I like to design using preventive care so sprinklers or steel framing are not the only means of fire protection. (Incidentally, a steel frame building, if left unprotected, can collapse due to fire or heat from the fire before a heavy timber framed structure. But, as many of you know, the smoke from the fire kills long before the actual flames.)
Hopefully these suggestions can help you—and your horses—sleep a little better at night.
COMBUSTABLES:
Hay is a huge fire hazard because of the dust it accumulates, especially when stored in a traditional hayloft setting. While I've designed barns with a full hayloft, I urge clients to consider a separate storage facility for hay and bedding or, at least, create a partial loft that does not span the barn's entire length and isolate the storage area with fire walls. While fire walls may not be as effective as a fire rated partition (which is expensive), the fire wall can contain smoke and fire for enough time to alert help remove the horses. If neither option is possible, keep hay in a fire-rated enclosure.
If a hay loft is required, there are some precautions that can reduce the risk of fire, such as the choice of frame; an effective choice can reduce opportunities for bird nests and cobwebs, especially around lights, and provide natural light to reduce the need for electric lights.
VERTICAL VENTILATION AND HEATERS:
In my ideal hay storage structure, a separate storage facility for hay and bedding is designed to generate vertical ventilation, similar to a well-designed barn. To do this, I take advantage of the storage structure's large roof to capture solar energy, which heats the air inside the structure along with the heat from the curing hay. Air accumulates at the ceiling while cooler air flows at floor level, forming a vertical flow of air. Skylight vents release the warmer air and let cooler air inside. This constant flow of air supplies superior ventilation without the use of expensive or energy-burning equipment that can cause a spark or short.
Some horse owners stand behind their use of heaters in stalls, but I find it unnecessary and risky. Ideally, the inside of a barn should reflect a similar temperature to outside. After all, horses are born to survive in the wild, not confined in a stall. Because of their sensitive respiratory systems, a well-ventilated barn is a horse's best defense.
A heated (or air conditioned), enclosed barn not only retains ammonia gases and pathogens that cause odor and disease, it creates conditions that require gas fired heaters and mechanical fans for circulation, each of which is a potential fire risk, not to mention expensive to maintain and operate. That's why designing for ventilation is such an emphasis in my work.
Typically, if a barn is heated it is done for the sake of the staff, not the horses, and should be confined to human areas only. This should be considered an added luxury, but if requested, a heated aisle floor is the safest method. A horse that is permitted to develop a winter coat can handle temperatures as low as zero degrees Fahrenheit.For lower temperatures, blankets can usually maintain warmth without being a fire hazard.
FIRE SEPARATION DOORS:
I like to use fire walls and isolation doors to aid in the protection of fire or smoke generated by a fire. Though a fire rated fire separation may not be practical in most barns, you can create fire separations within the barn to isolate certain areas or uses from other areas of the barn especially the stalls.
OUTLETS AND WIRES:
Always use UL-rated fixtures and properly installed electrical fixtures and fittings. All wiring should be in metal sheath conduit such as solid conduit or BX type cables, even in concealed areas because of mice and other small animals that inhabit barns. Consider explosion proof outlets and switches, and protect all lights with shatterproof lenses or wire cages. Set up a maintenance routine to clean all light fixtures periodically (for fire risk concerns but also for energy concerns, i.e. a dirty light is much less efficient that a clean one that is otherwise identical.
OTHER SUGGESTIONS:
· Fire extinguishers throughout
· Fire retardant building materials (use heavy timber in lieu of light wood or truss framing when possible or affordable).
· Design Dutch doors where possible to the exterior, as they are better for ventilation and helpful for getting the horse—and people—out in case of emergency. Make sure the doors can be operated from interior and exterior.
· Separate living spaces (apartments) from barn where possible or at least placed behind fire separations.
· Separate farrier services when possible.
· Never store motorized equipment within the barn, but if you do, isolate it behind fire separations or separate areas.  (A barn burned in Northern Virginia a few years ago simply because someone cranked up a lawn mower that backfired, setting a nearby bale of hay on fire.)
· Install an effective fire alarm system (preferably one that is monitored by a 24-hour service) and plan an emergency evacuation route.
FINAL WORD:
I worked with the Grosse Point Hunt Club years ago after they suffered a barn fire and lost over 20 horses, as I recall. I believe the fire was caused when a firecracker was thrown into the barn simply for mischief, resulting in a tragic loss of animal life and property. That was an older barn that had very little fire protection "designed" into it.
Regardless of how much protection you design into a barn, no system is perfect. Still, much can be done to protect older barns from fire and reduce the hazards. We often work with existing barns to modernize their operation and look, while doing everything we can to protect the health and safety of the horse—whether from fire, bad ventilation, or other unsafe conditions.
If you have any other recommendations to prevent fire, please let me know. As always, I look forward to hearing your thoughts.