Barn
01.10.12
Hello, all! I'm thinking about writing up a few posts about common questions/concerns/etc. from clients (or those debating whether to hire an architect) that I frequently encounter when designing equestrian facilities. I'd like to welcome any and all questions, from the general —How does the architectural process work? –to the specific– Should I build a concrete block barn or a wood frame?
With that being said, if you ever are boggled by bad stable design or poorly planned layouts, I'd be interested in your thoughts as to why the design did not work and how it might be improved. I often find myself critiquing other designs — and I'm not just talking about the aesthetics, but how function and operation so often fall apart due to a poorly conceptualized site plan or design. Not to mention the details overlooked that could be hazardous to your horse and you. But I guess that's another topic for another day.
I hope to hear from you soon as your comments and ideas really help drive the content of this blog. Incidentally, we're 10 days into the new year and it's practically 60 degrees Fahrenheit in DC — kind of bizarre and I'm wondering if this mild winter will bring an earlier-than-usual construction season? Well, an architect can hope!
12.29.11
I wanted to share a few more photos of the construction progress at Beechwood Stables in Massachusetts, a project we worked on in association with Marcus Gleysteen Architects. We expect to punch out the project (a final walk through of the project where we review everything) very soon.
12.21.11
On fifty gently sloping acres south of Charlotte, North Carolina, Ketchen Place Farm is a family-owned, female-run farm that breeds thoroughbred and warmblood sport horses. Blackburn Architects provided architectural services for the construction of a 20-stall barn and a not-yet-built, separate four-bay garage with a two-bedroom, two-bath residence above. The master plan includes redesign and improvement of roads, fencing, paddocks, a run-in shed, and a well-defined entrance to the facility. The shed-row style barn, which includes a studio apartment above for the observation of foals, wraps around three sides of a courtyard that doubles as a small sand training paddock. The project was featured in the Spring 201o issue of Architecture DC Magazine.
Program 20-stall barn with groom's studio, four-bay garage with residence, redesign of roads, fencing, paddocks, shed, and facility entrance
Completion 2008
Posted in
Equestrian News
,
Projects
|
Tagged 20-stall barn, Barn, Equestrian, Horse, horse barn, horse stables, Ketchen Farm, Ketchen Place Farm, Ketchen SC, Rock Hill, SC, Stables
|
Leave a comment >
12.20.11
Located on a hilly 250-acre site with two lakes, Glenwood Farm is designed of wood and stone to fit within the natural landscape. The covered arena and outdoor dressage arena with surrounding paddocks overlook a small pond. The 12-stall barn has two wash/groom stalls and service space that includes a tack room, feed room, tool/work space, and laundry as well as a lounge with a loft and office space. A separate service building stores bedding and hay. The farm is used for boarding private horses as well as for the family's personal use.
Program 12-stall barn, covered arena, and service building
Completion 2008
10.27.11
I admit it: I've never even heard of mutton bustin' until reading about the event, which is part of tonight's lineup at the 53rd annual Washington International Horse Show, in yesterday's Washington Post. Apparently mutton bustin', in which kids weighing 60 lbs. or less play rodeo kings and queens while riding on SHEEP (like a fluffier and friendlier bull?), is popular in Australia. Wonder if it will catch on in the states. Or am I already behind?
It's hard for me to imagine that any sheep with a 6-year-old on its back would feel inspired to do much other than lie down for a nice nap, but apparently it can get quite rowdy (witness the poor kid in the photo below). My curiosity is certainly piqued. I'll even get to see the "action" live because my staff and I are attending tonight's show (it's BARN NIGHT, after all). Everyone at Blackburn enjoys watching the terrier races, but I bet mutton bustin' gives the dogs a run for their money, at least as far as the cute factor goes.
For those of you who plan to attend tonight's show, please follow me on Blackburn's Facebook page, where I'll post about the event and coordinate to meet up with fellow horse and barn lovers. And if you can't make it to the show, consider watching it via live streaming.
10.18.11
Just the other day, I came across a great blog entry about Mail Pouch Tobacco barns in Pennsylvania. The blogger, Pamela Simmons, wondered what became of the old barns she so vividly remembered dotting the landscape along highways in Western Pennsylvania. Read her article for some background info and a few terrific photos. I'd relish the chance to restore a big old barn like one of these Pennsylvania beauties; unfortunately, they seem to be few and far between these days. Please share your own photos or memories of the types of barns you recall seeing on car trips as a child or young adult. 
09.08.11
Located on a stunning 80-acre site in Aptos, Devine Ranch is designed with the temperate climate, ocean breezes, and scenic overlooks in mind. The eight-stall barn (six stalls with paddocks) lies in close proximity to the new 7,000 sq. ft. residence, also designed by Blackburn Architects.
Program 8-stall barn, two service buildings, covered round pen, open arena, paddocks
Completion 2003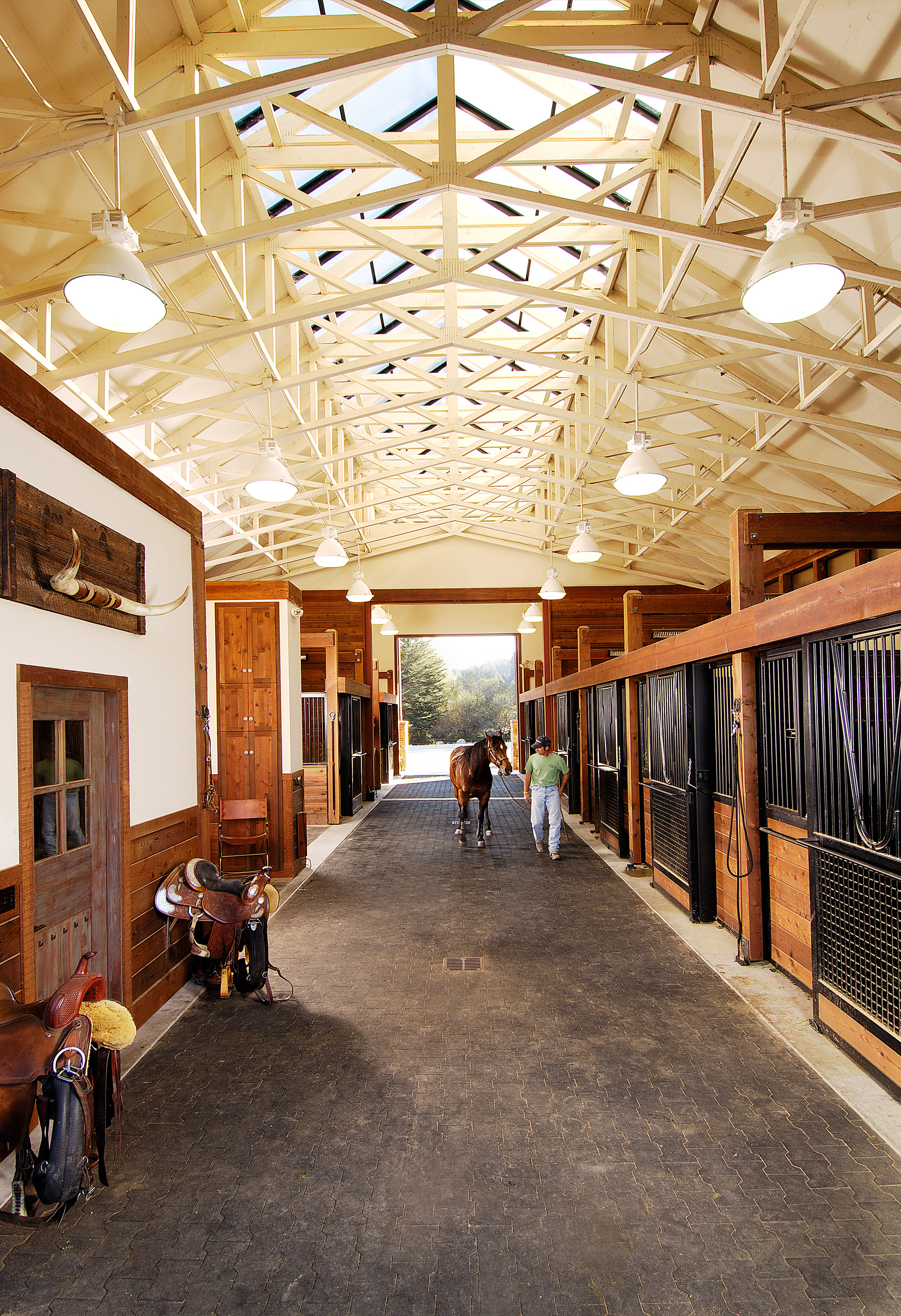 09.07.11
Designed in response to an adjacent new residence and in the style of existing barns on the private ranch, this eight-stall barn in Montana uses heavy timber framing and western cedar siding.
The program includes wash and grooming stalls, a lounge/office, large tack rooms, and a loft with a balcony that overlooks an outdoor arena. The barn's deep overhangs create covered areas to wash and groom horses outdoors while a continuous translucent ridge skylight allows generous amounts of natural light within the barn.
Program 8-stall barn, outdoor arena, service building
Completion 2004
Posted in
Equestrian News
,
Projects
|
Tagged Architecture, Barn, barn design, Barns, Blackburn Architects, Equestrian, Equestrian Architect, equestrian design, Equine, equine architecture, heavy timber, horse barn, horse ranch, horse stables, Montana barn, ranch, Stables, western cedar siding
|
1 comment >
06.22.11
This private equestrian facility includes a 14-stall barn, three-bedroom staff residence, and a service wing for hay, bedding, and equipment storage. Designed in a French Colonial style indigenous to the South, the barn and residence feature coral stone water tables, stucco wall finishes, and barrel tile roofs. The generous use of dormers provides abundant natural light to the barn stalls and aisles and to the second floor of the residence. This project was featured in Elle Decor magazine.
Program 14-stall stable and three-bedroom staff residence
Completion 1997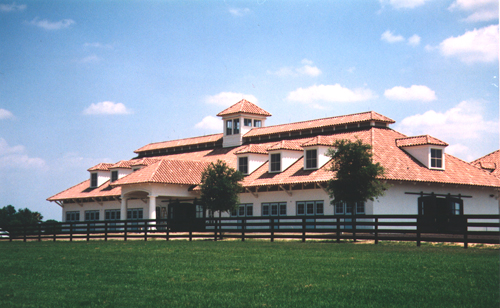 06.22.11
Beth Herman's article about the renovations at Sagamore Farm is published in today's DCmud. I get a huge smile on my face just thinking about Sagamore and hope you do too after reading the story. The farm is a Maryland landmark and I am grateful that Blackburn has been trusted to contribute to the farm's storied history.