beechwood stables
01.25.19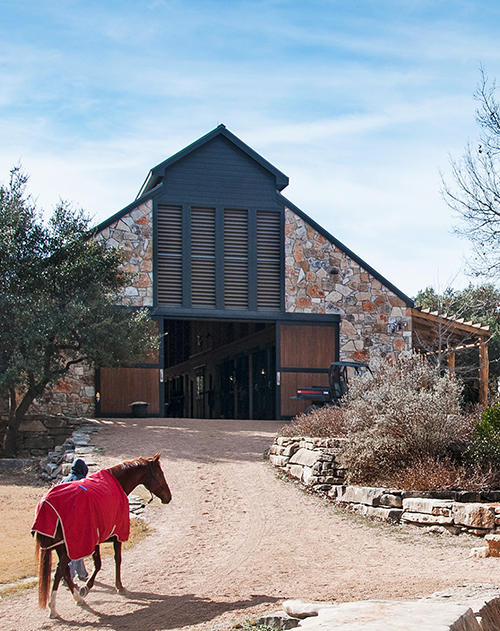 One of the design considerations in nearly every Blackburn equestrian project is ground surface materials to be used at the exterior of the barn. Hopefully, the information below will be helpful in planning for your barn.
First consideration is it to be porous vs. non porous?
Either will work in this application but you need to build in some sort of drainage system for both, either on the surface or below the surface.  
1)  Interlocking rubber brick pavers.  The Blackburn Architects' team opinion is that this is the best all-around flooring system for horses because of its durability and aesthetic options.  It's slip resistant and holds up to abuse and in a wide variety of environmental and weather conditions.  It can be set loose on a porous or non-porous sub-base or glued down on a firm base like concrete.
2)  Oil base chip and seal: Chip seal is a surface treatment used on light traffic roadways/driveways, some lead paths and other areas used for horse or farm traffic.  We do not use it very often anymore due to some environmental concerns in some jurisdictions (it typically requires a base layer of asphalt and oil as a binder).  Chip seal basically combines one or more layers of asphalt with one or more layer of aggregate. Oil is often used as a binder. Ground up recycled tires are sometimes used as an aggregate.  It tends to be slip resistant though it may deteriorate in time.  Its life time is typically 5 to 7 years before it needs re-surfacing.  
3)  Rubber mats (loose laid or glued): This is a good material but should be laid or glued to a concrete or popcorn asphalt base.  The mats need a solid base in order to hold in place or remain level over time.  Rubber mats can present an aesthetic issue but functionally work well.
4)  Stone dust or brick dust:  A good material to use but requires maintenance to retain a clean and orderly look.  It's slip resistant and drains relatively well.  Not good for plowing conditions unless it is re-spread at the end of the winter season.
5)  Popcorn asphalt:  An excellent material because it's slip resistant and drains well.  Its problem is its aesthetic appearance.  It should be laid over a layer of crushed gravel so the surface water can drain through the asphalt and away.  The advantage of the popcorn asphalt is it has the ability to reseal itself in warm weather if the ground freezes and heaves.  It can also be used as a base layer under rubber mats or rubber bricks.
6)  Concrete (custom colored and/or textured) or concrete pavers:  Not a very horse-friendly material to use.  It can be scored to give it texture, tinted to give it color and in some cases a brick pattern, but it is nevertheless a very unforgiving material.  Horses shoes can slip on it and spook a horse especially when crossing from one material to another.  However, this material is great when installed under the interlocking rubber brick or rubber mats.
7)  Poured in place non slip surface material:  This is a good material (a number of different types and manufacturers available) that can be slip resistant, cushioned to protect from a fall and can be used outdoors.  It is often used on playgrounds.  Blackburn Architects uses it most often in foaling stalls where a seamless continuous surface is desired.
8)  Grass ground cover:  Not recommended due to its maintenance needs especially when under cover.
9)  Grid mats:  Can work if the owner wants to use stone or brick dust or some other type of light screenings but requires periodic maintenance.
10)  Brick or stone:  Not highly recommended as it is less slip resistant though it can look great, especially if brick dust is used elsewhere such as the driveway in a chip and seal application.
Posted in
Equestrian News
,
News and Press
|
Tagged adding light and ventilation to a horse barn, Architect, Architecture, Barn, beechwood stables, Blackburn Architects adaptive reuse, Equine Architect, horse barn, horse barn design, horse barn planning, Horse Barns, horse farm, horse stables, John Blackburn, materials to use on the exterior of a horse barn
|
Leave a comment >
02.02.16
Coming off the heels of a truly epic storm for the Washington D.C. area (and most of the east coast!), I thought I'd take a moment to address how design techniques can help barns "weather" extremes.
In the United States, the upper northeast regions through to the Midwest are prone to experience weather extremes in the form of snow and ice. While we cannot entirely "weather proof" a barn, we can make it more resilient to some of the more damaging effects of weather phenomena.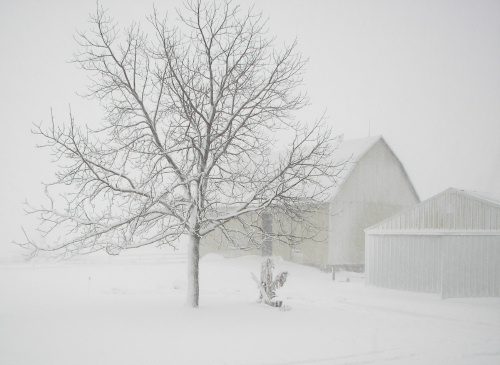 The roof of your barn needs to be able to:
Withstand the weight of snow and/or effectively shed it
Prevent or reduce the formation of ice dams
Redirect "roof avalanches" from sliding into high traffic or poor drainage areas and also reduce associated noise that could frighten the horses.
In addition to contributing to the Bernoulli principle I incorporate for natural ventilation, steeply pitched roofs also contribute to effective, gradual roof shedding and the redistribution of snow load. Ideally the pitch should be between 4/12 and 6/12 to get the optimal shedding effect (although, we generally try to keep pitches at 7/12 or more to take full advantage of the Chimney Effect and Bernoulli principle for natural ventilation)
Roofing material will also factor into how the snow will shed. Metal roofs are excellent as they are smooth and slick. They will also stay colder longer; reducing the likelihood that snow will melt and form ice dams (more on this below). Snow will shed from a metal roof even if the pitch is lower. Shingled roofs, however, will slow down the shedding process by "holding on" to the snow and allowing it to stay in place and accumulate. Consider a steeper pitch if you prefer a shingled roof as it will facilitate the shedding process over the rougher material.
Now, you might be saying to yourself, "Well, the snow is off the roof…but it's all over the place! Now what?" Including strategic roof overhangs will complement the steeper pitch by helping to distribute shedding snow away from exterior walls and out of traffic and poor drainage areas. Be wary though, snow sliding off roofs can be noisy and frightening to horses, not to mention dangerous if it falls on you! Snow guards on the roof can help reduce the noise associated with shedding snow and keep huge sheets of it from falling on (and potentially harming) 2 and 4 legged passersby. Gabled dormers over entryways can also be useful. They help to direct snow off to the sides.
Ice dams are another unfortunate side effect of snow-laden roofs. An ice dam forms when the underside of the roof gets warm enough to thaw the bottom layer of snow sitting on the other side. The water makes its way down to the eave where it refreezes, eventually growing into a mound of ice. As the ice dam gets larger, it can pull the shingles and edges up allowing water to get through and into the insulation and walls. Water damage then wreaks havoc on the interior of the barn. The ice dam could also break off the eave and take pieces of the roof with it or fall on passersby. Sure, there are ways to deal with ice dams once they've formed, but natural ventilation can help prevent them upfront. Natural ventilation keeps the underside of the roof within 10 degrees of the outside temperature, which aides in keeping that critical layer of snow right on top from thawing and running down towards the eaves.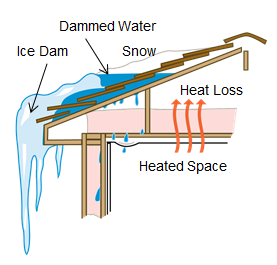 Site and circulation planning can help prevent and/or reduce the impact of icy conditions around equine walkways. In the interest of horse safety, I try to design site circulation so that horses do not need to move over asphalted areas intended for trucks and service vehicles (there are other benefits associated with that as well). Asphalt is not great for horse's knees, generally, but it is particularly problematic when wintery conditions lead to the formation of "black ice" — a thin sheet of ice over the asphalt that can be imperceptible to the horse or persons walking on to it. Horse pathways in and around the barn should include porous footing that absorbs and carries moisture away quickly. Presently there is no way (that I know of) to prevent pastures from freezing over, but you can maintain a dry paddock or "sacrifice" lot where your horses can be turned out when pastures have been effected by inclement weather. Paddocks with considerable slope can be particularly hazardous when they freeze over. That's when a "level" dry lot can be very useful!
As many on the east coast found out this past week, there is only so much preparation you can do in a couple of days before a storm hits. You, your horses, and your barn will benefit from built in preparation.
Posted in
Equestrian News
|
Tagged barn architecture, barn design, beechwood stables, black ice, Blackburn Architects, dormer, Equestrian Architect, extreme weather, farm planning, gable, horse barn design, horse stables, ice, ice dam, ice damming, John Blackburn, overhang, roof, roof pitch, snow, snow load, snow shedding
|
Leave a comment >
02.09.12
This is probably the last set of photos I'll share of Beechwood Stables in Massachusetts before we have a professional photographer shoot the project in its completion. (When the weather is a bit nicer so the buildings aren't covered in snow!) I'm really pleased with how it's turned out and hope our client feels the same. I'd also like to thank Marcus Gleysteen Architects, whom we teamed with; the builder, Kenneth Vona Construction, whose professionalism and craftsmanship is top-notch, as well as the team at Lucas Equine Equipment for their fabulous stall systems as usual. Beechwood Stables has a lot of high-end finishes and details that certainly shine though with this project. However, the truly important aspects of our design is what matter the most and remain true regardless of budget: protecting the health and safety of the riders and the horses who will soon inhabit the barn.
Thanks to the gracious owner and everyone involved in the design and construction of Beechwood Stables. A few details are provided in the caption each photo.
12.29.11
I wanted to share a few more photos of the construction progress at Beechwood Stables in Massachusetts, a project we worked on in association with Marcus Gleysteen Architects. We expect to punch out the project (a final walk through of the project where we review everything) very soon.
04.25.11
Seemingly, about a foot of snow buried the construction site at Beechwood Stables, a future barn and arena in Massachusetts at any given point from December through March.
Since then, as the weather in Massachusetts grows milder, the construction at this private farm (a project in association with Marcus Gleysteen Architects) is finally taking a shape other than a snowdrift. In the works are a 12-stall barn, a storage facility with recreation and lounge space, and an indoor arena with an observation lounge.
As foundation and underground work began over a winter season that yielded 60 inches or so of snow in the Boston area (with January 2011 alone dropping 38 inches), well…I'm sure you're not surprised to read that delays were bit of a problem. By the end of the winter, there may have been more snow removal than soil stockpiled on the job site!
Even on April Fool's Day (go figure), the area received a dusting of the white stuff. That's why I couldn't be more pleased for this patient client of ours as we approach the warmer months. Work at the private farm has progressed smoothly ever since the steel and timber arrived in early April; see the progress in the following photographs.
As you might expect with such a substantial project, we gave much consideration to the structural work and foundation. Specifically, we needed to determine how to erect and tie together stone column bases that weighed approximately 200 lbs. each and 21-ft. tall timber columns while allowing for enough movement to install the beams and rafters. In the end, the collaboration and discussion on how best to detail this connection took longer than it did to actually assemble, thanks to the efficient crew at New Energy Works and the careful planning between Kenneth Vona Construction (general contractor) and DeStefano & Chamberlain (structural engineer). I'm happy to report that the bases and timber columns went up without so much as a groan.
Following that, steel columns and perimeter beams were set in about two days; the timber frame for the barn and connecting link took a little over a week. Since then, the contractor has been busy working on the barn framing, preparing all of the openings for sheathing, and the steel fabricator has assembled all of the steel rafters and is completing final welds. Within about a month, the walls of the barn and connecting link will be complete and the roof work will begin. Assuming the weather behaves, of course.
In the meantime, timber for the arena observation room and support spaces is being fabricated along with the SIPs (structural insulated panels) that will cover two-thirds of the project.
So, here's to spring weather and speedy progress on an exciting project that we hope the owner and their horses will soon enjoy!
[slideshow]