Blackburn Architects
11.11.13
Date: November 6th, 2013
Location: Lucky Jack Farm in Rancho Santa Fe, CA
Patty Brutten, the farm owner led off the presentation with introductions and a brief history of what led her to build Lucky Jack Farm. The property was designed in the Rancho Santa Fe historic style made famous by Lilian Rice in the 1920's and has an historic designation characterized by low-slung terra cotta roofs, shuttered, deep-set windows, white or neutral colored adobe walls, and intimate patios and courtyards, that define the area. Today it is known as California Romantica, California Mission, or Spanish Colonial style.
All of the author proceeds for the sale of John Blackburn's book, Healthy Stables by Design, are donated to equine charities. The owners of Lucky Jack Farm, hosts of this event, chose REINS Therapeutic Riding Program in Fallbrook, CA. Debbie Shinner, who has been the Executive Director of REINS since 1995, spoke about the program, its history, and how she became involved in 1992.
Our own John Blackburn followed Debbie with an introduction of some of the key members of the design and builder team, a short presentation about his background designing for horses, and the design aspects he believes to be essential for successful equestrian projects. He also covered design concepts of his firm's predesigned Blackburn Greenbarns® as well paying notice to several projects in the book, Healthy Stables by Design. As he does in every presentation, John stressed how the health and safety of the horse remains the priority in every design regardless of the budget, location, or program.
Following the presentation, Blackburn architect, Dan Blair led a portion of the attendees on a tour of the Lucky Jack Barn, illuminating its unique design aspects and how the firm tackled the challenge of having the barn's designs comply with strict building and fire codes without sacrificing a healthy and safe environment for the horses.
The event ended with the sale of 64 copies of Healthy Stables by Design and raised nearly $2000 for the charity. This amount was increased significantly by several private voluntary donations.
John continues on his book tour and equine charity events with presentations in Pebble Beach and Monterey CA and at a private facility in Central California in the Bay Area.
Scroll down for pictures from the event.
07.01.13
Even though the 26th Annual Bark Ball for the Washington Humane Society (WHS) was June 8th, I wanted to share a little about this event because of its importance for the animals of DC and to us here in the office. Blackburn has been working with the DC WHS to find a suitable site and design a new shelter. While site selection is ongoing, the master plan was created in 2006. This year, our senior Project Architect, Daniel Blair, who has been with the firm for over eight years now, attended with his wife Ellie. As mentioned before, Dan and Ellie are very active volunteers in animal rescue. They volunteer for both the Washington Humane Society and HART in Virginia, and have rescued over forty dogs to date. I'll let Dan take the rest of the story from here…
For those who are unfamiliar, the Washington Humane Society is one of the ten oldest Humane Societies in the US and was chartered by Congress in 1870. They run adoption, foster, educational, spray/neuter, and other related programs. In addition, they have always held the contract to provide animal control services for the District of Columbia – meaning they have to take in and care for every animal that is caught or turned in. This includes everything from gerbils, cats, and dogs to lizards, birds of prey, deer, and straight from the most recent headlines: pandas and bears.
For many years their facility was routinely underfunded and in such a poor state that it was difficult to attract potential adoptive parents. These operational difficulties contributed to the WHS's kill rate exceeding 80%. Starting aroung 2005 with new leadership, the WHS adopted a 10-year plan to become a no-kill shelter. The most recent President and CEO of the WHS, Lisa LaFontaine, has not only continued this mission, but has expanded the organization to reconnect with the community and gain public awareness and support.
In the past year alone, the WHS cared for over 3,000 animals and was able to place over 2,500 into new homes. Within 7 years, the WHS has seen its kill rate plummet from a routine 80% to less than 20%. When you include the fact this was achieved during a slow economy – where there is an increase in animal volume – this is an astonishing feat.
However, in order to acheive their goal of becoming a no-kill shelter, fundraising is always important. This black-tie event for the WHS allowed guests to bring their canine companions (many fashioned in their own fancy clothing) as dates to a night of dinner, dancing, and silent and live auctions. With more than 820 guests and 400 dogs in attendance at the Washington Hilton, this year's event made history by raising over $550,000, a new record for the WHS.
This is the fourth time that Ellie and I have been able to attend the Bark Ball with our girls, Heine and Frieda. Heine, the Cairn terrier in the photos and our WHS alum, was the first dog we adopted together. Due to poor socialization by her original owners, she was an absolute train wreck when we first got her. Let's just say, she was so bad we applied for the Dog Whisperer show – and we always joke that we were denied because she was too much of a mess. We eventually found a great trainer that helped us rehabilitate her and she stills claims that Heine was the most difficult challenge she has ever faced.
We are both glad that we took a leap with Heine. She not only brings us a smile everyday when she greets us at the door, but she has also helped our trainer become annually recognized as one of the top trainers in the Washingtonian Best of DC magazine. More importantly though, Heine provided the spark that inspired us to foster and help rehabilitate other dogs in need. The Bark Ball was a great night to share stories with other foster families, volunteers, and animal enthusiasts, but it also was a fantastic evening to celebrate the positive impact this organization is having in the DC community. As an alumni, volunteer, and Architect for the Washington Humane Society's Master Plan, it is an honor to be helping the WHS make a difference.
If you want to learn more about the WHS, please connect to the WHS Facebook page.
Another video that premiered at the event spotlighted the services the WHS provides – but told through the story of a pitbull named Gary and his feline pal, Strawberry.  We're happy to announce that after a couple months at the shelter, Gary found his forever family shortly after he starred in this video.
For more photos of the evening, please visit click here.
03.22.12
Over the years, I've collected much too many photos of barn details, which includes everything from latches on stall doors to drains in aisles. It's only natural to collect the things you love, right? I often refer to my virtual stash of detail images when I'm designing a barn and hope they might serve as an inspiration to you as well. I will probably add to the collection (correction: I WILL add to the collection because I won't be able to help myself) over time. What can I say, the details separate a fine barn from a fantastic barn. On that note, I hope you'll forgive my lack of photography skill. Some of these images were taken during or just after the construction process by yours truly. That should serve to explain any and all photos with incomplete landscapes (aka piles of dirt) and unique angles (aka crooked) that are artistic-driven (aka fuzzy, out-of-focus) images.
By way of introduction to my collection, I think it seems fitting to begin this set barn detail images with the door. Every dutiful, the door is a part of every barn, everywhere. (At least I hope so.) You'll see many images of my favorite, the Dutch door, which aids ventilation within the barn. There's also human-only doors, main entrances, side doors, etcetera. Hopefully it's not too much of a hodgepodge for you to enjoy.
Incidentally, I've asked one of the more tech savvy staff (basically anyone but me) to link these images on Pinterest; we're attempting to hop on that fast-moving train because we architects sure appreciate a visual aid. If you're a Pinner yourself, let me know so we can follow you there. Until then, happy collecting!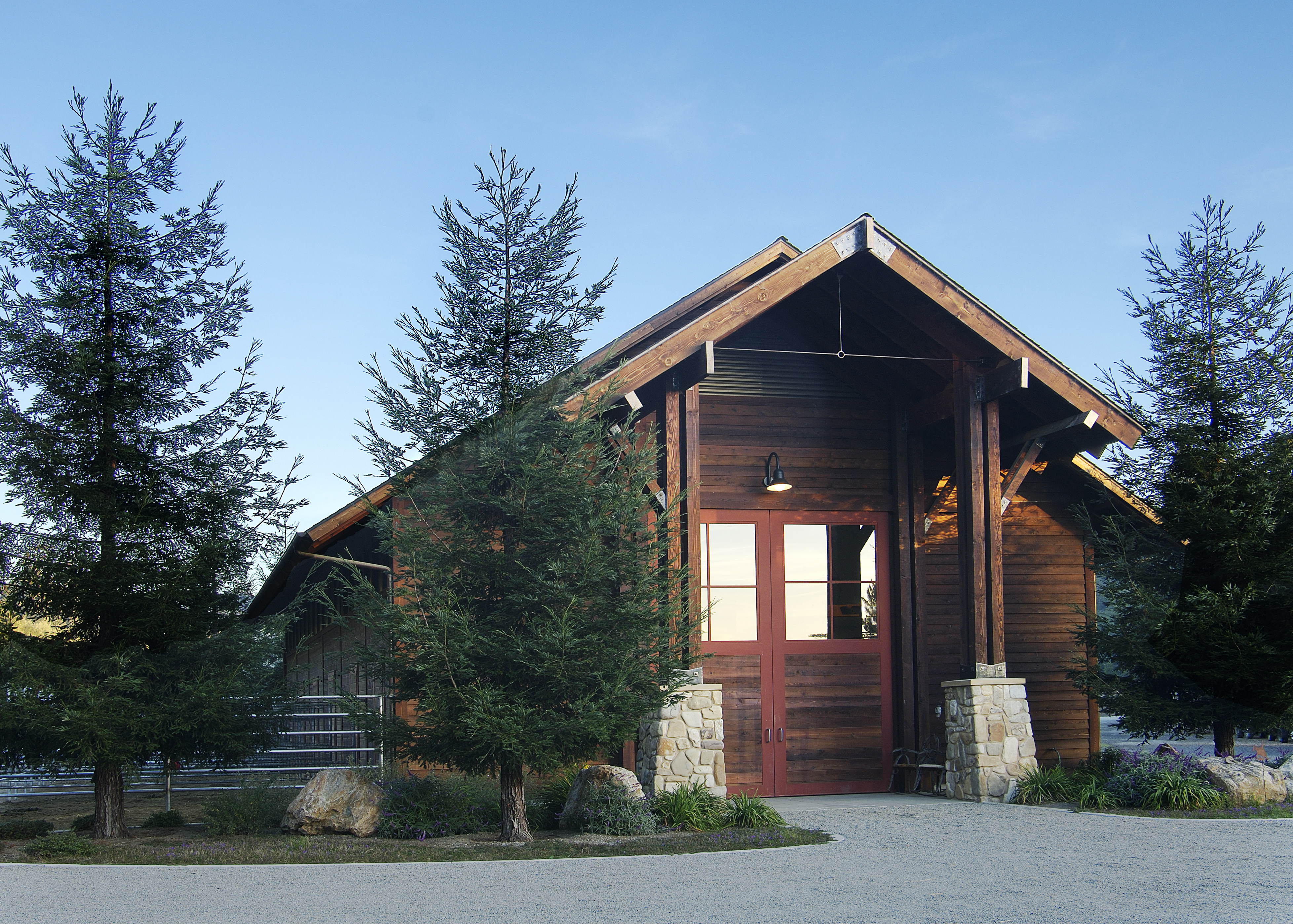 Dear disgruntled artists: the key to success isn't kicking down the door; it's building your own.
Brian Celio
Read more:http://www.brainyquote.com/quotes/keywords/door_14.html#ixzz1pshKJzeM
02.24.12
So many social media formats, so little time… did you know that my firm, Blackburn Architects, has a Facebook page? We post photos of projects throughout the design process, let you know what we're working on at the office, and share information about equestrian architecture as well as happenings in the world of horses. It's a nice format for things we'd like to share while keeping it short and sweet (unlike a certain blogger here). So, if you haven't "LIKED" our page yet, I hope you will! I promise it will keep you informed and, like my blog, invite you to use the page to ask questions and share your own stories.
In other self-promotional news (sorry, must be that kind of day), The Chronicle Real Estate Supplement for Winter 2012 features the Blackburn-designed facilities at Sheik Island Farm in Dade City, Florida. The luxury farm, which covers over 300 acres just outside of Ocala, is officially on the market. If you're interested, the website also offers a virtual tour of the farm. When we designed the farm back in the late '90s/early '00s, the farm was used as a training and show facility for hunter/jumpers and polo ponies. The tree-filled, picturesque property has two barns: a 16-stall barn for hunter/jumpers and a 10-stall barn for polo ponies. Other amenities include an outdoor riding arena, a stick and ball field, a service storage building, and an office/caretaker's residence. The barns are designed with deep overhangs and continuous ridge venting to keep horses cool during steamy Florida summers.
02.14.12
This lush and private ranch is located just north of Seattle. The 100' x 200' arena, which features a "crow's nest" observation area, will be used for hunter/jumper and show training as well as recreation. The new structure, nestled in the Northwest Mountains, fits into the site unobtrusively and reflects the Tudor-style of the existing residence, favored by its owners. Future plans to occur in phases are a 20-stall barn, parking and service buildings, and a caretaker's cottage.
Program 100' x 200' enclosed arena, future phases include 20-stall barn, parking/service buildings, gatehouse
Completion 2010 (arena construction)
Posted in
Equestrian News
,
Projects
|
Tagged Arena, arena design, Arlington, Blackburn Architects, Circle B Ranch, Equestrian, horse arena design, horse riding arena, Horses, indoor riding arena, WA
|
1 comment >
01.25.12
I think that's the top question I get (the gist of it, anyway) and it SHOULD be. Why should you hire an architect to design a horse barn? Or, Is hiring an architect to design a barn really necessary?
In short: no. However, hiring an equine architect can save you time, your horse's health and safety, and even money in the long run. Allow me to state my case.
A horse is so much more than a pet: it's a companion, a worker, a teammate, an athlete. Whether you ride for pleasure or compete, the horse—your horse—is irreplaceable. I wish not to gild the lily just to make my point, which you already know, that horse owners think the world of their horses and want to treat them with the utmost care and respect. If you keep a horse, it's your duty to protect it. While a horse is perfectly pleased to graze outdoors most days, the barn is a necessity – so I say, let's do our best to protect that horse and maybe make your life a little easier in the process.
Barn This Way – Product vs. Service
When you decide to build a barn, you have a few choices. The least costly solution is to purchase a prefab or kit barn. The prices range (rather wildly), as does the package itself. Labor is often an additional cost as well as nails, roofing, and concrete costs. Usually a contractor charges between 10 to 25 percent of the total cost of materials for construction services. However, this percentage may go up if your project is on the small side in order for it to be financially viable for the contractor. For many horse owners, a prefabricated or kit barn is a perfectly reasonable and cost-effective solution.
If you're looking for a step above prefabricated, or can afford to customize your project a bit, you may then wish to research design/build contractors – but this is where I'd stop and suggest that you alternatively consider working with an equestrian architect.
Why? A design/build contractor is selling a product, not a service, and is not often a trained architect, which limits his or her ability to think creatively outside of the box. In most cases, thinking outside of the box eats up profits and costs more money (for the design/build contractor). For a design/build contractor, the goal is to build quickly above all else. I think this compromises your program and the overall result because the design/builder does not want to eat up time resolving special issues or conflicts. The design is usually cookie cutter, following whatever pattern the design/build contractor typically uses, and there is no one there to really represent the owner (you) and oversee the quality of the project and if it's built as intended or promised.
To Serve and Protect
With an equestrian architect, you're purchasing a service rather than a product. The architect is there to resolve the needs of the owner, from overall site planning, programming, phasing, and design to overseeing the entire construction to make sure the barn is built as intended. The service costs a bit more than a design/build contractor but, if your barn is your livelihood or your sanctuary, I believe that you'll save time and stress, frankly by getting it done right the first time.
Typical services an equestrian architect (straight from the horse's mouth here, if you'll forgive my pun) will provide:
Site planning: can reduce infrastructure costs (fewer roads, less fencing, better drainage, etc.) and improve the site to function at its best for your needs.
Programming: ensures that the whole farm (not just the horse barn but the entire collection of structures on the site, if applicable: residence, guest house, caretaker's quarters, hay/bedding, vehicle storage, etc.) operates efficiently and safely.
Code analysis: certainly the codes vary across states/municipalities. We've designed horse stables in counties with very specific codes and regulations and understand what to look for and how to work with the various officials to resolve issues. The architect can save you a lot of hassle!
Budget Development and Cost Control/Scheduling: I like to develop a budget as early in the process as possible and revisit it periodically during the project. My job is to determine if the owner's programmatic needs and budget fit the site, and if the design aesthetic suits their personal design goals. We can also plan to develop the barn or various structures in phases, if applicable.
Conceptual Design: Here we develop the character and massing of the structure(s) and prepare a preliminary floor plan and elevations to illustrate our ideas. At Blackburn, this is the final phase of what we call Master Plan Services (site plan, written program, conceptual design, and preliminary construction development). From here, we move on to more detailed design work.
Schematic Design: After we complete a master plan that works well for the owner, we begin to prepare detailed drawings to give you an idea of the layout and general appearance of the barn (and possibly other buildings). We'll talk about finishes, materials, stalls, tack rooms, etc. For a lot of people, this phase of design is the fun part!
Design Development and Construction Drawings: Here we'll really start to nail down the final design and specify the materials, stall systems, finishes, and other details and prepare construction drawings that instruct the contractor how to build the barn.
Bidding and Construction Administration: Because construction drawings are open to interpretation, it's important that the architect works with the contractor to oversee that the project is carried out according to the design intent. We're the owner's rep to make sure that construction is done well and done right.
I understand this may seem like a lot, but each is a valuable step toward designing a healthy, safe, and functional facility. As an architect, I want to study how you operate and design a barn that feels inviting and personal (because it is). No barn or farm operates exactly alike as each owner or barn/farm manager operates his/her facility in a particular fashion. While designing a barn from scratch is not realistic for everyone, if you are choosing between a design/build firm and an equestrian architect, I'd strongly advise that you approach both for more information and weigh out your options carefully. It could save you your horse.
As always, I invite your questions and comments. Thanks for reading!
An architect is trained to design as the great Louis Sullivan (1856-1924) states: "Form ever follows function." After all, if your barn doesn't function properly, what's the point of a great design?
Posted in
Equestrian News
|
Tagged barn design, Blackburn Architects, Equestrian, Equestrian Architect, equestrian design, Equine Architect, Horse, horse stables, master plan, Sagamore, site planning, Tidewater
|
2 comments >
12.29.11
I wanted to share a few more photos of the construction progress at Beechwood Stables in Massachusetts, a project we worked on in association with Marcus Gleysteen Architects. We expect to punch out the project (a final walk through of the project where we review everything) very soon.
12.20.11
Located on a hilly 250-acre site with two lakes, Glenwood Farm is designed of wood and stone to fit within the natural landscape. The covered arena and outdoor dressage arena with surrounding paddocks overlook a small pond. The 12-stall barn has two wash/groom stalls and service space that includes a tack room, feed room, tool/work space, and laundry as well as a lounge with a loft and office space. A separate service building stores bedding and hay. The farm is used for boarding private horses as well as for the family's personal use.
Program 12-stall barn, covered arena, and service building
Completion 2008
11.22.11
This private equestrian facility is located on rolling open fields in the heart of Northern Virginia's hunt country. Simple in design and functional in layout, the barn was conceived to meet the owner's specific program needs for the training of hunters and jumpers.
Program six-stall barn with attached enclosed arena and an elevated observation room, tack room, wash and groom stalls
Completion 2002
10.27.11
I admit it: I've never even heard of mutton bustin' until reading about the event, which is part of tonight's lineup at the 53rd annual Washington International Horse Show, in yesterday's Washington Post. Apparently mutton bustin', in which kids weighing 60 lbs. or less play rodeo kings and queens while riding on SHEEP (like a fluffier and friendlier bull?), is popular in Australia. Wonder if it will catch on in the states. Or am I already behind?
It's hard for me to imagine that any sheep with a 6-year-old on its back would feel inspired to do much other than lie down for a nice nap, but apparently it can get quite rowdy (witness the poor kid in the photo below). My curiosity is certainly piqued. I'll even get to see the "action" live because my staff and I are attending tonight's show (it's BARN NIGHT, after all). Everyone at Blackburn enjoys watching the terrier races, but I bet mutton bustin' gives the dogs a run for their money, at least as far as the cute factor goes.
For those of you who plan to attend tonight's show, please follow me on Blackburn's Facebook page, where I'll post about the event and coordinate to meet up with fellow horse and barn lovers. And if you can't make it to the show, consider watching it via live streaming.