Blackburn Architects
03.01.17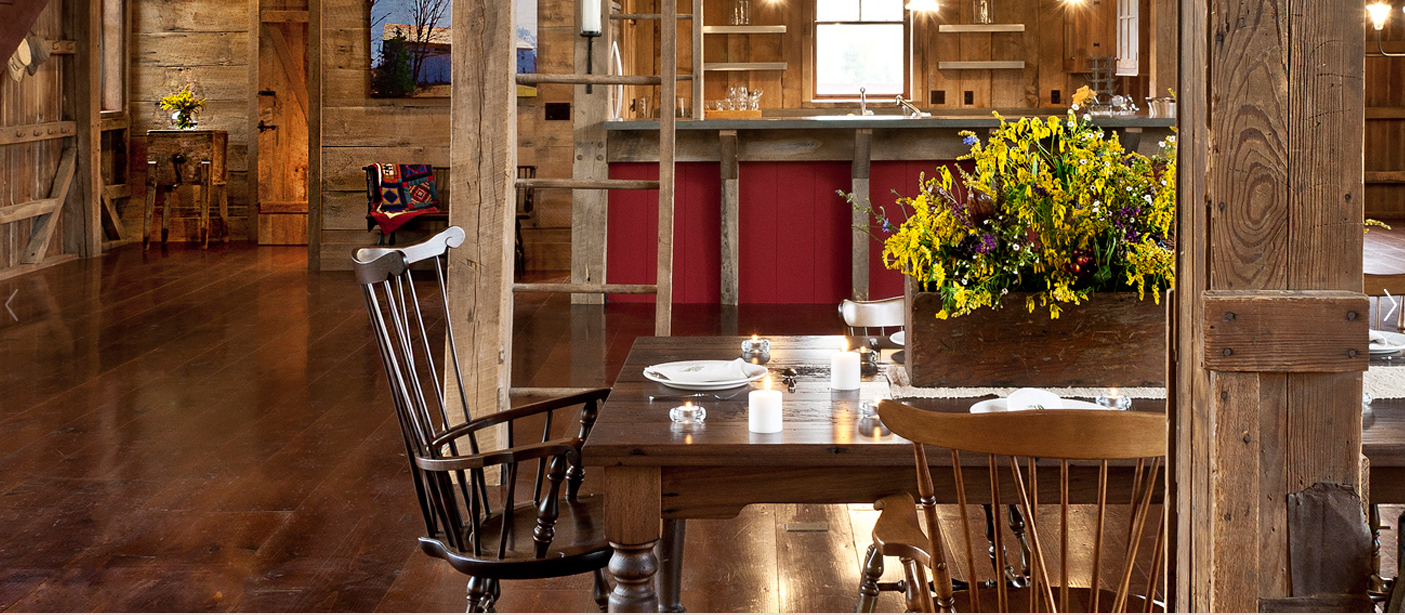 They're rustic, lofty, and tug at the hearts of people searching for a simpler way of life. Supported by a sturdy skeleton of timber and a base of stone nestled into the land, the appeal of living in a barn is seemingly timeless. These structures effortlessly fit into the landscape, whether in Pennsylvania, Ohio, or Europe.
For many years now, we at Blackburn Architects have watched the popularity of using these simple structures grow in popularity for secondary uses.  There are tens of thousands of articles and project profiles about converting old barns into residences, guest houses, schools, breweries and wedding venues. We love the "reuse, reduce, recycle" of these historic structures rather than demolishing them (sending the material to a landfill) and building a bigger footprint in their place.
There's even a How to Guide (aptly titled, How to Take One Old Barn and Call it Home) from the team at This Old House. Converting an old barn into a new home isn't a task for the faint of heart, but big things can yield even bigger rewards. The article touches on common issues you'll face: structural (is it safe? how's the foundation?), is it energy-efficient (you can bet it's not — yet!) and water sealed (again — no way, no how), the pluses and minuses of such a large, open space, and more.  The challenge is often finding a way to adapt it to a new use without loosing the character of the old barn but also doing it in a way that is sympathetic to its original function.  When all is said and done, it needs to still look like a barn.
Our conversion of an old barn in Ohio into a guesthouse/party barn has been wildly popular on Pinterest and Houzz. The conversion of the bank barn into a spacious new home involved stabilizing the dilapidated structure and picking it up (literally) to move to a different location on the site. Our goal was to salvage the beauty of the barn and retain its character and charm. We reused lumber where possible and play with a mix of traditional details and modern amenities.
You can find photos of the project here: http://blackburnarch.com/projects/ohio-party-barn/In the meantime, how about some inspiration for your own conversion project? Here's just a sample of what we've found lately. If you stumble upon a great adaptive reuse project (whether it's a barn, an old warehouse, a church), let us know. We always relish these challenges.
New York Times: The Call of Converted Barns 
New York Times: An Upstate Farm Brings a Fashion Photographer Back to His Roots 
Inhabitat: Beautiful Bank Barn Conversion 

02.28.17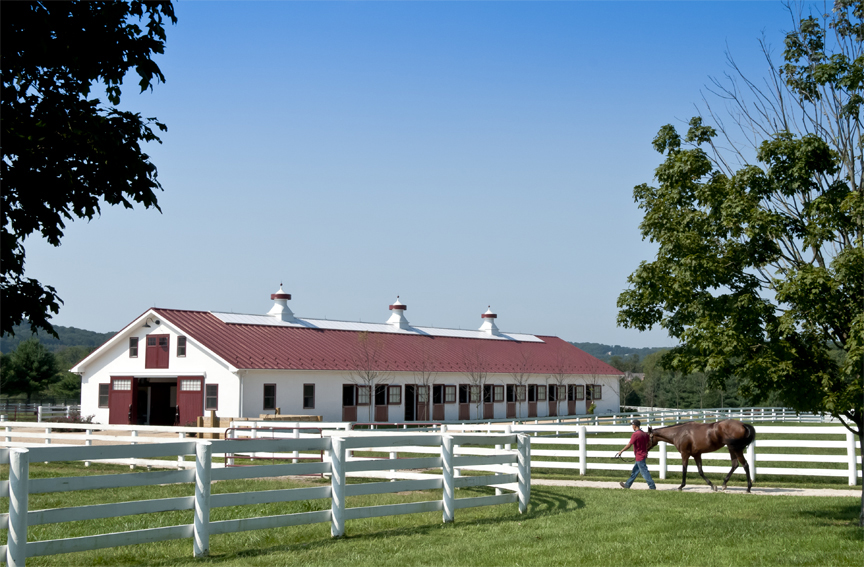 Might seem unlikely, but the designers at Blackburn Architects care about pastures. We think about them a lot.
For instance, did you know that now's the time to sample your pastures for soil fertility? Early spring and fall are the best times to take these samples, according to the University of Kentucky College of Agriculture, Food and Environment, which released the article, linked below, last week. The article recommends sampling the top four inches of the pasture, and dividing large pastures into "sub-pastures" for sampling based on the varying topography.
"I Recommend that any horse owner in the United States contact their local Soil Conservation District (SDC) for advice in their specific area," said John Blackburn, Senior Principal at Blackburn Architects in Washington, DC. "SCD's are one of the best services provided by the Federal Government to farmers and in most cases the services they provide are free. Some pay you for installing and pursuing Best Management Practices. By definition, Conservation Districts are "government entities that provide technical assistance and tools to manage and protect land and water resources in the United States. There are more than 3,000 in the United States. Depending on the state, they may also be known as soil and water conservation districts, soil conservation districts, resource conservation districts, or other similar names. Nationally and within each state, the districts are generally coordinated by non-governmental associations. District borders often coincide with county borders."
http://www.thehorse.com/articles/38847/fertilizing-cool-season-horse-pastures
From concerns such as pasture maintenance to siting roads and structures on a property, many people contact us who are unsure of when and how to begin working with an architect. Teaming with a property owner to master plan their site, either for the first time (no structures on a blank canvas) or "redefining" an existing property (which may not be planned for best use practices), is part of the first phase of work performed by Blackburn Architects. With an equestrian architect, you're purchasing a service rather than a product. The architect is there to resolve the needs of the owner, from overall site planning, programming, phasing, and design to overseeing the entire construction to make sure the barn is built as intended.
Typical services we provide include:
Pre-purchase planning. Prior to purchasing a farm, we work with clients to "test fit" the property against their program needs and to look for possible siting or property issues (wetlands, environmental restrictions, siting grading concerns, code issues, sufficient acreage, etc.)
Site planning: can reduce infrastructure costs (fewer roads, less fencing, better drainage, etc.) and improve the site to function at its best for your needs.
Programming: ensures that the whole farm (not just the horse barn but the entire collection of structures on the site, if applicable: residence, guest house, caretaker's quarters, hay/bedding, vehicle storage, etc.) operates efficiently and safely.
Code analysis: certainly the codes vary across states/municipalities. We've designed horse stables in counties with very specific codes and regulations and understand what to look for and how to work with the various officials to resolve issues. The architect can save you a lot of hassle!
Budget Development and Cost Control/Scheduling: I like to develop a budget as early in the process as possible and revisit it periodically during the project. My job is to determine if the owner's programmatic needs and budget fit the site, and if the design aesthetic suits their personal design goals. We can also plan to develop the barn or various structures in phases, if applicable.
Conceptual Design: Here we develop the character and massing of the structure(s) and prepare a preliminary floor plan and elevations to illustrate our ideas. At Blackburn, this is the final phase of what we call Master Plan Services (site plan, written program, conceptual design, and preliminary construction development). From here, we move on to more detailed design work.
Schematic Design: After we complete a master plan that works well for the owner, we begin to prepare detailed drawings to give you an idea of the layout and general appearance of the barn (and possibly other buildings). We'll talk about finishes, materials, stalls, tack rooms, etc. For a lot of people, this phase of design is the fun part!
Design Development and Construction Drawings: Here we'll really start to nail down the final design and specify the materials, stall systems, finishes, and other details and prepare construction drawings that instruct the contractor how to build the barn.
Bidding and Construction Administration: Because construction drawings are open to interpretation, it's important that the architect works with the contractor to oversee that the project is carried out according to the design intent. We're the owner's rep to make sure that construction is done well and done right.
Each step in the process leads to a healthy, safe, and functional facility. As architects, we want to study how you operate and design a barn that feels inviting and personal (because it is). No barn or farm operates exactly alike as each owner or barn/farm manager operates his/her facility in a particular fashion. While designing a barn from scratch is not realistic for everyone, if you are choosing between a design/build firm and an equestrian architect, we would strongly advise that you approach both for more information and weigh out your options carefully. It could save you your horse.
As always, we invite your questions and comments.
02.13.17
Q: We're renovating our fireplace, and want to incorporate the exposed fireplace flue shown in your German bank barn renovation. Where do you get the pipe for it?
Thanks,
Barn Enthusiast
Dear Barn Enthusiast,
Congrats on your barn conversion! We love breathing new life into these wonderful structures. To answer your question about the flue we used, It's a galvanized steel flue, 12"-14" in diameter, and came in about 4 foot sections.  It should be pretty easy to find. Stainless steel is another good recommendation and look.  Galvanized is a little less expensive, but a little more rustic.
Hope that helps! Good luck with your project.
John
Posted in
Equestrian News
,
News and Press
|
Tagged Adaptive Reuse, Architect, Barn, barn architecture, barn design, Barn Fireplace, Blackburn Architects, Blackburn Architects barns, Blackburn barn conversion, Blackburn greenbarns, renovating an old barn, turning an old barn into a house
|
Leave a comment >
01.31.17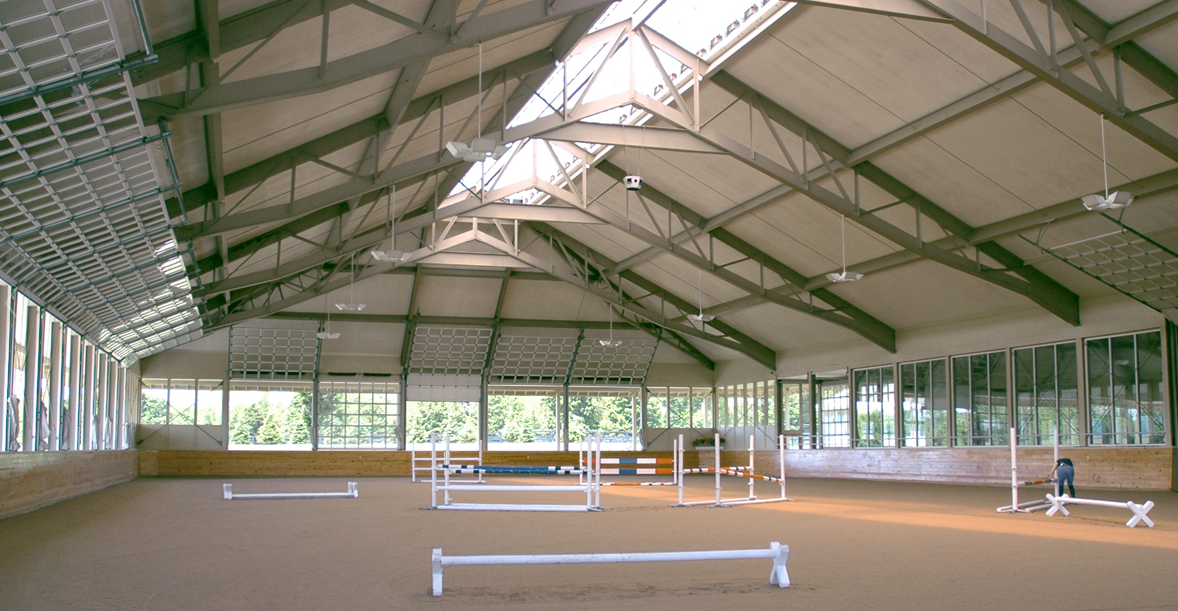 Hello John,
I'm meeting with an arena builder this morning.  It's finally clearing up around here, so we hope to start constructing the forms for the barn foundation this week.
Q: Do you have any advice about a design for a canted ring liner?  Or even just describe what is the norm?  We need an idea of how a segment typically is built.
Is it a good idea to go on up vertically after the canted part, another couple feet, to get a better compromise between indoor and covered only??  Or would that be claustrophobic?  We plan to use gale shields (netting panels) to cover the openings/protect from rain and wind.
Thank you!
Northwestern Eventing Rider
A: Dear Northwestern Eventing Rider:
I'm not sure what you mean by "ring liner."  Do you mean the kick wall?
There are a variety of ways a kick wall can be designed.  I typically design it to the height the owner requests (typically around 4 to 6 feet).  We kick the base of the wall out about a foot from the top so it is slanted to protect the rider's leg.
The top of the kick wall can go to whatever height you feel comfortable but I would make sure if you are using a steel frame for your arena roof and the interior face of the steel column slopes inward, that you allow some extra space between the top of the kick wall and the front edge of the column so that the rider's shoulder or head doesn't come in contact with the column.
I suggest extending the kick wall into the footing to the gravel base. Remember, the bottom boards and the framing behind the kick wall should be constructed of treated wood wherever it comes in contact with the ground or grade.  In most cases the frame is constructed of pressure-treated lumber and the bottom boards are pressure-treated to a point about 18" above the footing surface.
Also, I suggest putting gravel in back of the kick wall to the height of the arena footing to prevent the footing from being driven over time under the kick wall by the pounding of horse hooves.
I hope this is helpful.
Good Luck,
John
Posted in
Equestrian News
,
News and Press
|
Tagged Arena, arena construction, Blackburn Architects, Dear John advice, designing a horse riding arena, designing arena kick-wall, equine design, equine designer, indoor arena, indoor riding arena, kick wall design, riding arena design, ring liner
|
Leave a comment >
11.21.16
John Blackburn answers your questions about barn design.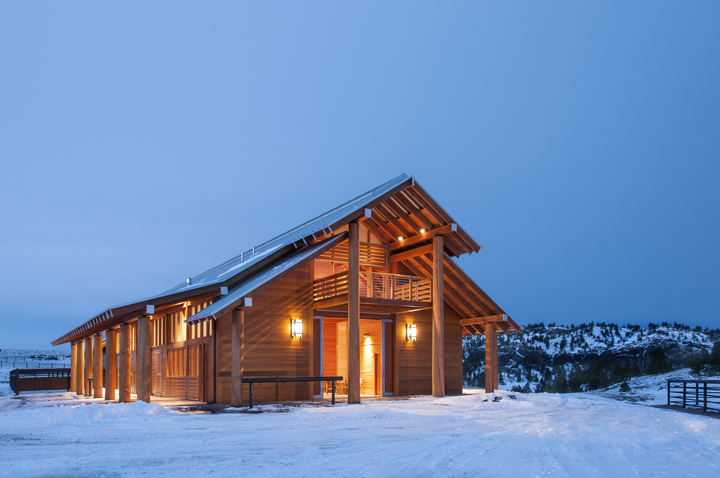 Q: Dear John,
Long ago you were kind enough to give me a bit of advice about planning a barn.  We got started last spring, but were waylaid by an evil contractor who put the barn in the setback, with poles only 18″ in the ground, and a drainage system two feet too high to catch any water.  On top of that, he dumped 130 truckloads of bad, unnecessary fill, and built a retention pond that is 36% too small – UGH! Luckily it was all easily documented by the project's engineer so we are able to recoup a little of the money laid out.  
So:  moving along, we deconstructed the barn, redid all the drainage, and turned to a pre-fab barn.
The new building is a 60×120 raised center aisle structure.  I requested open sidelights and a ridge vent to help keep airflow going in the soggy, humid climate in the northwestern US.  The stalls almost always will be open to an 8ft shed eave and attached paddock.  Their fronts are composed of lots of steel mesh — so lots of air.
I'm NOW STUCK. I feel quite stuck because no one around here understands your way of doing things. I'm trying to incorporate what I learned over the years from your publications.
Please help with my roofing situation:
The roofing is 26g boxed rib metal panels.  I requested polycarbonate panels be incorporated for natural light.  The question is whether it's unwise to let the whole raised center be polycarbonate, or go with only one light panel per 12ft section–and whether it's crazy to use clear vs opaque white panels.  (Most weeks out of the year it is damp and grey and cold here.)  The barn company is in hot California so they think the whole idea is nuts.  
If moved to offer an opinion, please know I'm already grateful.
Thank you,
Northwest Endurance Rider
A: Dear Northwest Endurance Rider,
I understand why you resorted to prefab because you've been thru a nightmare. However, prefab barns can be hot boxes in the summer, and don't always provide adequate controls for natural light and ventilation. Pre-designed, pre-engineered buildings are typically designed the same for all areas of the country and no two areas of the country are alike nor are the sites. Environmental and weather conditions can differ dramatically so a prefab building designed to fit all sites just does not work best for the health and safety of stabling for horses.  But I understand.  You've selected the barn you want, now my advice is you should provide for as many options as you can for control of natural light and ventilation.
You mentioned a 60 ft x 120 ft raised center aisle structure.  How many rows of stalls are there in the barn?  The best arrangement is to have one center aisle and a row of stalls along each side of the barn.  The 60 ft width sounds like there are two main aisles with rows of stalls on both sides of each aisle.  That would mean two of the rows of stalls are back to back and not on the exterior where they get adequate ventilation and natural lighting.
The 8 ft shed eave is too low in my opinion.  I use 12 ft as a minimum though 10 ft may work for smaller horses and if there are no obstructions below the roof.  However, there are usually lights, fans, beams, etc. that drop down and they can be a danger to horses.
I like the use of translucent polycarbonate panels.  Translucent, not clear, as it breaks up the light and hides the dirt that accumulates on the skylight over time.  Providing polycarbonate across the center aisle sounds nice, but I'm unsure how it will look on the barn design you selected.  If you're putting a skylight over the raised center aisle roof, what is on the face of the raised center portion?  There is usually some sort of glazing or louver for venting.  It will be important that these elements complement one another. Thanks for the question and I hope this is helpful.  
Good luck!
John
11.01.16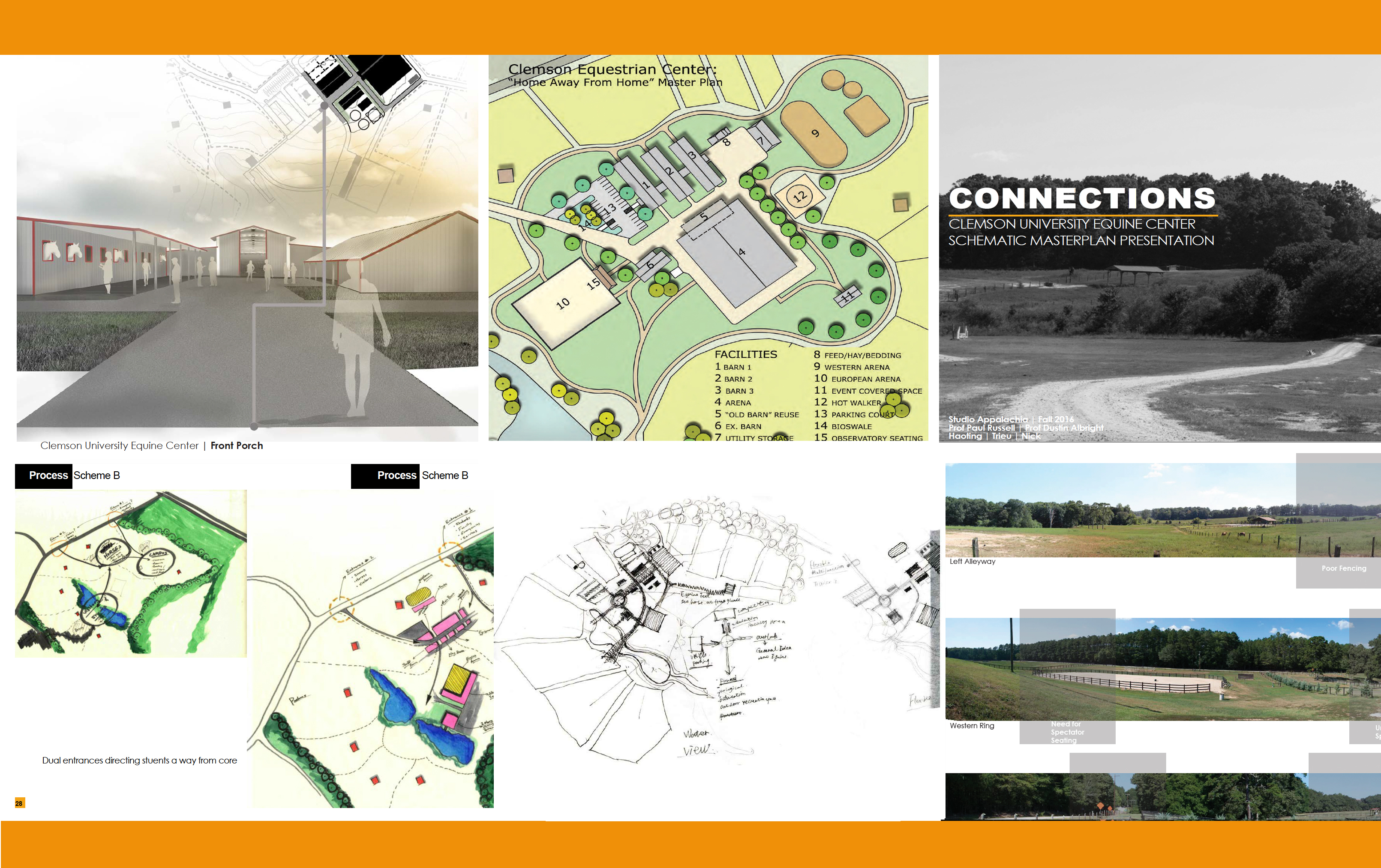 Checking back in to report what's been happening at Clemson's School of Architecture & Studio Appalachia.
 In case you missed it… Studio Appalachia is a collaborative, project-based graduate design studio between Clemson's school of architecture and its department of landscape architecture. The Studio is directed by associate professors Dan Harding and Paul Russell. Studio Appalachia targets issues such as: accessibility to natural resources, sustainable building strategies, and approaches to long term visioning and planning.
I was asked to participate in this year's studio because it involved horse facilities, specifically re-envisioning the Clemson University Equine Center (CUEC). With aging facilities that are well-used and well-loved, I knew it would be fascinating to see how these talented students created a fresh program for the facility. The teams of architecture and equine business students (a new twist for the studio) have spent the last several weeks immersed in detailing the site and facility requirements, learning about design issues unique to equines.
Teams consisting of three to four students conducted rigorous research, made several site visits, interviewed user groups, studied topography, considered land, sun, wind, circulation paths and traffic flow to create detailed and well considered Master Plan Studies and Field Reports.
Referencing the evolving formal and material contexts of Southern Appalachia, the four teams stated as goals to "improve circulation, establish organization, and enhance the (existing) ecology of the historic Clemson farm. To them, as one team eloquently stated, the CUEC is more than a farm; it is an institution that showcases the prestige of the university, and embodies the history, strength, and energy that the equine program was founded on.
The preliminary master plan schemes presented earlier in October were successful in developing goals and considerations for further study. The studio presents preliminary concept designs later this week and I'm looking forward to the big reveal.
02.02.16
Coming off the heels of a truly epic storm for the Washington D.C. area (and most of the east coast!), I thought I'd take a moment to address how design techniques can help barns "weather" extremes.
In the United States, the upper northeast regions through to the Midwest are prone to experience weather extremes in the form of snow and ice. While we cannot entirely "weather proof" a barn, we can make it more resilient to some of the more damaging effects of weather phenomena.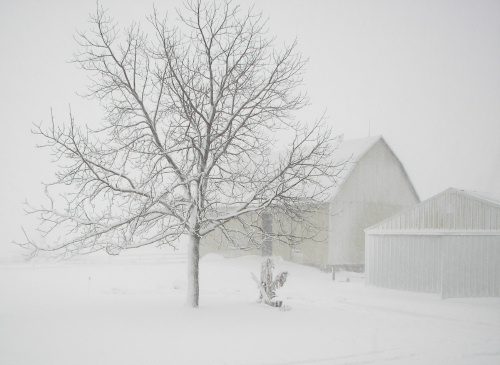 The roof of your barn needs to be able to:
Withstand the weight of snow and/or effectively shed it
Prevent or reduce the formation of ice dams
Redirect "roof avalanches" from sliding into high traffic or poor drainage areas and also reduce associated noise that could frighten the horses.
In addition to contributing to the Bernoulli principle I incorporate for natural ventilation, steeply pitched roofs also contribute to effective, gradual roof shedding and the redistribution of snow load. Ideally the pitch should be between 4/12 and 6/12 to get the optimal shedding effect (although, we generally try to keep pitches at 7/12 or more to take full advantage of the Chimney Effect and Bernoulli principle for natural ventilation)
Roofing material will also factor into how the snow will shed. Metal roofs are excellent as they are smooth and slick. They will also stay colder longer; reducing the likelihood that snow will melt and form ice dams (more on this below). Snow will shed from a metal roof even if the pitch is lower. Shingled roofs, however, will slow down the shedding process by "holding on" to the snow and allowing it to stay in place and accumulate. Consider a steeper pitch if you prefer a shingled roof as it will facilitate the shedding process over the rougher material.
Now, you might be saying to yourself, "Well, the snow is off the roof…but it's all over the place! Now what?" Including strategic roof overhangs will complement the steeper pitch by helping to distribute shedding snow away from exterior walls and out of traffic and poor drainage areas. Be wary though, snow sliding off roofs can be noisy and frightening to horses, not to mention dangerous if it falls on you! Snow guards on the roof can help reduce the noise associated with shedding snow and keep huge sheets of it from falling on (and potentially harming) 2 and 4 legged passersby. Gabled dormers over entryways can also be useful. They help to direct snow off to the sides.
Ice dams are another unfortunate side effect of snow-laden roofs. An ice dam forms when the underside of the roof gets warm enough to thaw the bottom layer of snow sitting on the other side. The water makes its way down to the eave where it refreezes, eventually growing into a mound of ice. As the ice dam gets larger, it can pull the shingles and edges up allowing water to get through and into the insulation and walls. Water damage then wreaks havoc on the interior of the barn. The ice dam could also break off the eave and take pieces of the roof with it or fall on passersby. Sure, there are ways to deal with ice dams once they've formed, but natural ventilation can help prevent them upfront. Natural ventilation keeps the underside of the roof within 10 degrees of the outside temperature, which aides in keeping that critical layer of snow right on top from thawing and running down towards the eaves.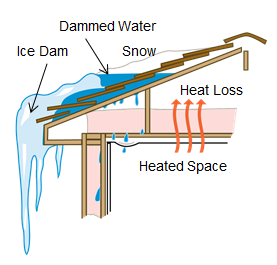 Site and circulation planning can help prevent and/or reduce the impact of icy conditions around equine walkways. In the interest of horse safety, I try to design site circulation so that horses do not need to move over asphalted areas intended for trucks and service vehicles (there are other benefits associated with that as well). Asphalt is not great for horse's knees, generally, but it is particularly problematic when wintery conditions lead to the formation of "black ice" — a thin sheet of ice over the asphalt that can be imperceptible to the horse or persons walking on to it. Horse pathways in and around the barn should include porous footing that absorbs and carries moisture away quickly. Presently there is no way (that I know of) to prevent pastures from freezing over, but you can maintain a dry paddock or "sacrifice" lot where your horses can be turned out when pastures have been effected by inclement weather. Paddocks with considerable slope can be particularly hazardous when they freeze over. That's when a "level" dry lot can be very useful!
As many on the east coast found out this past week, there is only so much preparation you can do in a couple of days before a storm hits. You, your horses, and your barn will benefit from built in preparation.
Posted in
Equestrian News
|
Tagged barn architecture, barn design, beechwood stables, black ice, Blackburn Architects, dormer, Equestrian Architect, extreme weather, farm planning, gable, horse barn design, horse stables, ice, ice dam, ice damming, John Blackburn, overhang, roof, roof pitch, snow, snow load, snow shedding
|
Leave a comment >
11.11.13
Date: November 6th, 2013
Location: Lucky Jack Farm in Rancho Santa Fe, CA
Patty Brutten, the farm owner led off the presentation with introductions and a brief history of what led her to build Lucky Jack Farm. The property was designed in the Rancho Santa Fe historic style made famous by Lilian Rice in the 1920's and has an historic designation characterized by low-slung terra cotta roofs, shuttered, deep-set windows, white or neutral colored adobe walls, and intimate patios and courtyards, that define the area. Today it is known as California Romantica, California Mission, or Spanish Colonial style.
All of the author proceeds for the sale of John Blackburn's book, Healthy Stables by Design, are donated to equine charities. The owners of Lucky Jack Farm, hosts of this event, chose REINS Therapeutic Riding Program in Fallbrook, CA. Debbie Shinner, who has been the Executive Director of REINS since 1995, spoke about the program, its history, and how she became involved in 1992.
Our own John Blackburn followed Debbie with an introduction of some of the key members of the design and builder team, a short presentation about his background designing for horses, and the design aspects he believes to be essential for successful equestrian projects. He also covered design concepts of his firm's predesigned Blackburn Greenbarns® as well paying notice to several projects in the book, Healthy Stables by Design. As he does in every presentation, John stressed how the health and safety of the horse remains the priority in every design regardless of the budget, location, or program.
Following the presentation, Blackburn architect, Dan Blair led a portion of the attendees on a tour of the Lucky Jack Barn, illuminating its unique design aspects and how the firm tackled the challenge of having the barn's designs comply with strict building and fire codes without sacrificing a healthy and safe environment for the horses.
The event ended with the sale of 64 copies of Healthy Stables by Design and raised nearly $2000 for the charity. This amount was increased significantly by several private voluntary donations.
John continues on his book tour and equine charity events with presentations in Pebble Beach and Monterey CA and at a private facility in Central California in the Bay Area.
Scroll down for pictures from the event.
07.01.13
Even though the 26th Annual Bark Ball for the Washington Humane Society (WHS) was June 8th, I wanted to share a little about this event because of its importance for the animals of DC and to us here in the office. Blackburn has been working with the DC WHS to find a suitable site and design a new shelter. While site selection is ongoing, the master plan was created in 2006. This year, our senior Project Architect, Daniel Blair, who has been with the firm for over eight years now, attended with his wife Ellie. As mentioned before, Dan and Ellie are very active volunteers in animal rescue. They volunteer for both the Washington Humane Society and HART in Virginia, and have rescued over forty dogs to date. I'll let Dan take the rest of the story from here…
For those who are unfamiliar, the Washington Humane Society is one of the ten oldest Humane Societies in the US and was chartered by Congress in 1870. They run adoption, foster, educational, spray/neuter, and other related programs. In addition, they have always held the contract to provide animal control services for the District of Columbia – meaning they have to take in and care for every animal that is caught or turned in. This includes everything from gerbils, cats, and dogs to lizards, birds of prey, deer, and straight from the most recent headlines: pandas and bears.
For many years their facility was routinely underfunded and in such a poor state that it was difficult to attract potential adoptive parents. These operational difficulties contributed to the WHS's kill rate exceeding 80%. Starting aroung 2005 with new leadership, the WHS adopted a 10-year plan to become a no-kill shelter. The most recent President and CEO of the WHS, Lisa LaFontaine, has not only continued this mission, but has expanded the organization to reconnect with the community and gain public awareness and support.
In the past year alone, the WHS cared for over 3,000 animals and was able to place over 2,500 into new homes. Within 7 years, the WHS has seen its kill rate plummet from a routine 80% to less than 20%. When you include the fact this was achieved during a slow economy – where there is an increase in animal volume – this is an astonishing feat.
However, in order to acheive their goal of becoming a no-kill shelter, fundraising is always important. This black-tie event for the WHS allowed guests to bring their canine companions (many fashioned in their own fancy clothing) as dates to a night of dinner, dancing, and silent and live auctions. With more than 820 guests and 400 dogs in attendance at the Washington Hilton, this year's event made history by raising over $550,000, a new record for the WHS.
This is the fourth time that Ellie and I have been able to attend the Bark Ball with our girls, Heine and Frieda. Heine, the Cairn terrier in the photos and our WHS alum, was the first dog we adopted together. Due to poor socialization by her original owners, she was an absolute train wreck when we first got her. Let's just say, she was so bad we applied for the Dog Whisperer show – and we always joke that we were denied because she was too much of a mess. We eventually found a great trainer that helped us rehabilitate her and she stills claims that Heine was the most difficult challenge she has ever faced.
We are both glad that we took a leap with Heine. She not only brings us a smile everyday when she greets us at the door, but she has also helped our trainer become annually recognized as one of the top trainers in the Washingtonian Best of DC magazine. More importantly though, Heine provided the spark that inspired us to foster and help rehabilitate other dogs in need. The Bark Ball was a great night to share stories with other foster families, volunteers, and animal enthusiasts, but it also was a fantastic evening to celebrate the positive impact this organization is having in the DC community. As an alumni, volunteer, and Architect for the Washington Humane Society's Master Plan, it is an honor to be helping the WHS make a difference.
If you want to learn more about the WHS, please connect to the WHS Facebook page.
Another video that premiered at the event spotlighted the services the WHS provides – but told through the story of a pitbull named Gary and his feline pal, Strawberry.  We're happy to announce that after a couple months at the shelter, Gary found his forever family shortly after he starred in this video.
For more photos of the evening, please visit click here.
03.22.12
Over the years, I've collected much too many photos of barn details, which includes everything from latches on stall doors to drains in aisles. It's only natural to collect the things you love, right? I often refer to my virtual stash of detail images when I'm designing a barn and hope they might serve as an inspiration to you as well. I will probably add to the collection (correction: I WILL add to the collection because I won't be able to help myself) over time. What can I say, the details separate a fine barn from a fantastic barn. On that note, I hope you'll forgive my lack of photography skill. Some of these images were taken during or just after the construction process by yours truly. That should serve to explain any and all photos with incomplete landscapes (aka piles of dirt) and unique angles (aka crooked) that are artistic-driven (aka fuzzy, out-of-focus) images.
By way of introduction to my collection, I think it seems fitting to begin this set barn detail images with the door. Every dutiful, the door is a part of every barn, everywhere. (At least I hope so.) You'll see many images of my favorite, the Dutch door, which aids ventilation within the barn. There's also human-only doors, main entrances, side doors, etcetera. Hopefully it's not too much of a hodgepodge for you to enjoy.
Incidentally, I've asked one of the more tech savvy staff (basically anyone but me) to link these images on Pinterest; we're attempting to hop on that fast-moving train because we architects sure appreciate a visual aid. If you're a Pinner yourself, let me know so we can follow you there. Until then, happy collecting!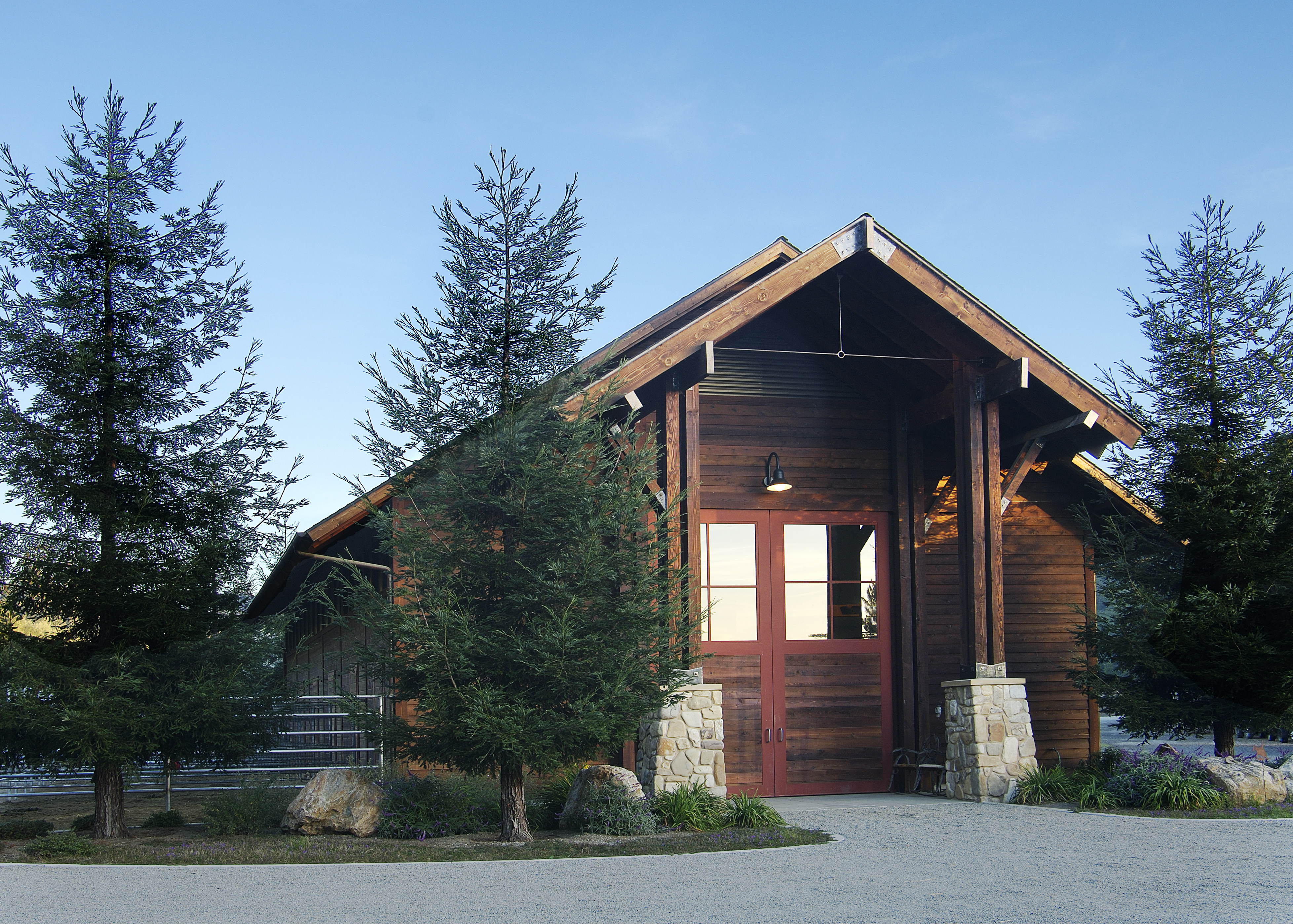 Dear disgruntled artists: the key to success isn't kicking down the door; it's building your own.
Brian Celio
Read more:http://www.brainyquote.com/quotes/keywords/door_14.html#ixzz1pshKJzeM