Blackburn greenbarns
01.17.19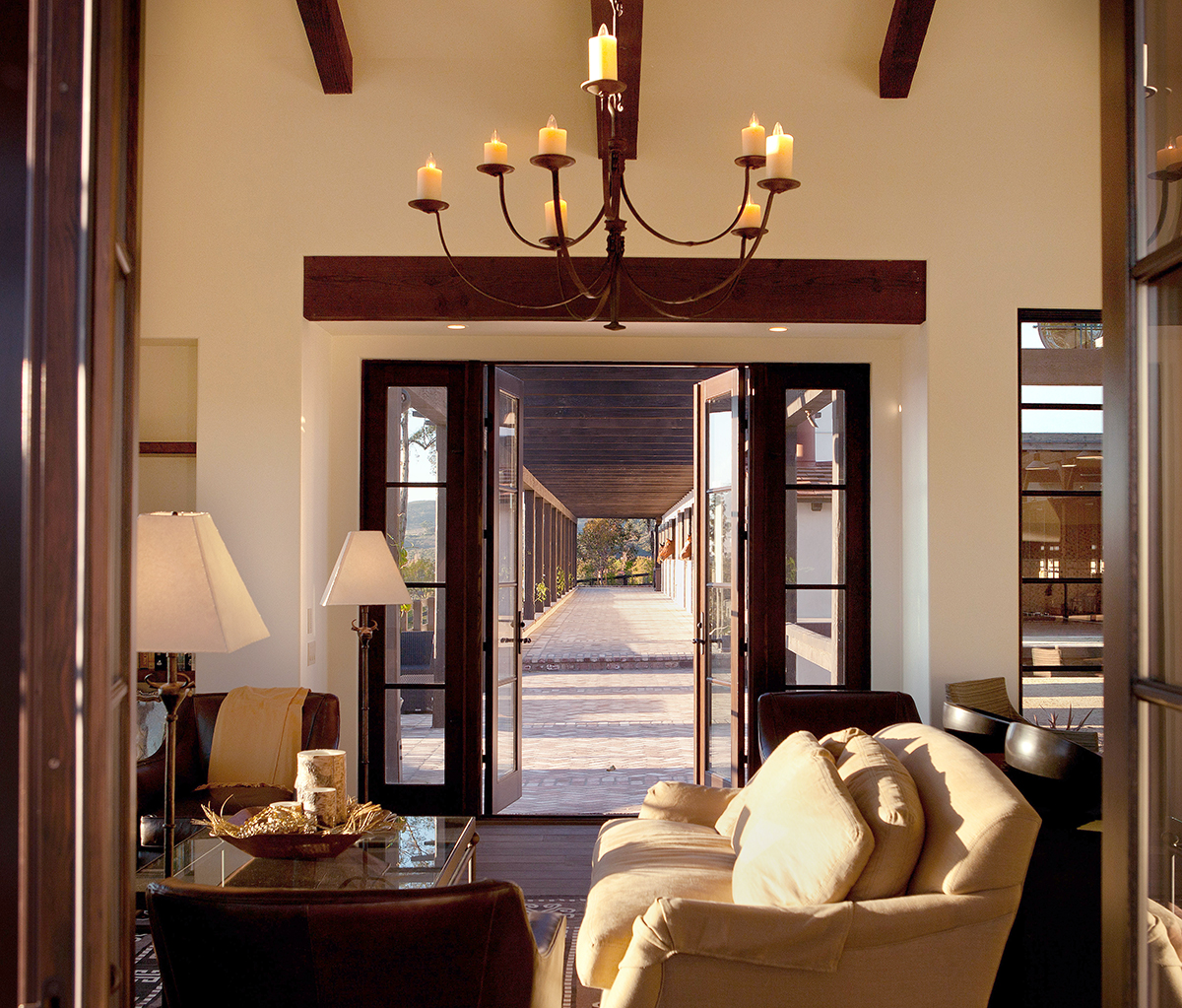 Blackburn Architects typically advises clients against including living quarters in a barn. When we add them, we provide extra safety measures.
An apartment or condo in the barn isn't the same thing as short-term accommodations. We'll often design a "warm room" into our barns so clients can stay close in case there's a sick horse or for foaling.  Even though technology provides some good methods to provide warning or protection (alarms, cameras, etc.) there are times when you just need to be close to respond quickly.
Permanent living quarters, however, can be problematic:
1. If the residential component is too large, then the change of scale can overshadow the scale of the barn and you end up with a "tail wagging the dog" situation. Aesthetically the design looks awkward.
2. If the residence will house a family, you run the risk of injury to children, pets, or visitors and there's an increased risk of fire caused by household activities.
3. If the apartment or condo is for the owner it's easier to control but if it's for a groom or an income rental it's important to be prepared that lifestyle choices may clash with your own.  For example, the tenant may be entertaining guests who may be unaware of the impact of their activities on the horses.
Because a barn usually has a lower cost per square foot (to design and build) than a residence, you may be able to save money by separating the two different uses and avoid building in the necessary fire and smoke separations.  For example, the barn could be a simple pole barn and the residence constructed to a higher standard. 
Another option is to build the apartment or residence as part of a service /storage structure or another farm building.  Two examples of Blackburn Architects' projects where we did this are Great Roads Farm in New Jersey and Kindle Hill Farm in Pennsylvania.
To conclude, without building in substantial fire/smoke separations when adding an apartment in the barn you increase your risk of disaster.  Building codes in most areas require you to include a two-hour separation.  It's essential that you check these regulations before planning an apartment in your barn.
Furthermore, an apartment in a barn or connected to it can impact the farm by forcing a larger footprint for the barn, and this can impact service roads, lead paths to paddocks, land grading, etc.  If the apt is added to the second "loft" floor unless it is designed properly it could negatively impact the introduction of natural light and ventilation (see Bernoulli principle and chimney effect).
Posted in
Equestrian News
,
News and Press
|
Tagged Architecture, barn architecture, barn design, Barn home, blackburn, Blackburn Architects, Blackburn Architects barn design, Blackburn Architects barns, Blackburn greenbarns, equestrian design, Horse, horse barn design, Horse Barns, horse stables, Horses, living in a horse barn, Stables
|
Leave a comment >
05.17.18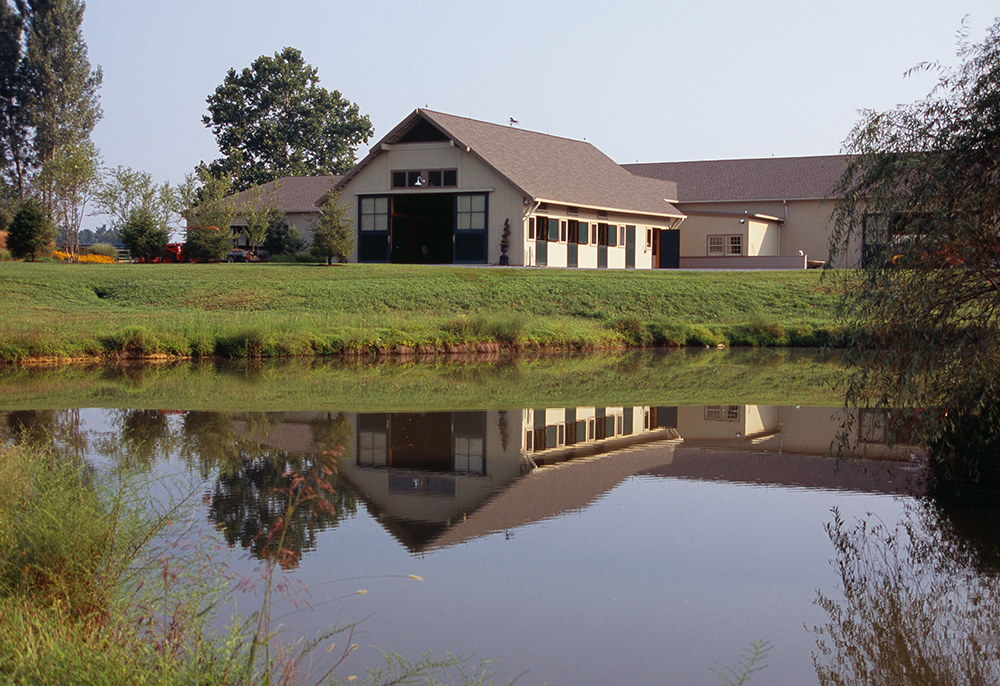 By John Blackburn
One of my favorite sayings regarding water on a farm is, "Certainly not possible in all cases, and not likely in many, but if at all possible, try to ensure the water that leaves your property is as clean as when it came onto the property."
My experience designing equestrian facilities, a personal interest in issues of sustainability, and my volunteer work with the Equine Land Conservation Resource, have raised my consciousness around land use issues regarding water. How a property drains it, where to find it, how to store it, and so on.
Whether your property suffers from too much or too little, water is an essential requirement for running an equestrian facility and has a significant impact upon the welfare of your horses, the efficiency of your farm and the budget of your operation. Water plays a big part in most Blackburn Architects equestrian projects. I thought I'd address a few solutions we can offer when there's too much coming onto your property (not your barn – that's another issue for discussion).
It's a problem that has come up recently at a farm in Texas, where clients face excessive stormwater runoff on their farm. When the rains started this spring, suddenly excess water poured onto their land from two different counties; displacing basically an entire neighborhood's volume of stormwater runoff onto their farm.
The team at Blackburn Architects will address this issue by determining the sizes of storages (dams or tanks) and diversions needed. Among the solutions that we'll apply to divert rainwater off pastures and away from buildings and high-traffic areas in the coming weeks and months are:
• Swales or Berms. Berms (elevated earth) and swales (shallow trenches) can act like gutters to redirect water away from areas that
get too much water. Planting grass, trees, and bushes will assist in stabilizing these natural water channels, so they don't become victims of
flooding over time.
• Catch Basins. A catch basin is an underground "reservoir" which collects water and drains it appropriately. Catch basins can
greatly improve farm drainage issues, allowing rainwater to flow through underground pipes leading to a sewer system or holding tanks (where it
naturally disperse). They offer a good method for moving water away from structures and off property, especially if you have to cross roads. At
Wyndham Oaks, in Boyd, MD, a Blackburn designed a system that takes water off the pastures and away from the structures, placing it into a long swale
that runs between paddocks.
• Retention Ponds. Retention ponds usually fill as a permanent pool of water, and they can also serve to temporarily detain excess
stormwater. When stormwater enters these ponds, it's released over a period of a few days, as water levels slowly return to normal.
All these methods of moving excess water can be interconnected. Run-off entering a catch basin flows through a daylight drain to swales located between paddocks. Before it leaves the site, runoff goes into a retention pond, which allows it to evaporate or gradually seep back into the soil, and recycle.
Posted in
Equestrian News
,
News and Press
|
Tagged barn architecture, barn design, Blackburn Architects, Blackburn Architects barns, Blackburn Architects Equestrian Design, Blackburn greenbarns, draining stormwater on a horse farm, Draining water on your property, Equestrian Architect, equestrian design, equestrian facility, Horse, Horse Barns, Horse Barns and Stormwater, Planning a horse farm, Too much stormwater, Too much water on your property, Water on a horse farm
|
Leave a comment >
02.23.18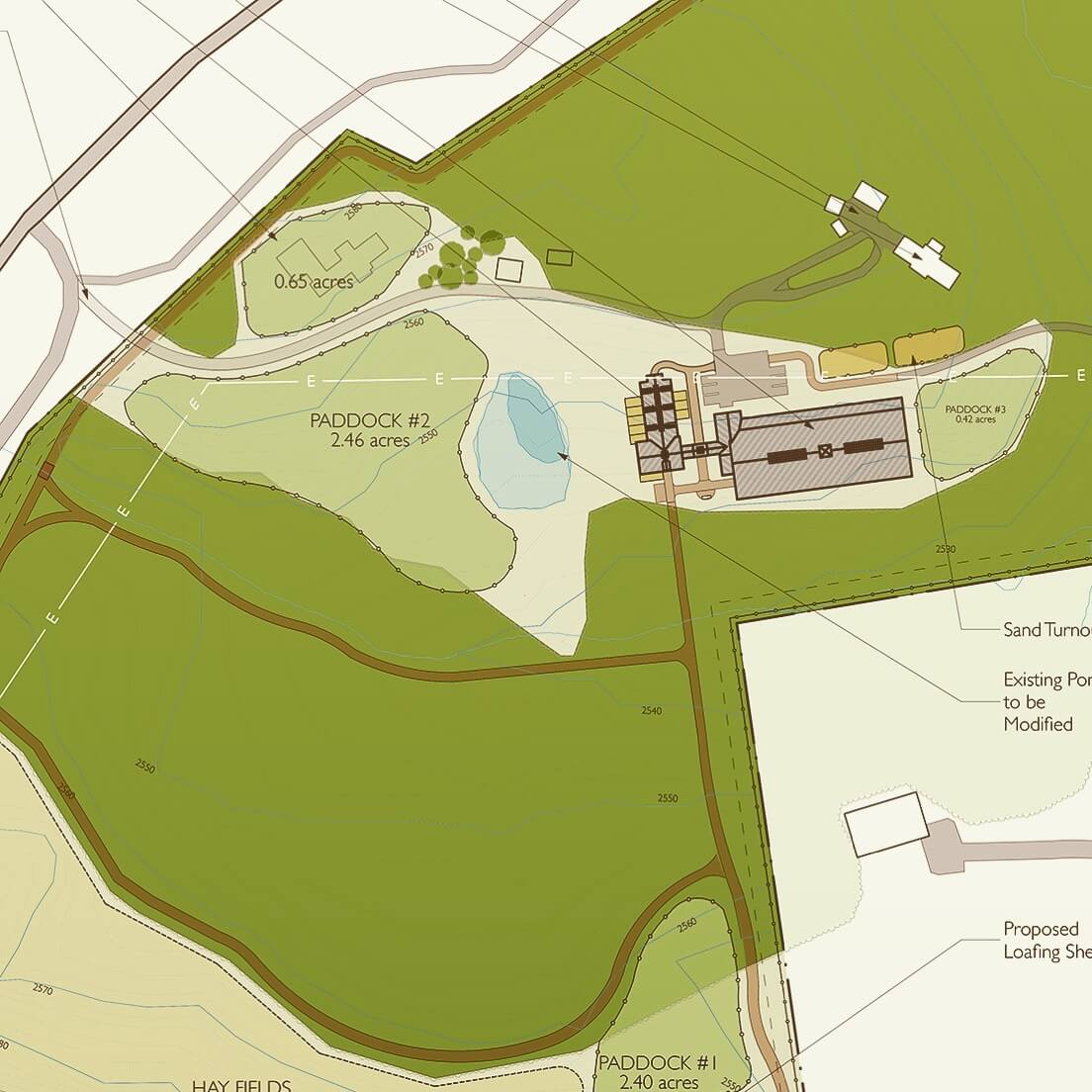 Today I got a call from a client who's buying 120 acres in North Carolina and plans to build a new equestrian center. It's been years since horses have been on the property. The pastures and paddocks are overgrown. The fences are in disrepair. The property has steeply sloped areas but the client wants a dressage ring. Drainage will be an issue. Together, we'll figure out a way forward by starting with a Site Plan to map the future; completing the owner's vision in budgeted stages over several years.
A site plan is completed by studying topography, wind and solar directions, neighborhood easements, height restrictions, zoning restrictions, soils and operational necessities (where are roads, pastures, barns, storage sheds, etc.), There are many benefits to putting together this "roadmap" for future use of the farm property. Consider that there are three major categories of costs when planning to bring horses onto your property: 1. Operational, 2. Environmental, and 3. Infrastructure. Proper planning will save you money in all three areas. Fewer roads, less fencing, better drainage all ensure that the whole farm, not just the horse barn but the entire collection of structures on the site, operates efficiently and safely.
Operational Considerations: First locate where you'll put the horses – where is your turnout? Where will you store hay, equipment, or vehicles? Do you have access for manure pickup, large-truck deliveries, guests or visitors? Minimizing the number of steps necessary for your daily routine (turnout, stall mucking, etc.) will save labor time, which of course you know is money in the farm biz. Planning will also preserve space for paddocks.
Environmental Considerations: Figure out structure placement within your acreage. It's important to properly orient any new buildings in the landscape. We design our barns to generate their own ventilation, placing them perpendicular to prevailing summer breezes. (One of many design considerations for maximizing light and ventilation, which is a subject I've written about often.) Additionally, placing structures where the land will drain easily makes good sense and will save you and your horses potentially hours of muddy misery or the cost of constantly replacing eroded footing.
Infrastructure Considerations: Fewer roads to maintain means fewer dollars spent.
Creating a master plan does not mean that every part of it needs be built at once. The plan may end up taking years to implement, but as each new structure or paddock is added, it isn't done in the usual haphazard way. It will save you from asking, "You know, I could use a tractor shed somewhere?" Even those with very limited budgets should consider getting the advice of an expert at the planning stage, given the importance of the optimum farm layout.
Bringing in a professional to carefully plan a site doesn't mean you need to commit to having a custom barn designed. Blackburn Architects' guidance can help whether you're purchasing a kit barn, designing a custom barn, or renovating existing structures. A site plan stands by itself as a service we greatly enjoy delivering to clients across the country.
Posted in
Equestrian News
,
News and Press
|
Tagged Architect, Barn, barn architecture, barn design, Blackburn Architects, Blackburn Architects barns, Blackburn greenbarns, Equestrian, Equestrian Architect, equestrian facility, Equestrian Master Planning, equine design, Horse, Horse Barns, horse farm, Horses, John Blackburn
|
Leave a comment >
02.05.18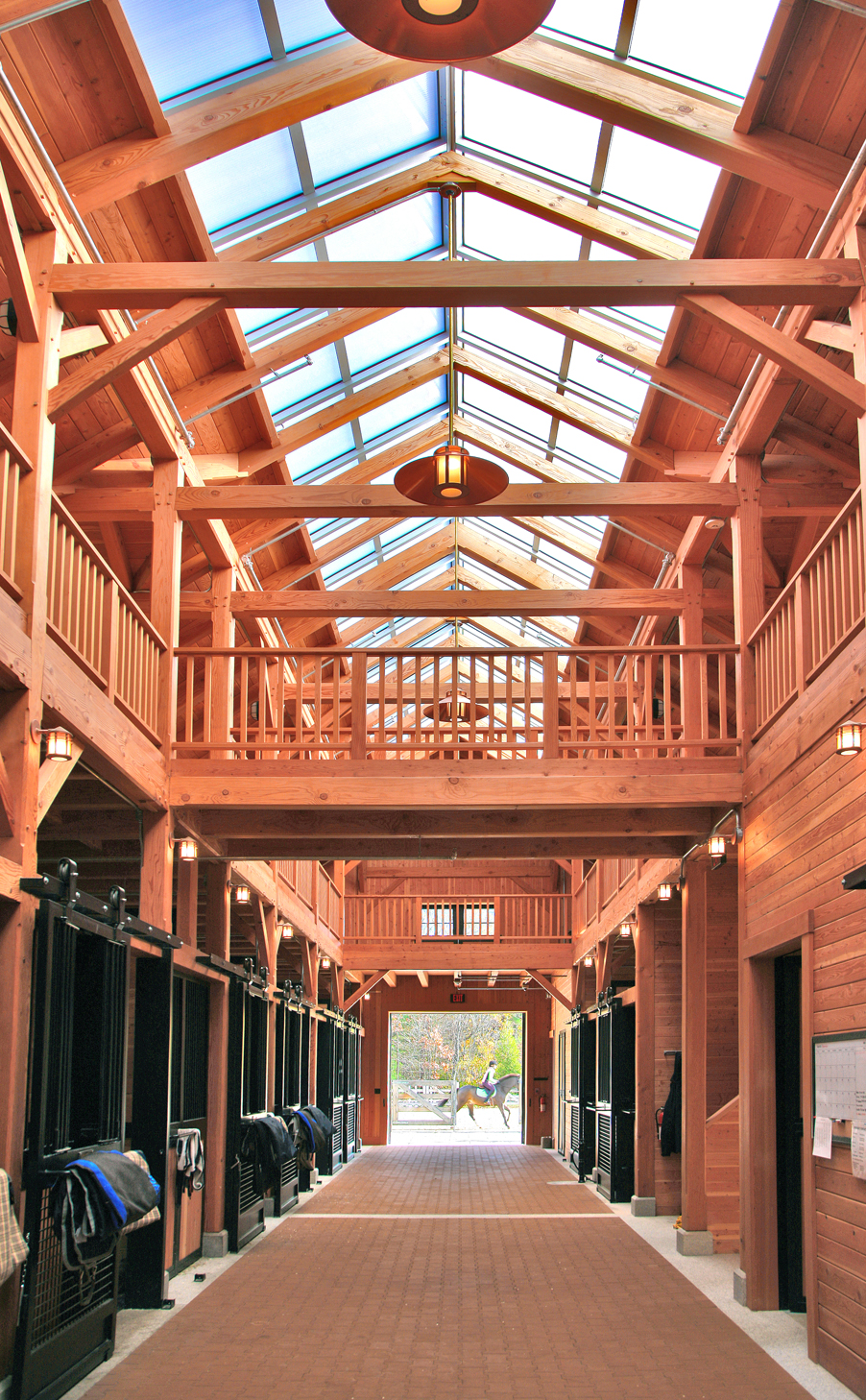 Been thinking about a custom barn, or buying property with existing structures that need an extensive overhaul?
I thought I'd take a minute and explain Blackburn Architects' process for designing a new equestrian facility and overseeing its construction. While not carved in stone, for planning purposes, can easily become a two-year process.
The first step is usually a visit by me or another Blackburn architect. The initial meeting is our first chance to meet, walk the site, look at any existing buildings and discuss the project goals. I'm a firm believer in "a picture is worth a thousand words" but "being there is worth a thousand pictures" Following this, we'll send a proposal for service, which outlines the process and fees.
Once a contract signed, we get to work immediately.
The timeline usually looks something like this:
• 6 to 10 weeks for Feasibility Study, Site Assessment and Master Plan
• 1 to 2 months for Schematic Design
• 2 to 4 months for Design Development and Construction Drawings
• 1 to 2 months for Permitting
• 12 to 16 months for Construction
At Blackburn Architects, equestrian design starts with the horse and ends with a building that fits the horse, the owner, and the surrounding environment like a glove. It's as simple and beautiful as that.
Let's explain the steps in greater detail:
Feasibility Study / Site Assessment / Master Plan
The goal of the Feasibility Study is to determine, as early in the process as possible, whether the intended project fits the owner's program, the site, and the budget.
We assess any existing building(s) and the site. We take measurements to determine if an in-place structure will work for the goals of the project. We study the land until we come to a clear understanding of wind and solar direction, soils, changes in elevation – all natural and architectural characteristics that guide placement and design of any new buildings. Central to the success of the project, this "Master Plan" addresses all these things and more, providing a road map for the success of all future phases of our work.
The site analysis also includes a review of applicable zoning and easements for the property; we determine what (if any) limitations or restrictions may apply at the property. Land disturbance allowances? Height restrictions? Set-backs?
In tandem with the site evaluation (as soon as we have a contract), we send the client a unique Blackburn Architects questionnaire that we've developed over the years. Answers are collected and inform the design; starting off the process with clear direction from the client. It is extensive and though it covers about 25 pages, once it is completed it "paints" a picture of exactly how you would like your farm to operate. The efficiency of the operation is critical and can have a huge impact on your operating cost and maintenance budget.
Schematic Design
Moving seamlessly from the master planning phase (often there is a fuzzy line here where one ends and another starts), we start schematic design. In this step, we help our clients visualize the project design with a variety of techniques using both computer and hand renderings to illustrate the scale and the relationship of the project elements. Ideas, concepts, goals take form at this stage.
Budget Development
Once we've worked up outline specifications for the work, we can begin to get a rough idea of the costs. At this point we will either develop a rough estimate based on our 35 years experience with over 300 farm projects, consult with a professional cost estimator or a builder who is familiar with the building type in your location.
Design Development and Construction Documents
Once we have the site layout, design, and budget, drawings and other documents give serious form to interior and exterior finishes, and firmly establish the size, character, and details of the project. These documents will be used by our professional consultants to design the electrical, gas, and other utilities. When these systems are defined, and we have a basic finish schedule and budget, we're ready to file for the permit and start construct of the building.
Bidding and Construction Administration
With the construction documents complete, we can help clients select a contracting company through a "bidding" process for the work, or we can work with a client's pre-selected Construction Manager. We work side-by-side with our clients to ensure that the best and most informed decisions are made during this process.
While in my experience this process typically lasts about 18 to 24 months, a lot of this depends on factors that are outside of either our control or our clients. The time of year and weather, for instance, can greatly influence how fast construction progresses, especially in colder climates. Pastures have a growing season, and they need at least a year (maybe two) to establish.
Designing and constructing a custom facility is a very subjective process, which is guided by all kinds of factors including the complexity and size of the structures, the time of year, the strictness of zoning regulations and neighborhood associations, state environmental regulations, and so on. But rather than let these things hold you back, I say, "Jump In" or give us a call to discuss how the process can work for you. When you slide open the doors to your dream facility and see the happy heads of your horses looking over the stall doors, all the time and effort will vanish. At least that's been my privileged experience over all these years.
Posted in
Equestrian News
,
News and Press
|
Tagged Architecture, Barn, barn design, blackburn, Blackburn Architects, Blackburn Architects barn design, Blackburn Architects barns, Blackburn Architects Equestrian Design, Blackburn Architects New Horse Barn, Blackburn greenbarns, Design a Horse Barn, Design a new horse barn, Equestrian, Equestrian Architect, equestrian architecture, Horse, horse barn, horse stables, John Blackburn, New Horse Barn, renovate a barn, renovate a horse barn, Stables, Ventilation
|
Leave a comment >
05.22.17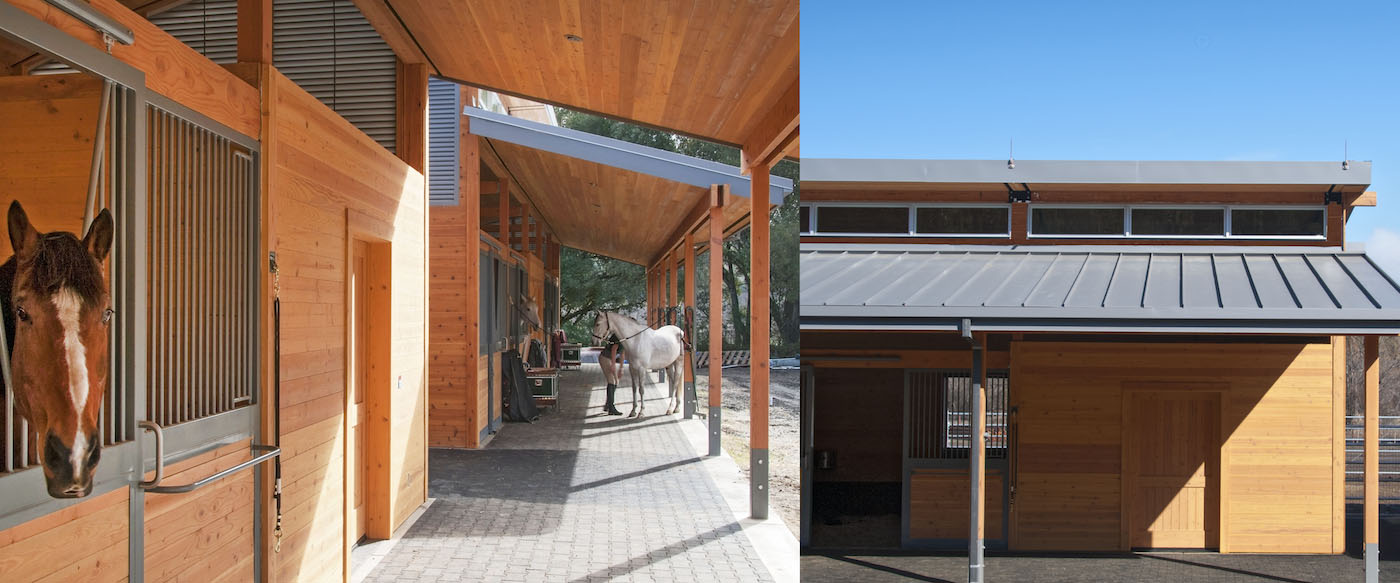 On Earth Day, April 22 2009, Blackburn Architects launched Greenbarns®, a line of pre-designed barns for eco- and cost-conscious horse owners. Eight years later, with heightened global warming and environmental worries, the line is more popular than ever. Horse owners, we know, tend to be highly aware of and concerned for, the natural world.
John Blackburn's mission for the past 35 years has been to deliver exceptional design through the creative blending of human need, horse need, environmental stewardship, science and art. When our studio created Greenbarns®, we did so to make healthy barns available to more of the country's estimated two million horse owners. The barns are designed to operate without electrical or mechanical dependence and their roofs can be energy producing. "Imagine how much energy you could generate — not just save, but actually produce — if you equip millions of roofs with active solar panels," John explained. "The energy can be sold back to the gird or stored and used on the property."
Using energy-saving "passive design" elements, Greenbarns® rely on natural lighting and ventilation. Eco-friendly materials and finishes are paired with optional add-ons such as solar panels and greywater collection systems.
When a client in southern California asked us for a Greenbarn® suited to their small, two-acre property, we delivered a customized 3-stall barn that included a composting station and solar panels. The barn and paddock take up just 1/2 an acre and are located behind the owner's existing home. Green materials include: light-colored roofing with a highly reflective finish, recycled content concrete blocks, low VOC stains/sealants, FSC certified wood products. Green systems include a manure composting station, and solar panels.
Blackburn Architects has formed partnerships with leaders in sustainable technology to connect our clients with the latest in composting, greywater and rainwater harvesting, solar power, and engineered bamboo products. Site planning, design modification, and design of other facilities such as storage buildings or residences are available as additional services in conjunction with the Greenbarn® line.
Posted in
Equestrian News
,
News and Press
|
Tagged Blackburn Architects, Blackburn Architects barns, Blackburn Architects green barn line, Blackburn Architects GreenBarns, Blackburn Architects predesigned horse barn, Blackburn greenbarns, Blackburn pre-designed barn, eco-friendly horse barn, eco-friendly horse barns, energy efficient horse barns, Horse Barns, pre design barn, pre-designed barn, pre-designed horse barns
|
Leave a comment >
02.13.17
Q: We're renovating our fireplace, and want to incorporate the exposed fireplace flue shown in your German bank barn renovation. Where do you get the pipe for it?
Thanks,
Barn Enthusiast
Dear Barn Enthusiast,
Congrats on your barn conversion! We love breathing new life into these wonderful structures. To answer your question about the flue we used, It's a galvanized steel flue, 12"-14" in diameter, and came in about 4 foot sections.  It should be pretty easy to find. Stainless steel is another good recommendation and look.  Galvanized is a little less expensive, but a little more rustic.
Hope that helps! Good luck with your project.
John
Posted in
Equestrian News
,
News and Press
|
Tagged Adaptive Reuse, Architect, Barn, barn architecture, barn design, Barn Fireplace, Blackburn Architects, Blackburn Architects barns, Blackburn barn conversion, Blackburn greenbarns, renovating an old barn, turning an old barn into a house
|
Leave a comment >
04.20.10
OK, so I have to once again spread the word about Blackburn Greenbarns®, our pre-designed line of sustainable barns. We just issued a press release, which you can check out here. We are really excited to share these new barns with you in a "ready-to-construct" format. We really feel that all equestrians (and their horses too, of course) deserve to have sustainable barn options that are easy to modify, protect the health and safety of your horses, and are ready to construct quickly and efficiently (with the help of a licensed professional, of course).
We are sending out virtual invitations to all our friends, clients old and new, and family to take a look at our new website this Thursday when it will be complete. However, please feel free to visit the site before then at www.blackburngreenbarns.com. We hope you'll like it and we hope to hear from you if you have any feedback, questions, or interest.

04.08.10
Hello Readers,
At the Blackburn office, we've been busy developing Blackburn Greenbarns®, a line of pre-designed barns that are sustainable, provide a healthy and safe atmosphere for horses, and are more affordable than custom design. We first introduced this line of barns last April, but the overall construction costs for the barns were a little higher than we would have liked. So, we decided to go back to the drawing board (literally) in an attempt to streamline the process without compromising our values. We are almost ready to relaunch Blackburn Greenbarns® (with a new and improved website on its way!) with a "kit barn" option, but I would really love to hear from you as far as what's most important to you when building a new barn.
I know that cost is a huge factor—as it should be—for most barn owners. However, I also know that being a horse owner is quite an investment in and of itself—and that most owners just want a facility that protects their horses when they are in the barn, knowing full well that the horses would rather be lazing about in the paddocks.
What is the most important factor when building a new barn? Affordability? What about the style or look of the barn? Are you interested in sustainable products or incorporating green design?
[polldaddy poll=3054182]
I hope you'll comment on this post and share your thoughts. Maybe there's something that all the barn builders (or architects) forget to include/consider and it drives you nuts? Or maybe there's a particular service (like site planning) that you'd find valuable but aren't sure you can afford or truly need and would like to know more about it.
Hope to hear from you! More on what we've been up to soon.
04.27.09
In recognition of Earth Day, my firm announced a new division in design called Blackburn greenbarns. Starting with four ready-to-build horse-barn designs, we hope these barns are an affordable alternative to custom design. Of course, as the name implies, all the designs are green–in three ways: through passive design solutions, green materials and finishes, and additional design services to implement green systems such as solar panels. 
I'd love to hear your thoughts about greenbarns and our new Web site at www.blackburngreenbarns.com. Please visit it and let us know what you think!
John