blackburn
09.25.20
Note: We recently received this question from a follower of ours on Instagram. While this is NOT a Blackburn-designed barn, we felt that others might have similar problems, so we wanted to offer as much help as possible to this horse owner. Some of her photos are included in the post for clarity.
Q: Dear Blackburn: We recently built a backyard horse barn in western Massachusetts.  The timber frame style building is a hybrid run-in shed/horse barn, attached to a track-paddock with sacrifice areas and pastures.  The horses are turned out together 24/7 with run-ins, with option of separate stalls if needed for injury/weather.  This summer, after one year, we found mold in a few areas of the barn.  Since learning about Blackburn, we have been fans, and we seek insights on how to remedy our mold problem in a way that is safe for the horses and hay too.
The barn is 36'x36' with a raised center aisle.  The south 1/3 of the building is a run-in with a packed dirt floor covered by rubber mats and shavings. The remaining 2/3 has a concrete pad and includes 2 stalls – one used as a horse stall and the other used to store hay.  The 11' ceiling leads to a hayloft (most hay stored in a separate building) with an 18'x6' cut-out in the middle of the floor, for both sunlight and ventilation.  Hayloft windows/door on all sides and an open eave towards the top also offer ventilation.  A frost wall surrounding the barn is approx. 1'-2' above grade. Inside the barn, including the run-in and both stalls, the interior frost wall was covered with resin technology wood screwed directly into the concrete, primarily for safety reasons, to soften the impact if a horse kicks the wall/concrete.  We recently found black (and some white) mold between the frost wall and the resin technology wood.  We have removed the product and bleached the area, but how to proceed…
1- How can we safely cover the interior concrete frost wall within the horse areas (run-in, stalls, grooming aisle, hay stall) so that it has some "give" to prevent injury when a horse kicks it, but which won't harbor or cause mold? We have considered covering the frost wall with rubber, or adding a vapor barrier and applying new product.
2- What do you recommend we do to the concrete floor and frost wall to store hay and avoid mold in the hay stall? There's a 4" step down from the aisle (we realize that was a mistake since it traps moisture).  We put a high-quality insulated mat in the horse stall, but the concrete floor is bare in the hay stall.  We use the hay stall for hay now but want to have the option of keeping a horse in there in the future.  (We've previously stored hay on a double layer of pallets, plus floor covered by tarp, but with that set-up plus the wood product on the frost wall, the mold grew.)
Warmly,
MA Blackburn Fan
A: Dear Fan: While I don't know for sure what's causing the mold in your barn, I feel the application of the wood product directly to the concrete frost wall without airspace behind it and near the floor where it is subject to moisture may be the primary problem.  I would suggest removing the wood product material at the frost wall and gluing rubber mats directly to the concrete frost wall to provide protection from horses injuring their legs by kicking the wall.  Provide an angle crib guard along the top edge to help prevent cribbing by horses.
I am not that familiar with the product you used, but I know it is an engineered wood product that has a wide range of uses.
The fact that the barn doubles as a stall and a run-in shed indicates that it generally remains open which is good as it allows air to circulate in and through the barn and reduces the health hazard that might be caused by the mold.
I found it odd to see diagonal framing in the walls between the post framing.  I'm unsure why that was done (maybe to provide horizontal bracing for the timber frame) but because the lower portion of the wall appears to be covered with the wood product it is possible air spaces between the diagonal wood framing trap air in some of the smaller spaces. That could add to the moisture build up. How the barn is maintained (i.e. washing down of the aisle and stalls), is handled could also contribute to the moisture problem.  It appears from your photos that most of the dark staining (mold growth) is along the low portion of the wall at the frost wall and that is probably more a problem of the wood product panels being directly attached to the frost wall than the diagonal framing.
Regarding the hay storage, you should always store hay off of bare concrete.  Using wood pallets is a good way to allow air to circulate around and under the hay.  Hay gives off heat as it cures and if not properly allowed to breath can actually ignite through spontaneous combustion and cause a fire.  Having the barn largely open as a run in shed is helpful but at a minimum the hay should not be stored on the concrete floor.  It should also be stored off the wall several inches to allow the air to circulate around it.  Placing a tarp on the concrete floor as mentioned will not serve any constructive purpose in my opinion and could just trap moisture below it.
BTW, I didn't see any drains in your stalls?  How do you encourage water out of the stall where the slab is depressed 4 inches?
Incidentally, I noticed a door hook on one of the larger sliding doors at the run in portion of the barn.  That's a potential hazard.  A horse could rub against the door jamb and the open hook could cause a significant injury.  I've seen it happen and it can easily be prevented.  Another type of latch should be used.  There are lots of options out there.
I hope this is helpful.
John
Posted in
Equestrian News
,
News and Press
|
Tagged Adaptive Reuse, Architect, Architecture, Arena, Barn, barn architect, barn mold, blackburn, Blackburn Architects, Blackburn Architects barn design, Blackburn Architects barns, Blackburn blog, designing a horse barn, Equestrian, equestrian architecture, equestrian design, horse barn, horse barn design, horse stables, John Blackburn, mold, mold in barn, mold in horse barn, Stables, Ventilation
|
Leave a comment >
06.24.19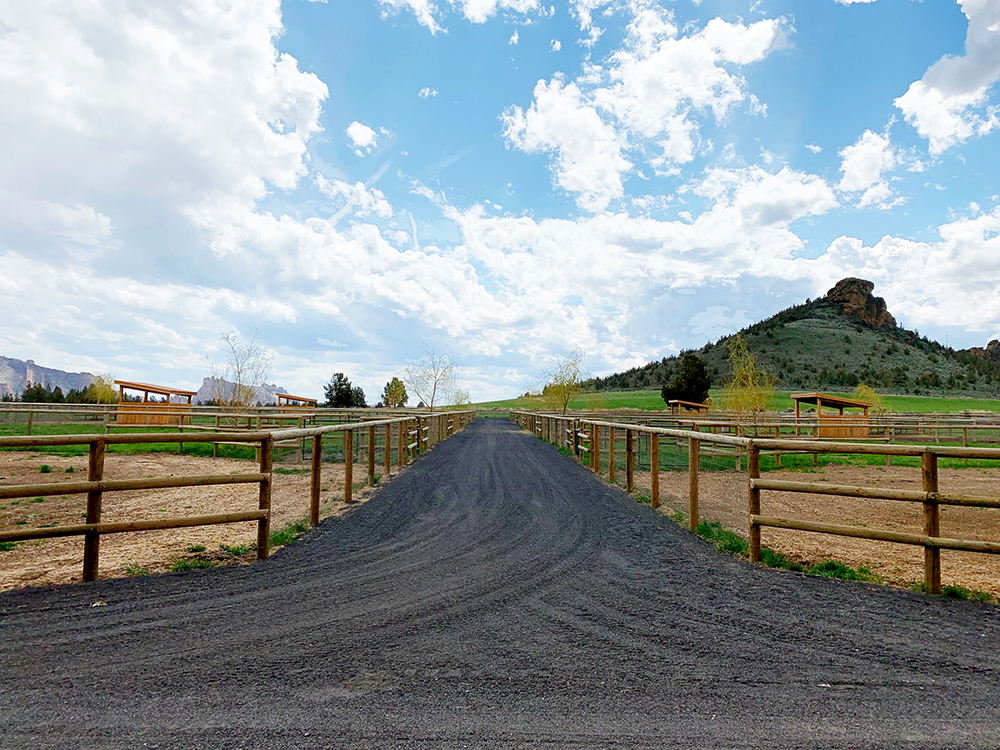 Let's talk about dry lots. Essential on nearly every equine facility, dry lots vary widely in size, location and construction.
By nature, of course, horses are herd animals evolved to roam and graze on sparse prairies.  We've introduced a complete change to the evolutionary process – incorporating diets of grain and lush pastures. The resultant problems are many, but our solution is simple. Limit the horses' activities or diet as you give them access to open air and light.  
Blackburn recommends dry lots on most, if not all, of the farms we design. Sadly, too many farms have unintentional dry lots because of inadequate pasture management.
Why create a healthy dry lot?
1. Control the horse's diet.
2. Preserve paddocks thru rotation.
3. Control moisture and its effect on hooves.
Here are nine things to consider:
Location: Choose a place close to the barn for ease of access.  Provide adequate sized gates for horses but also an occasional vehicle.  Select a relatively flat location but one that drains well and isn't too isolated so horses can socialize but generally remain separated.  
Materials: The footing should be firm but not hard packed.  It must be designed to drain well to allow moisture to either drain thru or away without causing erosion. Sandy soil is preferable but some sort of gravel that is easy on the feet or, even better, an engineered footing similar to your arena should work perfectly. 
Size:  The size can vary, but if you are creating the dry lot to limit the horses' movement for health reasons, you may want it to be smaller than larger.  We recommend multiple dry lots of varying sizes to accommodate many uses.
Fencing:  It goes without saying that your fencing needs to be sturdy. See Activities below.
Shelters: Some form of shade shelter for fly & weather protection is preferred – by humans, but horses may never darken the interior.
Feeding: Various forms of slow feeders, salt blocks, etc. can be used.  If you are restricting the horse's diet, we recommend consulting with your vet about setting up a feeding regimen that can be incorporated into your use of the dry lot.
Activities:  Spreading hay rations around the lot encourages movement; toys for activity or human interaction can be very helpful.  We always recommend consulting with your veterinarian because no two horses are the same. You and your vet know what's best for your horse.
Socialization:  Locating the dry lot close to other horses reduces stress and is more emotionally relaxing.
Footing: The dry lot surface should provide a safe and comfortable footing for horses but it must also drain well.  Therefore, we recommend that the upper surface/footing be 4 to 6 inches of footing material (stone dust, sand, engineered footing material as described above a drainage layer) or possibly 8 to 12 inches of pea gravel, allowing the foot to sink in without undue pressure on sensitive areas.  The drainage layer can be 1/2 inch to 1 inch stones. You can add an interlocking grid within this layer to provide additional stability of the base layer and improve drainage.
Posted in
Equestrian News
,
News and Press
|
Tagged Architect, Architecture, Barn, barn architecture, barn design, blackburn, Blackburn Architects New Horse Barn, equestrian design, horse barn, horse barn design, Horse Barns, horse farm, horse racing, horse stables, Horses, John Blackburn, Stables, Sustainable, thoroughbred, Ventilation
|
Leave a comment >
01.17.19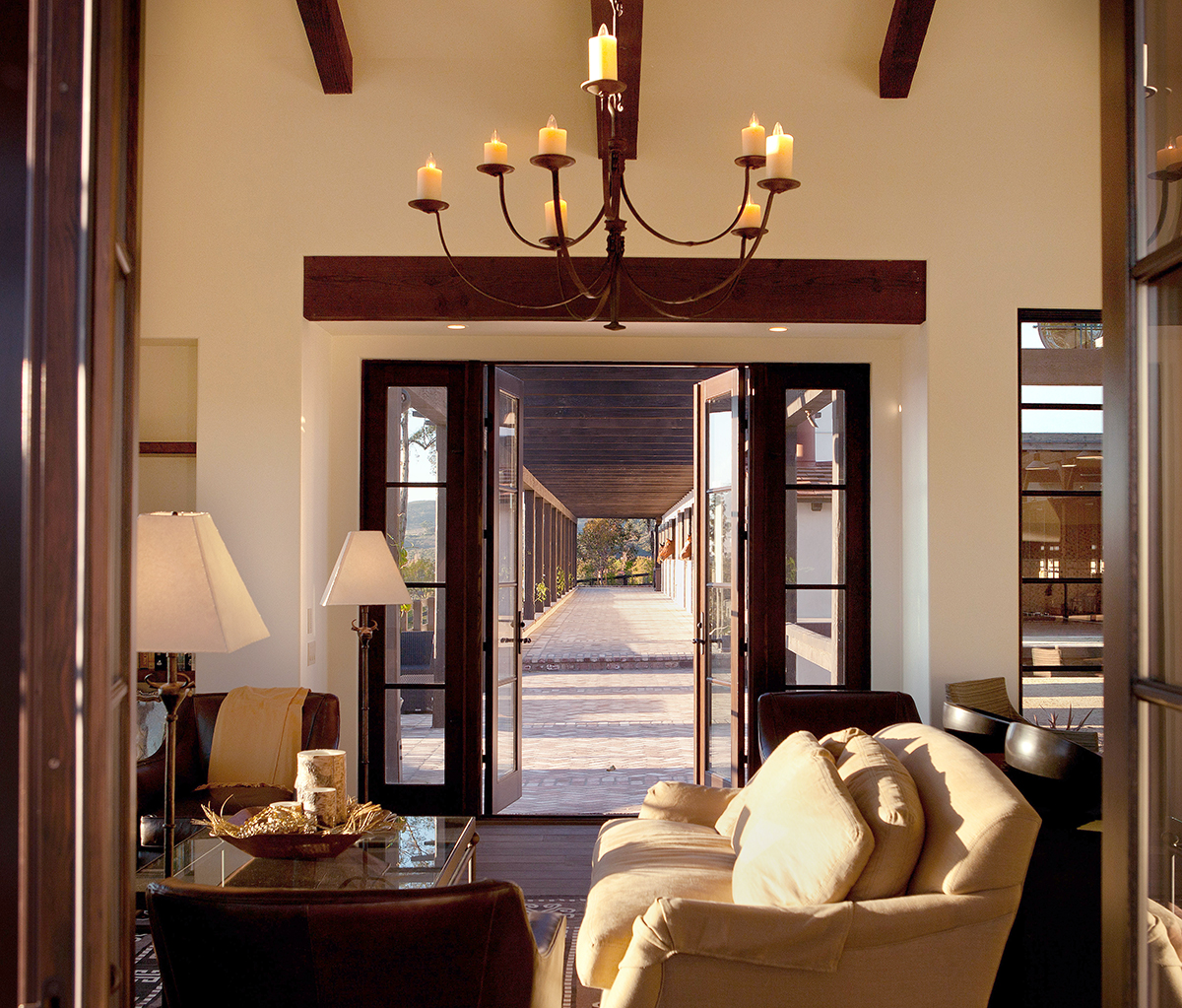 Blackburn Architects typically advises clients against including living quarters in a barn. When we add them, we provide extra safety measures.
An apartment or condo in the barn isn't the same thing as short-term accommodations. We'll often design a "warm room" into our barns so clients can stay close in case there's a sick horse or for foaling.  Even though technology provides some good methods to provide warning or protection (alarms, cameras, etc.) there are times when you just need to be close to respond quickly.
Permanent living quarters, however, can be problematic:
1. If the residential component is too large, then the change of scale can overshadow the scale of the barn and you end up with a "tail wagging the dog" situation. Aesthetically the design looks awkward.
2. If the residence will house a family, you run the risk of injury to children, pets, or visitors and there's an increased risk of fire caused by household activities.
3. If the apartment or condo is for the owner it's easier to control but if it's for a groom or an income rental it's important to be prepared that lifestyle choices may clash with your own.  For example, the tenant may be entertaining guests who may be unaware of the impact of their activities on the horses.
Because a barn usually has a lower cost per square foot (to design and build) than a residence, you may be able to save money by separating the two different uses and avoid building in the necessary fire and smoke separations.  For example, the barn could be a simple pole barn and the residence constructed to a higher standard. 
Another option is to build the apartment or residence as part of a service /storage structure or another farm building.  Two examples of Blackburn Architects' projects where we did this are Great Roads Farm in New Jersey and Kindle Hill Farm in Pennsylvania.
To conclude, without building in substantial fire/smoke separations when adding an apartment in the barn you increase your risk of disaster.  Building codes in most areas require you to include a two-hour separation.  It's essential that you check these regulations before planning an apartment in your barn.
Furthermore, an apartment in a barn or connected to it can impact the farm by forcing a larger footprint for the barn, and this can impact service roads, lead paths to paddocks, land grading, etc.  If the apt is added to the second "loft" floor unless it is designed properly it could negatively impact the introduction of natural light and ventilation (see Bernoulli principle and chimney effect).
Posted in
Equestrian News
,
News and Press
|
Tagged Architecture, barn architecture, barn design, Barn home, blackburn, Blackburn Architects, Blackburn Architects barn design, Blackburn Architects barns, Blackburn greenbarns, equestrian design, Horse, horse barn design, Horse Barns, horse stables, Horses, living in a horse barn, Stables
|
Leave a comment >
01.09.19
Over the years, Blackburn has been asked what we think of adding stalls along the side of an indoor arena. Sounds like a good idea, right? Well, we strongly recommend against it. The problems are many.
1. Air Quality. Forced to breathe arena dust many hours of the day, stalled horses live in an environment that isn't healthy. We recommend instead that the stall portion of the stables be connected in a separate but attached structure running perpendicular to the barn. Not only does this arrangement help isolate the arena dust from the barn, it allows the barn to sit independently. The structure can then catch the prevailing breeze which permits two scientific principles (Bernoulli principle and the chimney effect) to provide natural ventilation and light to the barn.
2. Fire Safety. We always recommend fire separations by providing sliding doors to isolate the barn from the arena in case of fire. These doors may or may not be rated fire separations. The decision is usually driven by cost, and we often provide an automatic rolling fire rated shutter to isolate the two separate areas – this at least reduces the risk of smoke moving between structures. (Quite often it's the smoke that is more dangerous and faster moving than the actual fire.) The isolation by sliding doors also provides critical time to get horses out of barn. If the arena and barn share the same space, there is less opportunity to isolate fire or smoke from the stable area. Furthermore, when the stables are parallel and part of the arena, the structure is generally shared – raising the risk it could collapse and trap horses inside.
3. Cost, Scale and Building Height. When stalls are designed as part of an indoor arena, the design requires a wider structure (often steel due to the long spans) which is typically more expensive. When it's a separate but attached structure, it can be framed in wood with smaller spans reducing the cost of the framing. If the stalls are part of the indoor arena, then the building becomes wider which also means a corresponding height increase. In many areas, the local zoning codes restrict building heights. We have found typical restrictions of 35 feet. It's difficult to get any height in the barn or arena if you are trying to build a 100 x 200 ft arena with a row of stalls and aisle way. Also, from an aesthetic perspective, wider and taller building begin to get enormous and have the potential to look like an airplane hangar and overshadow the entire farm.
4. Storm Water Issues. Finally, if your property is not flat, such a structure with a large footprint may require significant grading that can be expensive and create storm water issues. By breaking the barn and arena into two connected structures you can more easily work it into the natural slope of the land. Also, the isolation of the barn and arena permits opportunities to push the arena into the ground – helping to reduce the scale and height of the arena above finish grade. The entry to an observation area can be elevated above the arena floor (but entry level still at grade) for more easily viewing over the kick wall from a sitting position.
Blackburn has designed many arenas with this perpendicular arrangement. Rocana Farm, designed by us in 2002, is a great example of what we mean. Stalls at this hunter/jumper facility are attached to the enclosed arena with an elevated observation room, tack room, wash and grooming stalls.
Posted in
Equestrian News
,
News and Press
|
Tagged Barn, barn architecture, barn design, Barns, blackburn, Blackburn Architects, Blackburn Architects barn design, Blackburn Architects barns, Design, Equestrian, Equestrian Architect, equestrian architecture, equestrian design, equestrian facility, Equine, Equine Architect, Horse, horse barn, Horse Barn Advice, horse barn design, Horse Barns, horse farm, horse racing, John Blackburn, Sustainable, Ventilation
|
Leave a comment >
02.05.18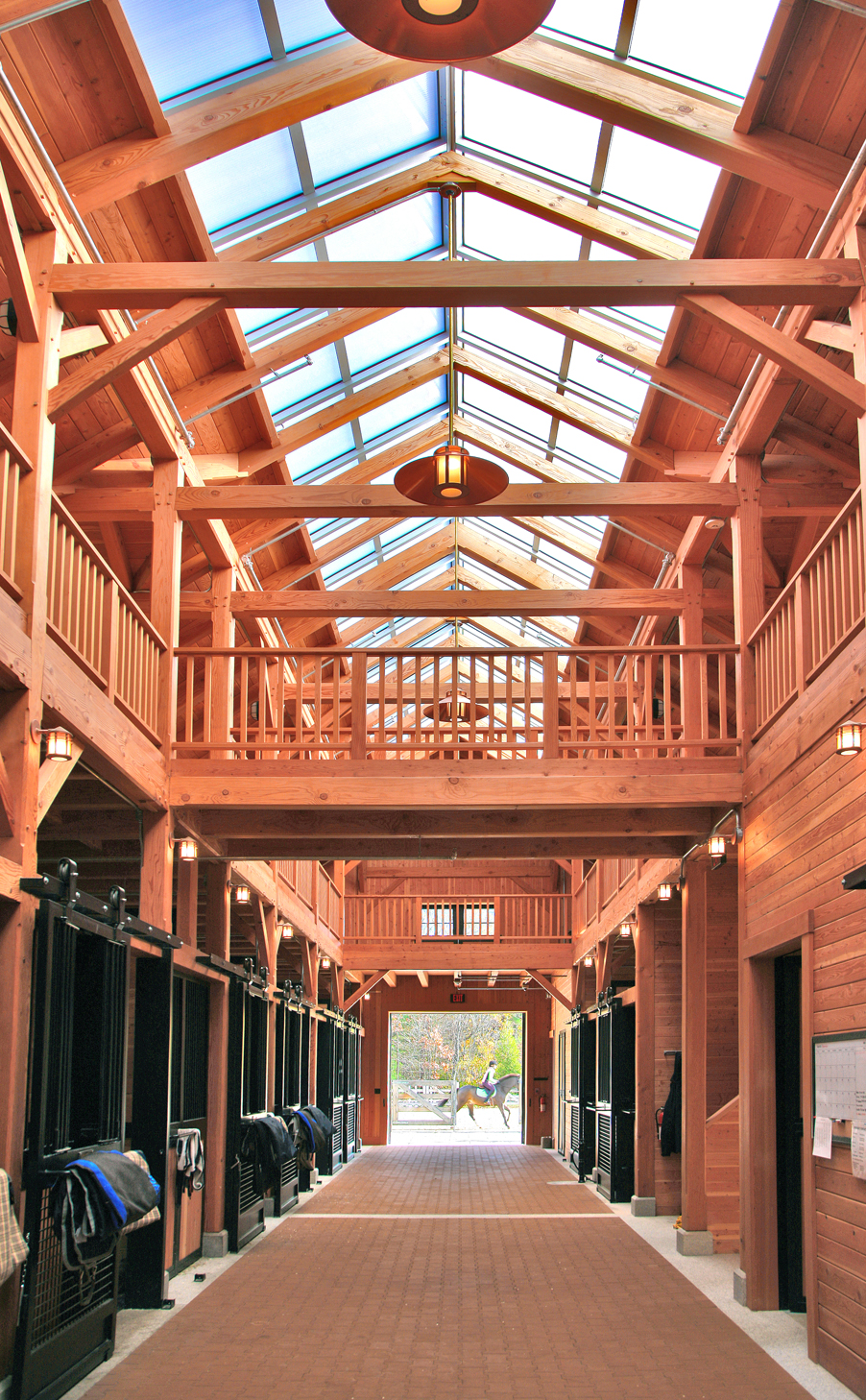 Been thinking about a custom barn, or buying property with existing structures that need an extensive overhaul?
I thought I'd take a minute and explain Blackburn Architects' process for designing a new equestrian facility and overseeing its construction. While not carved in stone, for planning purposes, can easily become a two-year process.
The first step is usually a visit by me or another Blackburn architect. The initial meeting is our first chance to meet, walk the site, look at any existing buildings and discuss the project goals. I'm a firm believer in "a picture is worth a thousand words" but "being there is worth a thousand pictures" Following this, we'll send a proposal for service, which outlines the process and fees.
Once a contract signed, we get to work immediately.
The timeline usually looks something like this:
• 6 to 10 weeks for Feasibility Study, Site Assessment and Master Plan
• 1 to 2 months for Schematic Design
• 2 to 4 months for Design Development and Construction Drawings
• 1 to 2 months for Permitting
• 12 to 16 months for Construction
At Blackburn Architects, equestrian design starts with the horse and ends with a building that fits the horse, the owner, and the surrounding environment like a glove. It's as simple and beautiful as that.
Let's explain the steps in greater detail:
Feasibility Study / Site Assessment / Master Plan
The goal of the Feasibility Study is to determine, as early in the process as possible, whether the intended project fits the owner's program, the site, and the budget.
We assess any existing building(s) and the site. We take measurements to determine if an in-place structure will work for the goals of the project. We study the land until we come to a clear understanding of wind and solar direction, soils, changes in elevation – all natural and architectural characteristics that guide placement and design of any new buildings. Central to the success of the project, this "Master Plan" addresses all these things and more, providing a road map for the success of all future phases of our work.
The site analysis also includes a review of applicable zoning and easements for the property; we determine what (if any) limitations or restrictions may apply at the property. Land disturbance allowances? Height restrictions? Set-backs?
In tandem with the site evaluation (as soon as we have a contract), we send the client a unique Blackburn Architects questionnaire that we've developed over the years. Answers are collected and inform the design; starting off the process with clear direction from the client. It is extensive and though it covers about 25 pages, once it is completed it "paints" a picture of exactly how you would like your farm to operate. The efficiency of the operation is critical and can have a huge impact on your operating cost and maintenance budget.
Schematic Design
Moving seamlessly from the master planning phase (often there is a fuzzy line here where one ends and another starts), we start schematic design. In this step, we help our clients visualize the project design with a variety of techniques using both computer and hand renderings to illustrate the scale and the relationship of the project elements. Ideas, concepts, goals take form at this stage.
Budget Development
Once we've worked up outline specifications for the work, we can begin to get a rough idea of the costs. At this point we will either develop a rough estimate based on our 35 years experience with over 300 farm projects, consult with a professional cost estimator or a builder who is familiar with the building type in your location.
Design Development and Construction Documents
Once we have the site layout, design, and budget, drawings and other documents give serious form to interior and exterior finishes, and firmly establish the size, character, and details of the project. These documents will be used by our professional consultants to design the electrical, gas, and other utilities. When these systems are defined, and we have a basic finish schedule and budget, we're ready to file for the permit and start construct of the building.
Bidding and Construction Administration
With the construction documents complete, we can help clients select a contracting company through a "bidding" process for the work, or we can work with a client's pre-selected Construction Manager. We work side-by-side with our clients to ensure that the best and most informed decisions are made during this process.
While in my experience this process typically lasts about 18 to 24 months, a lot of this depends on factors that are outside of either our control or our clients. The time of year and weather, for instance, can greatly influence how fast construction progresses, especially in colder climates. Pastures have a growing season, and they need at least a year (maybe two) to establish.
Designing and constructing a custom facility is a very subjective process, which is guided by all kinds of factors including the complexity and size of the structures, the time of year, the strictness of zoning regulations and neighborhood associations, state environmental regulations, and so on. But rather than let these things hold you back, I say, "Jump In" or give us a call to discuss how the process can work for you. When you slide open the doors to your dream facility and see the happy heads of your horses looking over the stall doors, all the time and effort will vanish. At least that's been my privileged experience over all these years.
Posted in
Equestrian News
,
News and Press
|
Tagged Architecture, Barn, barn design, blackburn, Blackburn Architects, Blackburn Architects barn design, Blackburn Architects barns, Blackburn Architects Equestrian Design, Blackburn Architects New Horse Barn, Blackburn greenbarns, Design a Horse Barn, Design a new horse barn, Equestrian, Equestrian Architect, equestrian architecture, Horse, horse barn, horse stables, John Blackburn, New Horse Barn, renovate a barn, renovate a horse barn, Stables, Ventilation
|
Leave a comment >
03.09.17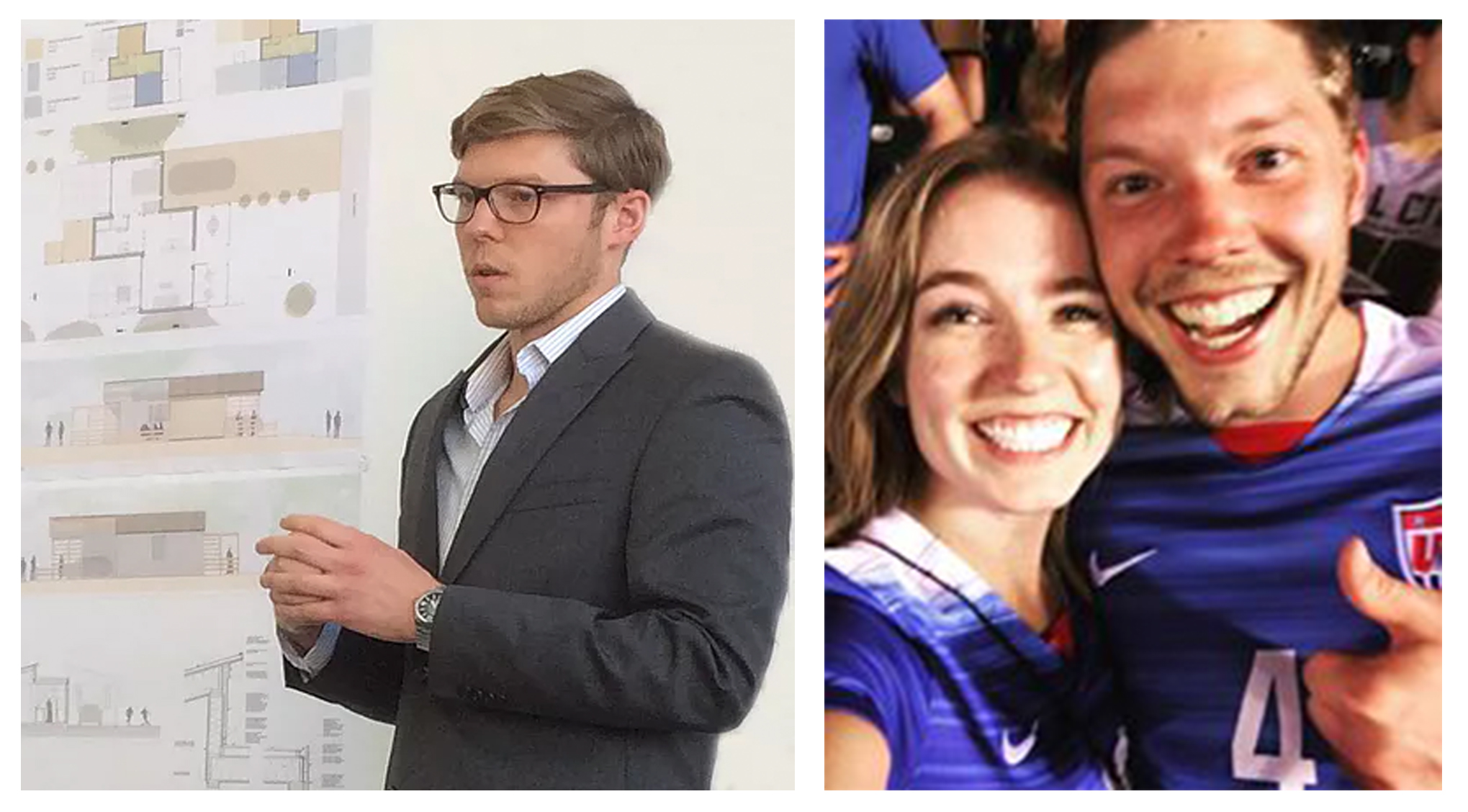 Architectural designer. Clemson grad. City dweller. Bicyclist. Where are the roots of this? Let's start with architecture.
As a child until the age of 3 or 4, I lived in Bethlehem, PA. I don't have a lot of memories of it, but my dad tells the story of when he and my uncle built the deck on our house, and I, at age 3, stood outside with my arms crossed and pointed at things, giving direction. They thought it was hysterical. Dad always tells that story when people ask why I became an architect. If it was a job where, "you were going to stand around and tell someone how to building something, Matt was going to be good at it."
Eventually, we moved to the Philadelphia suburbs and that's where I lived until college. It looked like a generic suburban development in what had once been a farming area. There were a lot of kids my same age, and a big yard to play in. Behind our house was this old barn. I never made the connection until after I started working at Blackburn, but the farmer who owned it was friendly to the neighborhood kids, and we used to go exploring through that barn all the time. As we got to be teenagers and we built skateboarding ramps or hockey nets or whatever, he let us dig stuff out of the barn and use it. It was a beautiful old building because it was all mortise-and-tenon construction. There were no nails. I'm sure that was an early influence on my love for old timber structures. Good memories. For a few years, he kept retired racehorses, and they seemed to enjoy eating our garden over the fence.
How did Clemson happen?
I completed my undergraduate study in DC at Catholic University, graduating in May, 2010. Afterwards, I moved back to Philadelphia for about four months – the job market was tough – and worked part-time. In my spare time, I helped my friend Dan – who we'll probably talk about when we get to family – renovate a house. It was a chance to apply some of what I had been learning in school. We made a mess; we probably did some things terribly wrong, but it was fun.
Then I came back to DC, worked for John for four years, and as I started to take on more responsibility I felt that it was time to get my Master's degree because I was certain this was what I wanted to do. I looked for a school that was somewhere different and was certain that I would go to school in Chicago, until I visited Clemson and found it… unique. Perhaps because it was kind of rural. I had gotten used to city life, I think, and the small college town felt like a setting where I could focus academically. Also, Clemson offered two semesters off campus (I chose to visit Barcelona and Charleston), which were additional learning contexts; again, something different.
In addition to your Master's degree, you met your fiancé at Clemson.
Jenny and I met the first day. At orientation, I met a few people in my program, one of whom was Jenny's roommate.  Jenny walked up beside me and we just clicked.  I texted my friend Dan that day and kind of as a joke told him I'd fallen in love. Jenny and I have been together ever since, and will get married this summer. She grew up in Mississippi and comes across as a sweet, soft-spoken person, but when she gets wound up, watch out. We fit together well.
Let's talk about how family plays such a big part in your life. You're a very together person, so that must come from your upbringing.
Totally unbiased, my family is very special. I have two brothers, Mark and Shane, plus Dan, so that's really three brothers. One sister, Megan. And now I have Jenny, and her family, joining mine. Family has always been a constant through my life. It's not always been simple. As with all families, there's some complexity to it, but my siblings and I are very close. Doesn't mean we always agree; we certainly fought a lot growing up, but we are inseparable, and super weird, when do get together. When we're around each other, we can be a bit overwhelming. Each of us is uniquely humorous and witty, and sometimes too clever for their own good.  As for having it together, a lot of that is on my mom and dad. When I turned 14 I was told to find a job, so I started working in a restaurant. I give my mom and dad a ton of credit for pushing me. Early on I learned to balance friends, life and work. I've tried to maintain that ever since.
And the unique studio of Blackburn Architects fits your work life?
John has allowed me to take on a lot of responsibility. That's huge, and particularly relevant to why I came back this past summer after finishing at Clemson. It's tough to give an impression to someone in half an hour or an hour, but in job interviews I felt like other architecture firms didn't get a full picture of who I was. They were just trying to fill a seat. Here, I'm encouraged to try things. I've been allowed to fail. Maybe not fail, but make some mistakes so that I can improve. It's how I'm learning and growing professionally. John, and Ian, challenge the way I do things, and encourage me to defend my view. When there's that level of mutual respect, you really feel motivated when you come into work each day.
As a young architect, do you worry about the future of the profession?
Sadly, architects in the media are often portrayed as having a kind of elitism. It's a shame, and not true to what I've found in the profession. I know that small interventions can happen at an affordable price that can do a lot for quality of life. On the positive side, there's so much information available and so many things we can now do, that, coupled with the ambition of young architects, suggests an exciting future. Growing out of our educational backgrounds that expose us to some of the more complex social and cultural challenges of our world, young professionals are finding new ways to innovate. Sustainable practice models are one example. You can also start to look at what it means to build sustainably, beginning with our post-war, and even more recent, building stock and how you can repurpose these buildings to avoid throwing the material in a landfill. Simply using green materials in a new building misses the bigger picture. We aren't there yet, but these societal challenges inspire me.
Sports buff? Leave us with one nugget of a passion for something that's not architecture.
I'll give you two. Sports are one, specifically soccer. Jenny and I have a friendly rivalry. We play on the same rec team, but we follow rival pro clubs. It makes the house kind of fun on matchdays. Locally, we're big fans of DC United. It's an experience to go be a part of a fan group at the games; you cheer and jump up and down and act ridiculous.
The other passion is cycling. I bike to work every day, rain or shine. It gets me going in the morning. After 20 minutes of riding through the city I'm awake and ready to go.
Lastly, let's talk LEGO, because we must.
Yep, I still play with LEGOs. There's a Lego model of one of our Greenbarns on my desk that I threw together one day. I would like to think that 12-year-old Matt would be proud that I haven't lost the love for playful exploration that drives me.
02.28.17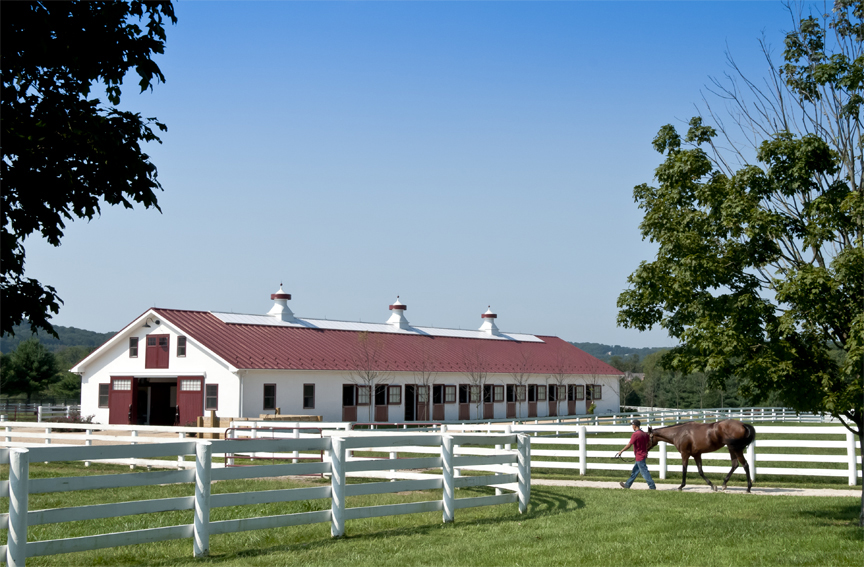 Might seem unlikely, but the designers at Blackburn Architects care about pastures. We think about them a lot.
For instance, did you know that now's the time to sample your pastures for soil fertility? Early spring and fall are the best times to take these samples, according to the University of Kentucky College of Agriculture, Food and Environment, which released the article, linked below, last week. The article recommends sampling the top four inches of the pasture, and dividing large pastures into "sub-pastures" for sampling based on the varying topography.
"I Recommend that any horse owner in the United States contact their local Soil Conservation District (SDC) for advice in their specific area," said John Blackburn, Senior Principal at Blackburn Architects in Washington, DC. "SCD's are one of the best services provided by the Federal Government to farmers and in most cases the services they provide are free. Some pay you for installing and pursuing Best Management Practices. By definition, Conservation Districts are "government entities that provide technical assistance and tools to manage and protect land and water resources in the United States. There are more than 3,000 in the United States. Depending on the state, they may also be known as soil and water conservation districts, soil conservation districts, resource conservation districts, or other similar names. Nationally and within each state, the districts are generally coordinated by non-governmental associations. District borders often coincide with county borders."
http://www.thehorse.com/articles/38847/fertilizing-cool-season-horse-pastures
From concerns such as pasture maintenance to siting roads and structures on a property, many people contact us who are unsure of when and how to begin working with an architect. Teaming with a property owner to master plan their site, either for the first time (no structures on a blank canvas) or "redefining" an existing property (which may not be planned for best use practices), is part of the first phase of work performed by Blackburn Architects. With an equestrian architect, you're purchasing a service rather than a product. The architect is there to resolve the needs of the owner, from overall site planning, programming, phasing, and design to overseeing the entire construction to make sure the barn is built as intended.
Typical services we provide include:
Pre-purchase planning. Prior to purchasing a farm, we work with clients to "test fit" the property against their program needs and to look for possible siting or property issues (wetlands, environmental restrictions, siting grading concerns, code issues, sufficient acreage, etc.)
Site planning: can reduce infrastructure costs (fewer roads, less fencing, better drainage, etc.) and improve the site to function at its best for your needs.
Programming: ensures that the whole farm (not just the horse barn but the entire collection of structures on the site, if applicable: residence, guest house, caretaker's quarters, hay/bedding, vehicle storage, etc.) operates efficiently and safely.
Code analysis: certainly the codes vary across states/municipalities. We've designed horse stables in counties with very specific codes and regulations and understand what to look for and how to work with the various officials to resolve issues. The architect can save you a lot of hassle!
Budget Development and Cost Control/Scheduling: I like to develop a budget as early in the process as possible and revisit it periodically during the project. My job is to determine if the owner's programmatic needs and budget fit the site, and if the design aesthetic suits their personal design goals. We can also plan to develop the barn or various structures in phases, if applicable.
Conceptual Design: Here we develop the character and massing of the structure(s) and prepare a preliminary floor plan and elevations to illustrate our ideas. At Blackburn, this is the final phase of what we call Master Plan Services (site plan, written program, conceptual design, and preliminary construction development). From here, we move on to more detailed design work.
Schematic Design: After we complete a master plan that works well for the owner, we begin to prepare detailed drawings to give you an idea of the layout and general appearance of the barn (and possibly other buildings). We'll talk about finishes, materials, stalls, tack rooms, etc. For a lot of people, this phase of design is the fun part!
Design Development and Construction Drawings: Here we'll really start to nail down the final design and specify the materials, stall systems, finishes, and other details and prepare construction drawings that instruct the contractor how to build the barn.
Bidding and Construction Administration: Because construction drawings are open to interpretation, it's important that the architect works with the contractor to oversee that the project is carried out according to the design intent. We're the owner's rep to make sure that construction is done well and done right.
Each step in the process leads to a healthy, safe, and functional facility. As architects, we want to study how you operate and design a barn that feels inviting and personal (because it is). No barn or farm operates exactly alike as each owner or barn/farm manager operates his/her facility in a particular fashion. While designing a barn from scratch is not realistic for everyone, if you are choosing between a design/build firm and an equestrian architect, we would strongly advise that you approach both for more information and weigh out your options carefully. It could save you your horse.
As always, we invite your questions and comments.
11.30.11
They're rustic, lofty, and awe-inspiring. Supported by a sturdy skeleton of timber and a base of stone nestled into the land, its appeal is seemingly timeless. The structure effortlessly fits into its landscape, whether in Pennsylvania, Ohio, or across the ocean in the United Kingdom. The bank barn. A simple beauty of which I can't get enough. (Not to mention dairy barns, vaulted barrel barns, Dutch barns, prairie barns….)
Maybe it's the news I seek, but I feel as if there's an influx of articles and project profiles about converting old barns into residences, guest houses, schools, theatres — even a basketball court/recreational wonderland. Bring it on, I say. Converting an old building to a new use never gets old to an architect like me.
There's even a How to Guide (aptly titled, How to Take One Old Barn and Call it Home) from the team who can seemingly fix anything and everything: the experts at This Old House. Converting an old barn into a new home isn't a task for the faint of heart, but big things can yield even bigger rewards, I like to think. The article touches on common issues you'll face: structural (is it safe? how's the foundation?), is it energy-efficient (you can bet it's not — yet!) and water sealed (again — no way, no how), the pluses and minuses of such a large, open space, and more.
At Blackburn, we're working to revive a metal pole barn currently used as a recreational lodge in North Carolina. While the barn isn't centuries old, like many of the bank barns I admire, it's an interesting challenge for my staff and me. The owner would like to expand the barn's use so that it may host business events and entertainment functions. Our goal is to respect the barn's form and the local context, while providing a renewed aesthetic and use. Design plans include replacing the metal cladding with a painted wood or composite siding to provide a more traditional look. We'll also incorporate more natural light into the barn through an enclosed glass entrance, which will in turn make the space feel more inviting. The floor will be lowered to increase the space's capacity and the hayloft area will become a conference center for up to 80 people. Heavy timber framing with steel plate connections will add to the rustic yet finished interior.
I'll post updates about the project as the work progresses. In the meantime, how about some inspiration for your own conversion project? Here's just a sample of what I've found lately. If you stumble upon a great adaptive reuse project (whether it's a barn, an old warehouse, a church), I hope you'll share it here. I can't seem to get enough.
New York Times: The Call of Converted Barns 
New York Times: An Upstate Farm Brings a Fashion Photographer Back to His Roots 
Inhabitat: Beautiful Bank Barn Conversion (OK, a shameless plug for a Blackburn project)
Martha Stewart: Rustic and Refined Barn 
Martha Stewart: Summer Guesthouse 
Posted in
Equestrian News
,
Sustainable Design
|
Tagged Adaptive Reuse, Bank Barn, barn architecture, barn conversions, barn reuse, Barns, blackburn, conversion, old barn, Party Barn, This Old House
|
1 comment >