Equestrian
08.29.17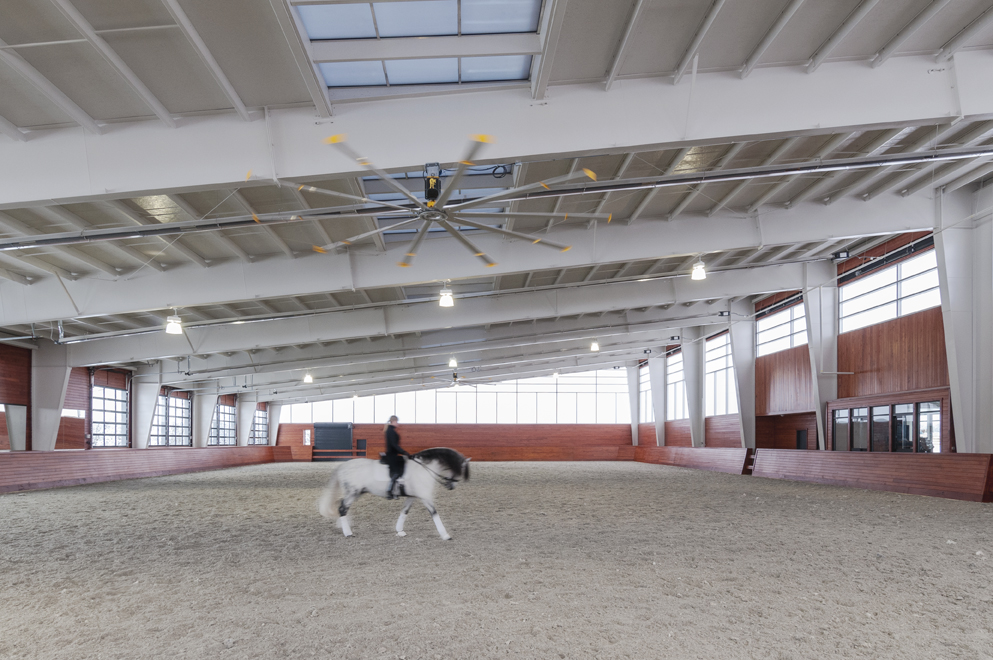 Hi John. I hope you had a wonderful summer!
Q: Our covered arena has been put to good use throughout the last year, but we really need lights to make it even more beneficial to our program. Given your expertise and experience with equestrian barns and arenas, I was hoping you might be able to give us some guidance.
We are having a hard time determining exactly what kind of and how much lighting is necessary. Do you have a formula that you use?
Any help you can provide would be greatly appreciated. I look forward to hearing from you!
Best,
Undercover Rider
Dear Undercover Rider:
Glad to hear all's well.
I would be happy to offer some guidance on lighting for your arena.
A: I typically recommend approximately 35 to 50 foot candles per sq ft of light on the arena floor in order to provide a sufficient amount of light for a variety of functions. It also depends on the amount of reflective surfaces you have and the color of those surfaces including the arena floor material.
If you are anticipating a variety of entertainment type functions such as charity events, parties, etc you may want to consider a variety of type mood lighting for different events.
There are also a variety of type lights to consider such as metal halide, LED, HD, etc.
There are other factors to consider as well such as initial cost, operating cost, maintenance or lamp life and also the design of the fixture (bird protection, fire safety, etc.)
We are beginning to use LED more often now. I hope that helps!
John
11.01.16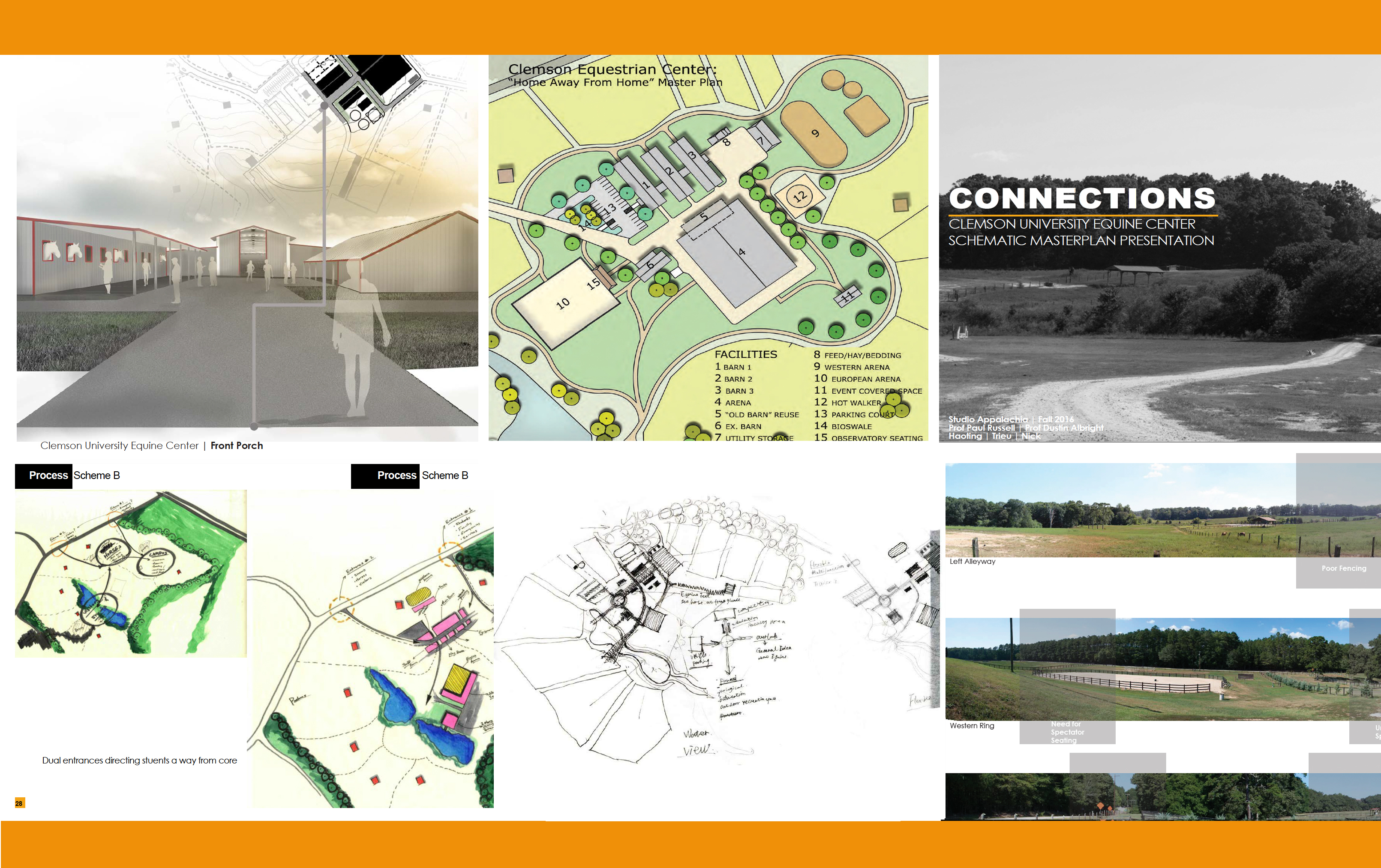 Checking back in to report what's been happening at Clemson's School of Architecture & Studio Appalachia.
 In case you missed it… Studio Appalachia is a collaborative, project-based graduate design studio between Clemson's school of architecture and its department of landscape architecture. The Studio is directed by associate professors Dan Harding and Paul Russell. Studio Appalachia targets issues such as: accessibility to natural resources, sustainable building strategies, and approaches to long term visioning and planning.
I was asked to participate in this year's studio because it involved horse facilities, specifically re-envisioning the Clemson University Equine Center (CUEC). With aging facilities that are well-used and well-loved, I knew it would be fascinating to see how these talented students created a fresh program for the facility. The teams of architecture and equine business students (a new twist for the studio) have spent the last several weeks immersed in detailing the site and facility requirements, learning about design issues unique to equines.
Teams consisting of three to four students conducted rigorous research, made several site visits, interviewed user groups, studied topography, considered land, sun, wind, circulation paths and traffic flow to create detailed and well considered Master Plan Studies and Field Reports.
Referencing the evolving formal and material contexts of Southern Appalachia, the four teams stated as goals to "improve circulation, establish organization, and enhance the (existing) ecology of the historic Clemson farm. To them, as one team eloquently stated, the CUEC is more than a farm; it is an institution that showcases the prestige of the university, and embodies the history, strength, and energy that the equine program was founded on.
The preliminary master plan schemes presented earlier in October were successful in developing goals and considerations for further study. The studio presents preliminary concept designs later this week and I'm looking forward to the big reveal.
05.29.12
Today's blog comes from Macy Carman, an enthusiastic and talented student (and equestrian!) from Hollins University in Virginia. Macy, an environmental studies major who is considering graduate studies in architecture, spent some time with us to learn about what it means to be an "equine architect." In turn, my staff and I got to spend some time picking her brain about her invaluable experience as a groom for Pollard Eventing. (On a sad note, our thoughts are with everyone at Pollard Eventing. Macy travelled back to be with her horse family after the tragic car accident that claimed the lives of three horses last week.)
HERE'S MACY:
I knew I had picked the right architecture firm for my internship when John Blackburn started out my first day with what he referred to as his "dog and pony show." I love pony shows! I am a lifelong rider, member of the United States Pony Club, and looking forward to a career in designing equestrian facilities, so I knew I was in for a treat.  And I was…the presentation he showed me displays many of the options that are available to clients as well as the principles he bases his designs around: natural light and proper ventilation. I think that he could convince anyone that these are the most important concepts behind a facility!
During my time with the Blackburn team, I was able to accompany John to a Virginia Farm where he was interviewed for a video (stay tuned for the final project). After spending so much time discussing the process to designing a barn, I certainly had a different perspective when touring the facility. While my practical experience with horses, combined with time spent in a variety of barns, has instilled in me the importance of a well thought out facility for the safety and well being of the horse and rider, I picked up on a lot of smaller details. John had a reason for why every detail was exactly the way it was, and was happy to answer all of my questions. Watching his interviews, I got a sense that he cares for the horses just as much as the owners, which is exactly what we horse people are always looking for.
Over the course of my first week here, I have talked to everyone in the office about their projects, their academic paths, and their thoughts on barn design. As interested as I have been in barn design over the years, I have never given thought to many things Blackburn consistently addresses, like making sure that vehicles, visitors, and horses are separated at all times. Who knew a driveway needed so much planning? Everyone in the office has been very welcoming, and I hope that I have been able to provide a slightly different perspective as a rider and a groom. I look forward to absorbing a greater understanding of equestrian design during the rest of my time here- and maybe some tips on my graduate school applications too. I would like to thank the whole office for having me.
03.22.12
Over the years, I've collected much too many photos of barn details, which includes everything from latches on stall doors to drains in aisles. It's only natural to collect the things you love, right? I often refer to my virtual stash of detail images when I'm designing a barn and hope they might serve as an inspiration to you as well. I will probably add to the collection (correction: I WILL add to the collection because I won't be able to help myself) over time. What can I say, the details separate a fine barn from a fantastic barn. On that note, I hope you'll forgive my lack of photography skill. Some of these images were taken during or just after the construction process by yours truly. That should serve to explain any and all photos with incomplete landscapes (aka piles of dirt) and unique angles (aka crooked) that are artistic-driven (aka fuzzy, out-of-focus) images.
By way of introduction to my collection, I think it seems fitting to begin this set barn detail images with the door. Every dutiful, the door is a part of every barn, everywhere. (At least I hope so.) You'll see many images of my favorite, the Dutch door, which aids ventilation within the barn. There's also human-only doors, main entrances, side doors, etcetera. Hopefully it's not too much of a hodgepodge for you to enjoy.
Incidentally, I've asked one of the more tech savvy staff (basically anyone but me) to link these images on Pinterest; we're attempting to hop on that fast-moving train because we architects sure appreciate a visual aid. If you're a Pinner yourself, let me know so we can follow you there. Until then, happy collecting!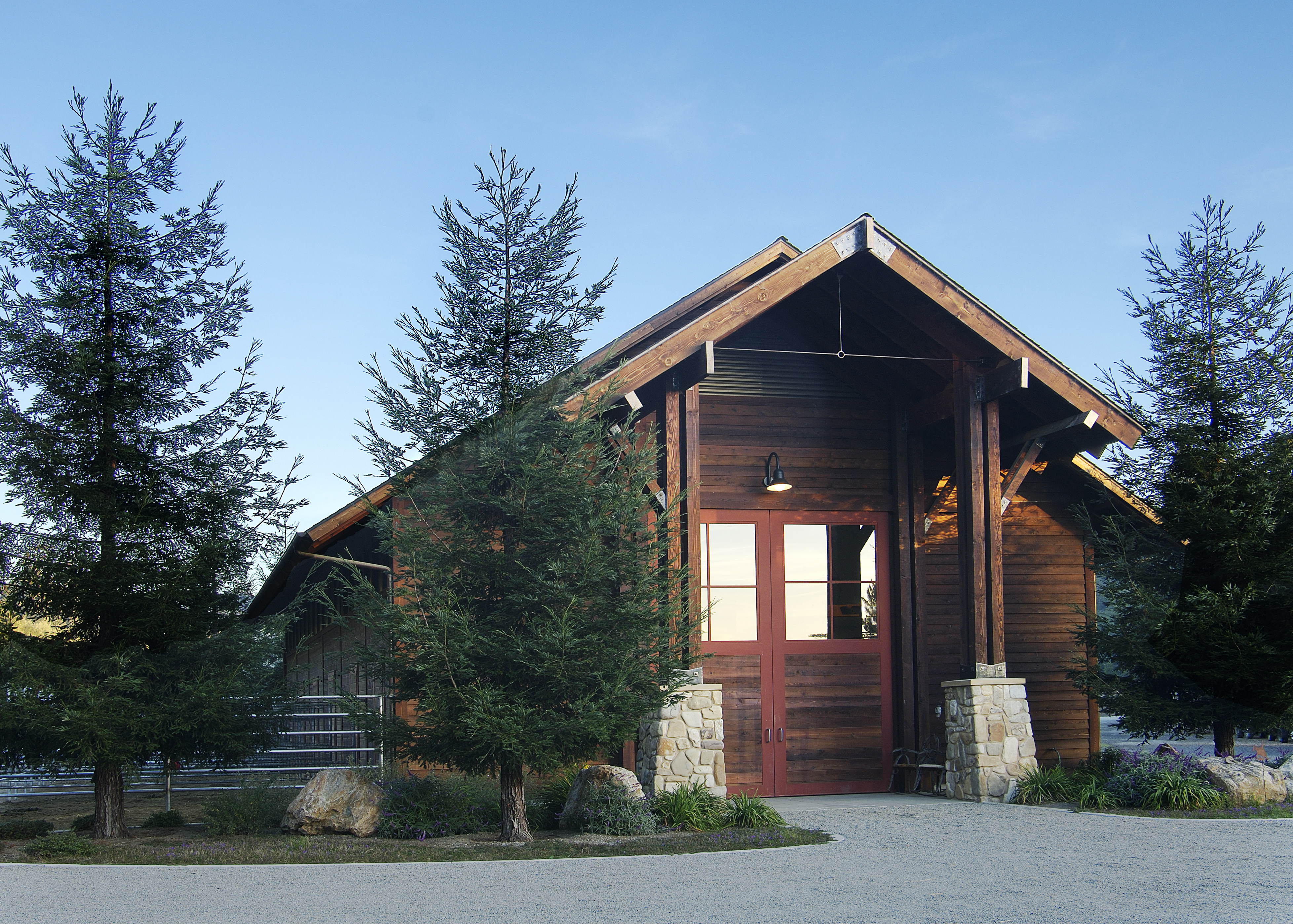 Dear disgruntled artists: the key to success isn't kicking down the door; it's building your own.
Brian Celio
Read more:http://www.brainyquote.com/quotes/keywords/door_14.html#ixzz1pshKJzeM
03.07.12
"The largest competitors at this summer's Olympics in London are not weightlifters….the largest competitors are horses." — Morning Edition, NPR, March 7, 2012
Who knew that horses could arrive via FedEx? What a great story on NPR this morning about how the horses competing in this summer's London Olympics will arrive safe (and in style). Tim Dutta, who owns an international horse transport company, said he expects to ship between 50 to 60 horses to London this summer. Dutta said that like people, horses respond to flying in various manners. Some are nervous and may require sedatives; others are happy to munch on hay and drink cocktails of apple juice and water to pass the time. And of course, the horses aren't left to their own devices on the planes — with them is a full entourage, including a vet and a groom. Which reminds me, I've read that racehorses can supposedly benefit from a little jet lag….wonder if the same holds true for events like dressage. Listen or read the full story on NPR.
02.14.12
This lush and private ranch is located just north of Seattle. The 100' x 200' arena, which features a "crow's nest" observation area, will be used for hunter/jumper and show training as well as recreation. The new structure, nestled in the Northwest Mountains, fits into the site unobtrusively and reflects the Tudor-style of the existing residence, favored by its owners. Future plans to occur in phases are a 20-stall barn, parking and service buildings, and a caretaker's cottage.
Program 100' x 200' enclosed arena, future phases include 20-stall barn, parking/service buildings, gatehouse
Completion 2010 (arena construction)
Posted in
Equestrian News
,
Projects
|
Tagged Arena, arena design, Arlington, Blackburn Architects, Circle B Ranch, Equestrian, horse arena design, horse riding arena, Horses, indoor riding arena, WA
|
1 comment >
02.09.12
This is probably the last set of photos I'll share of Beechwood Stables in Massachusetts before we have a professional photographer shoot the project in its completion. (When the weather is a bit nicer so the buildings aren't covered in snow!) I'm really pleased with how it's turned out and hope our client feels the same. I'd also like to thank Marcus Gleysteen Architects, whom we teamed with; the builder, Kenneth Vona Construction, whose professionalism and craftsmanship is top-notch, as well as the team at Lucas Equine Equipment for their fabulous stall systems as usual. Beechwood Stables has a lot of high-end finishes and details that certainly shine though with this project. However, the truly important aspects of our design is what matter the most and remain true regardless of budget: protecting the health and safety of the riders and the horses who will soon inhabit the barn.
Thanks to the gracious owner and everyone involved in the design and construction of Beechwood Stables. A few details are provided in the caption each photo.
01.25.12
I think that's the top question I get (the gist of it, anyway) and it SHOULD be. Why should you hire an architect to design a horse barn? Or, Is hiring an architect to design a barn really necessary?
In short: no. However, hiring an equine architect can save you time, your horse's health and safety, and even money in the long run. Allow me to state my case.
A horse is so much more than a pet: it's a companion, a worker, a teammate, an athlete. Whether you ride for pleasure or compete, the horse—your horse—is irreplaceable. I wish not to gild the lily just to make my point, which you already know, that horse owners think the world of their horses and want to treat them with the utmost care and respect. If you keep a horse, it's your duty to protect it. While a horse is perfectly pleased to graze outdoors most days, the barn is a necessity – so I say, let's do our best to protect that horse and maybe make your life a little easier in the process.
Barn This Way – Product vs. Service
When you decide to build a barn, you have a few choices. The least costly solution is to purchase a prefab or kit barn. The prices range (rather wildly), as does the package itself. Labor is often an additional cost as well as nails, roofing, and concrete costs. Usually a contractor charges between 10 to 25 percent of the total cost of materials for construction services. However, this percentage may go up if your project is on the small side in order for it to be financially viable for the contractor. For many horse owners, a prefabricated or kit barn is a perfectly reasonable and cost-effective solution.
If you're looking for a step above prefabricated, or can afford to customize your project a bit, you may then wish to research design/build contractors – but this is where I'd stop and suggest that you alternatively consider working with an equestrian architect.
Why? A design/build contractor is selling a product, not a service, and is not often a trained architect, which limits his or her ability to think creatively outside of the box. In most cases, thinking outside of the box eats up profits and costs more money (for the design/build contractor). For a design/build contractor, the goal is to build quickly above all else. I think this compromises your program and the overall result because the design/builder does not want to eat up time resolving special issues or conflicts. The design is usually cookie cutter, following whatever pattern the design/build contractor typically uses, and there is no one there to really represent the owner (you) and oversee the quality of the project and if it's built as intended or promised.
To Serve and Protect
With an equestrian architect, you're purchasing a service rather than a product. The architect is there to resolve the needs of the owner, from overall site planning, programming, phasing, and design to overseeing the entire construction to make sure the barn is built as intended. The service costs a bit more than a design/build contractor but, if your barn is your livelihood or your sanctuary, I believe that you'll save time and stress, frankly by getting it done right the first time.
Typical services an equestrian architect (straight from the horse's mouth here, if you'll forgive my pun) will provide:
Site planning: can reduce infrastructure costs (fewer roads, less fencing, better drainage, etc.) and improve the site to function at its best for your needs.
Programming: ensures that the whole farm (not just the horse barn but the entire collection of structures on the site, if applicable: residence, guest house, caretaker's quarters, hay/bedding, vehicle storage, etc.) operates efficiently and safely.
Code analysis: certainly the codes vary across states/municipalities. We've designed horse stables in counties with very specific codes and regulations and understand what to look for and how to work with the various officials to resolve issues. The architect can save you a lot of hassle!
Budget Development and Cost Control/Scheduling: I like to develop a budget as early in the process as possible and revisit it periodically during the project. My job is to determine if the owner's programmatic needs and budget fit the site, and if the design aesthetic suits their personal design goals. We can also plan to develop the barn or various structures in phases, if applicable.
Conceptual Design: Here we develop the character and massing of the structure(s) and prepare a preliminary floor plan and elevations to illustrate our ideas. At Blackburn, this is the final phase of what we call Master Plan Services (site plan, written program, conceptual design, and preliminary construction development). From here, we move on to more detailed design work.
Schematic Design: After we complete a master plan that works well for the owner, we begin to prepare detailed drawings to give you an idea of the layout and general appearance of the barn (and possibly other buildings). We'll talk about finishes, materials, stalls, tack rooms, etc. For a lot of people, this phase of design is the fun part!
Design Development and Construction Drawings: Here we'll really start to nail down the final design and specify the materials, stall systems, finishes, and other details and prepare construction drawings that instruct the contractor how to build the barn.
Bidding and Construction Administration: Because construction drawings are open to interpretation, it's important that the architect works with the contractor to oversee that the project is carried out according to the design intent. We're the owner's rep to make sure that construction is done well and done right.
I understand this may seem like a lot, but each is a valuable step toward designing a healthy, safe, and functional facility. As an architect, I want to study how you operate and design a barn that feels inviting and personal (because it is). No barn or farm operates exactly alike as each owner or barn/farm manager operates his/her facility in a particular fashion. While designing a barn from scratch is not realistic for everyone, if you are choosing between a design/build firm and an equestrian architect, I'd strongly advise that you approach both for more information and weigh out your options carefully. It could save you your horse.
As always, I invite your questions and comments. Thanks for reading!
An architect is trained to design as the great Louis Sullivan (1856-1924) states: "Form ever follows function." After all, if your barn doesn't function properly, what's the point of a great design?
Posted in
Equestrian News
|
Tagged barn design, Blackburn Architects, Equestrian, Equestrian Architect, equestrian design, Equine Architect, Horse, horse stables, master plan, Sagamore, site planning, Tidewater
|
2 comments >
12.29.11
I wanted to share a few more photos of the construction progress at Beechwood Stables in Massachusetts, a project we worked on in association with Marcus Gleysteen Architects. We expect to punch out the project (a final walk through of the project where we review everything) very soon.
12.21.11
On fifty gently sloping acres south of Charlotte, North Carolina, Ketchen Place Farm is a family-owned, female-run farm that breeds thoroughbred and warmblood sport horses. Blackburn Architects provided architectural services for the construction of a 20-stall barn and a not-yet-built, separate four-bay garage with a two-bedroom, two-bath residence above. The master plan includes redesign and improvement of roads, fencing, paddocks, a run-in shed, and a well-defined entrance to the facility. The shed-row style barn, which includes a studio apartment above for the observation of foals, wraps around three sides of a courtyard that doubles as a small sand training paddock. The project was featured in the Spring 201o issue of Architecture DC Magazine.
Program 20-stall barn with groom's studio, four-bay garage with residence, redesign of roads, fencing, paddocks, shed, and facility entrance
Completion 2008
Posted in
Equestrian News
,
Projects
|
Tagged 20-stall barn, Barn, Equestrian, Horse, horse barn, horse stables, Ketchen Farm, Ketchen Place Farm, Ketchen SC, Rock Hill, SC, Stables
|
Leave a comment >