Equestrian
10.27.11
I admit it: I've never even heard of mutton bustin' until reading about the event, which is part of tonight's lineup at the 53rd annual Washington International Horse Show, in yesterday's Washington Post. Apparently mutton bustin', in which kids weighing 60 lbs. or less play rodeo kings and queens while riding on SHEEP (like a fluffier and friendlier bull?), is popular in Australia. Wonder if it will catch on in the states. Or am I already behind?
It's hard for me to imagine that any sheep with a 6-year-old on its back would feel inspired to do much other than lie down for a nice nap, but apparently it can get quite rowdy (witness the poor kid in the photo below). My curiosity is certainly piqued. I'll even get to see the "action" live because my staff and I are attending tonight's show (it's BARN NIGHT, after all). Everyone at Blackburn enjoys watching the terrier races, but I bet mutton bustin' gives the dogs a run for their money, at least as far as the cute factor goes.
For those of you who plan to attend tonight's show, please follow me on Blackburn's Facebook page, where I'll post about the event and coordinate to meet up with fellow horse and barn lovers. And if you can't make it to the show, consider watching it via live streaming.
09.08.11
Located on a stunning 80-acre site in Aptos, Devine Ranch is designed with the temperate climate, ocean breezes, and scenic overlooks in mind. The eight-stall barn (six stalls with paddocks) lies in close proximity to the new 7,000 sq. ft. residence, also designed by Blackburn Architects.
Program 8-stall barn, two service buildings, covered round pen, open arena, paddocks
Completion 2003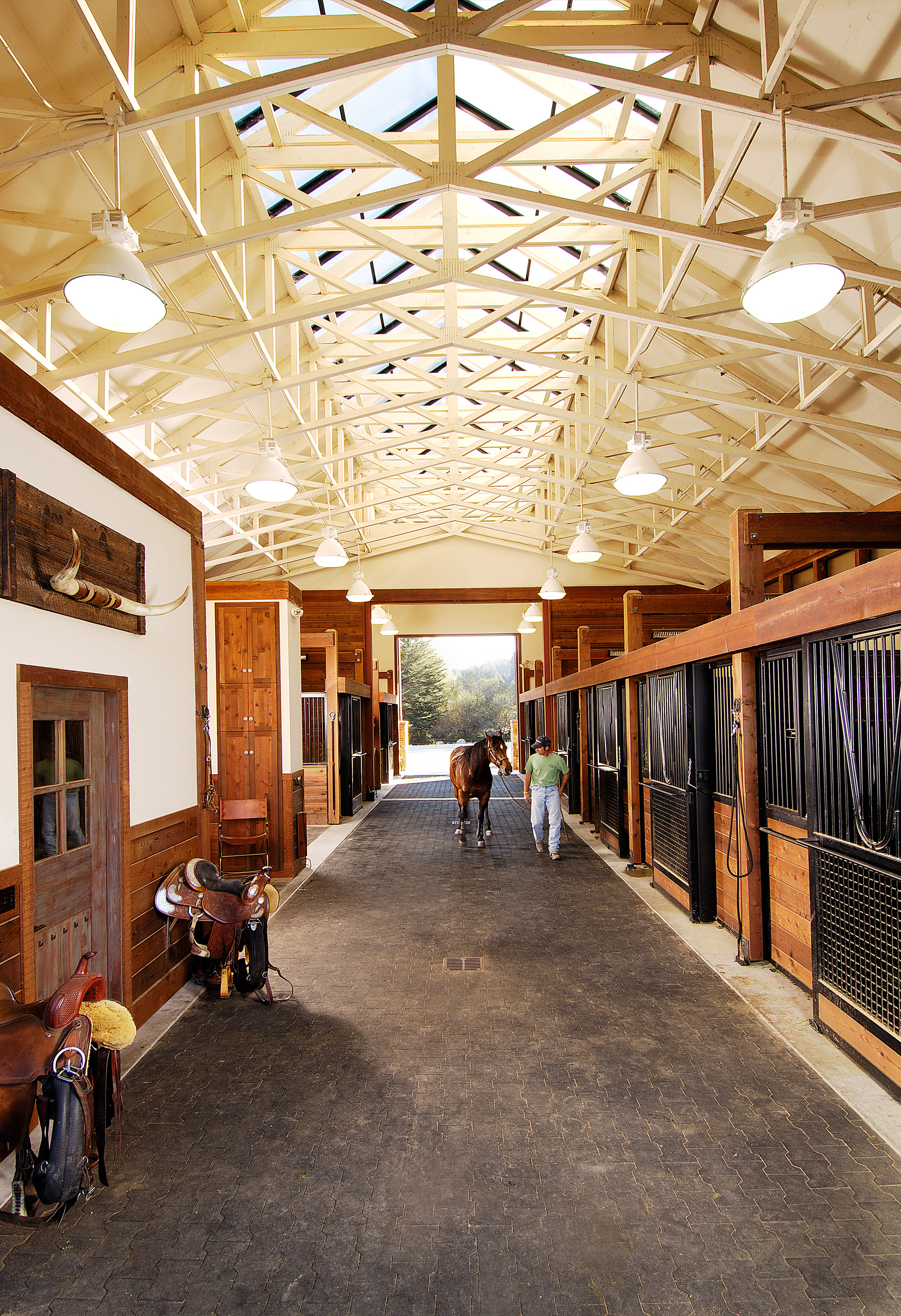 09.07.11
Designed in response to an adjacent new residence and in the style of existing barns on the private ranch, this eight-stall barn in Montana uses heavy timber framing and western cedar siding.
The program includes wash and grooming stalls, a lounge/office, large tack rooms, and a loft with a balcony that overlooks an outdoor arena. The barn's deep overhangs create covered areas to wash and groom horses outdoors while a continuous translucent ridge skylight allows generous amounts of natural light within the barn.
Program 8-stall barn, outdoor arena, service building
Completion 2004
Posted in
Equestrian News
,
Projects
|
Tagged Architecture, Barn, barn design, Barns, Blackburn Architects, Equestrian, Equestrian Architect, equestrian design, Equine, equine architecture, heavy timber, horse barn, horse ranch, horse stables, Montana barn, ranch, Stables, western cedar siding
|
1 comment >
09.01.11
Blackburn Architects is pleased to be a part of the improvement plans at the historic Saratoga Race Course. We are working with NYRA (New York Racing Association) to improve the backstretch area and its facilities to increase safety and efficiency for workers, riders, and horses. All of the proposed improvements for the frontside and backside at the track are outlined on NYRA's website; the public is invited to provide comment and feedback. A community forum takes place at the Saratoga Springs City Center on Thursday, September 1 at 6:30 p.m. Renderings of the proposed work is on display at the City Center through September 2nd.
NYRA President and CEO Charles Hayward says, "The projects we choose to undertake will not be determined unilaterally. We recognize that part of what makes Saratoga Race Course so special is its deep integration and embracement by the community. All of us at NYRA truly look forward to hearing from the public as we prepare to make essential and intelligent changes to bolster the fan experience and to secure the future of Saratoga."
Please read more about the proposed improvements for the frontside and backstretch at Saratoga in the official press release.
06.22.11
This private equestrian facility includes a 14-stall barn, three-bedroom staff residence, and a service wing for hay, bedding, and equipment storage. Designed in a French Colonial style indigenous to the South, the barn and residence feature coral stone water tables, stucco wall finishes, and barrel tile roofs. The generous use of dormers provides abundant natural light to the barn stalls and aisles and to the second floor of the residence. This project was featured in Elle Decor magazine.
Program 14-stall stable and three-bedroom staff residence
Completion 1997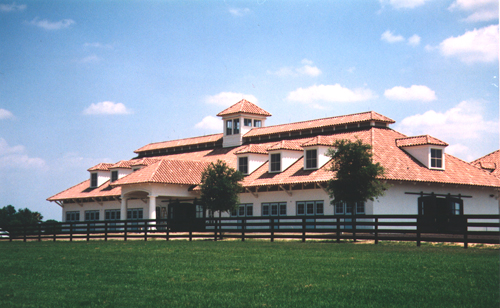 06.17.11
As a kid in Tennessee, I grew up around horses, though I had no interest in properly riding them. That I left to my twin sister, who kept her Tennessee Walker named Dixie in a neighbor's barn. For me, playing in the barn's loft for days on end in the summer was much more appealing.
I left Tennessee for Clemson University (B.A. Architecture, 1969), where I developed an interest in designing buildings inspired by context, environment, and function: I became a student of the philosophy that "form follows function." There was no doubt in my mind that I had left horses and the barn behind. After all, I never aspired to be an equestrian architect. I was a student of urban design. Ironically, over 25 years later, I earn a living designing equestrian facilities across the country. That is because a single interview changed my life.
Following graduate school (Washington University in St. Louis, M.A. in Urban Design, 1973), I relocated to Washington, D.C. in pursuit of its urban and robust economy as a place to possibly support a future architectural practice. My former colleague, Robbie Smith, and I began "moonlighting" on small side projects together and decided to create our own firm. As young architects, we'd happily take any project we could get our hands on. So, when Robbie received a phone call from a friend in the summer of 1983 about a fairly large potential horse project in Upperville, Virginia, we jumped. Forget that we had never designed a horse farm, or, for that matter, any other building of size of significance on our own. We had nothing to lose.
The Interview 
Preparation began for the big interview. We learned that the owner, Robert H. Smith (no relation to my partner, Robbie Smith), selected the renowned landscape architect Morgan Wheelock of Boston to plan the farm. Together, the owner and Wheelock sought an architect to design the farm structures to fit within the well-known Upperville and Middleburg, Virginia context.
Typically, during an interview you review your firm's portfolio of completed projects with the potential client. This was not an option for Robbie and me — we'd have to approach this interview differently. Since Robbie was from Middleburg, he was familiar with the area's building types. He spent a few days photographing various buildings in the area — forms, materials, and shapes — that represented Middleburg or Upperville in any way. Barns were certainly photographed, but we also considered residences, commercial structures, and other miscellaneous structures relevant. With plenty of images to inspire us, we selected a number of key examples. Many of these buildings were perhaps a hundred years old and probably weren't designed by an architect. However, we felt they strongly represented the area. We took the photographs and projected the slides on the wall of our small office, traced over them, and transferred the images to illustration boards to serve as our "portfolio" presentation.
I'm not aware of what the other interviewing firms presented, but ours did not include a single building we designed or were designed by any architect, for that matter. Our presentation documented the context of the area in a series of hand-drawn sketches — but, at least, if the owner's farm were to "fit" into the context, these were the shapes, forms, materials, and scale they should have.
We were hired immediately. Suddenly, we found ourselves with seven buildings to design with no staff in an unfurnished office space in a third-floor walkup in Georgetown — and we weren't about to complain. We were embarking on a project that would change our lives.
Horse Sense
Our client, Robert H. Smith, was a very successful developer in the Washington, D.C. area. While he had owned thoroughbred horses for several years, he stabled them at other farms or the track. Now he was ready to start a thoroughbred breeding operation, having acquired approximately 400 acres in Upperville, adjacent to the famous Rokeby Farm (owned by Paul Mellon) on one side and Route 50 on the other. Also included within the property were the grounds to the Upperville Horse Show, the oldest functioning horse show grounds in the United States.
Morgan Wheelock, the landscape architect, brought a background in designing horse farms to the project: with it, his theory that barn design, as well as the farm layout, should be driven by a paramount concern for the health and safety of the horse. The way the building is viewed and placed in the landscape, Wheelock believes, is as important as the design of the building itself. That's because both the farm layout and the barn design impact the health and safety of the horse; concerns possibly even more apparent when operating a breeding facility for thoroughbreds.
Barns are often perceived as dark, dusty, and uninviting buildings. However, it's also widely understood among equestrians that the best environment for a horse beyond the great outdoors is an environment that inspires just that. Wheelock bridged these inconsistencies with a design theory that focused on creating natural light and ventilation within the barn. It was a revelation. While the concepts Wheelock professed were simple, they worked — and beautifully — at our first barns at Heronwood Farm.
05.23.11
Blackburn Architects is so grateful to be a part of Kevin Plank's dream to revitalize the horse racing industry in Maryland through his work at Sagamore Farm in Glyndon. We hope you'll enjoy these articles from The Washington Post and The New York Times about Mr. Plank's impressive ambitions for the historic farm and to elevate Maryland's racing industry clout. We believe that if anyone can do it, it's Mr. Plank. Congratulations to the whole team at Sagamore Farm, whose All Mettle won Pimlico's $30,000 maiden special weight race in only her second career start!

Posted in
Equestrian News
|
Tagged Alfred G. Vanderbilt II, All Mettle, Barn, Blackburn Architects, Equestrian, farm renovation, Glyndon, Historic racing farm, Horse, horse racing, Kevin Plank, Maryland racing, Native Dancer, Preakness, Sagamore Farm, The New York Times, thoroughbred, Under Armour, UnderArmour, Washington Post
|
Leave a comment >
04.25.11
Seemingly, about a foot of snow buried the construction site at Beechwood Stables, a future barn and arena in Massachusetts at any given point from December through March.
Since then, as the weather in Massachusetts grows milder, the construction at this private farm (a project in association with Marcus Gleysteen Architects) is finally taking a shape other than a snowdrift. In the works are a 12-stall barn, a storage facility with recreation and lounge space, and an indoor arena with an observation lounge.
As foundation and underground work began over a winter season that yielded 60 inches or so of snow in the Boston area (with January 2011 alone dropping 38 inches), well…I'm sure you're not surprised to read that delays were bit of a problem. By the end of the winter, there may have been more snow removal than soil stockpiled on the job site!
Even on April Fool's Day (go figure), the area received a dusting of the white stuff. That's why I couldn't be more pleased for this patient client of ours as we approach the warmer months. Work at the private farm has progressed smoothly ever since the steel and timber arrived in early April; see the progress in the following photographs.
As you might expect with such a substantial project, we gave much consideration to the structural work and foundation. Specifically, we needed to determine how to erect and tie together stone column bases that weighed approximately 200 lbs. each and 21-ft. tall timber columns while allowing for enough movement to install the beams and rafters. In the end, the collaboration and discussion on how best to detail this connection took longer than it did to actually assemble, thanks to the efficient crew at New Energy Works and the careful planning between Kenneth Vona Construction (general contractor) and DeStefano & Chamberlain (structural engineer). I'm happy to report that the bases and timber columns went up without so much as a groan.
Following that, steel columns and perimeter beams were set in about two days; the timber frame for the barn and connecting link took a little over a week. Since then, the contractor has been busy working on the barn framing, preparing all of the openings for sheathing, and the steel fabricator has assembled all of the steel rafters and is completing final welds. Within about a month, the walls of the barn and connecting link will be complete and the roof work will begin. Assuming the weather behaves, of course.
In the meantime, timber for the arena observation room and support spaces is being fabricated along with the SIPs (structural insulated panels) that will cover two-thirds of the project.
So, here's to spring weather and speedy progress on an exciting project that we hope the owner and their horses will soon enjoy!
[slideshow]
03.28.11
I wanted to share an oldie but goodie – an article I wrote originally for Western Horseman Magazine about designing for natural ventilation within your barn. This stuff is the bread and butter of our design, in that no matter where a barn is located, or what a client's budget may be, healthy and natural ventilation within the stables is our priority. Read the article, Breath of Fresh Air, and let me know what you think.
02.16.11
Navigating codes and permit issues can create confusion and headaches for clients who seek to build a horse barn in a state or municipality that lacks special classification for agricultural buildings. Several states, including Pennsylvania, offer building permit exemption if a horse barn can be classified as an agricultural building. This usually means that the barn is privately owned and used and is not a place of employment or residence. If a jurisdiction does not allow a horse barn to be classified as "agricultural," the property and its buildings are subjected to rather excessive restrictions. (I should note that agricultural buildings still must meet the established zoning and building code requirements.) At Blackburn Architects, we run into excessive restrictions in many states and local jurisdictions if the equestrian facility cannot be classified as agricultural.
That's why when I came across the following article about a horse farm owner in Pennsylvania, I knew I had to share it. Ron Samsel, the owner, simply wanted to build a private horse barn for his friends and family to enjoy. Instead, he entered a battle with his township that landed them both in court: all over a building permit. While Samsel eventually won the case– his horse barn was declared an agricultural enterprise and, therefore, a building permit was not required– he spent a large chunk of time and money fighting a battle against the township he felt was acting irrationally and irresponsibly.
The court ruling may set a precedent for similar cases or disputes, of which I'd guess there are many, in Pennsylvania and possibly even surrounding states. I am glad attention has been brought to this issue and can only hope for greater clarity and consistency in what has become a convoluted issue for many equestrians who seek to build a horse barn to call their own.
EXCERPT FROM PENNSYLVANIAN EQUESTRIAN

Considering this nightmare, Samsel says he can understand why individuals rarely seem to fight township rulings, even when the townships are clearly wrong. "The townships always win because they push the little guy out," he says. Each time he won his case in court, the township was given 30 days to appeal the decision. Each time, the township waited until the 29th day to announce that they would appeal.