horse barn
10.23.17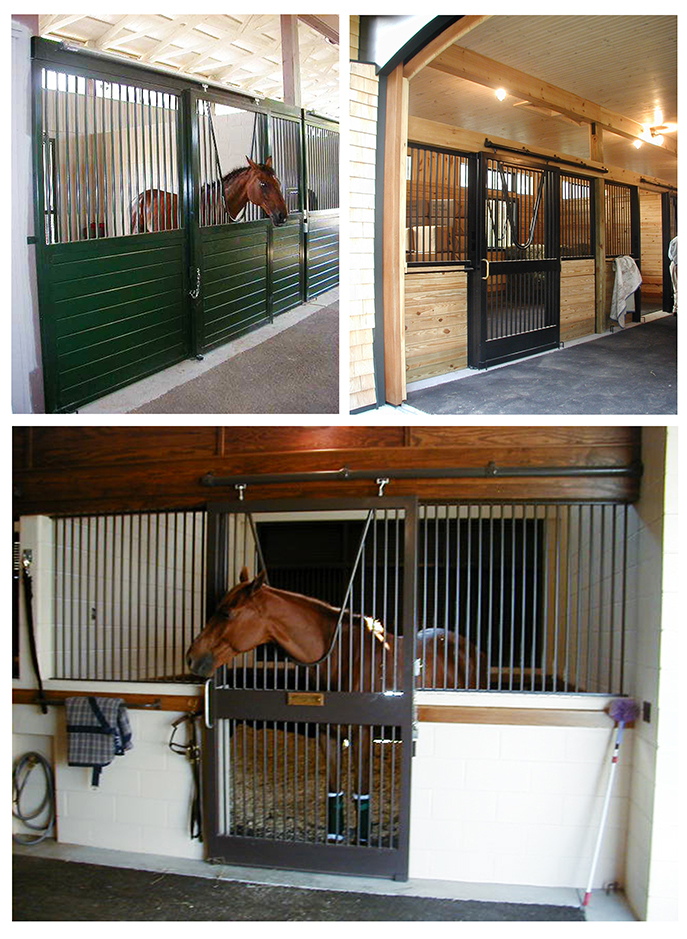 In a new, on-going series, John Blackburn will offer his insight into the major component parts of equestrian facilities. In this post, John offers his suggestions on stalls:
1. Blackburn designs stalls of all sizes, but the most common is 12'x12'. 16'x16' is often requested for larger horses, but with more space comes increased maintenance, a need for more bedding and a bigger area to clean. Larger stalls can, therefore add considerably to the cost of building a barn by:
a. Adding to the overall length and/or width of a barn.
b. Requiring roof framing to be increased from 2×10's to 2×12's or even greater.
c. Increasing the span of the framing lumber.
2. Partitions between stalls should be at least 8 feet high, but they don't have to be solid from top to bottom. Barred or mesh portions on the top enhance ventilation. This also has the benefit of allowing horses to see their companions — and provides easy observation of the horses by their owners. The down side is the increased ventilation between stalls can increase the risk of bacterial infection between horses. For the same reason, doors that are open on top increase light and ventilation. Bars must not be more than 2 to 3 inches apart, and openings should not be more than 2 inches across to prevent hoof entrapment.
3. Steel mesh or bar fronts on stalls allow an owner to look down the aisle or into the stall as they walk down the aisle and see their horses. The mesh is good for ventilation, too. The drawback is that bedding can be kicked into the aisles, so we recommend adding bedding guards. Welded steel mesh is typically stronger than bars but the horizontals tend to collect dust and can add to barn maintenance.
4. Doors should be at least 4 feet wide. This is wide enough for a wheelbarrow to enter the space or for a horse and handler to exit or enter the stall. Sliding doors are preferred over swinging doors. If you must use swinging doors, remember to install them to swing outward. You'll have a major problem if a horse goes down and the door swings to the inside. Additional safety reasons for outward swinging doors include:
a. Prevention of an unlatched door swinging open accidentally, or the wind catching it.
b. Added visibility of looking down an aisle and recognizing that a stall is open and empty. (Handlers need to leave stall doors open when the horse is turned out. This also makes it easier when bringing the horse back to the stall – you don't have to open it.)
5. We recommend rounded edges in stalls and anywhere in the barn where horses have access. A casting rail (which can be a groove in the wall or a 2-by-4-inch rail bolted low to the wall), provides something for the horse to catch his foot on when rolling to avoid getting cast.
6. Provide for easy access to the stall for feed buckets without opening and closing the door. Place in one of the front corners adjacent to the aisle.
7. Automatic waterers have the advantage of offering constant fresh water, but be sure to buy a model that is easy to keep clean. If you don't want automatic waterers, install water hydrants between every couple of stalls and provide for ample drainage for drips and overflows. Don't forget to frost-proof them in climates where pipes are apt to freeze.
Posted in
Equestrian News
,
News and Press
|
Tagged Architect, barn design, Blackburn Architects, Blackburn Architects barns, Designing horse stalls, equestrian architecture, equestrian facility, Equine, Equine Architect, equine design, farm planning, horse barn, horse barn design, Horse Barns, thoroughbred, Ventilation
|
Leave a comment >
11.01.16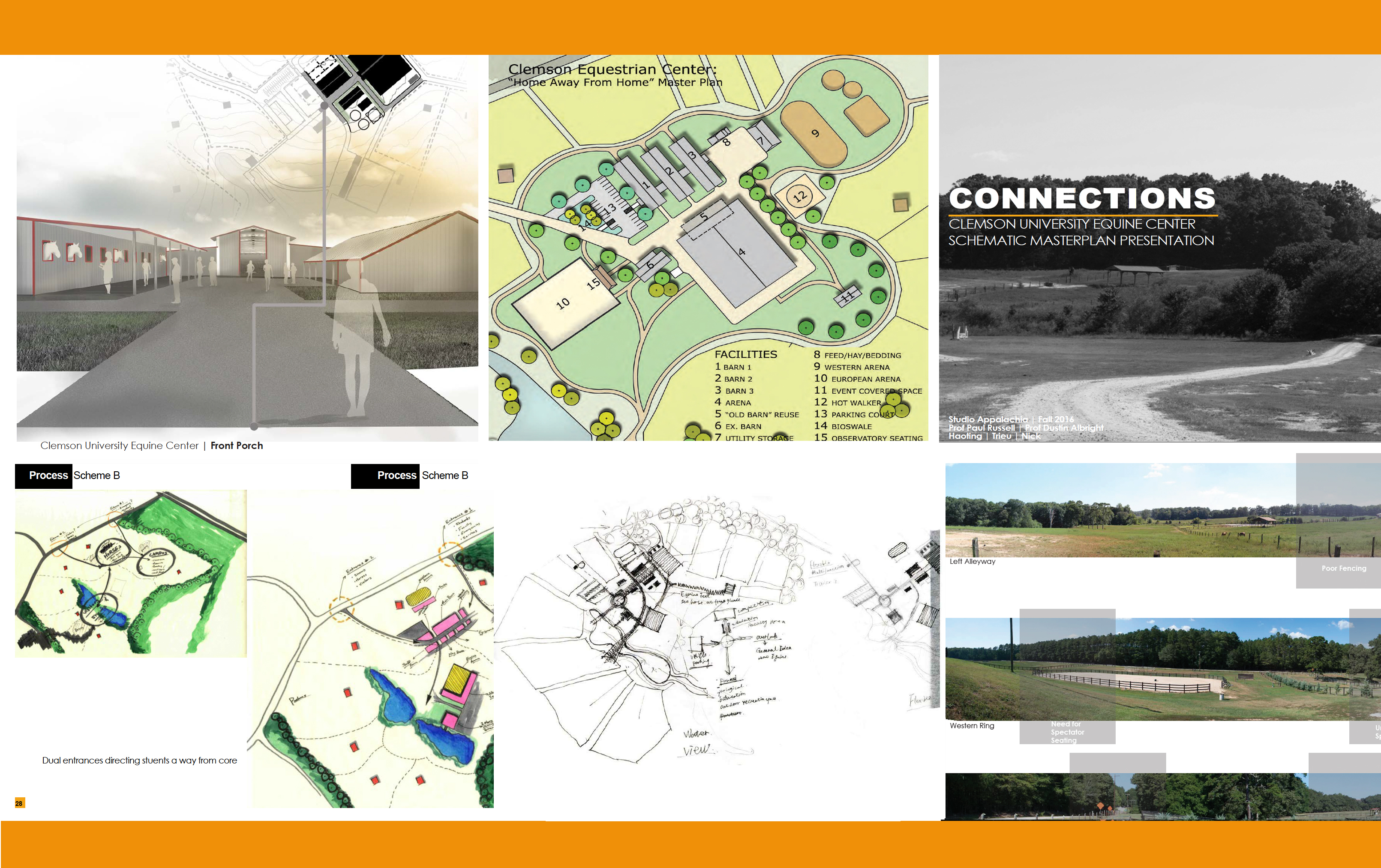 Checking back in to report what's been happening at Clemson's School of Architecture & Studio Appalachia.
 In case you missed it… Studio Appalachia is a collaborative, project-based graduate design studio between Clemson's school of architecture and its department of landscape architecture. The Studio is directed by associate professors Dan Harding and Paul Russell. Studio Appalachia targets issues such as: accessibility to natural resources, sustainable building strategies, and approaches to long term visioning and planning.
I was asked to participate in this year's studio because it involved horse facilities, specifically re-envisioning the Clemson University Equine Center (CUEC). With aging facilities that are well-used and well-loved, I knew it would be fascinating to see how these talented students created a fresh program for the facility. The teams of architecture and equine business students (a new twist for the studio) have spent the last several weeks immersed in detailing the site and facility requirements, learning about design issues unique to equines.
Teams consisting of three to four students conducted rigorous research, made several site visits, interviewed user groups, studied topography, considered land, sun, wind, circulation paths and traffic flow to create detailed and well considered Master Plan Studies and Field Reports.
Referencing the evolving formal and material contexts of Southern Appalachia, the four teams stated as goals to "improve circulation, establish organization, and enhance the (existing) ecology of the historic Clemson farm. To them, as one team eloquently stated, the CUEC is more than a farm; it is an institution that showcases the prestige of the university, and embodies the history, strength, and energy that the equine program was founded on.
The preliminary master plan schemes presented earlier in October were successful in developing goals and considerations for further study. The studio presents preliminary concept designs later this week and I'm looking forward to the big reveal.
08.07.14
Pat Raia's recent article about the California barn fire blamed on exploding manure raises legitimate concerns about the dangers of improper waste management.  Standing piles of manure contain rapidly reproducing bacteria and methane gas build up (as the internal temperature rises you might see smoke rising off the mounds!). The impending "explosion" could ignite any combustible material in proximity to it and you could be left with a devastating mess similar to the California barn fire.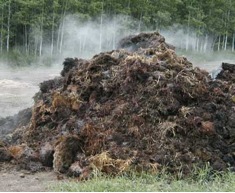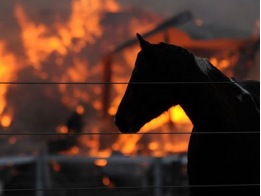 Manure storage in the barn is a fairly rare occurrence in my experience and I agree with the recommendation that it should be stored outside and away from the barn. Not only to reduce the catastrophic events that could be caused by spontaneous combustion, but also to prevent flies, mosquitoes, and odors (not to mention the unnecessary risk to the safety of the horses from outside service vehicles and haulers tending to it). I find that most people store their manure in a dumpster or muck pit. As an alternative, I recommend and frequently specify a composting system close to the barn. A composting system like O2Compost is great and can be designed to accommodate large to small horse barn operations.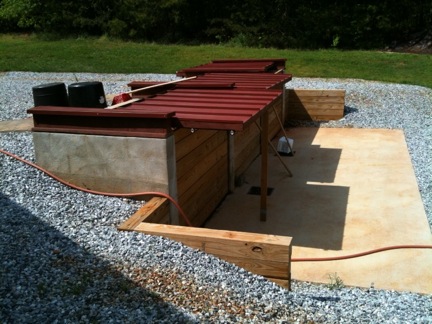 They're also compact, customizable and can quell the influx of flies and mosquitoes. The heat created by the decomposing manure "cooks" it until it is reduced to a manageable amount. It can then be used in more productive ways such as providing fertilizer for the farm and paddocks (the cooking process has killed the harmful bacteria by this stage) and preventing weeds. Always be cautious, though, when handling or transporting waste materials so as to avoid mixing with other combustibles. This could increase your risk for fire as well. Most farms do separate them because the hauler typically objects to combining other trash with manure.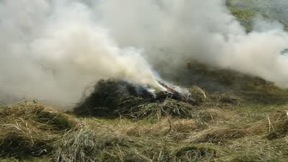 Spontaneous combustion is not limited to manure, however. Hay is a serious factor where barn fires are concerned, in my opinion. It is all too frequently stored in improperly ventilated barn lofts where it can easily ignite. Unfortunately, many owners house their horses alongside hay storage and have no idea how potentially deadly it can be. They think it won't happen to them. With daily convenience in mind, I usually design a ventilated, isolated area to accommodate only a week's worth of hay storage at a time. Generally, hay should not be amassed in lofts, but whenever it is stored there it should only be in small quantities. Special precautions need to be taken such as installing alarm systems and reducing exposure to electric lighting and equipment. I recommend natural lighting through a skylight or clerestory windows. I strongly encourage installing a sprinkler system in the barn. I know it's expensive but think of it this way, " can you afford to lose your barn, your horses, and everything else in there?" It may be worth the investment considering what's at stake.
I want to thank Pat Raia for writing the article, as it will, hopefully, raise our collective consciousness to the presence of latent hazards around the barn.Whenever designing for horses, my goal is to find every way possible to make the barn (and the entire farm for that matter!) a safe and healthy home for them and their handlers.
John Blackburn, AIA, Senior Principal at Blackburn Architects, P.C. and author of Healthy Stables By Design has over 35 years of experience in the practice of architecture. He is responsible for the overall firm management. His award-winning designs include a full range of project types and services, from programming, existing facility evaluation, and master planning to new construction, adaptive reuse, and historic preservation. Please contact him here
05.29.12
Today's blog comes from Macy Carman, an enthusiastic and talented student (and equestrian!) from Hollins University in Virginia. Macy, an environmental studies major who is considering graduate studies in architecture, spent some time with us to learn about what it means to be an "equine architect." In turn, my staff and I got to spend some time picking her brain about her invaluable experience as a groom for Pollard Eventing. (On a sad note, our thoughts are with everyone at Pollard Eventing. Macy travelled back to be with her horse family after the tragic car accident that claimed the lives of three horses last week.)
HERE'S MACY:
I knew I had picked the right architecture firm for my internship when John Blackburn started out my first day with what he referred to as his "dog and pony show." I love pony shows! I am a lifelong rider, member of the United States Pony Club, and looking forward to a career in designing equestrian facilities, so I knew I was in for a treat.  And I was…the presentation he showed me displays many of the options that are available to clients as well as the principles he bases his designs around: natural light and proper ventilation. I think that he could convince anyone that these are the most important concepts behind a facility!
During my time with the Blackburn team, I was able to accompany John to a Virginia Farm where he was interviewed for a video (stay tuned for the final project). After spending so much time discussing the process to designing a barn, I certainly had a different perspective when touring the facility. While my practical experience with horses, combined with time spent in a variety of barns, has instilled in me the importance of a well thought out facility for the safety and well being of the horse and rider, I picked up on a lot of smaller details. John had a reason for why every detail was exactly the way it was, and was happy to answer all of my questions. Watching his interviews, I got a sense that he cares for the horses just as much as the owners, which is exactly what we horse people are always looking for.
Over the course of my first week here, I have talked to everyone in the office about their projects, their academic paths, and their thoughts on barn design. As interested as I have been in barn design over the years, I have never given thought to many things Blackburn consistently addresses, like making sure that vehicles, visitors, and horses are separated at all times. Who knew a driveway needed so much planning? Everyone in the office has been very welcoming, and I hope that I have been able to provide a slightly different perspective as a rider and a groom. I look forward to absorbing a greater understanding of equestrian design during the rest of my time here- and maybe some tips on my graduate school applications too. I would like to thank the whole office for having me.
05.16.12
Quite a few years ago, I participated in a web chat (remember those?) with the folks at EquiSearch. During the chat, a few chatters presented me with questions about their barn projects, which ranged from "how to's" regarding initial planning stages or "what now's" after building the basic framework. For old time's sake, I thought I might share the chat's transcript. For the sake of those reading today, I'd like to encourage any and all of you to ask away with questions or to present design issues of your own.
gatsbysmom – How much roof overhang do you recommend for a barn in the South?

Blackburn – Gatsbysmom…roof overhangs are very helpful in the south for shading…if you have Dutch doors where horses can stick their heads out, it allows them to do it…make sure the roof is projected out far enough so runoff doesn't drop on the horses' heads…a good dimension is 3.5 feet.
04.06.12
Located in Loudoun County along the banks of the Potomac River, this 24-stall barn and indoor arena is host to many equestrian events and family gatherings. Amenities include barn offices, lofts, and a 25,000 square-foot indoor arena with a viewing area for observers. The equestrian facilities can also be viewed from the sundeck of the award-winning Bank Barn that overlooks the valley below.
Program 24-stall barn, offices, indoor/outdoor arenas, observation area, service barn, outdoor paddocks
Completion 2006
03.22.12
Over the years, I've collected much too many photos of barn details, which includes everything from latches on stall doors to drains in aisles. It's only natural to collect the things you love, right? I often refer to my virtual stash of detail images when I'm designing a barn and hope they might serve as an inspiration to you as well. I will probably add to the collection (correction: I WILL add to the collection because I won't be able to help myself) over time. What can I say, the details separate a fine barn from a fantastic barn. On that note, I hope you'll forgive my lack of photography skill. Some of these images were taken during or just after the construction process by yours truly. That should serve to explain any and all photos with incomplete landscapes (aka piles of dirt) and unique angles (aka crooked) that are artistic-driven (aka fuzzy, out-of-focus) images.
By way of introduction to my collection, I think it seems fitting to begin this set barn detail images with the door. Every dutiful, the door is a part of every barn, everywhere. (At least I hope so.) You'll see many images of my favorite, the Dutch door, which aids ventilation within the barn. There's also human-only doors, main entrances, side doors, etcetera. Hopefully it's not too much of a hodgepodge for you to enjoy.
Incidentally, I've asked one of the more tech savvy staff (basically anyone but me) to link these images on Pinterest; we're attempting to hop on that fast-moving train because we architects sure appreciate a visual aid. If you're a Pinner yourself, let me know so we can follow you there. Until then, happy collecting!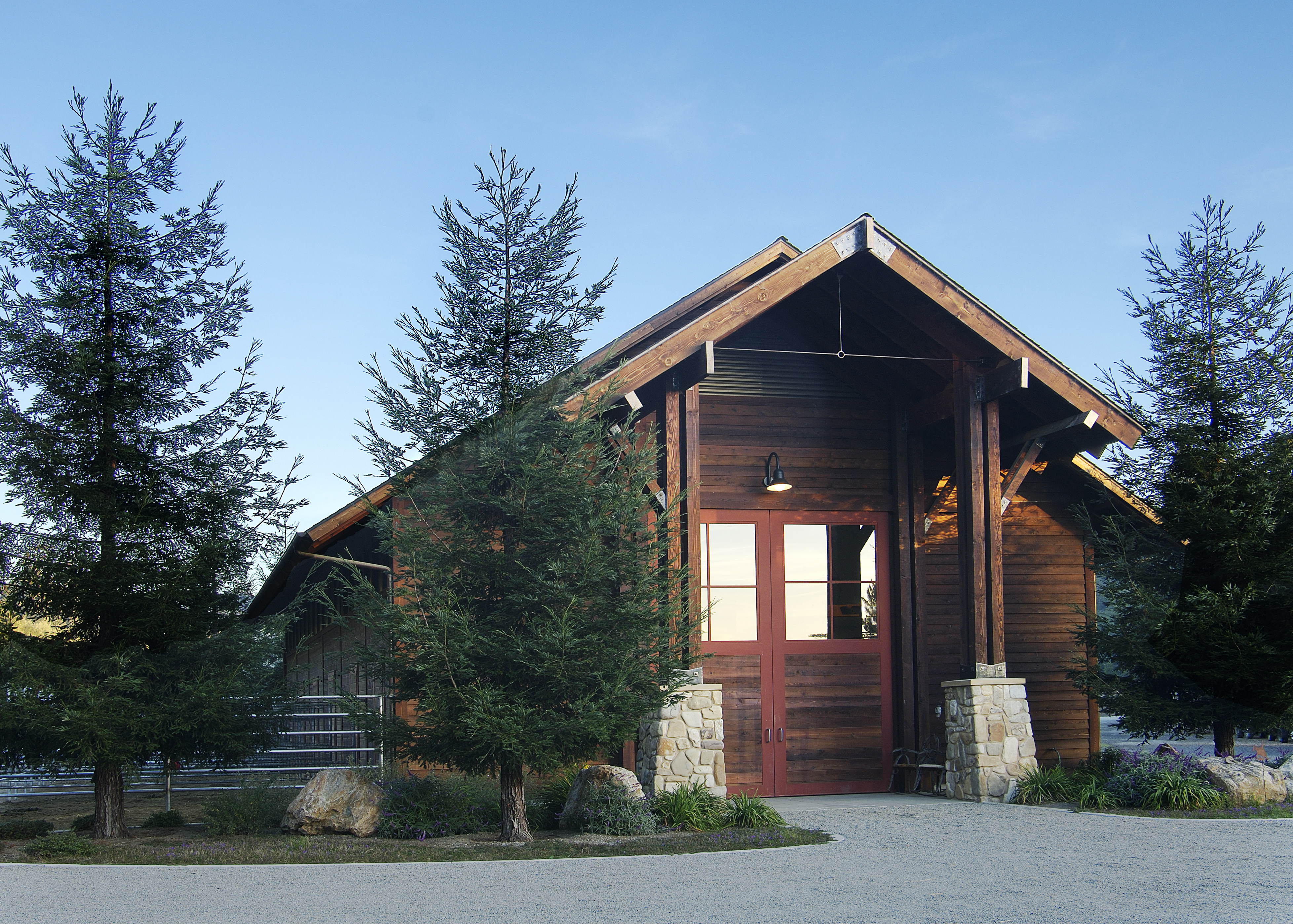 Dear disgruntled artists: the key to success isn't kicking down the door; it's building your own.
Brian Celio
Read more:http://www.brainyquote.com/quotes/keywords/door_14.html#ixzz1pshKJzeM
02.24.12
So many social media formats, so little time… did you know that my firm, Blackburn Architects, has a Facebook page? We post photos of projects throughout the design process, let you know what we're working on at the office, and share information about equestrian architecture as well as happenings in the world of horses. It's a nice format for things we'd like to share while keeping it short and sweet (unlike a certain blogger here). So, if you haven't "LIKED" our page yet, I hope you will! I promise it will keep you informed and, like my blog, invite you to use the page to ask questions and share your own stories.
In other self-promotional news (sorry, must be that kind of day), The Chronicle Real Estate Supplement for Winter 2012 features the Blackburn-designed facilities at Sheik Island Farm in Dade City, Florida. The luxury farm, which covers over 300 acres just outside of Ocala, is officially on the market. If you're interested, the website also offers a virtual tour of the farm. When we designed the farm back in the late '90s/early '00s, the farm was used as a training and show facility for hunter/jumpers and polo ponies. The tree-filled, picturesque property has two barns: a 16-stall barn for hunter/jumpers and a 10-stall barn for polo ponies. Other amenities include an outdoor riding arena, a stick and ball field, a service storage building, and an office/caretaker's residence. The barns are designed with deep overhangs and continuous ridge venting to keep horses cool during steamy Florida summers.
02.09.12
This is probably the last set of photos I'll share of Beechwood Stables in Massachusetts before we have a professional photographer shoot the project in its completion. (When the weather is a bit nicer so the buildings aren't covered in snow!) I'm really pleased with how it's turned out and hope our client feels the same. I'd also like to thank Marcus Gleysteen Architects, whom we teamed with; the builder, Kenneth Vona Construction, whose professionalism and craftsmanship is top-notch, as well as the team at Lucas Equine Equipment for their fabulous stall systems as usual. Beechwood Stables has a lot of high-end finishes and details that certainly shine though with this project. However, the truly important aspects of our design is what matter the most and remain true regardless of budget: protecting the health and safety of the riders and the horses who will soon inhabit the barn.
Thanks to the gracious owner and everyone involved in the design and construction of Beechwood Stables. A few details are provided in the caption each photo.
12.29.11
I wanted to share a few more photos of the construction progress at Beechwood Stables in Massachusetts, a project we worked on in association with Marcus Gleysteen Architects. We expect to punch out the project (a final walk through of the project where we review everything) very soon.