John Blackburn
11.01.17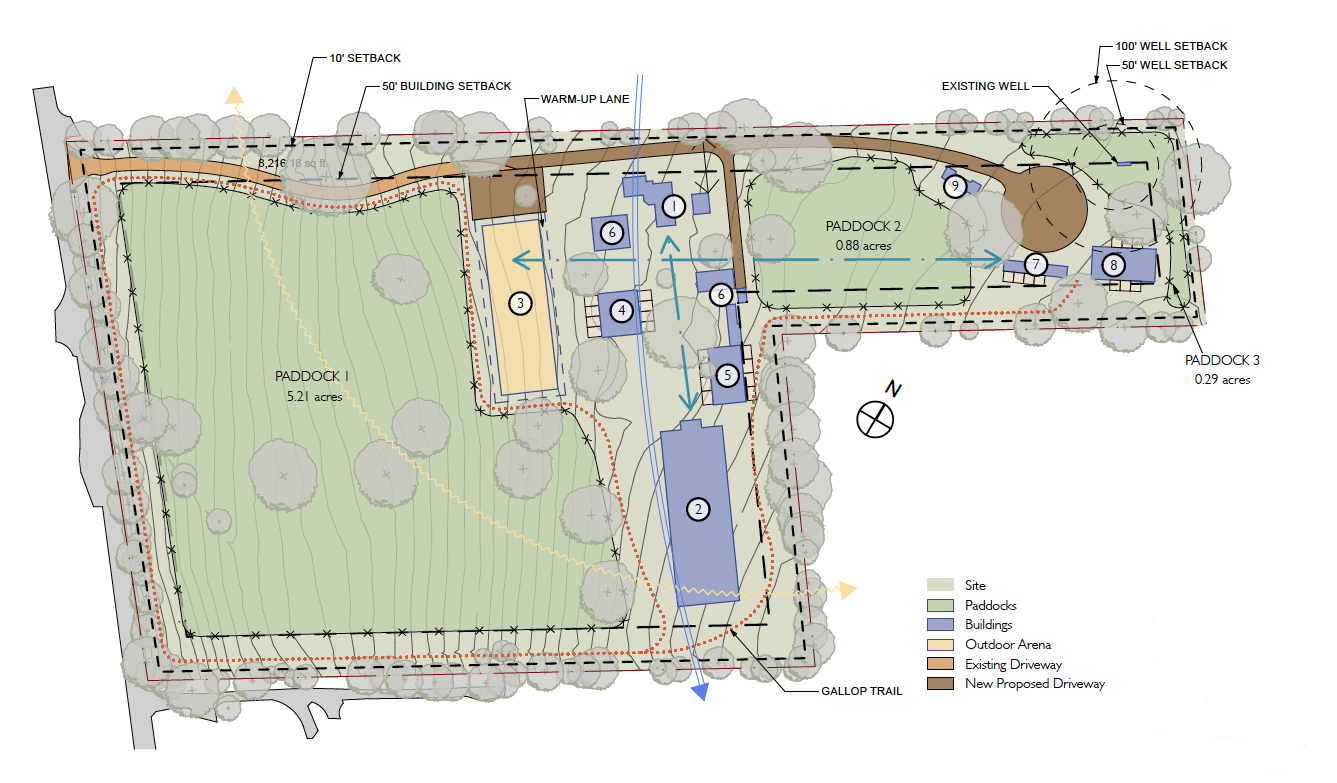 Q: Dear John,
We have a house on 3 acres of land with a 4-stall metal barn. It's been years since horses have been on the property. The pasture and paddock are overgrown with trees and shrubs and are now essentially wooded areas. The fences are in disrepair. The area is hilly. We need to see if we can flatten an area to use as a riding ring. Drainage will be an issue. Basically, we need to figure out a way to rework what's here to maximize what we can use. We understand that it will be a large undertaking and we want to properly plan to do it right and complete in several stages over a couple years.
Your website has been helpful and informative, but any additional information would be greatly appreciated.
Thank you,
Midwestern Equestrian
A: Dear Midwestern Equestrian,
Almost weekly, our office receives calls or emails from people who own a property and plan to put horses on it. Maybe there's already an old structure there. Or perhaps they want to start from scratch. They ask for advice on where to begin.
Midwestern Equestrian, I suggest you start with a site plan. Even with an existing structure (your 4-stall barn), there are so many benefits to putting together a "roadmap" for future changes/improvements. And since you want to put four horses on three acres, efficient planning is critical. Consider that there are three major categories of costs when planning to bring horses onto your property: 1. Operational, 2. Environmental, and 3. Infrastructure. Proper planning will save you money in all three areas. Fewer roads, less fencing, better drainage all ensure that the whole farm, not just the horse barn but the entire collection of structures on the site, operates efficiently and safely.
Operational Considerations: First locate where you'll put the horses – where is your turnout? Where will you store hay, equipment, or vehicles? Do you have access for manure pickup, large-truck deliveries, guests or visitors? Minimizing the number of steps necessary for your daily routine (turnout, stall mucking, etc.) will save labor time, which of course you know is money in the farm biz. Planning will also preserve space for paddocks.
Environmental Considerations: Figure out structure placement within your acreage. It's important to properly orient any new buildings in the landscape. We design our barns to generate their own ventilation, placing them perpendicular to prevailing summer breezes. (One of many design considerations for maximizing light and ventilation, which is a subject I've written about often.) Additionally, placing structures where the land will drain easily makes good sense.
Infrastructure Considerations: Fewer roads to maintain means fewer dollars spent.
Creating a master plan does not mean that every part of it needs be built at once. The plan may end up taking years to implement, but as each new structure or paddock is added, it isn't done in the usual haphazard way. It will save you from asking, "You know, I could use a tractor shed somewhere?" Even those with very limited budgets should consider getting the advice of an expert at the planning stage, given the importance of the optimum farm layout.
Hope this helps in your planning, and good luck with your farm!
John
Posted in
Equestrian News
,
News and Press
|
Tagged Blackburn Architects, Blackburn Architects barns, Dear John, Dear John advice, equestrian design, equestrian facility, Horse, horse farm, horse stables, John Blackburn, John Blackburn advice on site planning, Master Plan for a horse farm, Site plan for equestrian property, Site planning a horse farm, Stables
|
Leave a comment >
11.01.16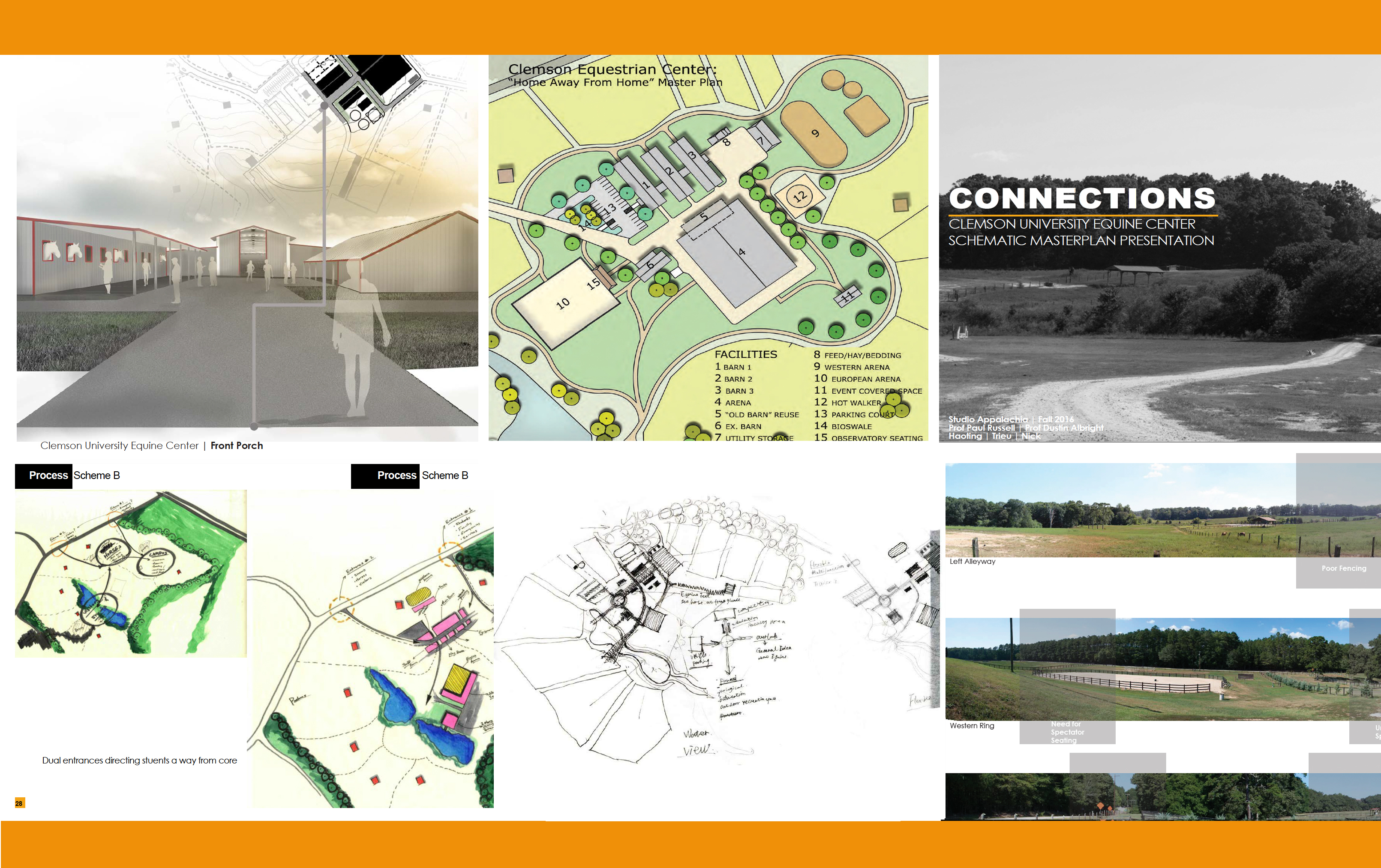 Checking back in to report what's been happening at Clemson's School of Architecture & Studio Appalachia.
 In case you missed it… Studio Appalachia is a collaborative, project-based graduate design studio between Clemson's school of architecture and its department of landscape architecture. The Studio is directed by associate professors Dan Harding and Paul Russell. Studio Appalachia targets issues such as: accessibility to natural resources, sustainable building strategies, and approaches to long term visioning and planning.
I was asked to participate in this year's studio because it involved horse facilities, specifically re-envisioning the Clemson University Equine Center (CUEC). With aging facilities that are well-used and well-loved, I knew it would be fascinating to see how these talented students created a fresh program for the facility. The teams of architecture and equine business students (a new twist for the studio) have spent the last several weeks immersed in detailing the site and facility requirements, learning about design issues unique to equines.
Teams consisting of three to four students conducted rigorous research, made several site visits, interviewed user groups, studied topography, considered land, sun, wind, circulation paths and traffic flow to create detailed and well considered Master Plan Studies and Field Reports.
Referencing the evolving formal and material contexts of Southern Appalachia, the four teams stated as goals to "improve circulation, establish organization, and enhance the (existing) ecology of the historic Clemson farm. To them, as one team eloquently stated, the CUEC is more than a farm; it is an institution that showcases the prestige of the university, and embodies the history, strength, and energy that the equine program was founded on.
The preliminary master plan schemes presented earlier in October were successful in developing goals and considerations for further study. The studio presents preliminary concept designs later this week and I'm looking forward to the big reveal.
03.09.16
John Blackburn will be presenting at the 2016 HSUS Animal Care Expo in Las Vegas, May 11th – 14th. John will be discussing how horse health and safety is impacted by barn and farm design. For more information about the expo please visit: 2016 Animal Care Expo
02.02.16
Coming off the heels of a truly epic storm for the Washington D.C. area (and most of the east coast!), I thought I'd take a moment to address how design techniques can help barns "weather" extremes.
In the United States, the upper northeast regions through to the Midwest are prone to experience weather extremes in the form of snow and ice. While we cannot entirely "weather proof" a barn, we can make it more resilient to some of the more damaging effects of weather phenomena.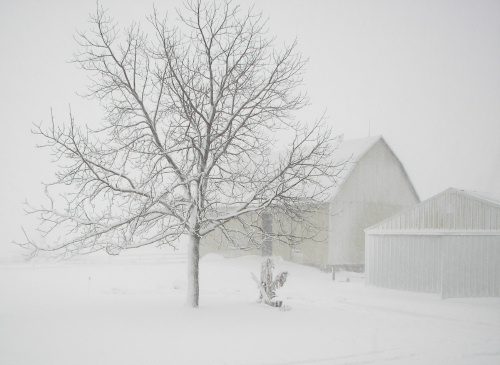 The roof of your barn needs to be able to:
Withstand the weight of snow and/or effectively shed it
Prevent or reduce the formation of ice dams
Redirect "roof avalanches" from sliding into high traffic or poor drainage areas and also reduce associated noise that could frighten the horses.
In addition to contributing to the Bernoulli principle I incorporate for natural ventilation, steeply pitched roofs also contribute to effective, gradual roof shedding and the redistribution of snow load. Ideally the pitch should be between 4/12 and 6/12 to get the optimal shedding effect (although, we generally try to keep pitches at 7/12 or more to take full advantage of the Chimney Effect and Bernoulli principle for natural ventilation)
Roofing material will also factor into how the snow will shed. Metal roofs are excellent as they are smooth and slick. They will also stay colder longer; reducing the likelihood that snow will melt and form ice dams (more on this below). Snow will shed from a metal roof even if the pitch is lower. Shingled roofs, however, will slow down the shedding process by "holding on" to the snow and allowing it to stay in place and accumulate. Consider a steeper pitch if you prefer a shingled roof as it will facilitate the shedding process over the rougher material.
Now, you might be saying to yourself, "Well, the snow is off the roof…but it's all over the place! Now what?" Including strategic roof overhangs will complement the steeper pitch by helping to distribute shedding snow away from exterior walls and out of traffic and poor drainage areas. Be wary though, snow sliding off roofs can be noisy and frightening to horses, not to mention dangerous if it falls on you! Snow guards on the roof can help reduce the noise associated with shedding snow and keep huge sheets of it from falling on (and potentially harming) 2 and 4 legged passersby. Gabled dormers over entryways can also be useful. They help to direct snow off to the sides.
Ice dams are another unfortunate side effect of snow-laden roofs. An ice dam forms when the underside of the roof gets warm enough to thaw the bottom layer of snow sitting on the other side. The water makes its way down to the eave where it refreezes, eventually growing into a mound of ice. As the ice dam gets larger, it can pull the shingles and edges up allowing water to get through and into the insulation and walls. Water damage then wreaks havoc on the interior of the barn. The ice dam could also break off the eave and take pieces of the roof with it or fall on passersby. Sure, there are ways to deal with ice dams once they've formed, but natural ventilation can help prevent them upfront. Natural ventilation keeps the underside of the roof within 10 degrees of the outside temperature, which aides in keeping that critical layer of snow right on top from thawing and running down towards the eaves.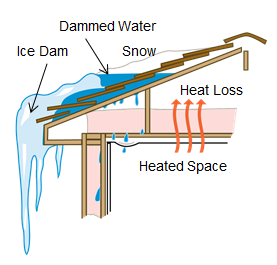 Site and circulation planning can help prevent and/or reduce the impact of icy conditions around equine walkways. In the interest of horse safety, I try to design site circulation so that horses do not need to move over asphalted areas intended for trucks and service vehicles (there are other benefits associated with that as well). Asphalt is not great for horse's knees, generally, but it is particularly problematic when wintery conditions lead to the formation of "black ice" — a thin sheet of ice over the asphalt that can be imperceptible to the horse or persons walking on to it. Horse pathways in and around the barn should include porous footing that absorbs and carries moisture away quickly. Presently there is no way (that I know of) to prevent pastures from freezing over, but you can maintain a dry paddock or "sacrifice" lot where your horses can be turned out when pastures have been effected by inclement weather. Paddocks with considerable slope can be particularly hazardous when they freeze over. That's when a "level" dry lot can be very useful!
As many on the east coast found out this past week, there is only so much preparation you can do in a couple of days before a storm hits. You, your horses, and your barn will benefit from built in preparation.
Posted in
Equestrian News
|
Tagged barn architecture, barn design, beechwood stables, black ice, Blackburn Architects, dormer, Equestrian Architect, extreme weather, farm planning, gable, horse barn design, horse stables, ice, ice dam, ice damming, John Blackburn, overhang, roof, roof pitch, snow, snow load, snow shedding
|
Leave a comment >
11.11.13
Date: November 6th, 2013
Location: Lucky Jack Farm in Rancho Santa Fe, CA
Patty Brutten, the farm owner led off the presentation with introductions and a brief history of what led her to build Lucky Jack Farm. The property was designed in the Rancho Santa Fe historic style made famous by Lilian Rice in the 1920's and has an historic designation characterized by low-slung terra cotta roofs, shuttered, deep-set windows, white or neutral colored adobe walls, and intimate patios and courtyards, that define the area. Today it is known as California Romantica, California Mission, or Spanish Colonial style.
All of the author proceeds for the sale of John Blackburn's book, Healthy Stables by Design, are donated to equine charities. The owners of Lucky Jack Farm, hosts of this event, chose REINS Therapeutic Riding Program in Fallbrook, CA. Debbie Shinner, who has been the Executive Director of REINS since 1995, spoke about the program, its history, and how she became involved in 1992.
Our own John Blackburn followed Debbie with an introduction of some of the key members of the design and builder team, a short presentation about his background designing for horses, and the design aspects he believes to be essential for successful equestrian projects. He also covered design concepts of his firm's predesigned Blackburn Greenbarns® as well paying notice to several projects in the book, Healthy Stables by Design. As he does in every presentation, John stressed how the health and safety of the horse remains the priority in every design regardless of the budget, location, or program.
Following the presentation, Blackburn architect, Dan Blair led a portion of the attendees on a tour of the Lucky Jack Barn, illuminating its unique design aspects and how the firm tackled the challenge of having the barn's designs comply with strict building and fire codes without sacrificing a healthy and safe environment for the horses.
The event ended with the sale of 64 copies of Healthy Stables by Design and raised nearly $2000 for the charity. This amount was increased significantly by several private voluntary donations.
John continues on his book tour and equine charity events with presentations in Pebble Beach and Monterey CA and at a private facility in Central California in the Bay Area.
Scroll down for pictures from the event.
06.17.11
As a kid in Tennessee, I grew up around horses, though I had no interest in properly riding them. That I left to my twin sister, who kept her Tennessee Walker named Dixie in a neighbor's barn. For me, playing in the barn's loft for days on end in the summer was much more appealing.
I left Tennessee for Clemson University (B.A. Architecture, 1969), where I developed an interest in designing buildings inspired by context, environment, and function: I became a student of the philosophy that "form follows function." There was no doubt in my mind that I had left horses and the barn behind. After all, I never aspired to be an equestrian architect. I was a student of urban design. Ironically, over 25 years later, I earn a living designing equestrian facilities across the country. That is because a single interview changed my life.
Following graduate school (Washington University in St. Louis, M.A. in Urban Design, 1973), I relocated to Washington, D.C. in pursuit of its urban and robust economy as a place to possibly support a future architectural practice. My former colleague, Robbie Smith, and I began "moonlighting" on small side projects together and decided to create our own firm. As young architects, we'd happily take any project we could get our hands on. So, when Robbie received a phone call from a friend in the summer of 1983 about a fairly large potential horse project in Upperville, Virginia, we jumped. Forget that we had never designed a horse farm, or, for that matter, any other building of size of significance on our own. We had nothing to lose.
The Interview 
Preparation began for the big interview. We learned that the owner, Robert H. Smith (no relation to my partner, Robbie Smith), selected the renowned landscape architect Morgan Wheelock of Boston to plan the farm. Together, the owner and Wheelock sought an architect to design the farm structures to fit within the well-known Upperville and Middleburg, Virginia context.
Typically, during an interview you review your firm's portfolio of completed projects with the potential client. This was not an option for Robbie and me — we'd have to approach this interview differently. Since Robbie was from Middleburg, he was familiar with the area's building types. He spent a few days photographing various buildings in the area — forms, materials, and shapes — that represented Middleburg or Upperville in any way. Barns were certainly photographed, but we also considered residences, commercial structures, and other miscellaneous structures relevant. With plenty of images to inspire us, we selected a number of key examples. Many of these buildings were perhaps a hundred years old and probably weren't designed by an architect. However, we felt they strongly represented the area. We took the photographs and projected the slides on the wall of our small office, traced over them, and transferred the images to illustration boards to serve as our "portfolio" presentation.
I'm not aware of what the other interviewing firms presented, but ours did not include a single building we designed or were designed by any architect, for that matter. Our presentation documented the context of the area in a series of hand-drawn sketches — but, at least, if the owner's farm were to "fit" into the context, these were the shapes, forms, materials, and scale they should have.
We were hired immediately. Suddenly, we found ourselves with seven buildings to design with no staff in an unfurnished office space in a third-floor walkup in Georgetown — and we weren't about to complain. We were embarking on a project that would change our lives.
Horse Sense
Our client, Robert H. Smith, was a very successful developer in the Washington, D.C. area. While he had owned thoroughbred horses for several years, he stabled them at other farms or the track. Now he was ready to start a thoroughbred breeding operation, having acquired approximately 400 acres in Upperville, adjacent to the famous Rokeby Farm (owned by Paul Mellon) on one side and Route 50 on the other. Also included within the property were the grounds to the Upperville Horse Show, the oldest functioning horse show grounds in the United States.
Morgan Wheelock, the landscape architect, brought a background in designing horse farms to the project: with it, his theory that barn design, as well as the farm layout, should be driven by a paramount concern for the health and safety of the horse. The way the building is viewed and placed in the landscape, Wheelock believes, is as important as the design of the building itself. That's because both the farm layout and the barn design impact the health and safety of the horse; concerns possibly even more apparent when operating a breeding facility for thoroughbreds.
Barns are often perceived as dark, dusty, and uninviting buildings. However, it's also widely understood among equestrians that the best environment for a horse beyond the great outdoors is an environment that inspires just that. Wheelock bridged these inconsistencies with a design theory that focused on creating natural light and ventilation within the barn. It was a revelation. While the concepts Wheelock professed were simple, they worked — and beautifully — at our first barns at Heronwood Farm.
11.05.10
A few weeks ago, some of my staff and I were able to tour one of our recently completed projects, a new horse barn, arena, and residence (for which we did some renovations) in Marshall, Virginia. Marshall is located in the Northern Virginia piedmont, just outside of the well-known horse communities of Middleburg and Upperville. With beautiful, sloping land, the area is home to several farms, vineyards, and country homes.
The 8-stall barn has a lounge with an office on the second floor and an attached arena for the owner to practice dressage. I'm very pleased with how the new facilities have turned out and hope the owners are too. For more information on the scope of work, please see my previous post. [slideshow]
06.07.10
On a recent trip to California, I had the pleasure of stopping by one of our project sites in Tuolumne County to check its construction progress. The contractor, Crocker Homes Inc., recently began the foundation work for a new residence at Seven Legends Ranch, which looks fantastic. What a view! When completed, the ranch's program will include a main residence, a six-stall barn, and a guesthouse, all of which will incorporate heavy timber and western red cedar siding. We're very excited to watch the progress continue and hope that the owners, at this same time next year, will enjoy their new home while relaxing in the Sierra Foothills and enjoying the breathtaking views of the snow-capped peaks of Yosemite National Park in the distance.

Posted in
Equestrian News
|
Tagged Architect, Barn, Blackburn Architects, California, Construction, Crocker Homes, Design, foundation, heavy timber, Inc., John Blackburn, ranch, ranch design, residence, residential design, site, Tuolumne County, western red cedar
|
Leave a comment >
04.20.10
OK, so I have to once again spread the word about Blackburn Greenbarns®, our pre-designed line of sustainable barns. We just issued a press release, which you can check out here. We are really excited to share these new barns with you in a "ready-to-construct" format. We really feel that all equestrians (and their horses too, of course) deserve to have sustainable barn options that are easy to modify, protect the health and safety of your horses, and are ready to construct quickly and efficiently (with the help of a licensed professional, of course).
We are sending out virtual invitations to all our friends, clients old and new, and family to take a look at our new website this Thursday when it will be complete. However, please feel free to visit the site before then at www.blackburngreenbarns.com. We hope you'll like it and we hope to hear from you if you have any feedback, questions, or interest.

04.14.10
Well, I finally decided to give Facebook a try. I'm not sure I can keep up with it, to be honest. But mainly I hope to get a nice "fan page" started for Blackburn Architects so that people who are interested in equestrian design—or just architecture and design in general—can meet, collaborate, and ask questions.
Do you think this has value? If so, I'd love to have you as a friend and a fan on Facebook.
John Blackburn | Create Your Badge