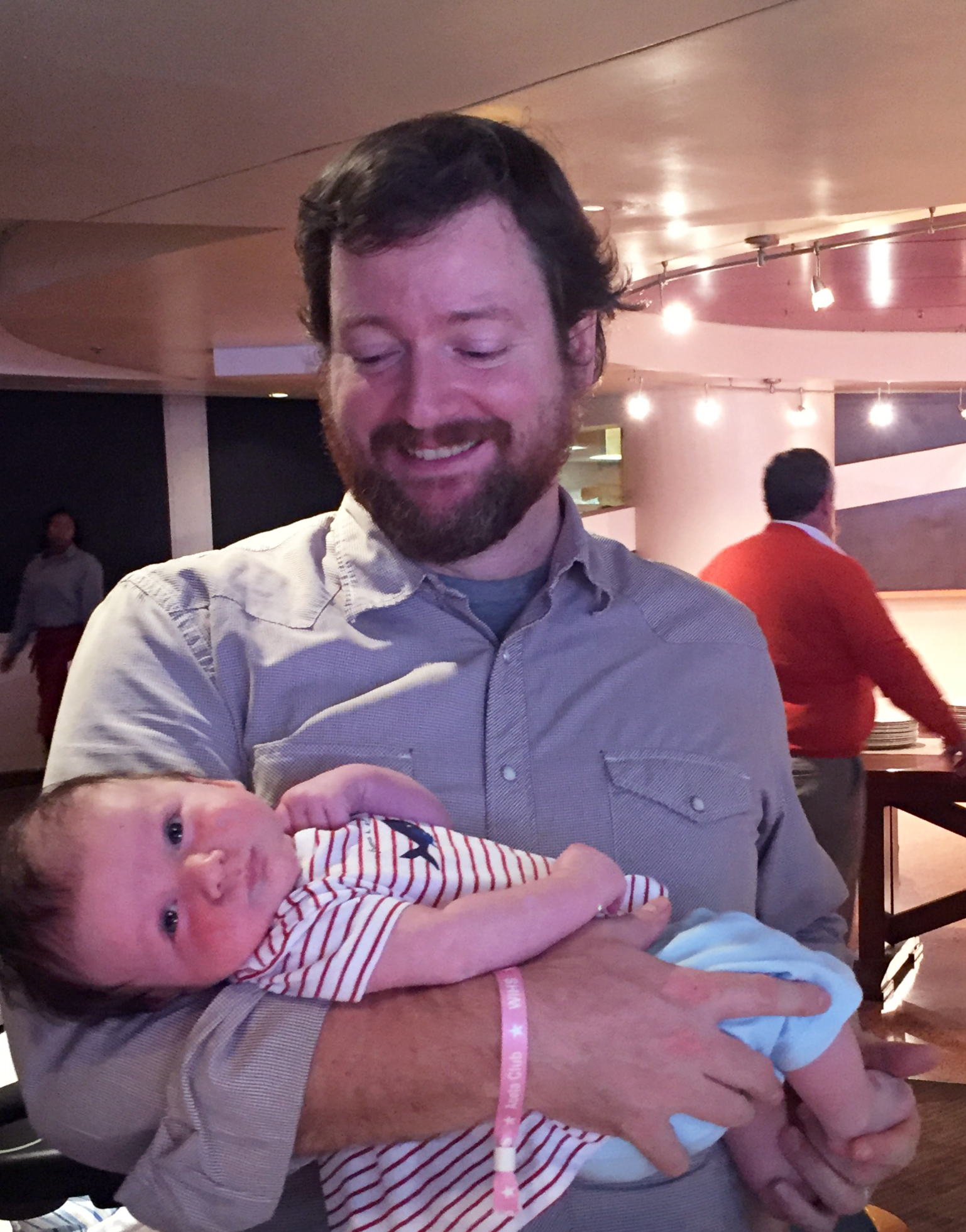 Ian Kelly with his son Jerry, at the Washington International Horse Show in November, 2016
At the beginning of 2017, John Blackburn announced the promotion of Senior Project Manager Ian Kelly to Associate Architect.  Ian, who has been with the firm since 2005, specializes in large-scale renovation projects, residential and commercial projects with special emphasis on equestrian design.
Your name is Scottish. Aren't you from New Jersey?
Ian is Gaelic for "John," whereas my brother's name, Sean, is Irish for "John."  My Dad and his brother are James John and John James.  Their Dad was John.  My family is Irish on both sides.  My Mom was an Ahern.  It helps explain my reddish hair and the blue eyes. And yes, I AM from New Jersey.  Both sides of my family are.  They sometimes refer to where I grew up — Spring Lake, NJ — as the "Irish Rivera".  A little area of the Jersey shore that attracted a lot of Irish immigrants and first generation Irish-Americans to it.  It has the highest population of Irish-Americans of any municipality of the country with somewhere near 50% of its residents having Irish descent.
What's it been like working with John Blackburn for the past 13 years?
I think what's so unique about working for John is that you are immediately kind of thrust into an important role. You're not just given some menial task to work on. John gives you as much room to grow as you want. Years ago, I understood that was unique in architecture. I figured out early on that I could find another job but I would never find a better situation or boss. I would never have found a better work environment. Blackburn Architects is a great place to work.
What John says about you… It's worth noting for the record that John wanted me specifically to mention your client focus.  He brags about your hands-on approach to solving issues and willingness and desire to respond to, and address client needs almost to a fault.
Not that I asked…
Let's back up a little. Why did you become architect, anyway?
Right, there were a lot of things that led me in that direction.  It's kind of crazy to say that as early as 6th grade I had the idea in my head of becoming an architect, so instead I will say that I'm heavily influenced by my family.
My maternal grandfather was in the U.S. Army Corps of Engineers, and served in the Army and Air Force for 30 years between the two.  During his time, he was involved in all sorts of construction efforts and two wars.  He was airdropped in to build runways and barracks during WWII and the Korean War.  When he came back to New Jersey, he started working for the local Catholic parish as head of their buildings and grounds and worked in and around construction for another 20 years. He oversaw and helped construct two mausoleums, and ran the engineering and maintenance crews for the elementary school, two churches, a rectory and a cemetery. He directly influenced me.
Growing up, my grandfather would grab me by the hand and lead me somewhere where he would ask me to stand and hold tools for him while he would do something like pop open a sash pocket to replace the counterweight in an old wood window.  I may not have fully understood at the time what he was doing, but it was always fun to me.  I was also motivated by being the first one from my Dad's side of the family to graduate college with a four-year degree.  It became a goal of mine, so the desire to get a better education dovetailed with my interests in construction quite nicely; all of that contributed in me being led to pursue architecture.
You are so focused on sustainable principles in your designs. Where does this passion come from?
There are a number of different architects who've influenced me. But it really comes down to, in my opinion, my pursuit of what would be best described as common sense building principles. For example, all the architects who I really appreciate and like are not only great designers, but are people who have embraced sustainable design. There's something very practical that seems to have been lost in the 1,000s of years of construction technology. Go back to ancient Rome or Greece, study what they were doing, and you see very simple techniques used to control temperature, for instance. Building orientation, shape, size, mass: all were considered for very practical reasons. They didn't just accidentally end up being that way. That's why, for instance, adobe construction has super thick walls and tiny windows.
The nice part about the way John practices, and his take on sustainability, is that it's pre- buzzword. It's not green for the sake of being green because it's a marketing gimmick. It's the principles. They work. And once you've started there, and then if you make smart decisions during construction, then you've got yourself a really good building which is sustainable and environmentally friendly. Good design, in my opinion, begins there.
There's been a big change in your life recently. Tell me about Jerry.
Jerry. Yeah. He's kind of breaking all sorts of records with us and our family. It took until about 3 ½ months (he's four months now) for grandma to really hear him cry, so… He's very mellow and he's been too kind to us. I struggle between being proud and not wanting to rub it in anyone's face because I know we didn't do anything special. He's just who he is. We lucked out. As a new parent, I know this can't be appreciated enough. We see what our friends and families have been through and we are grateful for Jerry every day.
Simple question. What's your favorite part of the day?
Hmm. I don't know if that's a simple question. My answer is corny these days because of Jerry, but I really like early morning with him, because he's so alert. That's when he's most awake. When I get home he's still happy to see me, but he's not as "talkative" and then he's off to bed before too long. But I normally burn the candle on both ends; I like to stay up late too. We'll see. I'm not sure I'll be able to keep this up much longer.
You're an urbanite. What's your favorite city?
My favorite American city recently is probably New Orleans. Every time I visit I love it. The people, the culture. But I'll need to add San Francisco and Chicago to the list. All very different places, bound in my mind by the great people and cultures. This hints at my love of music. That's the tie that binds. Blues, Rock, Jazz.
Best thing about your job?
The variety of projects that I get to work on. I don't want to ever be "pigeon-holed." We do a lot of equestrian work which I really enjoy.  It's afforded me the chance to work on some amazing projects. And, of course, I've also had the opportunity to work on many different projects in the District of Columbia. In addition to the equine practice, the firm does a lot of historic preservation and adaptive reuse as well as residential work. We've worked on bars and restaurants; we've worked on multi-family residential; we've worked on adaptive reuse. All these different things. Breweries, party spaces, homes. It's really nice when the problem doesn't always fit in the same sized box. It's cool to be able to experiment and try solving different problems. The diversity in project type can lead to interesting and new ways of thinking about each project individually.
What's something most people don't know about you?
Not many people know I'm really handy. I used to work for a plumber as a kid and I'm good at carpentry. We converted our basement into a studio apartment and I did 70% of the work myself with friends. That or the music thing. Last year, even while expecting Jerry, my wife and I probably went to well over 50 concerts; closer to 100 – some local, some far. The furthest I've gone for a festival is Montreux, Switzerland. The Montreux Jazz Festival. It was an incredible travel experience.