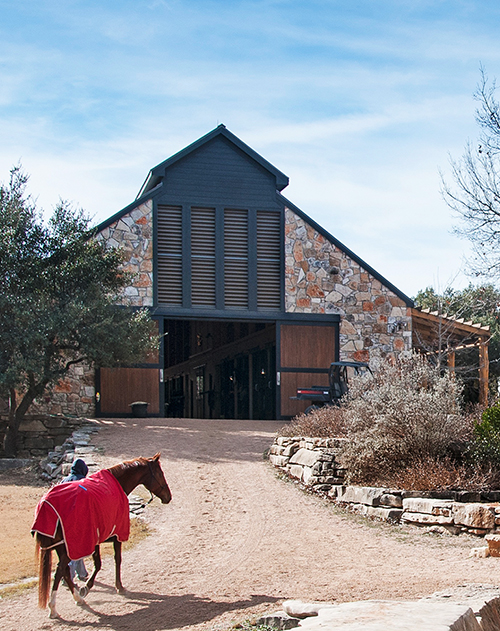 One of the design considerations in nearly every Blackburn equestrian project is ground surface materials to be used at the exterior of the barn. Hopefully, the information below will be helpful in planning for your barn.
First consideration is it to be porous vs. non porous?
Either will work in this application but you need to build in some sort of drainage system for both, either on the surface or below the surface.  
1)  Interlocking rubber brick pavers.  The Blackburn Architects' team opinion is that this is the best all-around flooring system for horses because of its durability and aesthetic options.  It's slip resistant and holds up to abuse and in a wide variety of environmental and weather conditions.  It can be set loose on a porous or non-porous sub-base or glued down on a firm base like concrete.
2)  Oil base chip and seal: Chip seal is a surface treatment used on light traffic roadways/driveways, some lead paths and other areas used for horse or farm traffic.  We do not use it very often anymore due to some environmental concerns in some jurisdictions (it typically requires a base layer of asphalt and oil as a binder).  Chip seal basically combines one or more layers of asphalt with one or more layer of aggregate. Oil is often used as a binder. Ground up recycled tires are sometimes used as an aggregate.  It tends to be slip resistant though it may deteriorate in time.  Its life time is typically 5 to 7 years before it needs re-surfacing.  
3)  Rubber mats (loose laid or glued): This is a good material but should be laid or glued to a concrete or popcorn asphalt base.  The mats need a solid base in order to hold in place or remain level over time.  Rubber mats can present an aesthetic issue but functionally work well.
4)  Stone dust or brick dust:  A good material to use but requires maintenance to retain a clean and orderly look.  It's slip resistant and drains relatively well.  Not good for plowing conditions unless it is re-spread at the end of the winter season.
5)  Popcorn asphalt:  An excellent material because it's slip resistant and drains well.  Its problem is its aesthetic appearance.  It should be laid over a layer of crushed gravel so the surface water can drain through the asphalt and away.  The advantage of the popcorn asphalt is it has the ability to reseal itself in warm weather if the ground freezes and heaves.  It can also be used as a base layer under rubber mats or rubber bricks.
6)  Concrete (custom colored and/or textured) or concrete pavers:  Not a very horse-friendly material to use.  It can be scored to give it texture, tinted to give it color and in some cases a brick pattern, but it is nevertheless a very unforgiving material.  Horses shoes can slip on it and spook a horse especially when crossing from one material to another.  However, this material is great when installed under the interlocking rubber brick or rubber mats.
7)  Poured in place non slip surface material:  This is a good material (a number of different types and manufacturers available) that can be slip resistant, cushioned to protect from a fall and can be used outdoors.  It is often used on playgrounds.  Blackburn Architects uses it most often in foaling stalls where a seamless continuous surface is desired.
8)  Grass ground cover:  Not recommended due to its maintenance needs especially when under cover.
9)  Grid mats:  Can work if the owner wants to use stone or brick dust or some other type of light screenings but requires periodic maintenance.
10)  Brick or stone:  Not highly recommended as it is less slip resistant though it can look great, especially if brick dust is used elsewhere such as the driveway in a chip and seal application.