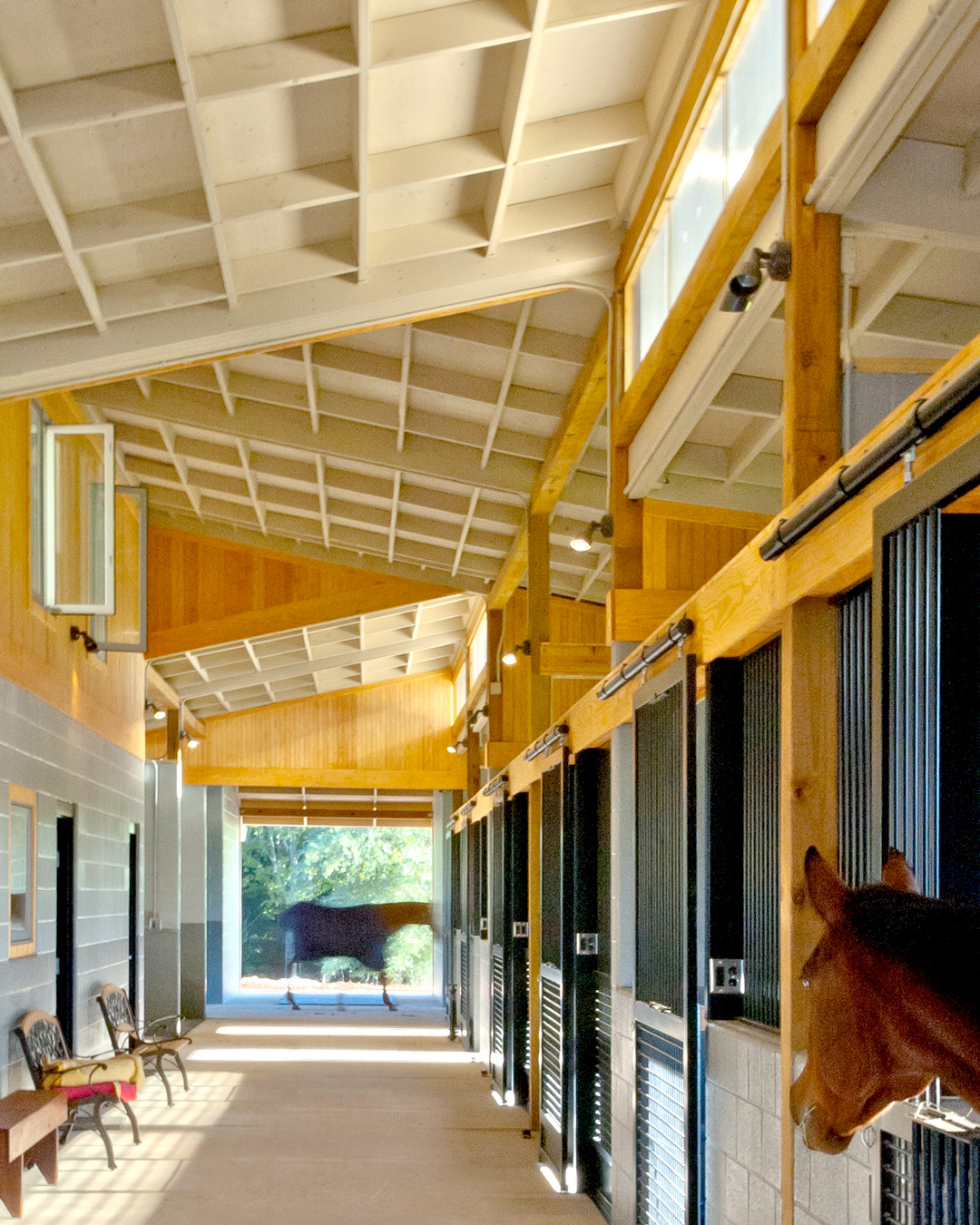 Fire protection in an equestrian facility is always a concern of the highest priority. Because we're often asked, we thought we'd offer information here on the fire suppression details the Blackburn design team has included in some of our latest projects.
At a new barn under construction in Indiana, we've specified a Dry Pipe System by Fire Tech, LLC. http://www.firetechstl.com/systems-preaction.php. We could have specified a "preaction sprinkler system," but chose the dry pipe system because of the dangers of freezing pipes in the cold weather climate of the Midwestern United States.
To quote Fire Tech's description,
"A Preaction Sprinkler System is a system which employs automatic and closed-type sprinkler heads connected to a piping system that contains air (either pressurized or non-pressurized), with a supplemental system of detection serving the same area as the sprinklers. The systems are typically used in applications where the accidental discharge of water would be catastrophic to the usage of occupancy.

Preaction Sprinkler Systems are similar to Dry Pipe Systems in that the water is kept from entering the piping valve, in the case a preaction valve. This valve is held closed electrically, only being released by the activation of the detection system (heat or smoke detectors mainly) when an electrical signal is sent to the releasing solenoid valve. The water then fills the pipe, ready for the activation of the sprinkler heads. Preaction systems can be arranged to be activated by only one detection device type, or many."
In Indiana, our architects specifically called for a dry pipe system because of the potential for freezing temperatures, but also in case "one of the children kicks a soccer ball and takes out a sprinkler head" (the client's words). With a dry pipe system, the sprinklers won't go off unless they also sense smoke or fire (depending on the detector type). A false alarm could flood and ruin the barn's expensive finishes. And using recessed/concealed pop up heads is a good idea where you can.
Another critical reason Blackburn specified a dry pipe system is because of an issue with water demand; the Indiana farm doesn't have sufficient well water on site to power the system. Because of this, our client connected to county water. Keep in mind that If you're on a well, you'll likely never have enough pressure to support a fire suppression system. The gallon per minute (gpm) for firefighting is higher than your average ground well can produce. This means you must store water on site in a tank or pond.
At Sheik Island, one of our projects in Florida, we stored water below ground. In California, at a private facility, we installed an above ground tank adequate to run the system as required by the local fire department. Additionally, we posted signage limiting the occupancy (should the owner decide to sponsor a large event in the arena). The clients obtain a special permit when larger events occur, and they hire the local fire department to have a truck on hand during the event.
At the Devine Ranch, in Aptos, California, and at the Moss residence, also in fire-prone California, we provided on-site storage tanks with backup generators to operate a pumping system.