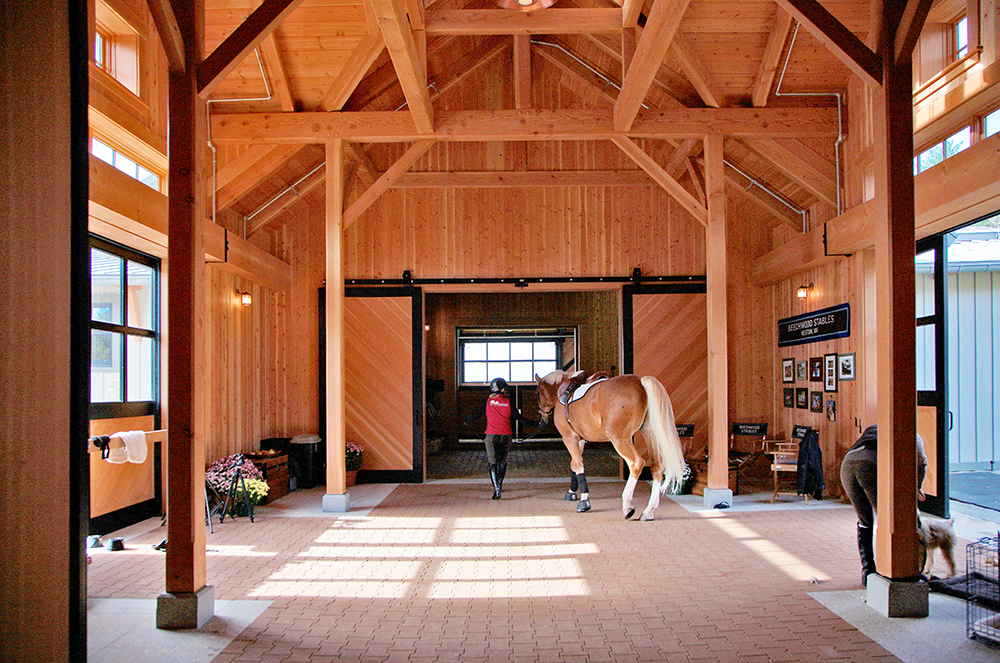 How can you be proactive in the design of your farm and your barn to protect your horse from the threat of barn fires? What can you do to minimize the damage and loss of buildings and most importantly your horse and human life?
Prevent, Contain, Suppress
Prevention is your best protection and your first line of defense. There are any number of reasons why barn fires occur. Many are outside your control but there are steps you can take to prevent a fire from getting started. Never overlook important management practices – organize, clean and prepare.
Keep a clean barn/farm (dust, cobwebs, bird nests, debris).
Keep aisle ways clear.
Keep your barn neatly organized.
Develop a fire safety plan and practice it.
And, of course, NO SMOKING!
Prevention
Site planning is a critical component of farm fire prevention. We recommend a separation of buildings and hazardous functions/materials from the barn. Generally, we use a rule of thumb of 30' to 50' and sometimes 100' depending on the terrain, building codes and building materials used. Hay / bedding, equipment and other flammable materials should be stored separately from the barn and isolated if possible within masonry fire resistant structures.
Manure storage is a critical concern and can be a flammable substance if not stored properly. It should be isolated separately.
Egress from the barn for people and horses. In case of a barn fire, the barn should open into a contained area so horses can be let loose quickly yet contained. We recommend locating at least one good size paddock near the barn that can receive a number of horses at one time. If possible, provide perimeter fencing around your farm to contain horses that may get loose and out on a roadway. Consider access to the farm and buildings for the fire trucks (we recommend a 12' to 14' access road minimum) with adequate support and clearance for the trucks and other emergency vehicles. Provide adequate clearance under trees, power lines and over farm bridges. Make sure you have adequate turn-around space for the emergency vehicles.
A suitable water source is critical. Provide either an on-site storage ponds, water tanks (above or below ground) and your water supply. If it's from a well or municipal source consider the GPM flow, water pressure. You may also want to have a generator on the farm that can serve pumps if the power service should fail. And remember, fighting a fire will produce a great deal of water and that will turn into mud. So consider surface drainage for added safety around the barn.
Building layout is critical for preventing barn fires. Blackburn always designs wide center aisles. Keep them free of clutter. A shed row provides a safer layout for escaping a burning barn but they are not suitable in all locations.
Design your barn with no dead end aisles. Provide at least two exits for people and horses. We recommend openings of 1½ to 2½ the width of your horse (from stall and barn).
Consider the swing of doors – the direction of swing as well as latches used. We recommend sliding doors in the main aisle and hinged doors from stall to turnout stalls connected to the barn. The pin latch is far safer than the typical throw bolt latch. The pen latch is simpler in design (fewer moving parts and no springs and much faster to release.
The designers at Blackburn Architects make disaster prevention a priority through careful site planning and building design following THREE BASIC DESIGN PRINCIPLES:
1. BUILDING SYSTEMS/MATERIALS/FINISHES
The building materials and finishes are as critical as the barn layout. You should check your local building codes. (A good reference is the NFPA 150, 2019 edition). Though barns in many jurisdictions may be considered agricultural structures and not required to comply to building codes, we recommend you consult the NFPA code and adhere to it where possible.
There are four types of framing materials used in construction of equestrian facilities: light wood, timber, steel, masonry.
Light wood is the most common and lowest cost, but has the lowest resistance to fire. Timber frame is much safer. It will stand longer without collapse than light wood frame. Steel frame is flame resistant and can provide excellent protection. However, it is commonly used with light wood framing and other flammable finish materials that reduce its effectiveness in preventing or protecting from fire.
Electrical systems must be dust proof, rodent proof. Protect all light fixtures with cage or shatterproof lens. Remove or repair any frayed or damaged wiring. Do not use residential extension cords and do not overload circuits. Do not use household box fans. Heating systems within the barn should be kept to a minimum. Remember the barn is for horses, not humans.
Do not use portable space heaters and in warm rooms provide for installation of permanent heating equipment.
Lightning protection is another area of concern. Lightning rods are relatively inexpensive and should be installed on all barns if not all farm structures. Provide proper grounding devices and protection for all electrical equipment. You can install a warning system or rely on your phone weather app to alert you when lightning is near.
2. COMPARTMENTALIZATION
The second design principal is containment or compartmentalization. Compartmentalization uses firewalls and fire separations to contain the spread of fire and smoke. Insist that your builder close up all openings around beams, ducts, etc. Also, close up or limit attic or horizontal spaces thru use of fire curtains within those areas.
Your barn should insure proper ventilation for the health of your horse but you should be able to limit ventilation where necessary. The standard ventilation guideline is 1 sf per 100 sf of floor area in barn area or 1 sf for every 30 to 50 sf floor area in hay/bedding area.
Another design consideration to consider is to break up barns into smaller structures. A 24- stall barn is most efficient for a horse operation, but if possible it's better to create smaller barns or provide fire and smoke separations within the barn layout. This level of planning will provide a better level of protection thru isolation.
3. SUPPRESSION/DETECTION
The third design principal is suppression / detection. Early warning devices can be very effective, but they can be difficult in barn environments due to the dust and moisture. Always provide fire extinguishers throughout the barn and make sure they are inspected annually, they are the right type (A, B or C and we recommend having all three).
We also recommend including three types of detector devices; smoke, heat and flame. Each may be appropriate depending on the barn environment. For example, smoke detectors can be set off by dust and moisture. In those areas, you may want to consider another type, such as the laser light beam. Blackburn has used laser light beams in select areas, but they need to include some sort of delay mechanism so birds and other elements that can break the beam do not trigger an alarm. Consult with a fire detector manufacturer for the proper type and installation.
A smoke detector is your best line of defense, but a fire sprinkler is the best method you can install in your barn to suppress a fire. They come as either a dry or wet pipe system. The dry system is most common in barns that are subject to freezing temperatures. A wet pipe system is usually a lower cost but has limited use in unheated barns in sub-freezing areas.
Something to consider in a barn that may have nice finishes that could be subject to damage if the sprinkler system were set off by accident is the pre-action system. The Pre-action system is one that employs an automatic warning system that activates before the sprinkler system activates to protect from accidental discharge and protects damage to interior finishes.

Finally, we strongly recommend that you consult with your local fire department regarding your fire protection plan and get your design approved.