Horses
04.22.20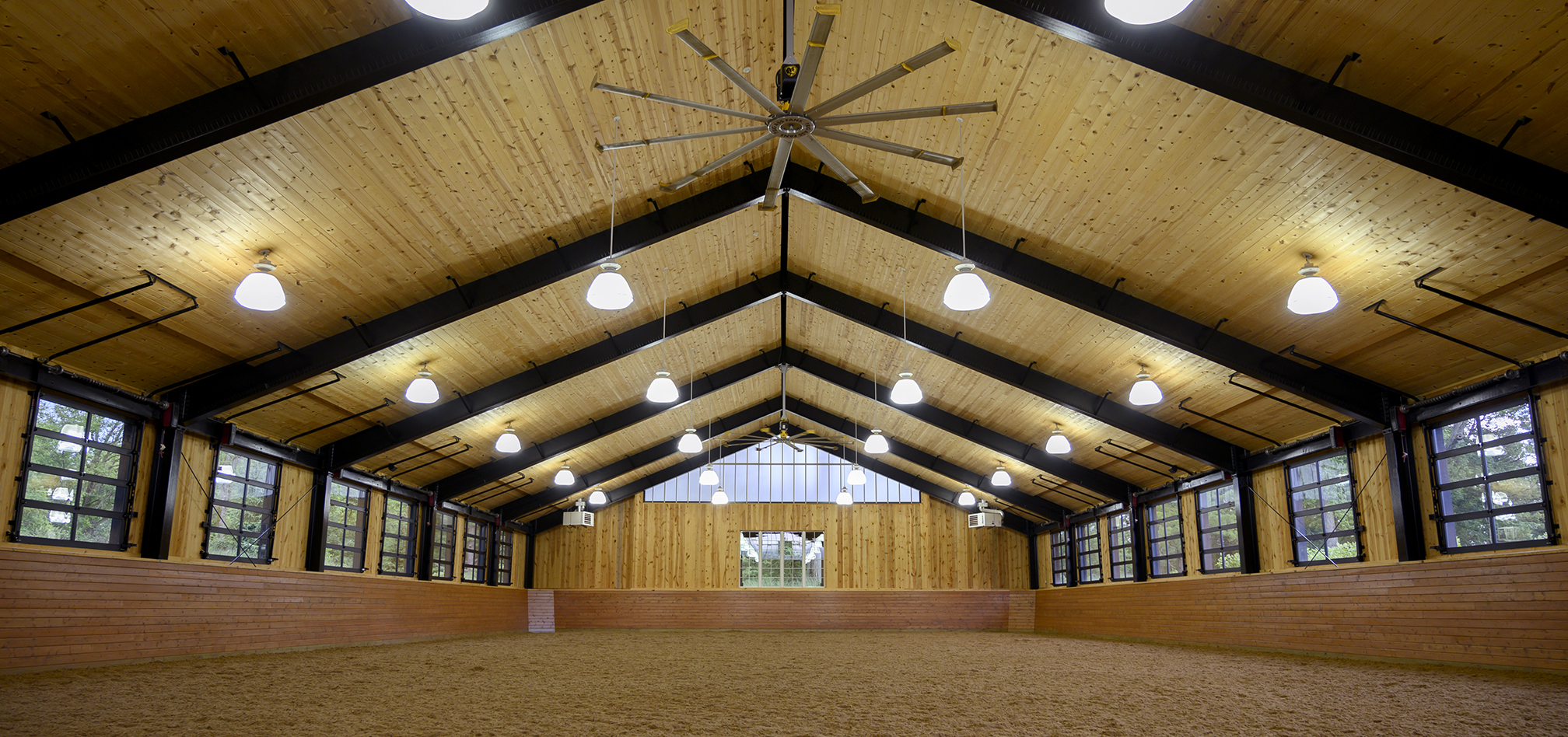 Curious about recommended roof pitches in a riding arena? Senior architects John Blackburn and Ian Kelly advise that "a 4:12 pitch is pretty much our recommended minimum on any horse structure.  We prefer steeper roofs for a natural chimney effect. However, unless you live in a cold climate where there is a lot of snow, we wouldn't advise going taller than 6:12."
The numbers indicating a 4:12 roof pitch mean the roof rises 4 inches in height for every 12 inches, as measured horizontally from the edge of the roof to the centerline.
Okay, so for barns our rule of thumb is as steep as you can make it. The steeper roof allows the Bernoulli principle and chimney effect to work more efficiently and effectively. But there are other considerations in designing the slope of a barn or arena roof.
For arenas, steeper the roof = the taller the building. This impacts the look or mass of the arena on the property which can be negative. It can stick out like a sore thumb or look like an airplane hangar in your backyard.
Because we depend less on natural ventilation in indoor arenas than in barns, we can get away with lower slope roofs. However, we don't recommend lower than 4:12 if at all possible. We realize some HOAs and neighborhoods have severe height restrictions and the wider the arena, the more difficult it is to comply without "flattening" the roof.  At Winter Farm in Peoa, Utah, we designed a low roof to stay within an imposed limit. In some areas, arenas may be considered agricultural buildings and therefore exempt from height limits. But that rule isn't consistent across state lines or jurisdictions. For example, in one jurisdiction we were permitted a covered arena as a "sun shelter" and avoided building height limitations entirely.
Because arena walls at the perimeter are usually 16' tall (need head clearance for horse and rider on interior below the structural frame), when the roof is a low slope, the roof becomes less visible as you get closer to the building and the building can look like a huge box.
You can make a huge box look great but that may require a lot more money and you typically want the arena to be in the background. The barn and the farm are the main focus and not that big ugly box on your farm.
One way we reduce the impact of the arena size is by pushing it into grade where we can, using the land contours and landscaping where possible, and placing it behind the barn and other structures to reduce the scale of the building.
Probably the best average height for a barn is 6:12 to 7:12. The reason is it is more difficult for a roofer to walk on a steeper roof without some sort of support. Thus the installation time increases dramatically as will the cost if it is built with a steeper roof.
One of the down sides for low slope roofs in snow climates is snow loading. A steeper slope can be designed to shed snow pack better than a low slope but the downside for that is the avalanche effect. When it melts it can fall fast, be loud and block doorways… a subject for another blog post!
Posted in
Equestrian News
,
News and Press
|
Tagged Architecture, Arena, Barn, barn architect, barn architecture, barn design, Barns, Blackburn Architects, Blackburn Architects barns, Design, design riding arena, Equestrian, Equestrian Architect, horse barn, Horses, riding arena, riding arena roof slope
|
Leave a comment >
10.15.19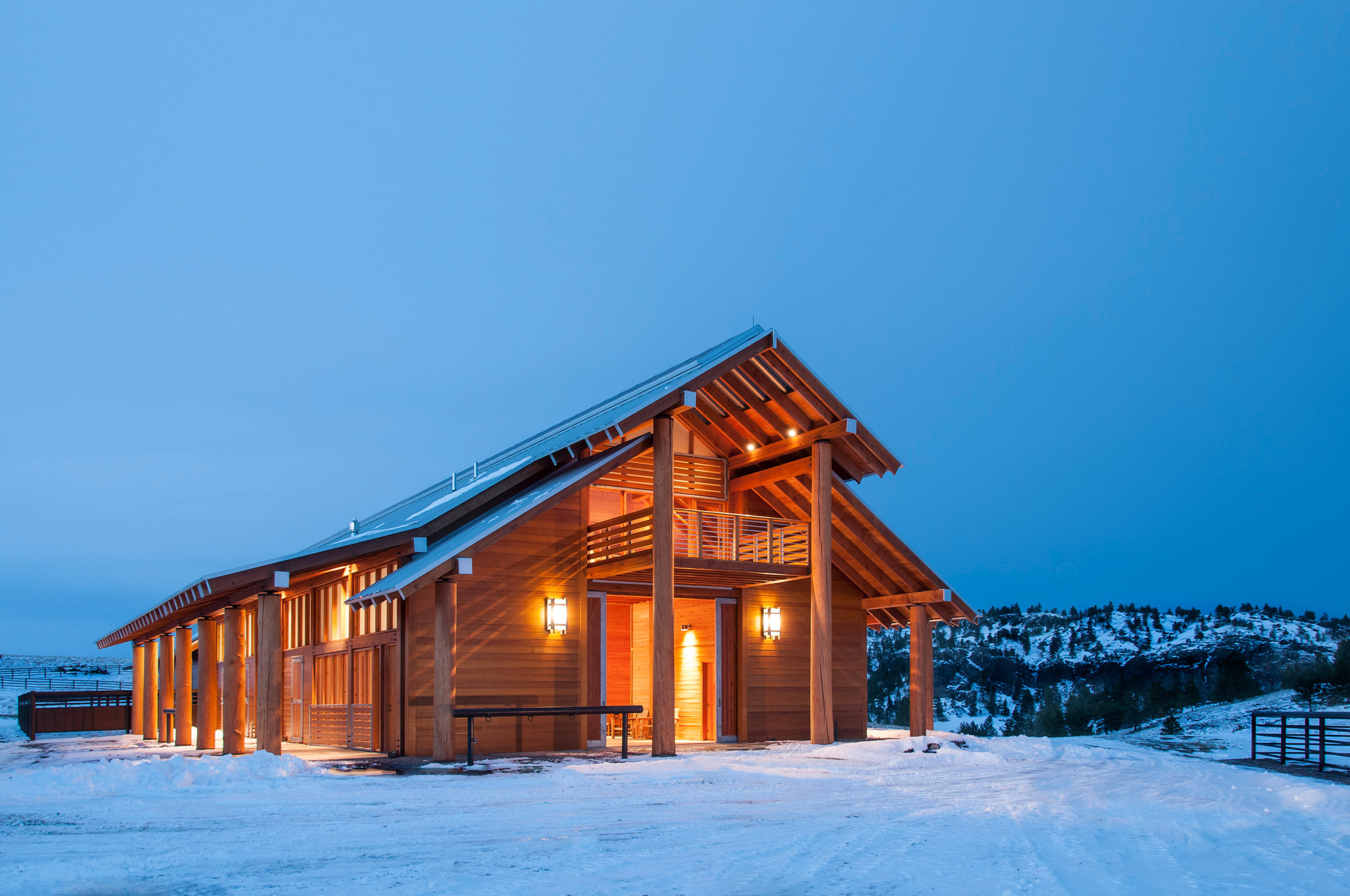 Q: I'm in the process of planning a barn in Missouri, and finances require an economical metal post-and-frame structure. I've studied Blackburn's ventilation and lighting philosophies and will incorporate them as best I can.
My question is about orienting the barn. I plan to have a center aisle, with exterior Dutch doors in every stall. Each 12'x12' stall will have an exit to the main 12' aisle as well as to an outside run-in. The stalls will be used primarily during more extreme weather or when I need to confine a horse due to injury or illness, otherwise the horses will be outside. Overhangs on both sides of the barn will function as run-in shelters for the paddocks.
I know from your writings that the ideal orientation is perpendicular to the prevailing summer breeze. However, because Missouri's cold winter winds are from the same direction, the horses on that side of the barn won't have wind protection when in the run-in areas. I know that's less of a problem for owners who keep their horses in stalls most of the time, so I've not been able to find an answer to this question. I will obviously allow them access to the stalls during the bitter cold weather we get, but for most of the winter all they need is some windbreak. How do I optimize winter protection without compromising ventilation?
Thanks,
Worried about Winter
++++++++++++
A: Orientation is certainly very important when siting your barn. But because wind is always changing and its direction and velocity can be affected by terrain, other structures, and vegetation, the angle is not a hard and fast rule.  It's good to try and locate the barn perpendicular to the prevailing summer breeze but that also depends on the design of your barn.  If you have lived on the farm a few years you may know the particular wind patterns for your property.
The design of the barn is as critical – if not more so – than the orientation.  How and where you permit air to enter the barn (preferably along the low wall along the long side of the barn and at the eaves where the roof joins the side walls), and where it is allowed to exhaust are critical.  In some areas, it may be necessary to provide some form of close-able dampers on the low wall vents to control the wind and temperature that can impact a horse that is in the stall but doesn't have the flexibility to get away from it.
The environment within the barn should be within 8 to 10 degrees of the temperature on the outside.  Your barn should ventilate vertically to reduce the horizontal movement of bacterial- and moisture-laden air.
We always say the best environment for the horse is outdoors where it can make its own choices about its environment and health. A naturally-kept horse should be able to get out of the hot sun and find shade or get out of a cold wind in a shelter or behind a wind block.
By turning your horses out most of the time you are certainly on the right track for happy, healthy animals.
Missouri's winter weather isn't so extreme that it prevents you from a center aisle barn with stalls on both sides.  Orient your barn so that turnouts are on the windward side of the barn and leave the Dutch doors open so your horses can get inside away from the wind.  For the turnouts on the cold windward side of the barn, blanket the horses.  And keep their winter coats unclipped.
Since you've read "Healthy Stables by Design," you know that Blackburn designs typically use the chimney effect and the Bernoulli principle to create natural ventilation. Our barns become passively designed machines that work to provide healthy conditions for the horses inside.
Good luck with your new barn!
Posted in
Equestrian News
,
News and Press
|
Tagged Architect, barn architecture, barn design, barn in winter, Barns, Blog post, custom horse barn, Design a Horse Barn, Equestrian Architect, equestrian architecture, equestrian design, equestrian facility, Equine, Equine Architect, equine design, farm planning, healthy barn, healthy horse barn, healthy horse barns, healthy horses, Horse, horse barn, horse barn design, Horse Barns, horse farm, horse racing, horse stables, Horses, importance of ventilation in horse stalls, John Blackburn, Stables, Sustainable, thoroughbred, Ventilation, Virginia, Winter barn
|
Leave a comment >
06.24.19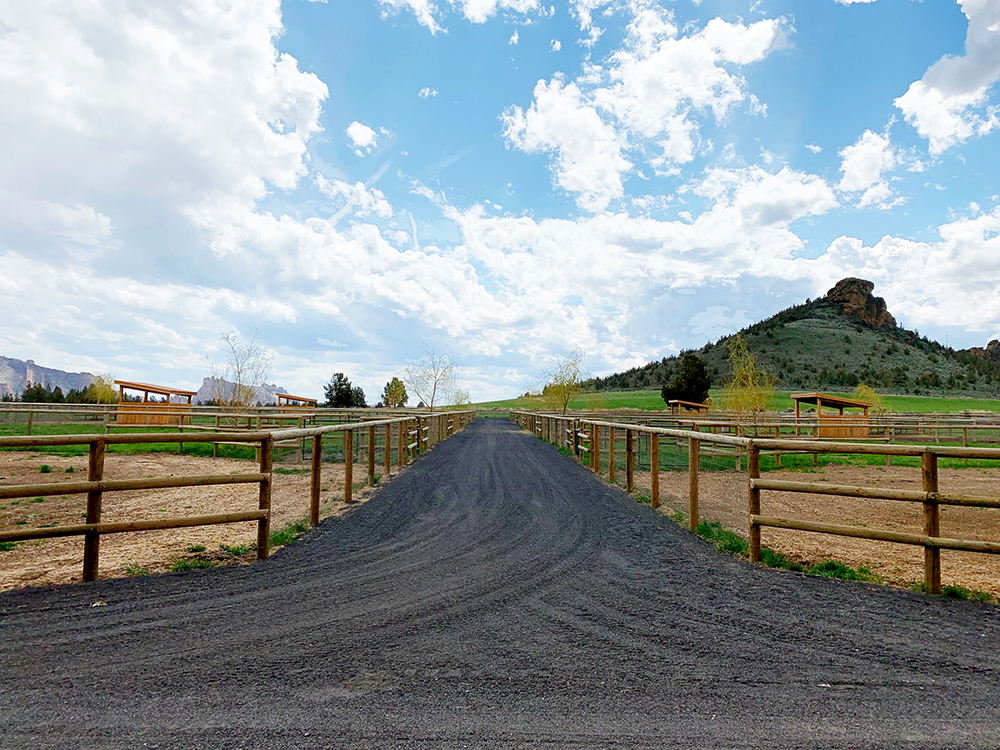 Let's talk about dry lots. Essential on nearly every equine facility, dry lots vary widely in size, location and construction.
By nature, of course, horses are herd animals evolved to roam and graze on sparse prairies.  We've introduced a complete change to the evolutionary process – incorporating diets of grain and lush pastures. The resultant problems are many, but our solution is simple. Limit the horses' activities or diet as you give them access to open air and light.  
Blackburn recommends dry lots on most, if not all, of the farms we design. Sadly, too many farms have unintentional dry lots because of inadequate pasture management.
Why create a healthy dry lot?
1. Control the horse's diet.
2. Preserve paddocks thru rotation.
3. Control moisture and its effect on hooves.
Here are nine things to consider:
Location: Choose a place close to the barn for ease of access.  Provide adequate sized gates for horses but also an occasional vehicle.  Select a relatively flat location but one that drains well and isn't too isolated so horses can socialize but generally remain separated.  
Materials: The footing should be firm but not hard packed.  It must be designed to drain well to allow moisture to either drain thru or away without causing erosion. Sandy soil is preferable but some sort of gravel that is easy on the feet or, even better, an engineered footing similar to your arena should work perfectly. 
Size:  The size can vary, but if you are creating the dry lot to limit the horses' movement for health reasons, you may want it to be smaller than larger.  We recommend multiple dry lots of varying sizes to accommodate many uses.
Fencing:  It goes without saying that your fencing needs to be sturdy. See Activities below.
Shelters: Some form of shade shelter for fly & weather protection is preferred – by humans, but horses may never darken the interior.
Feeding: Various forms of slow feeders, salt blocks, etc. can be used.  If you are restricting the horse's diet, we recommend consulting with your vet about setting up a feeding regimen that can be incorporated into your use of the dry lot.
Activities:  Spreading hay rations around the lot encourages movement; toys for activity or human interaction can be very helpful.  We always recommend consulting with your veterinarian because no two horses are the same. You and your vet know what's best for your horse.
Socialization:  Locating the dry lot close to other horses reduces stress and is more emotionally relaxing.
Footing: The dry lot surface should provide a safe and comfortable footing for horses but it must also drain well.  Therefore, we recommend that the upper surface/footing be 4 to 6 inches of footing material (stone dust, sand, engineered footing material as described above a drainage layer) or possibly 8 to 12 inches of pea gravel, allowing the foot to sink in without undue pressure on sensitive areas.  The drainage layer can be 1/2 inch to 1 inch stones. You can add an interlocking grid within this layer to provide additional stability of the base layer and improve drainage.
Posted in
Equestrian News
,
News and Press
|
Tagged Architect, Architecture, Barn, barn architecture, barn design, blackburn, Blackburn Architects New Horse Barn, equestrian design, horse barn, horse barn design, Horse Barns, horse farm, horse racing, horse stables, Horses, John Blackburn, Stables, Sustainable, thoroughbred, Ventilation
|
Leave a comment >
01.17.19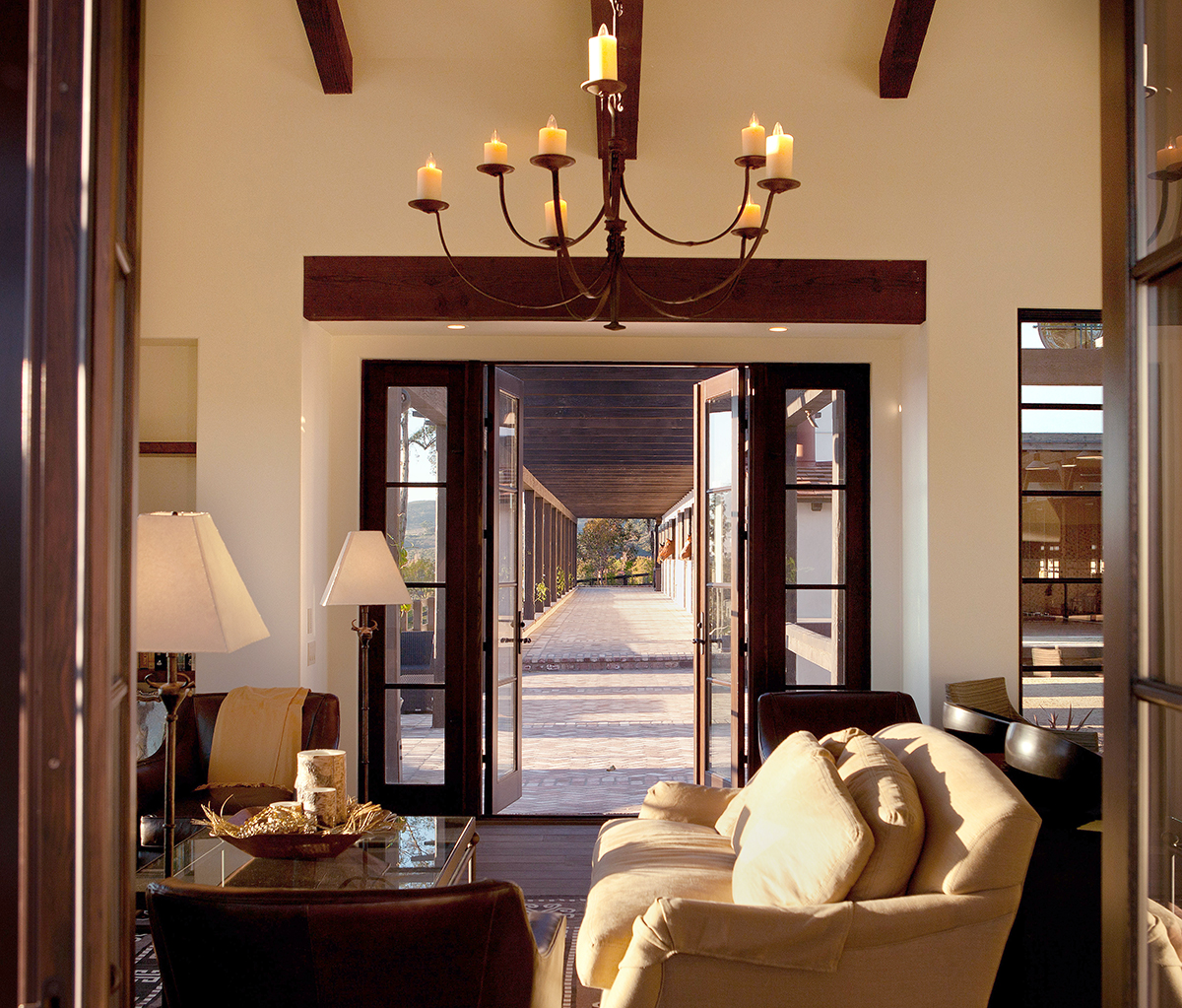 Blackburn Architects typically advises clients against including living quarters in a barn. When we add them, we provide extra safety measures.
An apartment or condo in the barn isn't the same thing as short-term accommodations. We'll often design a "warm room" into our barns so clients can stay close in case there's a sick horse or for foaling.  Even though technology provides some good methods to provide warning or protection (alarms, cameras, etc.) there are times when you just need to be close to respond quickly.
Permanent living quarters, however, can be problematic:
1. If the residential component is too large, then the change of scale can overshadow the scale of the barn and you end up with a "tail wagging the dog" situation. Aesthetically the design looks awkward.
2. If the residence will house a family, you run the risk of injury to children, pets, or visitors and there's an increased risk of fire caused by household activities.
3. If the apartment or condo is for the owner it's easier to control but if it's for a groom or an income rental it's important to be prepared that lifestyle choices may clash with your own.  For example, the tenant may be entertaining guests who may be unaware of the impact of their activities on the horses.
Because a barn usually has a lower cost per square foot (to design and build) than a residence, you may be able to save money by separating the two different uses and avoid building in the necessary fire and smoke separations.  For example, the barn could be a simple pole barn and the residence constructed to a higher standard. 
Another option is to build the apartment or residence as part of a service /storage structure or another farm building.  Two examples of Blackburn Architects' projects where we did this are Great Roads Farm in New Jersey and Kindle Hill Farm in Pennsylvania.
To conclude, without building in substantial fire/smoke separations when adding an apartment in the barn you increase your risk of disaster.  Building codes in most areas require you to include a two-hour separation.  It's essential that you check these regulations before planning an apartment in your barn.
Furthermore, an apartment in a barn or connected to it can impact the farm by forcing a larger footprint for the barn, and this can impact service roads, lead paths to paddocks, land grading, etc.  If the apt is added to the second "loft" floor unless it is designed properly it could negatively impact the introduction of natural light and ventilation (see Bernoulli principle and chimney effect).
Posted in
Equestrian News
,
News and Press
|
Tagged Architecture, barn architecture, barn design, Barn home, blackburn, Blackburn Architects, Blackburn Architects barn design, Blackburn Architects barns, Blackburn greenbarns, equestrian design, Horse, horse barn design, Horse Barns, horse stables, Horses, living in a horse barn, Stables
|
Leave a comment >
02.23.18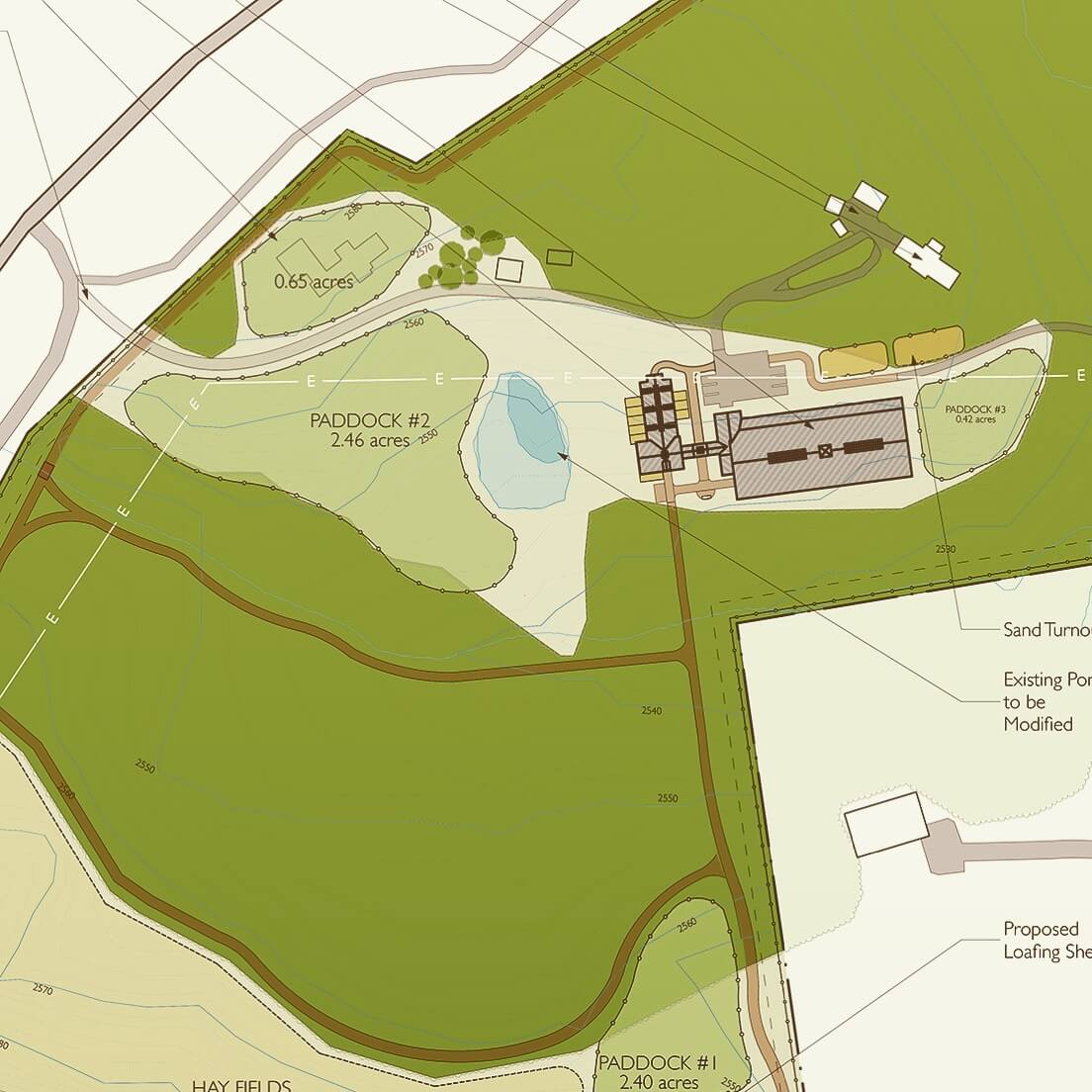 Today I got a call from a client who's buying 120 acres in North Carolina and plans to build a new equestrian center. It's been years since horses have been on the property. The pastures and paddocks are overgrown. The fences are in disrepair. The property has steeply sloped areas but the client wants a dressage ring. Drainage will be an issue. Together, we'll figure out a way forward by starting with a Site Plan to map the future; completing the owner's vision in budgeted stages over several years.
A site plan is completed by studying topography, wind and solar directions, neighborhood easements, height restrictions, zoning restrictions, soils and operational necessities (where are roads, pastures, barns, storage sheds, etc.), There are many benefits to putting together this "roadmap" for future use of the farm property. Consider that there are three major categories of costs when planning to bring horses onto your property: 1. Operational, 2. Environmental, and 3. Infrastructure. Proper planning will save you money in all three areas. Fewer roads, less fencing, better drainage all ensure that the whole farm, not just the horse barn but the entire collection of structures on the site, operates efficiently and safely.
Operational Considerations: First locate where you'll put the horses – where is your turnout? Where will you store hay, equipment, or vehicles? Do you have access for manure pickup, large-truck deliveries, guests or visitors? Minimizing the number of steps necessary for your daily routine (turnout, stall mucking, etc.) will save labor time, which of course you know is money in the farm biz. Planning will also preserve space for paddocks.
Environmental Considerations: Figure out structure placement within your acreage. It's important to properly orient any new buildings in the landscape. We design our barns to generate their own ventilation, placing them perpendicular to prevailing summer breezes. (One of many design considerations for maximizing light and ventilation, which is a subject I've written about often.) Additionally, placing structures where the land will drain easily makes good sense and will save you and your horses potentially hours of muddy misery or the cost of constantly replacing eroded footing.
Infrastructure Considerations: Fewer roads to maintain means fewer dollars spent.
Creating a master plan does not mean that every part of it needs be built at once. The plan may end up taking years to implement, but as each new structure or paddock is added, it isn't done in the usual haphazard way. It will save you from asking, "You know, I could use a tractor shed somewhere?" Even those with very limited budgets should consider getting the advice of an expert at the planning stage, given the importance of the optimum farm layout.
Bringing in a professional to carefully plan a site doesn't mean you need to commit to having a custom barn designed. Blackburn Architects' guidance can help whether you're purchasing a kit barn, designing a custom barn, or renovating existing structures. A site plan stands by itself as a service we greatly enjoy delivering to clients across the country.
Posted in
Equestrian News
,
News and Press
|
Tagged Architect, Barn, barn architecture, barn design, Blackburn Architects, Blackburn Architects barns, Blackburn greenbarns, Equestrian, Equestrian Architect, equestrian facility, Equestrian Master Planning, equine design, Horse, Horse Barns, horse farm, Horses, John Blackburn
|
Leave a comment >
12.14.15
I had the pleasure of attending the 2nd annual Equus Film Festival in NYC recently, an event that Blackburn Architects sponsored last year and again this year.  Included in this year's line-up of activities was a tour of the Clinton Park carriage horse stables. Until just recently I had not had the opportunity to explore the city stables so this was my first visit. It was something I had long been looking forward to especially given the controversy surrounding the horse carriages. Now having toured the facilities, I thought I'd offer my perspective as an architect who specializes in the design of safe and healthy horse stables.
Having heard and read tales about the conditions the horses were living in and being an adamant proponent of horse health and safety, I was anxious to see the stables for myself and determine from my own expertise if or how the stable conditions contributed to or confirmed these claims of abuse.  The tour was lead by carriage driver and working horse advocate, Christina Hansen.
Clinton Park is the largest stable of the city's four. It was built in the late 19th century and has operated as a stable for horses serving the City since it was constructed. It is currently owned by a co-op of carriage owners. It houses over 70 horses and over half of the city's 68 carriages. The first floor is strictly "operations" and includes storage for carriages, maintenance for equipment and a couple small offices. Ramps lined with rubber mats lead to the 2nd & 3rd floor areas where the horses are kept. All the stalls are at least 60 sq. ft. or larger and each contains a fan and an automatic waterer. Considering the size of the carriage horses, I'd say the stalls are on the "cozy" side, but not alarmingly so. The stalls are mucked twice a day and the stables are attended to by at least 3 personnel 24/7.
My tour took place during the fall (November), so I can't attest to what the facility is like in the dead of winter or the heat of summer.  However, I was impressed with the efforts and procedures put in place to provide adequate ventilation for both seasonal extremes (good ventilation is critical to the health of the horse in all types of weather.)  Furthermore, I was pleased to learn that the horses work on a rotation schedule where they are sent to the country for four to five months out of the year and work the remaining months – a work schedule many humans would love to have. Sign me up!
I've read recently, that Mayor de Blasio has modified his position on eliminating the horses all together in favor of reducing their numbers and confining them to Central Park. I've been a vocal advocate for horse activity to continue in New York City and have stood by the NYC Carriage Horse drivers in their pursuit to remain in operation. Like Mayor de Blasio, I too feel Central Park would be a great option to house some of the horses, however I don't support the idea of reducing their numbers. This visit has given me a new perspective on the current carriage horse stabling and I feel they should remain in operation. I do feel that Central Park, as a prominent tourist destination, could benefit from being "friendlier" to equine activity. More riding trails, expanded carriage lanes, rubber standing mats for carriage horses while they wait for patrons, and maybe a "living museum" or educational event that pays tribute to the city's equine past are just a couple ideas to get started on expanding the Park's equine amenities.
As for the existing stables, I did not witness conditions that I would consider detrimental to the horse's health or safety.  In fact, I was quite impressed by the care and concern that the horse owners, drivers and other handlers provide the animals.  Sure, they operate out of an historic structure that could use significant physical improvements, but in my 30+ years of experience designing for horses, I have never encountered an occasion where a horse required "new" finishes, fresh paint, or other nice finishes that humans enjoy. A horse's basic needs (light, natural ventilation, quality feed, comfortable/ clean bedding, regular exercise, etc) are what need to be met and I feel the Clinton stables provide that. I would, of course, be happy to provide recommendations for improvements should the owners ever want to upgrade. The stables embody a lengthy heritage of metropolitan horse stabling and continue to operate safely and effectively to that purpose.
Ultimately, we need to support the horse carriage industry and encourage more use of horses in the city, not less. I remain adamant in my concern for the protection, health and safety of all horses in all activities and I continue to fight for the preservation and expansion of equine related activities in everyday life (riding, showing, therapy, sport, etc).
03.22.12
Over the years, I've collected much too many photos of barn details, which includes everything from latches on stall doors to drains in aisles. It's only natural to collect the things you love, right? I often refer to my virtual stash of detail images when I'm designing a barn and hope they might serve as an inspiration to you as well. I will probably add to the collection (correction: I WILL add to the collection because I won't be able to help myself) over time. What can I say, the details separate a fine barn from a fantastic barn. On that note, I hope you'll forgive my lack of photography skill. Some of these images were taken during or just after the construction process by yours truly. That should serve to explain any and all photos with incomplete landscapes (aka piles of dirt) and unique angles (aka crooked) that are artistic-driven (aka fuzzy, out-of-focus) images.
By way of introduction to my collection, I think it seems fitting to begin this set barn detail images with the door. Every dutiful, the door is a part of every barn, everywhere. (At least I hope so.) You'll see many images of my favorite, the Dutch door, which aids ventilation within the barn. There's also human-only doors, main entrances, side doors, etcetera. Hopefully it's not too much of a hodgepodge for you to enjoy.
Incidentally, I've asked one of the more tech savvy staff (basically anyone but me) to link these images on Pinterest; we're attempting to hop on that fast-moving train because we architects sure appreciate a visual aid. If you're a Pinner yourself, let me know so we can follow you there. Until then, happy collecting!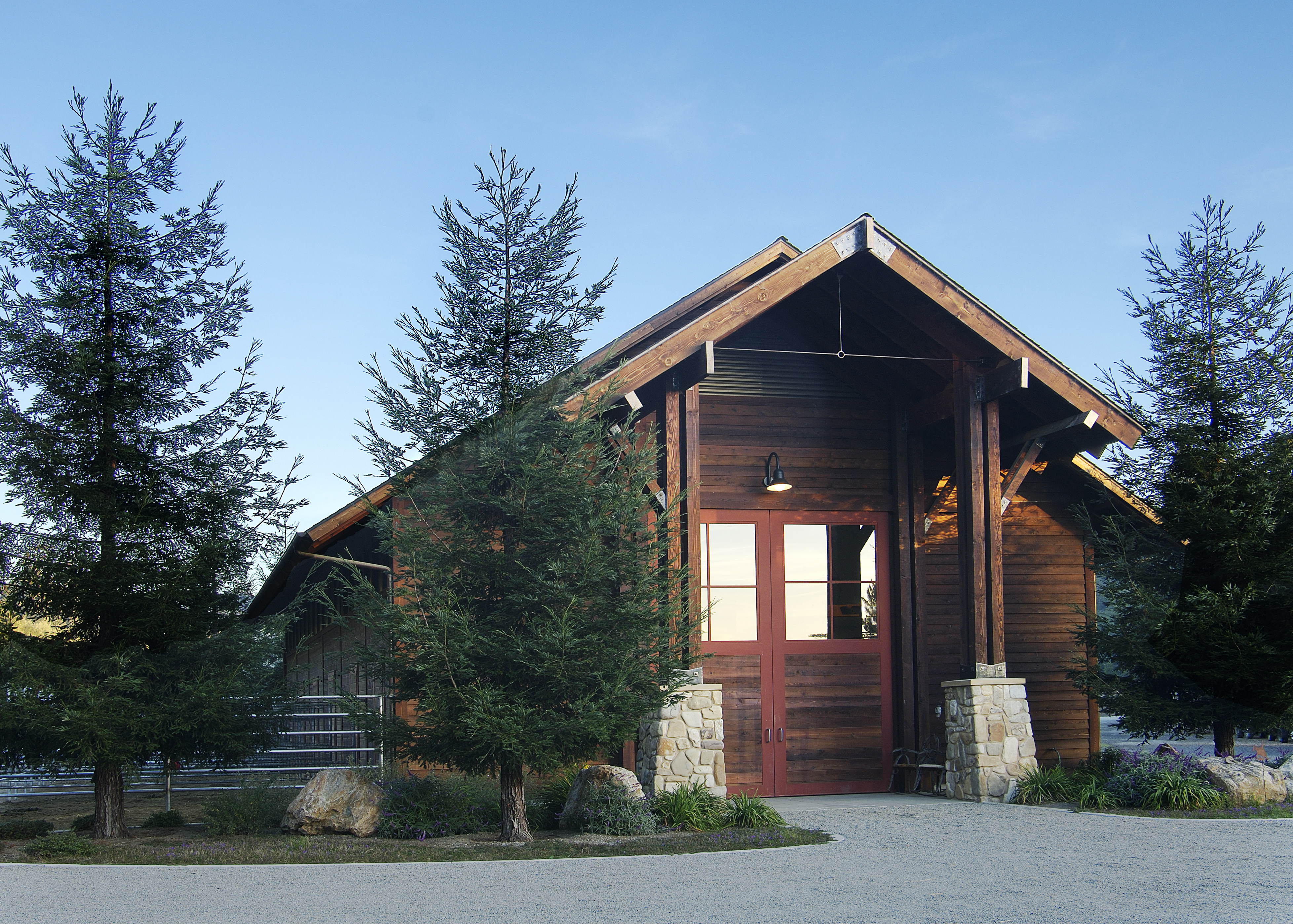 Dear disgruntled artists: the key to success isn't kicking down the door; it's building your own.
Brian Celio
Read more:http://www.brainyquote.com/quotes/keywords/door_14.html#ixzz1pshKJzeM
02.14.12
This lush and private ranch is located just north of Seattle. The 100' x 200' arena, which features a "crow's nest" observation area, will be used for hunter/jumper and show training as well as recreation. The new structure, nestled in the Northwest Mountains, fits into the site unobtrusively and reflects the Tudor-style of the existing residence, favored by its owners. Future plans to occur in phases are a 20-stall barn, parking and service buildings, and a caretaker's cottage.
Program 100' x 200' enclosed arena, future phases include 20-stall barn, parking/service buildings, gatehouse
Completion 2010 (arena construction)
Posted in
Equestrian News
,
Projects
|
Tagged Arena, arena design, Arlington, Blackburn Architects, Circle B Ranch, Equestrian, horse arena design, horse riding arena, Horses, indoor riding arena, WA
|
1 comment >
04.25.11
Seemingly, about a foot of snow buried the construction site at Beechwood Stables, a future barn and arena in Massachusetts at any given point from December through March.
Since then, as the weather in Massachusetts grows milder, the construction at this private farm (a project in association with Marcus Gleysteen Architects) is finally taking a shape other than a snowdrift. In the works are a 12-stall barn, a storage facility with recreation and lounge space, and an indoor arena with an observation lounge.
As foundation and underground work began over a winter season that yielded 60 inches or so of snow in the Boston area (with January 2011 alone dropping 38 inches), well…I'm sure you're not surprised to read that delays were bit of a problem. By the end of the winter, there may have been more snow removal than soil stockpiled on the job site!
Even on April Fool's Day (go figure), the area received a dusting of the white stuff. That's why I couldn't be more pleased for this patient client of ours as we approach the warmer months. Work at the private farm has progressed smoothly ever since the steel and timber arrived in early April; see the progress in the following photographs.
As you might expect with such a substantial project, we gave much consideration to the structural work and foundation. Specifically, we needed to determine how to erect and tie together stone column bases that weighed approximately 200 lbs. each and 21-ft. tall timber columns while allowing for enough movement to install the beams and rafters. In the end, the collaboration and discussion on how best to detail this connection took longer than it did to actually assemble, thanks to the efficient crew at New Energy Works and the careful planning between Kenneth Vona Construction (general contractor) and DeStefano & Chamberlain (structural engineer). I'm happy to report that the bases and timber columns went up without so much as a groan.
Following that, steel columns and perimeter beams were set in about two days; the timber frame for the barn and connecting link took a little over a week. Since then, the contractor has been busy working on the barn framing, preparing all of the openings for sheathing, and the steel fabricator has assembled all of the steel rafters and is completing final welds. Within about a month, the walls of the barn and connecting link will be complete and the roof work will begin. Assuming the weather behaves, of course.
In the meantime, timber for the arena observation room and support spaces is being fabricated along with the SIPs (structural insulated panels) that will cover two-thirds of the project.
So, here's to spring weather and speedy progress on an exciting project that we hope the owner and their horses will soon enjoy!
[slideshow]