The Latest
06.03.22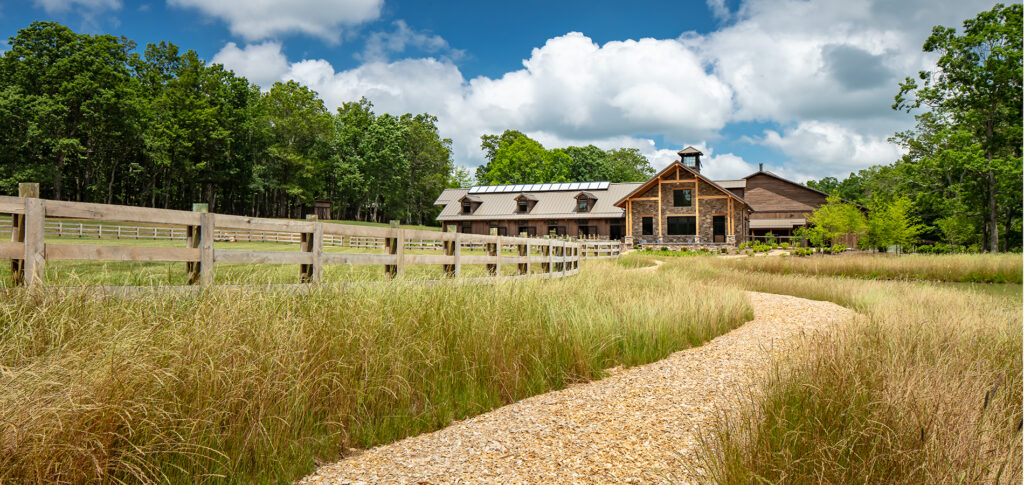 John Blackburn recently participated in a Webinar with Equestrian Professional's Elisabeth McMillan. During the episode, he discusses the site planning process, key elements of farm design, including important decision factors when considering the pros and cons of prefab vs. design build vs. custom, understanding the demands of the property, long term planning and phased building. You can listen here:
https://www.equestrianprofessional.com/public/Webinar-What-You-Need-to-Know-About-Equestrian-Facility-Design.cfm
03.15.22
https://stallandstable.com/ep-56-designing-barns-with-john-blackburn/, Winter, 2021
https://stallandstable.com/ep-95-the-slope-of-your-barn-roof/, Spring 2022
EQluxe Envy_Lucky Jack Farm, Summer 2018
How Emotions Can Help When Designing Horse Barns, Podcast, March 2017
Inside the Rider's Home, Dressage Today, October 2016
Building Your Green Barn – Land Management, Equine Wellness, April/May 2016
When Barn Builders Dream, 2016 Tryon Equestrian Directory
Over Three Decades of Experience in Design Excellence, Metro Architect, March 2016
His & Hers with LA Pomeroy: John Blackburn, Elite Equestrian, January 2016
Find Barn. Add Architect. Say "Whoa" Inside Hook, December 2015
6 Barns Converted into Beautiful New Homes, Inhabitat.com. July 2015
After A Million-Dollar Makeover, Behold the Party Barn, The Wall Street Journal, June 2015
Home, Reimagined, Architectural Digest, June 2015
Barn Again, UnTacked Magazine, May 2015
Dressage Barn Gone Green, Dressage Today, April 2015
Building A Green Barn, Equine Wellness Magazine, April 2015
Lucky Jack Farm, Horse and Style Magazine, December 2014
Where Do You Stand on the Great Carriage Debate, Horse and Style Magazine, September 2014
Things to Consider When Purchasing Equine Property, Field Sport Concepts, September 2014
Sheik Island Horse Training Farm in Dade City on the Market for $4.5 Million, Tampa Bay Times, May 2014
John Blackburn Basics, California Horse Magazine, April 2014
My Kingdom, Mi Casa: Pegaso Farm, Horse Sport International, Issue 1, 2014
Barn Design Masterclass: How to Get the Best Barn While Working on a Budget, Equestrian Quarterly, Fall 2013
Fire Wind Water: Thoughtful Barn Design May Reduce Disaster Risk, Polo Magazine, September 2013
Barn Envy: Oakhaven Farm, Horse & Style Magazine, August 2013
Building an Eco-Friendly Horse Barn, Equine Wellness Magazine 2013
Let There Be Light, Equestrian Quarterly, Summer 2013
Colorful Kitchen Updates, Food and Wine Magazine, November 2012
Beauty and the Barn, DCmud, November, 2012
Value Added: This Well-Compensated Architect Designs for the Horse, Of Course, Washington Post, October, 2012
Staying 'Stableminded', The Zweig Marketing Letter, July 2012
How to Choose the Right Remodeling Professional for Your Needs, The Washington Examiner, June 2012
Returning Sagamore to Her Rightful Glory, The Equiery, April 2012
Seeing the Light, Stable Management e-blast, April 2012
Bank Barns, Acreage Life Magazine, March 2012
A 'Bettor' Racecourse: NYRA Discusses Improvements to Racetracks, The Saratogian, September 2, 2011
Barn Saver, Saratoga Living, Summer 2011
From Native Dancer to Native Son: Restoring Sagamore Farm, DCmud, June 22, 2011
Barn Beauty, Cowboys & Indians, July 2011
A Modern Sports Success Story Meets a Historic Racing Farm, The New York Times, May 21, 2011
A Handsome, if not Historic, Hotel, The Washington Post, May 22, 2011
A Dreamer's Latest Long Shot, The Washington Post, May 17, 2011
Green Barns,Clemson World Magazine,Spring 2011
Good Barnkeeping, Horsemen's Yankee Pedlar Magazine's 2011 Barn & Arena Guide, Spring 2011
No More the Desert Nomad (reprint), Desert Mirage Arabian Horse Virtual Magazine, April 2011
In the Spotlight: Blackburn Greenbarns, Green Business Quarterly, March/April 2011
Re-Use Architecture, Chris van Uffelen, Braun Publishing AG, 2011
Green Building Materials for your Horse Barn, Holistic Horse Magazine, October/November 2010
They Love Horses, Don't They?, DCmud, August 9, 2010 
Building a Green Horse Barn, Equestrian Professional Newsletter, June 2010
Stables: Beautiful Paddocks, Horse Barns, and Tack Rooms, Kathryn Masson, Rizzoli Publications, April 2010
Fresh Air and Lots of Light? It's Just Good Horse Sense, Architecture DC Magazine, Spring 2010
Ask the Experts, Dressage Today, March 2010
Build-On: Converted Architecture and Transformed Buildings, edited by Robert Klanten and Lucas Feireiss, Gestalten, 2009
Greenbarns: Sustainable Homes for Your Horse, Inhabitat.com, July 13, 2009
More Escapes At Home, Web Extra, Washington Spaces Magazine, Summer 2009
NYRA Details Track Season Giveaways, Daily Gazette, June 30, 2009
Sustainable Barns for Green Horse Owners, bestgreenhometips.com, June 9, 2009
Architect Launches Eco-Friendly Barn Designs, customhomesonline.com, June 3, 2009
Selling the Outdoor Room, Remodelers' Journal, April/May 2009
Beautiful Bank Barn Renovation, Inhabitat.com, April 3, 2009
Safe Haven, Western Horseman, March 2009
Seeing Green, Stable Management, February 2009
Good Barnkeeping, The Horse, February 2009
Green, Greener, Greenest, Horse Connection Magazine, November 2008
Lighten Up, Stable Management, October 2008
Stable Environment, Keeneland Magazine, Summer 2008
Arena Considerations, Western Horseman, June 2008
Saving Sagamore, Maryland Life, May/June 2008
Maximizing Work Flow, Western Horseman, May 2008
Potential Energy, Western Horseman, April 2008
Good Flow, Western Horseman, April 2008
Site Planning, Western Horseman, March 2008
Sagamore Farm Reborn, Mid-Atlantic Thoroughbred Magazine, February 2008
Lighten Up, Western Horseman, February 2008
Fashionable Fire for the Home, The Remodelers' Journal, December/January 2008
Hill Country Horse Barn, Western Horseman, January 2008
Equine Design, Estates West, Winter 2008
Second Chances, Green Builder Magazine—Cover Story, December 2007
A Breath of Fresh Air, Western Horseman, December 2007
Barn Rebirth, Best of Southern Living (special issue), Holiday 2007
California Dreaming, Western Horseman, November 2007
Heating Up the Backyard, Garden Compass, September/October 2007
2007 Southern Home Awards, Best Preservation, Southern Living, October 2007 
Champagne Barn on a Beer Budget, Everything for Horse and Rider, Summer 2007
Creature Comforts,  Stable Management, September 2007
Quiet Impact (Monticule Form), Keeneland Magazine, Summer 2007
Adding On,  Stable Management, August 2007
Get Organized: A well-organized tack room is attractive to your clients and allows you to find what you need when you need it, Stable Management, July 2007
Safe Footing for Barn Aisles, Practical Horseman, June 2007
55 Tips for Better Barn Function, Dressage Today, May, 2007
Ranch Dressing: Devine Barn as High Fashion Backdrop, Genlux Magazine, April/May, 2007
Horse Heaven, The Austin American Statesman, November 30, 2006
A Barn for Every Budget,  Equestrian Magazine,  November 2006
An Old Red Barn Gets A New Life, Washington Spaces, Early Winter 2006
A Breed Apart, Austin Home and Living, September/October 2006
Ultimate Horse Barns, Randy Leffingwell, Voyageur Press, 2006
Run-In Shed Makeover, The Horse, May 2006
Oakhaven Farm– Texas Hill Country, Sidelines Magazine, June 2004
Turning Old Into NewWeb, Thoroughbred Times, March 2004
A Sunday Horse, Vicky Moon, Capitol Books, Inc., March 2004
Master Planner, The Washington Times, February 17, 2004
Simply Devine,  Sidelines Magazine, November 1, 2003
Advantages of an Architect-Designed Barn, Riding Magazine, May 2003
Out of the Box, Home Magazine, April 2003
Design on the Hoof, Washington City Paper, November 22, 2002
Brilliant Moves, Kentucky Herald-Leader, November 8, 2002
A Face Lift, Stable Management, April 2002
Creating a Better Barn, Thoroughbred Times, December 1, 2001
Doing Your Homework Before Building A Farm, The International Equine Journal, Fall 2001
Equinomics: Stall Flooring, The Horse, September 2001
A Brilliant Idea, Keeneland, Summer 2001
So You Want A Farm, The Horse, June 2001
Building a Safe Breeding Facility, Horsecity.com, April 2001
Building Barns in Albemarle, Albemarle, April/May 2001
Barns By Blackburn, Whoanews.com, January 2001
Middleburg Mystique, Vicky Moon, Capital Books, Inc., September 2001
Putting Your Mare Under Lights, Warmblood Magazine, November/December 2000
Parade of Barns, Polo Players Edition, July 2000
To Buy or Build, Thoroughbred Times, September 25, 1999
Field of Dreams, Horse Show Magazine, July/August 1999
Taj Mahorse, Polo Players Edition, July 1999
Blackburn Architects Builds Area Barns, Keswick Life, May 1999
Home Sweet Home, The Horse, May 1999
Blackburn Architects: Stables A Specialty, In & Around Horse Country, April/May 1999
Bungalow: American Restoration Style, by Jan Cigliano, (Salt Lake City: Gibbs-Smith Publichers), 1998
Housing Your Horse, The Horse, September 1998
Riding High, Elle Decor, August/September 1998
Kingdom for a Horse, Town and Country, April 1998
The Air In There, The Horse, March 1998 (photos only)
Dream Stable, The Blood Horse, March 14, 1998
Morven Stud: Age-old Virginia Farm Builds Toward Future, Mid-Atlantic Thoroughbred, February 1998
Breeding Facilities, The Horse, January 1998
Barns East and West, Wood Design & Building, Autumn 1997
Variety is the Spice of Riding Arena Design, Rural Builder, May 1997
Building Your Dream, In & Around Horse Country, Oct/Nov 1996
Rhapsodies In Blueprint, SPUR, March/April 1996
Take Stock of Design to Eliminate Common Hazards, The Maryland Horse, Oct/Nov 1995
Born Again, The Washington Post Magazine, October 1, 1995
Horse Sense: The New Breed of Barn, The Washington Post, February 18, 1995
Saints Preserve Us" A Timely Addition, Church of St. Stephen Martyr's New Recovery, The Washington Post, August 14, 1993
Dream Schemes, Remodeling Ideas, Spring 1993
Food Retail Design and Display, Martin M. Pegler, Editor, New York: Retail Reporting Corporation, 1993
Designing Horsemen, SPUR, Sept/Oct 1991
Thoroughbred Landscape, Landscape Architecture, June 1991
Will and Sarah Farish's Lane's End Farm, SPUR, Nov/Dec 1990
Back Porches Make a Comeback, Washington Home, June 15, 1989
02.24.22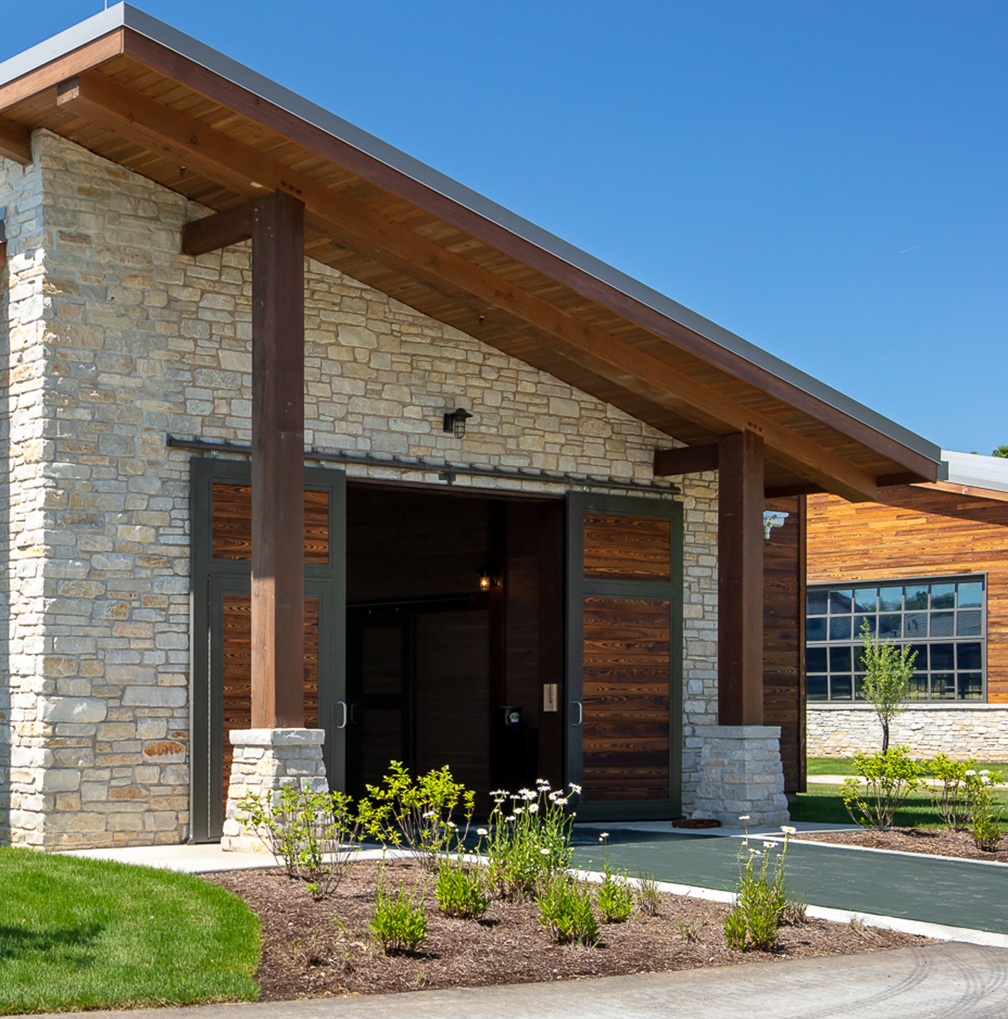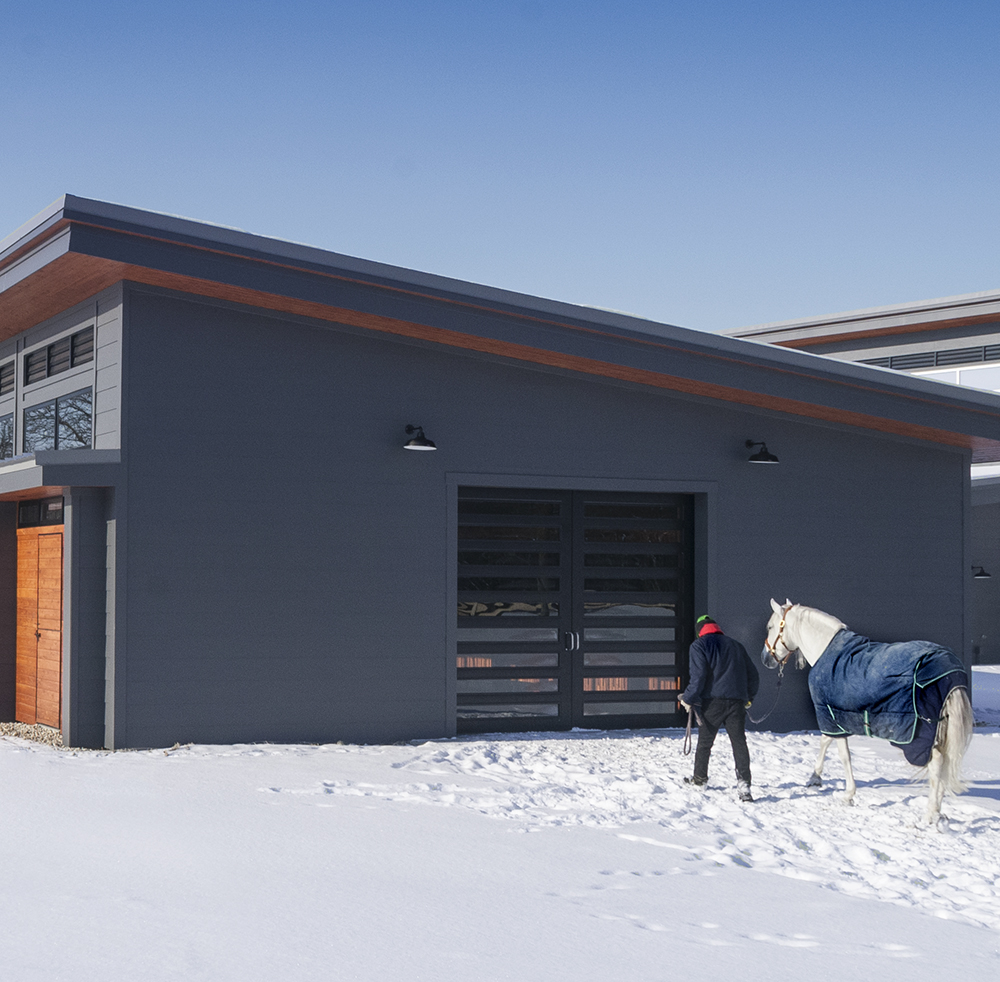 Aisle doors are a great way to add interest to your barn because they come in a huge variety of designs, colors and details. Consider:
1. Width. The aisle doors need to be wide enough for a tractor to get through with a little room to spare for maneuvering. We recommend 12 ft at a minimum, or larger if possible.
2. Swelling/shrinkage. Wood doors can warp with humidity and moisture and deteriorate faster over time. Metal doors should be painted and powder coated over galvanized steel if possible.
3. Overhead rollers. There are several different types of rollers. One is the cannonball but another is the flat bar roller (more "traditional" looking).
4. Ice protection. Barn doors in cold or snowy climates need some sort of ice and snow protection to prevent the roller apparatus from freezing up. Generally we specify some sort of snow shield across the top of the rail. It can be very simple but heavy sheet metal or a small roof structure that adds to the look of the barn. Also, you may need to access the rollers for adjustment during the year as the seasons change causing the doors to swell and becoming difficult to roll. The doors, especially steel doors, will expand and contract a small amount and you may want to adjust the rollers a couple times a year. So you need to provide access to the rollers to do that.
5. Light. Aisle doors typically have large glazed areas (tempered glass only) for adding natural light to the interior of the barn. The size and design depends on your aesthetic, but we typically locate these windows starting at roughly human shoulder height so you can see into the aisle when they're closed. This is essential for convenience and safety. Someone could suddenly open a large door from the outside and spook a horse on the inside if they are unaware of what's happening on the other side. Plus, some doors can be noisy as they open. We recommend making the glazed opening large but not too large so as to not give a loose horse the idea that it's open and they can exit thru it. Adding some sort of mullions or design to the glazed portions can help prevent that from happening and also add to the overall design look. (See the second photo, of Pegaso Farm near Chicago.)
6. Inside or outside? Aisle doors can also be mounted to the exterior surface of the barn or to the interior. If on the interior, a double wall system forming a pocket door is advisable. (Make sure the pocket can be cleaned occasionally.) Weatherstripping is usually not needed as we like to have our barns breathe, but you may want to provide some sort of cushioned rubber weather seal where the doors meet or a brush type seal at the jambs and sill to limit the cold winds and other debris from circulating into the barn.
7. Bottom guides. We recommend some sort of floor glide to keep the door in alignment. But that can be done in a variety of ways or left off entirely. We often provide a stop at the floor or at the top rail to prevent the door from sliding too far to the opposite side.
8. Never put locks on these doors! You may need them to open quickly in an emergency.
11.12.21
We recently received a great question from a landscape architect teamed with us on an equestrian project. We're glad he asked the question, and thought the answer might be interesting for others contemplating adding a bridge to their landscape.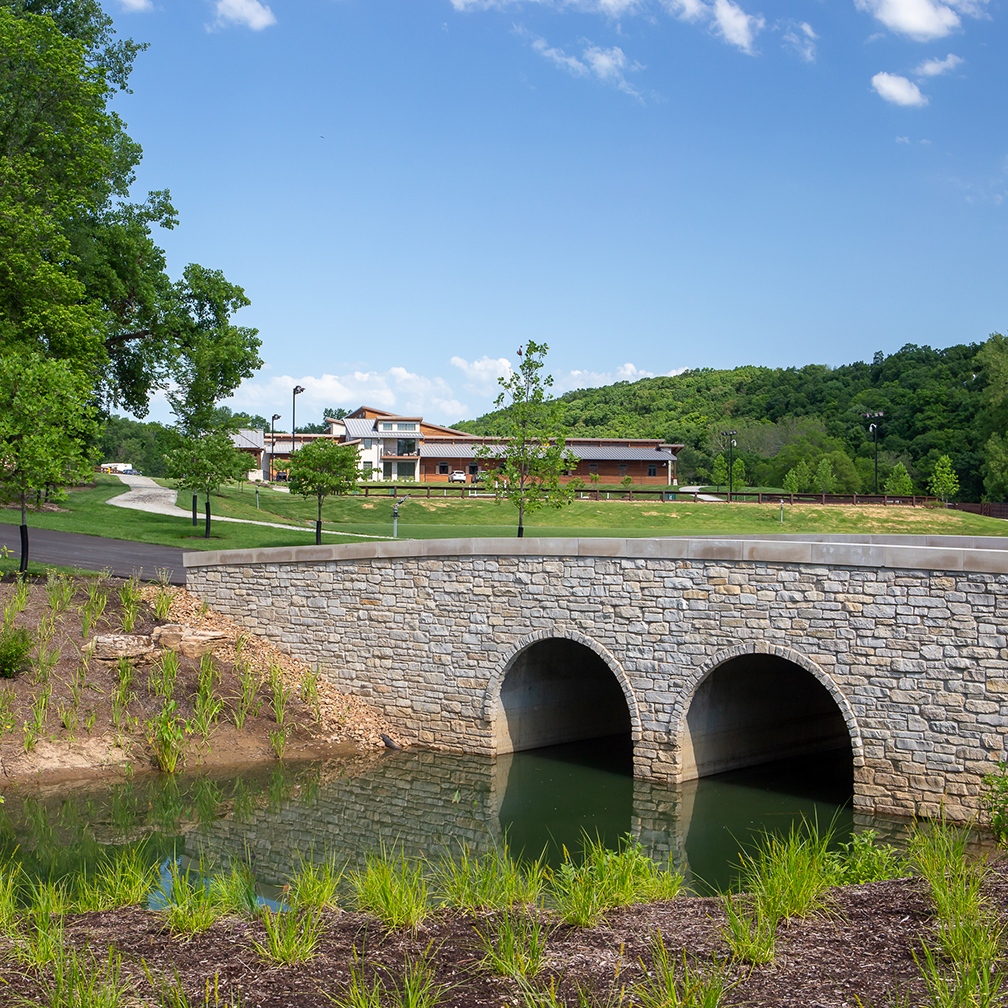 Q: Can you ride horses across a bridge? Is it a bad idea? Do they get spooked? Working on rerouting a trail on a project and considering bringing it over a river with a bridge, but people do ride horses on the trail, so not sure if that's a bad idea. Any thoughts? Thanks!
A: Good question. It would be best if bridges could be avoided as you just never know when a horse is going to get spooked by something and then just take off in whatever direction it chooses.
But, that said, horses can be safely ridden across solidly built bridges. If the bridge is to be used frequently, the rider should introduce the horse to the bridge calmly so it has the ability to feel comfortable about the situation and get used to it. Over time, the bridge will be no big deal.
There are several conditions that should be considered:
1. Width and length of the bridge. If it's too narrow for two horses to keep a safe distance apart – say less than 12 ft for two way traffic – it may be dangerous.
2. The bridge surface should be slip resistant (leaves in the Fall can be very slippery, as can wet wood after a rain) and the incline not too steep. Also, horses can spook at the sound of water rushing underneath them, as well as the "hollow" sound of the bridge when they first step onto it. Again, horses will become accustomed to the bridge after continued safe passage, but they'll need time to build trust in the structure.
3. Railings along the sides should protect the horse and rider should the horse decide to take off. About 5 ft would be a minimum height.
4. Consider all other users of the bridge or bridle path. If it could be limited to just horse and rider it would be best. Bikers and runners or vehicles can spook a horse.
5. Provide a roundabout option – a safe place to cross the stream – if a horse says absolutely "NO WAY."
To conclude, adding a bridge to a farm's landscape really depends on the structure and surrounding grounds and landscaping. A horse needs to have good visibility on the approach to, while on the bridge and view down the bridle path as it comes off the bridge.
03.03.21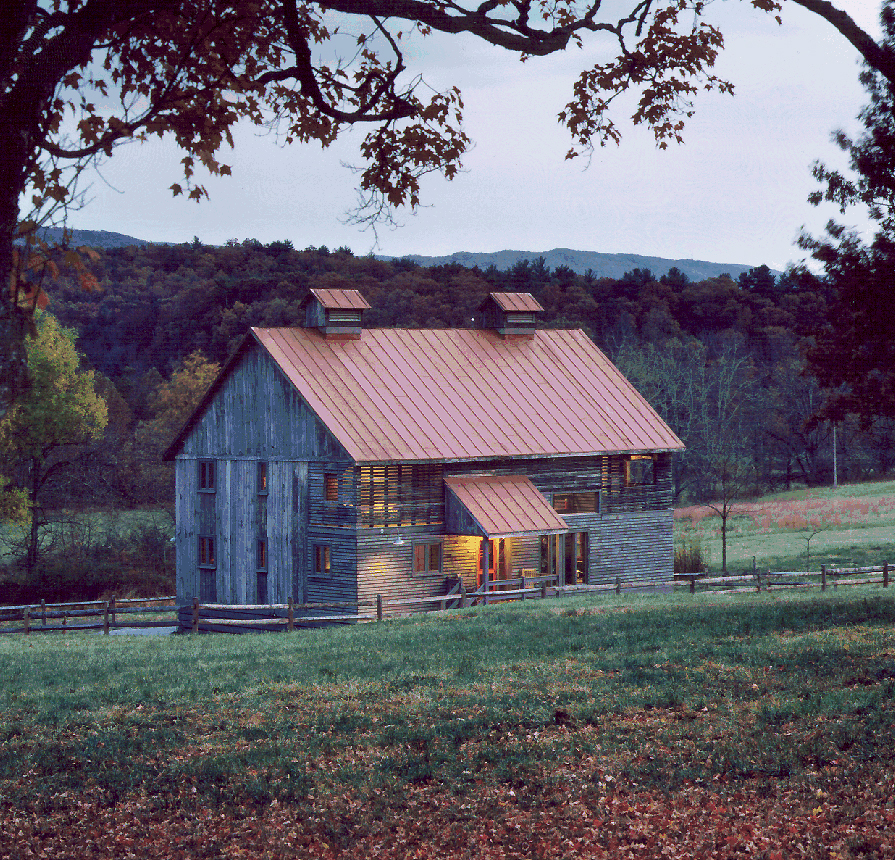 Blackburn Architects has been renovating old barns for nearly 40 years. That means that many photos of our projects circulate on social media, Pinterest, Houzz and other sites. Questions are a natural outcome. So, what are some of our recommendations for creating a home out of an old barn? We thought we'd ask John Blackburn for his thoughts.
John, what kind of barns work or don't work for renovation into a home, generally?
"There is no one kind or type barn that works best, though many people gravitate towards old 19th century timber-framed bank barns. But there are many types of other old barns and they can make for wonderful houses – grand interior spaces with a lot of historic character. So, the type of barn really depends on your aesthetic and functional needs as well as the location.
"Barn architecture was influenced by the history and culture of the people that settled a particular area. For example: 1. Dutch and German barns in the mid-Atlantic region, 2. Connected barns in New England, 3. Tobacco barns in the south, or 4. Dairy barns which can be found in almost any region of the US. The ethnicity of the settlers, geographic location, the type crops or animals raised or used in farming.  All of these influenced the look, style and type barns that were constructed in an area.  And, of course, available building materials (i.e. stone, heavy timber, etc.) had a huge impact.
"Another little known fact that influenced the type and style of American barns was the circulation of the Old Farmer's Almanac and other early farm periodicals.  These publications frequently included articles about different barn styles.
John, what to look for in barns to restore?
"There are a lot of factors to consider but the condition of the barn and the location are critical.
"The structural condition is one of the most important factors when considering transforming an old barn into a new use.  I recommend a structural inspection of the entire building before engaging in any remodeling or adaptation.  The structural damage could be obvious, i.e. missing, broken or rotted timbers, collapsing foundations or roofs, suitability of the structure to the load conditions of the new use, etc. Plumbness of the structure can give an indication of the structural soundness of the barn.  Obviously a leaning barn is not a good sign, but also look at the ridge of the roof.  Typically, a sagging ridge line indicates deterioration somewhere in the structure.  Sagging ridge lines can be due to a sagging ridge beam, a rotting timber column on the ground floor or collapsing foundation wall or almost any structural framing member above it.
"You will need to investigate for insect infestation, both current and past.  Powder post beetles can wreak havoc on the structure yet not be readily apparent to the novice homeowner.
John, what about the price of these transformations? Are they affordable?
"Price is always important, but even more so with a barn adaptation.  The structural stabilization could easily represent half the cost of the renovation though it depends on the condition of the barn (frame, siding, foundation, etc.) and what the owner wants to do with it.
"Another consideration regarding cost is the presence of hazardous materials, i.e. lead based paint.  Many old dairy barns were painted inside and out with lead based paint during the early to mid-part of the 20th century.  It can be expensive to either remove or encapsulate.  Another concern is asbestos shingles, often used on roofs and exterior walls of old barns, particularly dairy barns.
"The bottom line – go into a barn project with your eyes open. These conversions are not cheap, but they are enormously satisfying and hold their value well.
John, what are your thoughts on keeping the barn's integrity as a farm building?
"What I hate to see more than anything short of tearing a barn down and "salvaging" the old timbers is inappropriate 'glossing over.' It's about the worst end of life for an old barn (in my opinion).  When someone tries to make a residential building from an old barn but doesn't respect its history or its contribution to the visual environment, I feel this is a lost opportunity.  For me, they are destroying the very characteristic that makes it attractive or romantic in the first place.  Far too often people say they love old barns but when they try to change its use and end up destroying it.  I would rather they leave the old barn for someone who appreciates the uniqueness of it and will give it new life.
John, what about "brightening" up the old interior by adding more glass?
"Sure, this can work in lots of ways. One is the installation of end wall windows as we did at River Farm but that's not for everyone and is somewhat site specific.
Adding windows or sliding barn doors with glazed walls behind them is another way.  Because barns were a farmer's industrial building it changed with the times and methods of farming.  Windows, sliding doors and additions were frequently added to modify farm structures to fit changing needs.  If [adding glass] is done in an architectural or historical way that continues the farm barn aesthetic, I think it should be acceptable.  But scale and size is important too.
"Another approach is possibly staining the old boards of the ceiling or walls with a semi-transparent stain. This provides some reflectance yet leaves the grain of the old wood in place. I'm against insulating a barn's walls or the underside of the roof with drywall or some reclaimed old barn boards.  The problem with that is you lose the appearance of the massive heavy timbers, the framework of the walls, the purlins, the joinery, etc.  There is a better way.  We use SIPS panels on the exterior walls and roof. These provide superior R value without destroying the rustic interior look.  On the exterior, SIPS panels are secured to the timber frame and supported by a galvanized base angle.  Once complete and detailed properly, the building can look exactly like the former barn.  It works!
"Of course, electric lighting works too.  Other than possibly hanging an ornamental fixture, I typically recommend carefully placing a spot or some sort of theatrical type lighting on top of beams in specific areas. This will create minimal visual obstruction but can be trained down to a particular area, upward to reflect light off a ceiling, or across the space to an opposite wall.  Where and how you run the electrical conduits and placement of junction boxes requires careful thought.  I recommend not leaving that decision up to the electrician whose aesthetic sensitivity may not agree with the design goals. The same is true of HVAC systems.  A lot of thought needs to go into the type and location of HVAC systems and how ventilation and air movement within a large space can be comfortably distributed."
Posted in
Equestrian News
,
News and Press
,
Sustainable Design
|
Tagged barn conversation, barn conversion, barn conversion architect, Blackburn Architects, Design, Equestrian Architect, equestrian architecture, equestrian design, Equine Architect, John Blackburn, Sustainable, turning old barn into a home
|
Leave a comment >
09.25.20
Note: We recently received this question from a follower of ours on Instagram. While this is NOT a Blackburn-designed barn, we felt that others might have similar problems, so we wanted to offer as much help as possible to this horse owner. Some of her photos are included in the post for clarity.
Q: Dear Blackburn: We recently built a backyard horse barn in western Massachusetts.  The timber frame style building is a hybrid run-in shed/horse barn, attached to a track-paddock with sacrifice areas and pastures.  The horses are turned out together 24/7 with run-ins, with option of separate stalls if needed for injury/weather.  This summer, after one year, we found mold in a few areas of the barn.  Since learning about Blackburn, we have been fans, and we seek insights on how to remedy our mold problem in a way that is safe for the horses and hay too.
The barn is 36'x36' with a raised center aisle.  The south 1/3 of the building is a run-in with a packed dirt floor covered by rubber mats and shavings. The remaining 2/3 has a concrete pad and includes 2 stalls – one used as a horse stall and the other used to store hay.  The 11' ceiling leads to a hayloft (most hay stored in a separate building) with an 18'x6' cut-out in the middle of the floor, for both sunlight and ventilation.  Hayloft windows/door on all sides and an open eave towards the top also offer ventilation.  A frost wall surrounding the barn is approx. 1'-2' above grade. Inside the barn, including the run-in and both stalls, the interior frost wall was covered with resin technology wood screwed directly into the concrete, primarily for safety reasons, to soften the impact if a horse kicks the wall/concrete.  We recently found black (and some white) mold between the frost wall and the resin technology wood.  We have removed the product and bleached the area, but how to proceed…
1- How can we safely cover the interior concrete frost wall within the horse areas (run-in, stalls, grooming aisle, hay stall) so that it has some "give" to prevent injury when a horse kicks it, but which won't harbor or cause mold? We have considered covering the frost wall with rubber, or adding a vapor barrier and applying new product.
2- What do you recommend we do to the concrete floor and frost wall to store hay and avoid mold in the hay stall? There's a 4" step down from the aisle (we realize that was a mistake since it traps moisture).  We put a high-quality insulated mat in the horse stall, but the concrete floor is bare in the hay stall.  We use the hay stall for hay now but want to have the option of keeping a horse in there in the future.  (We've previously stored hay on a double layer of pallets, plus floor covered by tarp, but with that set-up plus the wood product on the frost wall, the mold grew.)
Warmly,
MA Blackburn Fan
A: Dear Fan: While I don't know for sure what's causing the mold in your barn, I feel the application of the wood product directly to the concrete frost wall without airspace behind it and near the floor where it is subject to moisture may be the primary problem.  I would suggest removing the wood product material at the frost wall and gluing rubber mats directly to the concrete frost wall to provide protection from horses injuring their legs by kicking the wall.  Provide an angle crib guard along the top edge to help prevent cribbing by horses.
I am not that familiar with the product you used, but I know it is an engineered wood product that has a wide range of uses.
The fact that the barn doubles as a stall and a run-in shed indicates that it generally remains open which is good as it allows air to circulate in and through the barn and reduces the health hazard that might be caused by the mold.
I found it odd to see diagonal framing in the walls between the post framing.  I'm unsure why that was done (maybe to provide horizontal bracing for the timber frame) but because the lower portion of the wall appears to be covered with the wood product it is possible air spaces between the diagonal wood framing trap air in some of the smaller spaces. That could add to the moisture build up. How the barn is maintained (i.e. washing down of the aisle and stalls), is handled could also contribute to the moisture problem.  It appears from your photos that most of the dark staining (mold growth) is along the low portion of the wall at the frost wall and that is probably more a problem of the wood product panels being directly attached to the frost wall than the diagonal framing.
Regarding the hay storage, you should always store hay off of bare concrete.  Using wood pallets is a good way to allow air to circulate around and under the hay.  Hay gives off heat as it cures and if not properly allowed to breath can actually ignite through spontaneous combustion and cause a fire.  Having the barn largely open as a run in shed is helpful but at a minimum the hay should not be stored on the concrete floor.  It should also be stored off the wall several inches to allow the air to circulate around it.  Placing a tarp on the concrete floor as mentioned will not serve any constructive purpose in my opinion and could just trap moisture below it.
BTW, I didn't see any drains in your stalls?  How do you encourage water out of the stall where the slab is depressed 4 inches?
Incidentally, I noticed a door hook on one of the larger sliding doors at the run in portion of the barn.  That's a potential hazard.  A horse could rub against the door jamb and the open hook could cause a significant injury.  I've seen it happen and it can easily be prevented.  Another type of latch should be used.  There are lots of options out there.
I hope this is helpful.
John
Posted in
Equestrian News
,
News and Press
|
Tagged Adaptive Reuse, Architect, Architecture, Arena, Barn, barn architect, barn mold, blackburn, Blackburn Architects, Blackburn Architects barn design, Blackburn Architects barns, Blackburn blog, designing a horse barn, Equestrian, equestrian architecture, equestrian design, horse barn, horse barn design, horse stables, John Blackburn, mold, mold in barn, mold in horse barn, Stables, Ventilation
|
Leave a comment >
04.22.20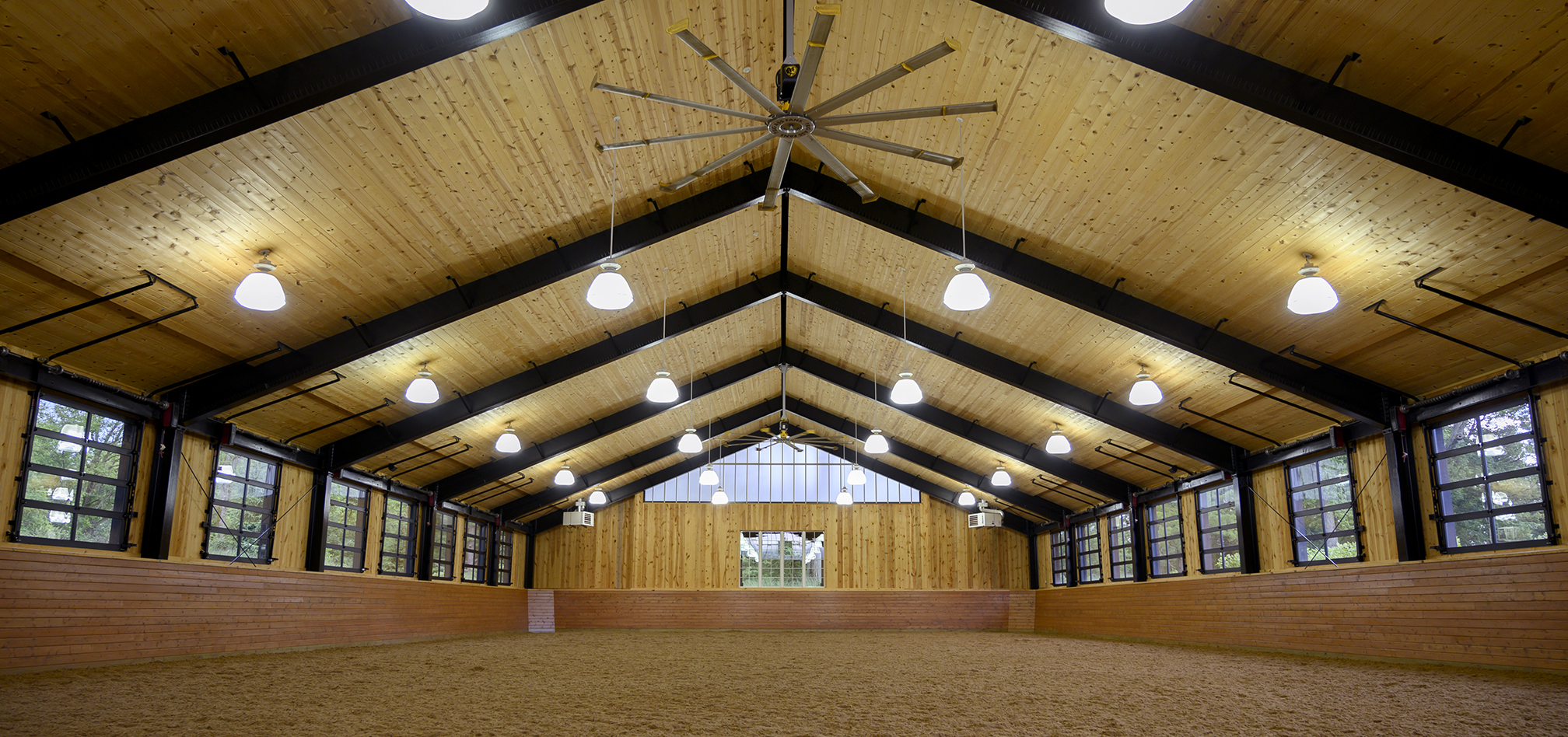 Curious about recommended roof pitches in a riding arena? Senior architects John Blackburn and Ian Kelly advise that "a 4:12 pitch is pretty much our recommended minimum on any horse structure.  We prefer steeper roofs for a natural chimney effect. However, unless you live in a cold climate where there is a lot of snow, we wouldn't advise going taller than 6:12."
The numbers indicating a 4:12 roof pitch mean the roof rises 4 inches in height for every 12 inches, as measured horizontally from the edge of the roof to the centerline.
Okay, so for barns our rule of thumb is as steep as you can make it. The steeper roof allows the Bernoulli principle and chimney effect to work more efficiently and effectively. But there are other considerations in designing the slope of a barn or arena roof.
For arenas, steeper the roof = the taller the building. This impacts the look or mass of the arena on the property which can be negative. It can stick out like a sore thumb or look like an airplane hangar in your backyard.
Because we depend less on natural ventilation in indoor arenas than in barns, we can get away with lower slope roofs. However, we don't recommend lower than 4:12 if at all possible. We realize some HOAs and neighborhoods have severe height restrictions and the wider the arena, the more difficult it is to comply without "flattening" the roof.  At Winter Farm in Peoa, Utah, we designed a low roof to stay within an imposed limit. In some areas, arenas may be considered agricultural buildings and therefore exempt from height limits. But that rule isn't consistent across state lines or jurisdictions. For example, in one jurisdiction we were permitted a covered arena as a "sun shelter" and avoided building height limitations entirely.
Because arena walls at the perimeter are usually 16' tall (need head clearance for horse and rider on interior below the structural frame), when the roof is a low slope, the roof becomes less visible as you get closer to the building and the building can look like a huge box.
You can make a huge box look great but that may require a lot more money and you typically want the arena to be in the background. The barn and the farm are the main focus and not that big ugly box on your farm.
One way we reduce the impact of the arena size is by pushing it into grade where we can, using the land contours and landscaping where possible, and placing it behind the barn and other structures to reduce the scale of the building.
Probably the best average height for a barn is 6:12 to 7:12. The reason is it is more difficult for a roofer to walk on a steeper roof without some sort of support. Thus the installation time increases dramatically as will the cost if it is built with a steeper roof.
One of the down sides for low slope roofs in snow climates is snow loading. A steeper slope can be designed to shed snow pack better than a low slope but the downside for that is the avalanche effect. When it melts it can fall fast, be loud and block doorways… a subject for another blog post!
Posted in
Equestrian News
,
News and Press
|
Tagged Architecture, Arena, Barn, barn architect, barn architecture, barn design, Barns, Blackburn Architects, Blackburn Architects barns, Design, design riding arena, Equestrian, Equestrian Architect, horse barn, Horses, riding arena, riding arena roof slope
|
Leave a comment >
12.10.19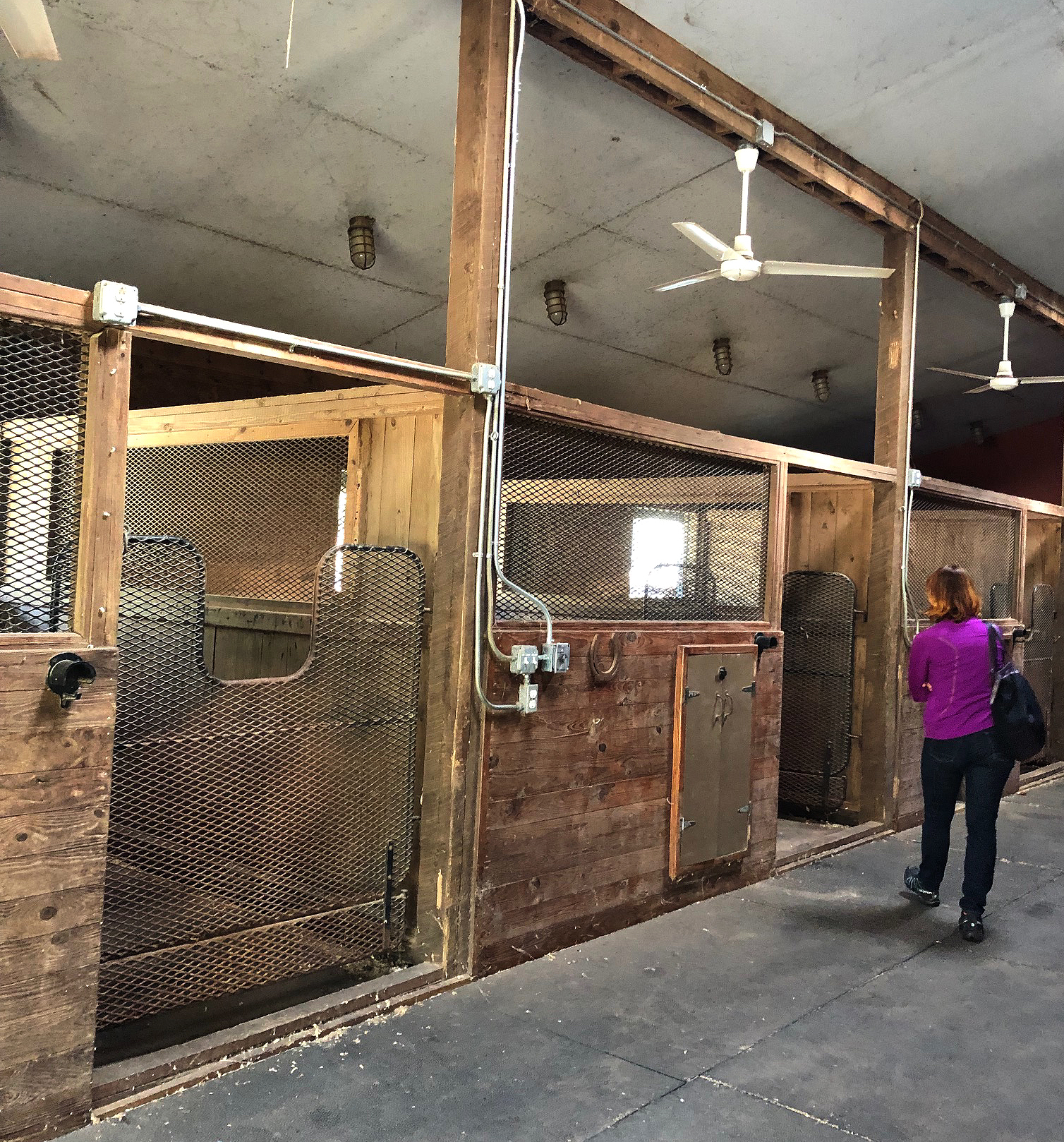 Just in time for the New Year, we thought we'd take a moment to discuss renovating an existing horse barn.
Recently, Blackburn was asked to take a look at a gorgeous property in North Carolina that has an existing barn in need of a facelift. Built more than a decade ago for Icelandic ponies, the new owners want to make safety improvements for their larger athletes. However, budget is a big concern. Because the owners plan a new barn in the next few years, they want to limit renovation costs on a barn they might ultimately tear down.
To begin the process, we visited the site and took photographs documenting existing conditions. Back in the studio, the Blackburn design team reviewed the photos and provided the following comments on potential improvements that could help make the barn safer for horses. We thought it would be helpful to share our ideas here.
The barn is very basic and worn but isn't too bad. The primary drawback in the design is no pull-through aisle and the swinging stall doors. There is some natural light coming in through the skylights but it's not sufficient. Nor do they permit vertical circulation or venting of hot air.  It appears the only way to vent air out of the roof area is through the roof top cupola.
Recommendation: Add more skylights and add vents in the end walls with dampered exhaust fans to pull hot air from the aisle area.
The hinged gates to the stalls open into the stall.  They should open to the aisle.  If a horse is down within the stall and laying against the door, the only way to get in would be to climb over the wall. And there is no way to get the horse out.
Recommendation: Add new sliding stall fronts. Also, replace the stall mesh at the stall fronts and side walls with a stock bar grill system.  These are much stronger than the steel mesh. However, they need to have the proper bar spacing (max. 2 to 2 1/2″ clear) and be sufficiently strong to not bend when kicked by a horse.
The electrical outlets are exposed.
Recommendation: The outlets should be covered to protect horses from sharp corners and edges.  Verify that all outlets are GFI protected. (A GFI, or GFCI – Ground Fault Circuit Interrupter – protects from electric shocks from faults in electrical devices.)  All wiring should be run through metal conduit or replaced with BX cable.
Existing stall door latches are not the best for horses. Exposed hold open hooks can easily injure a horse.
Recommendation: Replace the latches.
There are a lot of rough edges in the stall area that could cause injury to horses and contribute to harmful cribbing.
Recommendation: Any damaged wood should be replaced, exposed wood edges and corners either eased or covered with metal angles to reduce risk of cribbing and splintering.  Confirm all nail heads on the interior of the barn – wherever they come into contact with horses – are reset to eliminate exposed heads or replace with wood screws.
Inadequate flooring.
Recommendation: Replace the existing grid flooring outside or in the covered stall areas. Level the floor and slope it in the direction of natural drainage away from the stalls.  Lay a bed of crushed gravel, cover with stone dust, and compact as required to reduce risk of erosion.  If erosion is a problem, a pressure treated 2X could be set into the ground under the fence line and level with the stone dust to prevent erosion.
Ceiling mounted lights and fans are filthy.
Recommendation: Clean all.
The rafters under the roof of the outside stalls do not bear on the supporting wall.
Recommendation: Inspect each rafter for structural soundness and install a flat metal nailing plate (similar to those used in wood trusses) at each rafter to insure they don't separate.
Wash Stall Issues.
Recommendation: Provide 3/4″ non-slip rubber mats on concrete slab. Provide for drainage around edge of slab.  If there is any slope to the slab, provide a gravel swale that provides sufficient drainage for water to either drain away or, preferably, back into the soil.  Water should not accumulate and pool on the ground surface and create muddy conditions. Provide cross-ties at the wash stall and a place where cleaning equipment can be stored unless a tack caddy is used.  Consider a collapsible saddle rack and a place to hang your blankets or saddle pads.
10.15.19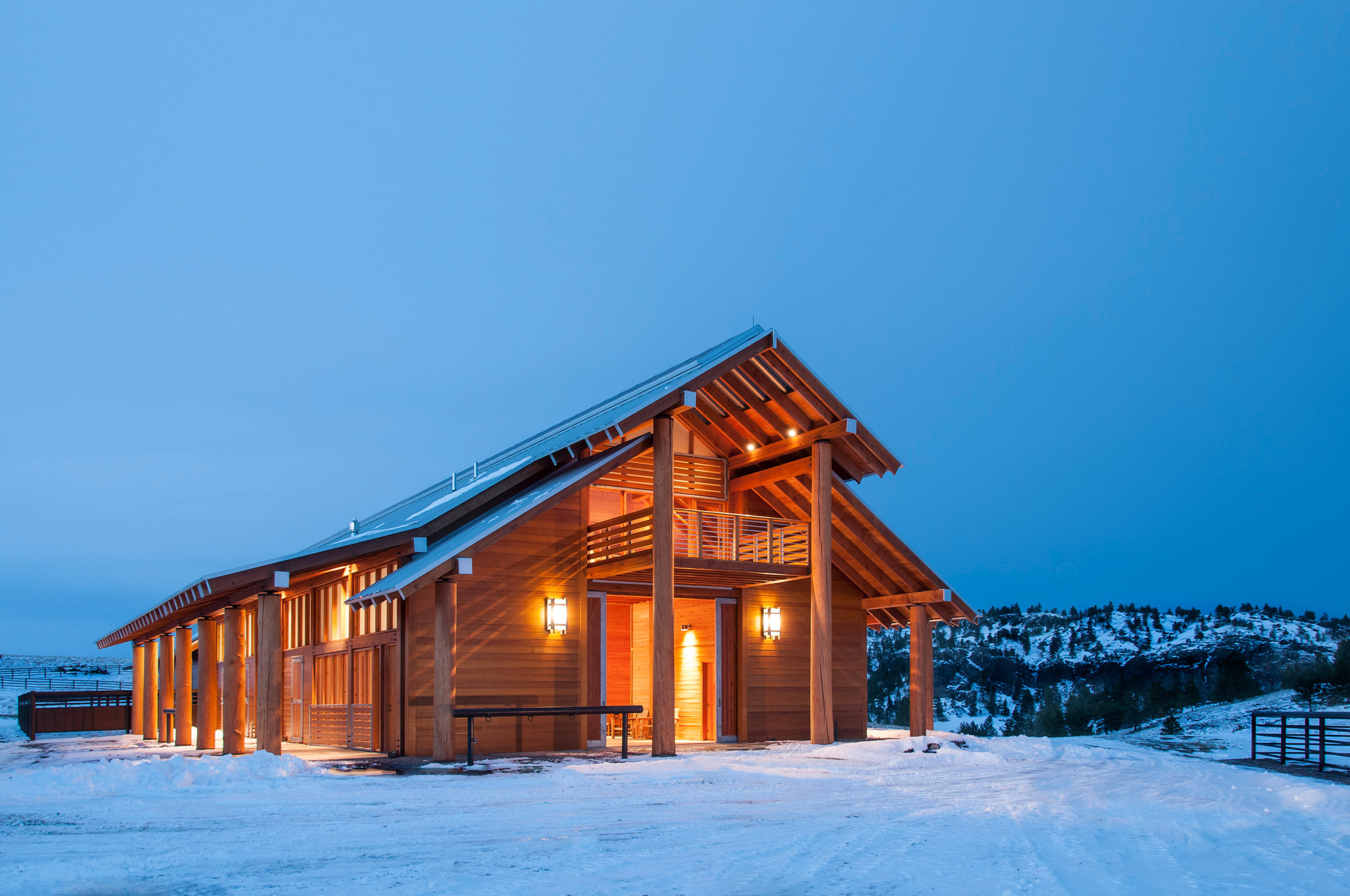 Q: I'm in the process of planning a barn in Missouri, and finances require an economical metal post-and-frame structure. I've studied Blackburn's ventilation and lighting philosophies and will incorporate them as best I can.
My question is about orienting the barn. I plan to have a center aisle, with exterior Dutch doors in every stall. Each 12'x12' stall will have an exit to the main 12' aisle as well as to an outside run-in. The stalls will be used primarily during more extreme weather or when I need to confine a horse due to injury or illness, otherwise the horses will be outside. Overhangs on both sides of the barn will function as run-in shelters for the paddocks.
I know from your writings that the ideal orientation is perpendicular to the prevailing summer breeze. However, because Missouri's cold winter winds are from the same direction, the horses on that side of the barn won't have wind protection when in the run-in areas. I know that's less of a problem for owners who keep their horses in stalls most of the time, so I've not been able to find an answer to this question. I will obviously allow them access to the stalls during the bitter cold weather we get, but for most of the winter all they need is some windbreak. How do I optimize winter protection without compromising ventilation?
Thanks,
Worried about Winter
++++++++++++
A: Orientation is certainly very important when siting your barn. But because wind is always changing and its direction and velocity can be affected by terrain, other structures, and vegetation, the angle is not a hard and fast rule.  It's good to try and locate the barn perpendicular to the prevailing summer breeze but that also depends on the design of your barn.  If you have lived on the farm a few years you may know the particular wind patterns for your property.
The design of the barn is as critical – if not more so – than the orientation.  How and where you permit air to enter the barn (preferably along the low wall along the long side of the barn and at the eaves where the roof joins the side walls), and where it is allowed to exhaust are critical.  In some areas, it may be necessary to provide some form of close-able dampers on the low wall vents to control the wind and temperature that can impact a horse that is in the stall but doesn't have the flexibility to get away from it.
The environment within the barn should be within 8 to 10 degrees of the temperature on the outside.  Your barn should ventilate vertically to reduce the horizontal movement of bacterial- and moisture-laden air.
We always say the best environment for the horse is outdoors where it can make its own choices about its environment and health. A naturally-kept horse should be able to get out of the hot sun and find shade or get out of a cold wind in a shelter or behind a wind block.
By turning your horses out most of the time you are certainly on the right track for happy, healthy animals.
Missouri's winter weather isn't so extreme that it prevents you from a center aisle barn with stalls on both sides.  Orient your barn so that turnouts are on the windward side of the barn and leave the Dutch doors open so your horses can get inside away from the wind.  For the turnouts on the cold windward side of the barn, blanket the horses.  And keep their winter coats unclipped.
Since you've read "Healthy Stables by Design," you know that Blackburn designs typically use the chimney effect and the Bernoulli principle to create natural ventilation. Our barns become passively designed machines that work to provide healthy conditions for the horses inside.
Good luck with your new barn!
Posted in
Equestrian News
,
News and Press
|
Tagged Architect, barn architecture, barn design, barn in winter, Barns, Blog post, custom horse barn, Design a Horse Barn, Equestrian Architect, equestrian architecture, equestrian design, equestrian facility, Equine, Equine Architect, equine design, farm planning, healthy barn, healthy horse barn, healthy horse barns, healthy horses, Horse, horse barn, horse barn design, Horse Barns, horse farm, horse racing, horse stables, Horses, importance of ventilation in horse stalls, John Blackburn, Stables, Sustainable, thoroughbred, Ventilation, Virginia, Winter barn
|
Leave a comment >
07.25.19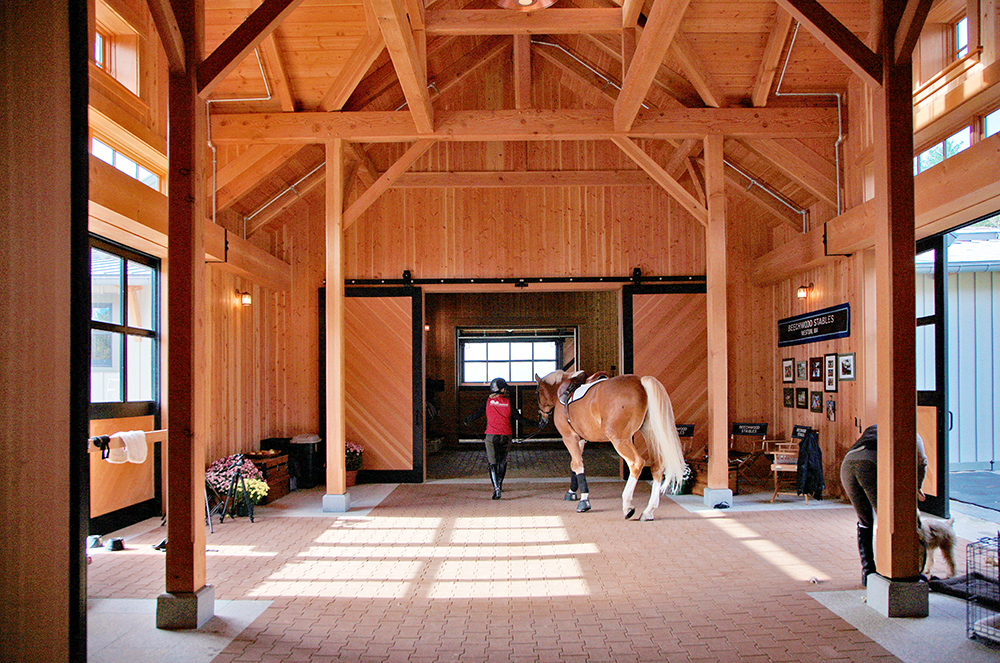 How can you can be proactive in the design of your farm and your barn to protect your horse from the threat of barn fires? What can you do to minimize the damage and loss of buildings and most importantly your horse and human life?
Prevent, Contain, Suppress
Prevention is your best protection and your first line of defense. There are any number of reasons why barn fires occur. Many are outside your control but there are steps you can take to prevent a fire from getting started. Never overlook important management practices – organize, clean and prepare.
1) Keep a clean barn/farm (dust, cobwebs, bird nests, debris).
2) Keep aisle ways clear.
3) Keep your barn neatly organized.
4) Develop a fire safety plan and practice it.
5) And, of course, NO SMOKING!
PREVENTION
Site planning is a critical component of farm fire prevention.
We recommend a separation of buildings and hazardous functions/materials from the barn.
Generally, we use a rule of thumb of 30' to 50' and sometimes 100' depending on the terrain, building codes and building materials used. Hay / bedding, equipment and other flammable materials should be stored separately from the barn and isolated if possible within masonry fire resistant structures.
Manure storage is a critical concern and can be a flammable substance if not stored properly. It should be isolated separately.
Egress from the barn for people and horses. In case of a barn fire, the barn should open into a contained area so horses can be let loose quickly yet contained. We recommend locating at least one good size paddock near the barn that can receive a number of horses at one time. If possible, provide perimeter fencing around your farm to contain horses that may get loose and out on a roadway. Consider access to the farm and buildings for the fire trucks (we recommend a 12' to 14' access road minimum) with adequate support and clearance for the trucks and other emergency vehicles. Provide adequate clearance under trees, power lines and over farm bridges. Make sure you have adequate turn-around space for the emergency vehicles.
A suitable water source is critical. Provide either an on-site storage ponds, water tanks (above or below ground) and your water supply. If it's from a well or municipal source consider the GPM flow, water pressure. You may also want to have a generator on the farm that can serve pumps if the power service should fail. And remember, fighting a fire will produce a great deal of water and that will turn into mud. So consider surface drainage for added safety around the barn.
Building layout is critical for preventing barn fires. Blackburn always designs wide center aisles. Keep them free of clutter. A shed row provides a safer layout for escaping a burning barn but they are not suitable in all locations.
Design your barn with no dead end aisles. Provide at least two exits for people and horses. We recommend openings of 1½ to 2½ the width of your horse (from stall and barn).
Consider the swing of doors – the direction of swing as well as latches used. We recommend sliding doors in the main aisle and hinged doors from stall to turnout stalls connected to the barn. The pin latch is far safer than the typical throw bolt latch. The pen latch is simpler in design (fewer moving parts and no springs and much faster to release.
The designers at Blackburn Architects make disaster prevention a priority through careful site planning and building design following THREE BASIC DESIGN PRINCIPLES:
1. BUILDING SYSTEMS/MATERIALS/FINISHES
The building materials and finishes are as critical as the barn layout. You should check your local building codes. (A good reference is the NFPA 150, 2019 edition). Though barns in many jurisdictions may be considered agricultural structures and not required to comply to building codes, we recommend you consult the NFPA code and adhere to it where possible.
There are four types of framing materials used in construction of equestrian facilities: light wood, timber, steel, masonry.
Light wood is the most common and lowest cost, but has the lowest resistance to fire. Timber frame is much safer. It will stand longer without collapse than light wood frame. Steel frame is flame resistant and can provide excellent protection. However, it is commonly used with light wood framing and other flammable finish materials that reduce its effectiveness in preventing or protecting from fire.
Electrical systems must be dust proof, rodent proof. Protect all light fixtures with cage or shatterproof lens. Remove or repair any frayed or damaged wiring. Do not use residential extension cords and do not overload circuits. Do not use household box fans. Heating systems within the barn should be kept to a minimum. Remember the barn is for horses, not humans.
Do not use portable space heaters and in warm rooms provide for installation of permanent heating equipment.
Lightning protection is another area of concern. Lightning rods are relatively inexpensive and should be installed on all barns if not all farm structures. Provide proper grounding devices and protection for all electrical equipment. You can install a warning system or rely on your phone weather app to alert you when lightning is near.
2. COMPARTMENTALIZATION
The second design principal is containment or compartmentalization. Compartmentalization uses firewalls and fire separations to contain the spread of fire and smoke. Insist that your builder close up all openings around beams, ducts, etc. Also, close up or limit attic or horizontal spaces thru use of fire curtains within those areas.
Your barn should insure proper ventilation for the health of your horse but you should be able to limit ventilation where necessary. The standard ventilation guideline is 1 sf per 100 sf of floor area in barn area or 1 sf for every 30 to 50 sf floor area in hay/bedding area.
Another design consideration to consider is to break up barns into smaller structures. A 24- stall barn is most efficient for a horse operation, but if possible it's better to create smaller barns or provide fire and smoke separations within the barn layout. This level of planning will provide a better level of protection thru isolation.
3. SUPPRESSION/DETECTION
The third design principal is suppression / detection. Early warning devices can be very effective, but they can be difficult in barn environments due to the dust and moisture. Always provide fire extinguishers throughout the barn and make sure they are inspected annually, they are the right type (A, B or C and we recommend having all three).
We also recommend including three types of detector devices; smoke, heat and flame. Each may be appropriate depending on the barn environment. For example, smoke detectors can be set off by dust and moisture. In those areas, you may want to consider another type, such as the laser light beam. Blackburn has used laser light beams in select areas, but they need to include some sort of delay mechanism so birds and other elements that can break the beam do not trigger an alarm. Consult with a fire detector manufacturer for the proper type and installation.
A smoke detector is your best line of defense, but a fire sprinkler is the best method you can install in your barn to suppress a fire. They come as either a dry or wet pipe system. The dry system is most common in barns that are subject to freezing temperatures. A wet pipe system is usually a lower cost but has limited use in unheated barns in sub-freezing areas.
Something to consider in a barn that may have nice finishes that could be subject to damage if the sprinkler system were set off by accident is the pre-action system. The Pre-action system is one that employs an automatic warning system that activates before the sprinkler system activates to protect from accidental discharge and protects damage to interior finishes
Finally, we strongly recommend that you consult with your local fire department regarding your fire protection plan and get your design approved.
Posted in
Equestrian News
,
News and Press
,
Sustainable Design
|
Tagged barn architect, barn architecture, barn fire, barn fire safety, custom horse barn, design horse barn, healthy horse barns, healthy horses, healthy stables, horse barn, horse barn design, sustainability in horse barns, sustainable barn
|
Leave a comment >