Design
03.03.21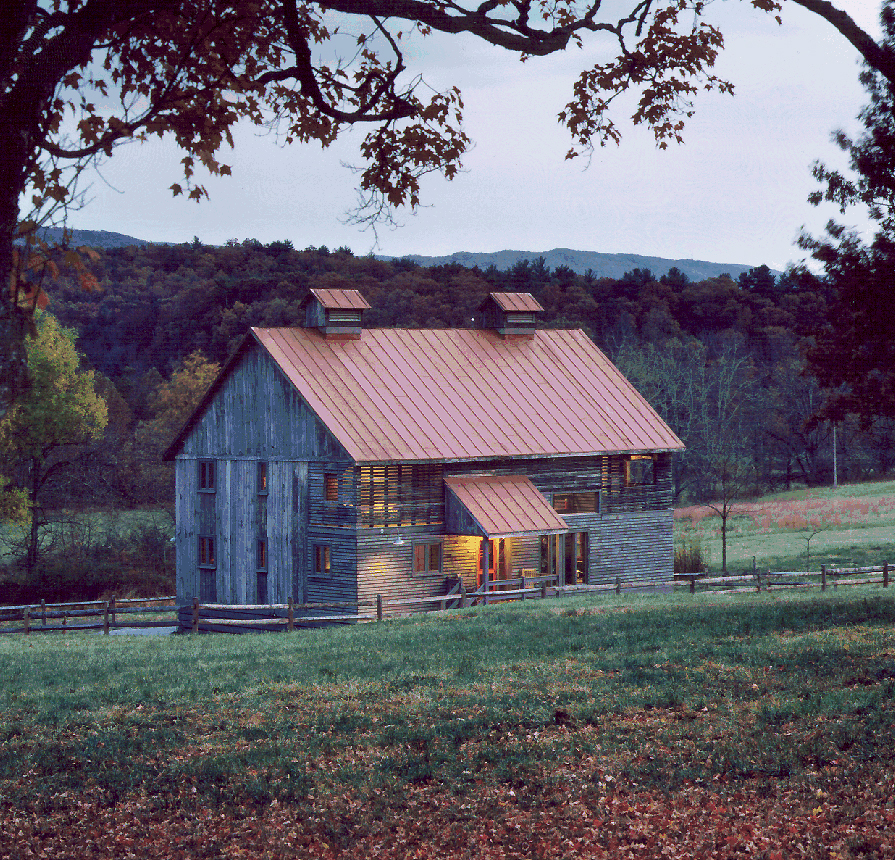 Blackburn Architects has been renovating old barns for nearly 40 years. That means that many photos of our projects circulate on social media, Pinterest, Houzz and other sites. Questions are a natural outcome. So, what are some of our recommendations for creating a home out of an old barn? We thought we'd ask John Blackburn for his thoughts.
John, what kind of barns work or don't work for renovation into a home, generally?
"There is no one kind or type barn that works best, though many people gravitate towards old 19th century timber-framed bank barns. But there are many types of other old barns and they can make for wonderful houses – grand interior spaces with a lot of historic character. So, the type of barn really depends on your aesthetic and functional needs as well as the location.
"Barn architecture was influenced by the history and culture of the people that settled a particular area. For example: 1. Dutch and German barns in the mid-Atlantic region, 2. Connected barns in New England, 3. Tobacco barns in the south, or 4. Dairy barns which can be found in almost any region of the US. The ethnicity of the settlers, geographic location, the type crops or animals raised or used in farming.  All of these influenced the look, style and type barns that were constructed in an area.  And, of course, available building materials (i.e. stone, heavy timber, etc.) had a huge impact.
"Another little known fact that influenced the type and style of American barns was the circulation of the Old Farmer's Almanac and other early farm periodicals.  These publications frequently included articles about different barn styles.
John, what to look for in barns to restore?
"There are a lot of factors to consider but the condition of the barn and the location are critical.
"The structural condition is one of the most important factors when considering transforming an old barn into a new use.  I recommend a structural inspection of the entire building before engaging in any remodeling or adaptation.  The structural damage could be obvious, i.e. missing, broken or rotted timbers, collapsing foundations or roofs, suitability of the structure to the load conditions of the new use, etc. Plumbness of the structure can give an indication of the structural soundness of the barn.  Obviously a leaning barn is not a good sign, but also look at the ridge of the roof.  Typically, a sagging ridge line indicates deterioration somewhere in the structure.  Sagging ridge lines can be due to a sagging ridge beam, a rotting timber column on the ground floor or collapsing foundation wall or almost any structural framing member above it.
"You will need to investigate for insect infestation, both current and past.  Powder post beetles can wreak havoc on the structure yet not be readily apparent to the novice homeowner.
John, what about the price of these transformations? Are they affordable?
"Price is always important, but even more so with a barn adaptation.  The structural stabilization could easily represent half the cost of the renovation though it depends on the condition of the barn (frame, siding, foundation, etc.) and what the owner wants to do with it.
"Another consideration regarding cost is the presence of hazardous materials, i.e. lead based paint.  Many old dairy barns were painted inside and out with lead based paint during the early to mid-part of the 20th century.  It can be expensive to either remove or encapsulate.  Another concern is asbestos shingles, often used on roofs and exterior walls of old barns, particularly dairy barns.
"The bottom line – go into a barn project with your eyes open. These conversions are not cheap, but they are enormously satisfying and hold their value well.
John, what are your thoughts on keeping the barn's integrity as a farm building?
"What I hate to see more than anything short of tearing a barn down and "salvaging" the old timbers is inappropriate 'glossing over.' It's about the worst end of life for an old barn (in my opinion).  When someone tries to make a residential building from an old barn but doesn't respect its history or its contribution to the visual environment, I feel this is a lost opportunity.  For me, they are destroying the very characteristic that makes it attractive or romantic in the first place.  Far too often people say they love old barns but when they try to change its use and end up destroying it.  I would rather they leave the old barn for someone who appreciates the uniqueness of it and will give it new life.
John, what about "brightening" up the old interior by adding more glass?
"Sure, this can work in lots of ways. One is the installation of end wall windows as we did at River Farm but that's not for everyone and is somewhat site specific.
Adding windows or sliding barn doors with glazed walls behind them is another way.  Because barns were a farmer's industrial building it changed with the times and methods of farming.  Windows, sliding doors and additions were frequently added to modify farm structures to fit changing needs.  If [adding glass] is done in an architectural or historical way that continues the farm barn aesthetic, I think it should be acceptable.  But scale and size is important too.
"Another approach is possibly staining the old boards of the ceiling or walls with a semi-transparent stain. This provides some reflectance yet leaves the grain of the old wood in place. I'm against insulating a barn's walls or the underside of the roof with drywall or some reclaimed old barn boards.  The problem with that is you lose the appearance of the massive heavy timbers, the framework of the walls, the purlins, the joinery, etc.  There is a better way.  We use SIPS panels on the exterior walls and roof. These provide superior R value without destroying the rustic interior look.  On the exterior, SIPS panels are secured to the timber frame and supported by a galvanized base angle.  Once complete and detailed properly, the building can look exactly like the former barn.  It works!
"Of course, electric lighting works too.  Other than possibly hanging an ornamental fixture, I typically recommend carefully placing a spot or some sort of theatrical type lighting on top of beams in specific areas. This will create minimal visual obstruction but can be trained down to a particular area, upward to reflect light off a ceiling, or across the space to an opposite wall.  Where and how you run the electrical conduits and placement of junction boxes requires careful thought.  I recommend not leaving that decision up to the electrician whose aesthetic sensitivity may not agree with the design goals. The same is true of HVAC systems.  A lot of thought needs to go into the type and location of HVAC systems and how ventilation and air movement within a large space can be comfortably distributed."
Posted in
Equestrian News
,
News and Press
,
Sustainable Design
|
Tagged barn conversation, barn conversion, barn conversion architect, Blackburn Architects, Design, Equestrian Architect, equestrian architecture, equestrian design, Equine Architect, John Blackburn, Sustainable, turning old barn into a home
|
Leave a comment >
04.22.20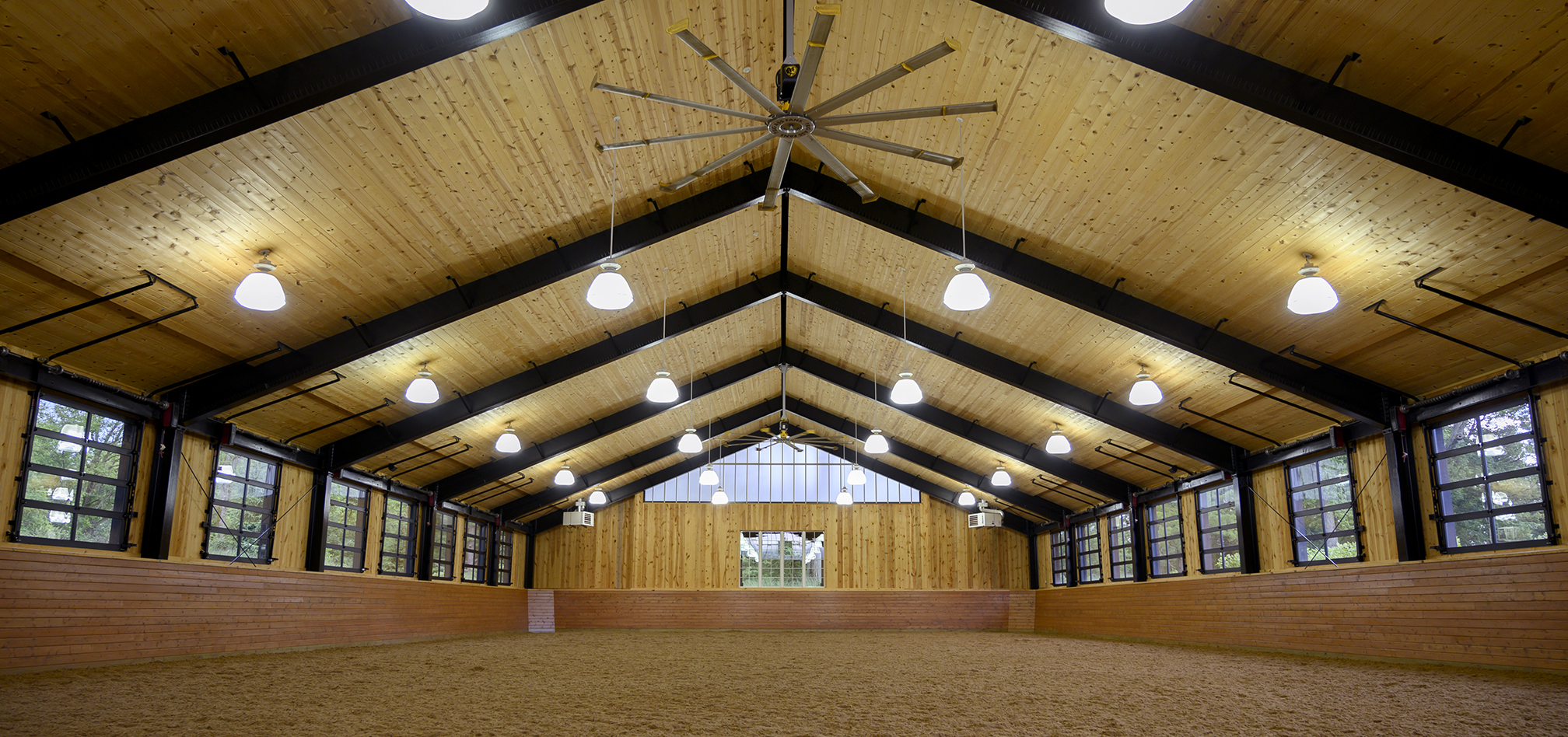 Curious about recommended roof pitches in a riding arena? Senior architects John Blackburn and Ian Kelly advise that "a 4:12 pitch is pretty much our recommended minimum on any horse structure.  We prefer steeper roofs for a natural chimney effect. However, unless you live in a cold climate where there is a lot of snow, we wouldn't advise going taller than 6:12."
The numbers indicating a 4:12 roof pitch mean the roof rises 4 inches in height for every 12 inches, as measured horizontally from the edge of the roof to the centerline.
Okay, so for barns our rule of thumb is as steep as you can make it. The steeper roof allows the Bernoulli principle and chimney effect to work more efficiently and effectively. But there are other considerations in designing the slope of a barn or arena roof.
For arenas, steeper the roof = the taller the building. This impacts the look or mass of the arena on the property which can be negative. It can stick out like a sore thumb or look like an airplane hangar in your backyard.
Because we depend less on natural ventilation in indoor arenas than in barns, we can get away with lower slope roofs. However, we don't recommend lower than 4:12 if at all possible. We realize some HOAs and neighborhoods have severe height restrictions and the wider the arena, the more difficult it is to comply without "flattening" the roof.  At Winter Farm in Peoa, Utah, we designed a low roof to stay within an imposed limit. In some areas, arenas may be considered agricultural buildings and therefore exempt from height limits. But that rule isn't consistent across state lines or jurisdictions. For example, in one jurisdiction we were permitted a covered arena as a "sun shelter" and avoided building height limitations entirely.
Because arena walls at the perimeter are usually 16' tall (need head clearance for horse and rider on interior below the structural frame), when the roof is a low slope, the roof becomes less visible as you get closer to the building and the building can look like a huge box.
You can make a huge box look great but that may require a lot more money and you typically want the arena to be in the background. The barn and the farm are the main focus and not that big ugly box on your farm.
One way we reduce the impact of the arena size is by pushing it into grade where we can, using the land contours and landscaping where possible, and placing it behind the barn and other structures to reduce the scale of the building.
Probably the best average height for a barn is 6:12 to 7:12. The reason is it is more difficult for a roofer to walk on a steeper roof without some sort of support. Thus the installation time increases dramatically as will the cost if it is built with a steeper roof.
One of the down sides for low slope roofs in snow climates is snow loading. A steeper slope can be designed to shed snow pack better than a low slope but the downside for that is the avalanche effect. When it melts it can fall fast, be loud and block doorways… a subject for another blog post!
Posted in
Equestrian News
,
News and Press
|
Tagged Architecture, Arena, Barn, barn architect, barn architecture, barn design, Barns, Blackburn Architects, Blackburn Architects barns, Design, design riding arena, Equestrian, Equestrian Architect, horse barn, Horses, riding arena, riding arena roof slope
|
Leave a comment >
01.09.19
Over the years, Blackburn has been asked what we think of adding stalls along the side of an indoor arena. Sounds like a good idea, right? Well, we strongly recommend against it. The problems are many.
1. Air Quality. Forced to breathe arena dust many hours of the day, stalled horses live in an environment that isn't healthy. We recommend instead that the stall portion of the stables be connected in a separate but attached structure running perpendicular to the barn. Not only does this arrangement help isolate the arena dust from the barn, it allows the barn to sit independently. The structure can then catch the prevailing breeze which permits two scientific principles (Bernoulli principle and the chimney effect) to provide natural ventilation and light to the barn.
2. Fire Safety. We always recommend fire separations by providing sliding doors to isolate the barn from the arena in case of fire. These doors may or may not be rated fire separations. The decision is usually driven by cost, and we often provide an automatic rolling fire rated shutter to isolate the two separate areas – this at least reduces the risk of smoke moving between structures. (Quite often it's the smoke that is more dangerous and faster moving than the actual fire.) The isolation by sliding doors also provides critical time to get horses out of barn. If the arena and barn share the same space, there is less opportunity to isolate fire or smoke from the stable area. Furthermore, when the stables are parallel and part of the arena, the structure is generally shared – raising the risk it could collapse and trap horses inside.
3. Cost, Scale and Building Height. When stalls are designed as part of an indoor arena, the design requires a wider structure (often steel due to the long spans) which is typically more expensive. When it's a separate but attached structure, it can be framed in wood with smaller spans reducing the cost of the framing. If the stalls are part of the indoor arena, then the building becomes wider which also means a corresponding height increase. In many areas, the local zoning codes restrict building heights. We have found typical restrictions of 35 feet. It's difficult to get any height in the barn or arena if you are trying to build a 100 x 200 ft arena with a row of stalls and aisle way. Also, from an aesthetic perspective, wider and taller building begin to get enormous and have the potential to look like an airplane hangar and overshadow the entire farm.
4. Storm Water Issues. Finally, if your property is not flat, such a structure with a large footprint may require significant grading that can be expensive and create storm water issues. By breaking the barn and arena into two connected structures you can more easily work it into the natural slope of the land. Also, the isolation of the barn and arena permits opportunities to push the arena into the ground – helping to reduce the scale and height of the arena above finish grade. The entry to an observation area can be elevated above the arena floor (but entry level still at grade) for more easily viewing over the kick wall from a sitting position.
Blackburn has designed many arenas with this perpendicular arrangement. Rocana Farm, designed by us in 2002, is a great example of what we mean. Stalls at this hunter/jumper facility are attached to the enclosed arena with an elevated observation room, tack room, wash and grooming stalls.
Posted in
Equestrian News
,
News and Press
|
Tagged Barn, barn architecture, barn design, Barns, blackburn, Blackburn Architects, Blackburn Architects barn design, Blackburn Architects barns, Design, Equestrian, Equestrian Architect, equestrian architecture, equestrian design, equestrian facility, Equine, Equine Architect, Horse, horse barn, Horse Barn Advice, horse barn design, Horse Barns, horse farm, horse racing, John Blackburn, Sustainable, Ventilation
|
Leave a comment >
06.04.13
After reading the article "Common Mistakes in Barn Door Design" included in a recent Lucas Equine's newsletter (a great source for helpful hints on stall and door design), I thought I would share a few of my own opinions about barn door design. Throughout my 30 years designing equestrian structures, I have developed my own personal preferences about door design and can also suggest a few tips.
One of my personal pet peeves is using glass in a door that will primarily rest against a wall when left open. This tends to be more of an issue in warmer climates, where aisle doors stay open for a good portion of the year. In this case, unless cleaned regularly, buildup of cobwebs, dirt, grass clippings, and other debris can collect behind the door. Because of the glass, there is the added issue of the paint or wall finish fading on the exterior. Although, dirt, snow, and other things tend to get trapped behind the door regardless, without the window this is not directly observable.
No matter what option you choose, your barn door will require maintenance to keep it in proper working order, as well as looking beautiful. This means regular cleaning to remove debris on either side of the door or in the track. By not cleaning them regularly, you run the risk of permanent damage to the finish or function of the door.
Keep in mind the location of your farm as you design your barn entrance. In areas with a lot of snow, snow hoods can be both convenient and essential. These slight protuberances over the door prevent snow from restricting the door's movement by covering the track and the ground around the door. In those rare cases when it is necessary to get in and out of the door quickly, this detail can be incredibly timesaving.
In my opinion, a pocket door system is a more aesthetically pleasing solution than either of these previous options. In this case, the door slides into a cavity in the wall, which reduces the possibility of build-up, but also allows the door to be out of the way when it is not in use. On occasion, under owner requests, budget restraints, or design issues, we opt away from the pocket door option. But it is a nice rule to follow when you can.
I always recommend against hinge doors whether they be the aisle door, outside stall door or interior stall door, as they can become dangerous if they swing shut or open unexpectedly. The inability to know if they are latched is another issue. When looking down an aisle, it is obvious which doors are open and unlatched and which are not. This is not the case with a hinged door, as it could be closed and unlatched. These doors, if unlatched, can easily be caught by the wind and could risk injury to the horse. Even if a sliding door is unlatched, you do not run this same risk. Sliding doors are also more practical when taking a horse in and out, as they can be left open when the horse is not in the stall. A hinged door has to be opened and closed when taking the horse out, and opened and closed when returning the horse. For all these reasons, I advocate against their use for these purposes.
Although barn doors may seem like a minor detail, they have a large impact on making an aesthetically pleasing entrance and provide a necessary and primary function for an equine structure.
07.15.11
Sometimes it's hard to believe that I've been practicing architecture for over 30 years. As a consequence of all that time, I've had the opportunity to design all types of facilities, from garages and additions to horse barns to new and renovated residences. Like many architects, I enjoy working with all types of clients and building types, as I'm always eager to confront a new design challenge. So I thought I'd share a residential project that follows the same ideals I always pursue: design that balances the demands of the site with the needs of the owner.
The Grant Residence and artist studio, located on a historic family estate in Ware Neck, Virginia, was designed to fit in the historic architectural context of the pre-Revolutionary War era property. The estate includes an original home, Lowland Cottage, which was built in 1670 and is listed as a registered historic landmark.
The original home, Lowland Cottage, remains on-site and is listed on the National Register of Historic Places. The new artist studio and main house, both designed by Blackburn Architects, were built around stringent wetland requirements, yet they still take advantage of the scenic panoramic river views on three sides of the site.
Both structures feature hardwood floors and French doors throughout, building on the historic context of the Lowland Cottage and other structures on the Ware Neck peninsula. French doors in the main residence lead out to a spacious screened porch with ceiling fans, accessible through the kitchen, living room, and dining room.
An 18' by 64' screened porch serves as a welcoming exterior room that stretches the full width of the west side of the house with 180-degree panoramic views of the beautiful sunsets across the Ware River. The room was designed to be usable in all seasons with passive solar heating in the winter, and cooling river breezes in the summer.
The second floor occupies space within the roof using a series of dormers and gables to provide head room for three bedrooms while the master bedroom is on the main floor. Built-in china cabinets enhance the contemporary design of the interior while modern lighting focuses attention on the highlights of each specific room. The lighting is adjustable for showcasing artwork, including that of the artist-owner.
The artist studio complements the cottage-style of the main residence and the original Lowland Cottage. Both buildings were designed to comply with the requirements of the Historic Review Commission.
[slideshow]
08.09.10
I'm excited to share today's blog entry about Blackburn Architects on DCmud.com contributed by Beth Herman. DCmud is a top blog in the world of architecture and design in Washington, D.C. and is presented by DCRealEstate.com. Hope you read the article and enjoy!

06.24.10
A former employee, who left the firm to earn his Masters in Architecture at the University of Virginia, has started a group called Re-Source 7 with his fellow students to offer design expertise for cheap to the lucky residents of Charlottesville. Some of the services provided by this talented bunch are web design, graphic design, 3-D rendering, and—of course—architectural design (which I'd highly recommend if you live in the C-ville area). For non-residents, however, check out the Design Stream section of the site for posts about tackling weekend renovation projects for your home and other design-related stories.
Their efforts take me back to my own graduate school days at Washington University in St. Louis, where a group of my friends and I started a Planning Design Collective to provide design services to people interested in quality design but couldn't necessarily afford it—young couples and families, mostly—and to low-income families to help them renovate their inner-city row houses into apartments. We must have completed somewhere around 10 projects, and it was a memorable experience.

06.07.10
On a recent trip to California, I had the pleasure of stopping by one of our project sites in Tuolumne County to check its construction progress. The contractor, Crocker Homes Inc., recently began the foundation work for a new residence at Seven Legends Ranch, which looks fantastic. What a view! When completed, the ranch's program will include a main residence, a six-stall barn, and a guesthouse, all of which will incorporate heavy timber and western red cedar siding. We're very excited to watch the progress continue and hope that the owners, at this same time next year, will enjoy their new home while relaxing in the Sierra Foothills and enjoying the breathtaking views of the snow-capped peaks of Yosemite National Park in the distance.

Posted in
Equestrian News
|
Tagged Architect, Barn, Blackburn Architects, California, Construction, Crocker Homes, Design, foundation, heavy timber, Inc., John Blackburn, ranch, ranch design, residence, residential design, site, Tuolumne County, western red cedar
|
Leave a comment >
04.20.10
OK, so I have to once again spread the word about Blackburn Greenbarns®, our pre-designed line of sustainable barns. We just issued a press release, which you can check out here. We are really excited to share these new barns with you in a "ready-to-construct" format. We really feel that all equestrians (and their horses too, of course) deserve to have sustainable barn options that are easy to modify, protect the health and safety of your horses, and are ready to construct quickly and efficiently (with the help of a licensed professional, of course).
We are sending out virtual invitations to all our friends, clients old and new, and family to take a look at our new website this Thursday when it will be complete. However, please feel free to visit the site before then at www.blackburngreenbarns.com. We hope you'll like it and we hope to hear from you if you have any feedback, questions, or interest.

04.14.10
Well, I finally decided to give Facebook a try. I'm not sure I can keep up with it, to be honest. But mainly I hope to get a nice "fan page" started for Blackburn Architects so that people who are interested in equestrian design—or just architecture and design in general—can meet, collaborate, and ask questions.
Do you think this has value? If so, I'd love to have you as a friend and a fan on Facebook.
John Blackburn | Create Your Badge