Sustainable Design
07.22.13
Since our previous post about Barn Doors was such a hit and we had some questions about stall door design, I am going to share some of my tips and opinions about stall doors today. At the end, you can look at photos of stall doors in some of the stables we have designed.
For basic stall design, I always advocate for the door to be placed in the middle of the stall front. This allows both corners to be open for hanging buckets or placing feed. It also creates less of a blind spot than if placed in the corner. In general, you want your stall door to slide to the left. If you have a horse in your right hand, this leaves your left hand free to open the door. Once in the stall, you are able to easily close the door with your free hand. This is just one example of efficient and safe design, as the handler does not have to change hands or be thrown off balance by moving doors.
When designing your own barn, owners must choose between swinging and sliding stall doors. I always recommend sliding stall doors, for both safety and efficiency. As mentioned briefly last time, swinging doors present safety concerns for two reasons. First, if left unlatched, wind can easily blow the door open and the action or resultant noise can spook and cause injury for the horse. Second, a sliding door enables you to leave the door open/closed and allows you to see immediately if the door is open from farther away. This also saves the time of opening and shutting the door every time the horse goes out. In a barn with many horses that are going in and out throughout the day, sliding is simply more efficient.
For latching, I always recommend pin latches. I have found these to be the best option, as they do not extrude from the stall door. Keep in mind if you use yoke gates, one needs to put the pin latch half way between the yoke gate and the floor at a minimum. Otherwise, you can have the issue of a clever horse letting itself out.
People have asked what material I advise for doors; in general, I recommend a steel frame door. If you want the look of wood, then you can insert a wood panel in a steel frame. I generally prefer doors to have an open top and bottom, as achieved by either bars or mesh. This enables both ventilation and visibility. Of course, there are advantages and disadvantages to both. Mesh, while stronger, can collect dust on the horizontal bars. (Make sure to always face the horizontal side of the mesh out, so smaller horses can't climb up it). On the other hand, vertical bars, if not placed with a 2 inch or less spacing, can allow horses to get their hooves stuck and injured. Some people also dislike the aesthetics of the bars. All in all, this is a personal preference. The choice can be all bars, all mesh, or a combination of both (which is usually mesh below for strength and bars above for visibility).  Incidentally, a bedding guard across the bottom of the stall door is a nice, simple feature that helps keep the bedding from falling through the lower panel of the door.
Many times, I recommend yoke gate doors, as this allows the horse to see its surroundings and communicate with fellow animals (especially if both side walls are solid). However, these types of gates are best if used with aisles that are 14' or wider. Otherwise, you get issues when some horses do not appreciate the 'communication' that is happening in front of their stall. Always buy some filler panels for the yoke gates, as not every horse can be social. In general, I would recommend having enough filler panels for half your total stalls. This way there are always some on hand.
The yoke gate also fulfills a utilitarian function.  In lieu of a hay access door or the action required to open the stall door to go into the stall, one can easily place a flake of hay in the stall, provided you feed hay from the floor. Yoke gates are very comforting to the owner as well.  We all know how nice it is to look down an aisle and see our horses looking out of their stall.  The same is true on exterior stall doors and/or windows.  However, yoke gates are not for everyone and in the end it's a matter of personal preference. I prefer the removable yolk gate panels, instead of the ones that hinge and hang down, because they leave the stall front cleaner and less cluttered. Also, there is less noise created when the door is opened and shut, or when an impatient horse decides to kick the door. There are other variations on the design of yoke gates that I will cover in perhaps another article later.
Finally, I always recommend Dutch doors to the outside. These are a major way to increase and control ventilation into your barn and take care of the health of your horse. The two leaves provide you options for full opening or half opening depending on the weather conditions. By opening the doors, you can reduce the ammonia gas and the odor that comes with it. The ventilation moves the gas up and out through vertical ventilation. At the same time, the sunlight that enters the stall is able to remove bacteria from the air and stall, while reducing the production of ammonia gas (which requires dark, damp locations).
I also advocate for a double door system, meaning you have the solid Dutch door on the outside with an interior door (a steel door of bars, mesh, or a combination of both). In this case, as it is being used mainly for emergency, the interior door can be either swinging or sliding. Swinging is good because nothing protrudes from the door (such as floor guides or rollers). However, it can be problematic if you are trying to release a frenzied horse as the door opens into the stall. Many of you have surely seen Dutch doors being used where the top is open and the bottom is left closed, with no second door in sight. This does not take full advantage of the door! Yes, some sort of webbing could be placed across the door, but that does not inhibit a very determined horse. This is why I advocate for double doors.
Now for some examples! Many of our projects have used Lucas Equine Stall Systems. They are well made and they can custom design the stall system to fit virtually any owner's needs or aesthetic desires. Keep scrolling down to see some pictures of stall doors in stables we have designed.
07.02.13
Attached are articles about something that we see all too often – another barn fire. I probably read somewhere between 10 and 20 articles every year about these tragedies. In virtually every one, there is no specific origin given for the fire or "it's under investigation." However, any person who has been around barns is aware of the probable answer. Usually, some electrical condition (light fixtures, heater, faulty fan, etc) ignites a flammable material such as hay, bedding, cobwebs, etc.
In the article about a tragic barn fire in Georgia that took the lives of 35 horses, it does not mention the origin of the fire but states, "The stable was filled with hay and wood chips for the horses' bedding…. And those running the stable kept fans blowing on the horses to keep them cool through the summer night."
Once again the issue comes down to ventilation, the use of fans, and the probable culprit of faulty wiring.
Please excuse me if I preach once again about the importance of "natural" ventilation, which in my opinion is the most critical aspect of barn design in relation to the health and safety of the animals.  "Natural" lighting is also important, but when designed effectively, both work together to ventilate the barn. I am not familiar with the barn that burned or the conditions that may have caused the fire, but the article states that the fans blowing in the barn increased the intensity of the fire.
For thirty years, we have designed barns that incorporate the chimney effect and the Bernoulli principle to ventilate barns naturally.  (Click here for explanation and to learn more).  Neither of these will eliminate the use of fans entirely in a barn, but they will greatly reduce the need for electric fans (and electric lights as well). Reducing the need, will reduce the use and consequently extend the life (they won't wear out as quickly) of the fans or lights. Ultimately, this will also reduce energy cost for the barn. Many farms use the cheap residential box fan for ventilation over extended periods of time.  Not only are they cheaply made (I have seen them selling for as little as $10), but they are not designed to withstand the environmental abuse they can receive in the barn. Dust, dirt, hay, and/or bedding particles can clog the fans, easily creating potential for fire. In addition, the humidity can cause the fans to rust and deteriorate more rapidly. The less fans, lights, and other mechanical systems are needed, the safer the farm will be.
Although, these methods do not eliminate the possibility of one of these horrific events, they decrease the likelihood. Something that will make most, if not all, horse owners' sleep a little more soundly at night. A well-designed barn needs to consider the heath and safety of the horse at every turn. Remember your barn does not have to cost you an arm and a leg, but neither should your barn cost you your horse.
Check out my new book, Healthy Stables by Design, at www.healthystablesbydesign.com. Not only does it discuss ventilation practices, but it will also feature other ways to make a stable safe and healthy for horses.
Attached Articles:
The Horse – www.thehorse.com/articles/32098/georgia-authorities-probe-deadly-saddlebred-barn-fire
Times Free Press – www.timesfreepress.com/news/2013/jun/23/stable-fire-shocks-neighbors/
06.18.13
Blackburn Architects was retained to adapt this building from its original use as a candy factory into a center for the arts. The primary design goal was to preserve the character of the building's exterior two-tone brickwork and interior heavy-timber wood columns and beams while maximizing space for the new arts uses. The first floor contains an open gallery for exhibitions and demonstration activities. Second floor classrooms provide space for arts education. A 175-seat performance space on the third floor accommodates repertory and community theater productions, and the basement contains space for production and storage of theatrical props and scenery.
Client City of Manassas
Program adaption of a historic structure into an arts center
Completion 2002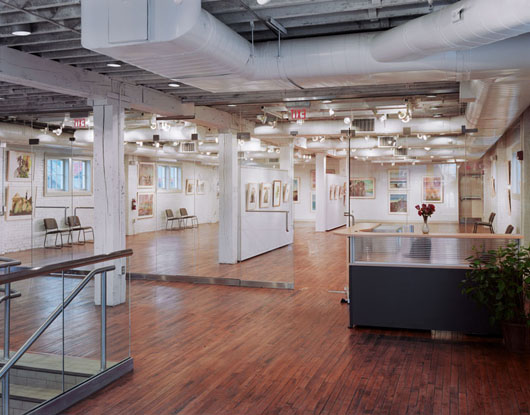 06.14.13
This summer, Equestrian Quarterly has published an article discussing the elements of well-designed barns. The article features several equestrian architects, including John Blackburn. Check out the article to hear John's thoughts on what make a well-planned facility, as well as to see a few photos from our assorted projects. There is even mention of John's new book, Healthy Stables by Design, that will be coming out this fall.
Click here to access the article "Let There Be Light".
05.02.13
On Saturday April 27th, Ian Kelly and I attended the Grand Opening of the Woodstock Equestrian Park in Beallsville, MD. Ian was the project manager for Blackburn Architects who was the lead designer for the renovated facility.  It was a fantastic day with perfect weather for the event.  The ceremonies included the dedication of the recently completed outdoor riding ring, beginner novice cross country course, and the stabilization and restoration of the historic Brewer Farm.
Blackburn Architects helped design the layout of the park and directed the restoration of the four historic structures. The Grand Opening event included a ribbon cutting ceremony, jumping demonstration by Bascule Farm, a polo match featuring the Capitol Polo Club, a demonstration of the new cross country course by the Seneca Valley Pony Club, and a presentation of the Maryland Horse Industry Board's April Touch of Class award to Tracey Morgan.  I've posted some photos below of the highlights from the event.
For additional information please see:
http://montgomeryplanningboard.org/blog-news/2013/04/17/join-montgomery-parks-for-equestrian-demonstrations-in-the-new-arena-and-cross-country-course-at-woodstock-equestrian-park/
Facebook links of participants:
04.13.12
I'll admit to a senior moment, perhaps, as it just dawned on me that I failed to update the blog with final photos of our conversion of an old barn in Ohio into a guesthouse/party barn. My project manager and I enjoyed working with Ed Wurm at Classic Homes and all those involved with this conversion of a German-style barn, which involved stabilizing the dilapidated structure and picking it up (literally) to move to a different location on the site. And that was just getting started. You can view photos of the evolution of the project here, here, here, and here, but suffice it to say, it was a major transformation.
Along with the clients, our goal was to salvage the beauty of the barn and retain its character and charm. We reused lumber where possible and play with a mix of traditional details and modern amenities. And I have to say, I imagine there's nothing more cozy than gathering around the huge fireplace, flickering with orange and red, with a drink in hand and a backdrop of the night sky. That might be a moment even an old guy like me couldn't forget.
02.29.12
I'm excited to share photos of the progress at Starbright Farm in Grass Valley, California because it's one of our first Greenbarns to enter the construction phase. Greenbarns is a line of pre-designed barns that my firm offers as an alternative to full-scale custom design.
How It Works: We can customize the Greenbarn model of your choice (there's four to choose from) as we've done for this client, but the Greenbarns method reduces the overall architectural design fees because we're not starting from scratch. You simply choose a Greenbarns model (this project uses The Hickory design), and either build it as specified, or ask us to make a few changes to make it your own.
I like to think of a Greenbarn as a leaner and greener version of a Blackburn custom horse barn in that we offer a package of top-quality materials and finishes, replete with Lucas Equine stall systems and value engineered, eco-friendly materials. In other words, a high quality, durable, and well designed barn with the details you need. Full disclosure: Greenbarns aren't really more green than our custom designs, because we prioritize natural lighting and ventilation in all we do, but leaner and greener sure is fun to say.
At Starbright Farm (tentative name – always a tough decision for the owners to settle on the best farm name!), the owners decided to combine two Greenbarns Hickory models. The first barn is under construction, with the second to occur during a later phase. The plan calls for the two barns, which each house five stalls along with wash/groom stalls and tack/office space, to be arranged around a courtyard with views to the west and surrounding paddocks. There's also two run-in sheds (almost complete) and a composting system designed by the team at O2 Compost. The owners and their daughters plan to use the stables and their new 100×200 outdoor arena for both pleasure riding and hunter/jumper training with the local pony club.
I look forward to seeing this project in its completion and hope it will be a big hit with the local pony club and, of course, the owners and their family.
01.10.12
Hello, all! I'm thinking about writing up a few posts about common questions/concerns/etc. from clients (or those debating whether to hire an architect) that I frequently encounter when designing equestrian facilities. I'd like to welcome any and all questions, from the general —How does the architectural process work? –to the specific– Should I build a concrete block barn or a wood frame?
With that being said, if you ever are boggled by bad stable design or poorly planned layouts, I'd be interested in your thoughts as to why the design did not work and how it might be improved. I often find myself critiquing other designs — and I'm not just talking about the aesthetics, but how function and operation so often fall apart due to a poorly conceptualized site plan or design. Not to mention the details overlooked that could be hazardous to your horse and you. But I guess that's another topic for another day.
I hope to hear from you soon as your comments and ideas really help drive the content of this blog. Incidentally, we're 10 days into the new year and it's practically 60 degrees Fahrenheit in DC — kind of bizarre and I'm wondering if this mild winter will bring an earlier-than-usual construction season? Well, an architect can hope!
11.30.11
They're rustic, lofty, and awe-inspiring. Supported by a sturdy skeleton of timber and a base of stone nestled into the land, its appeal is seemingly timeless. The structure effortlessly fits into its landscape, whether in Pennsylvania, Ohio, or across the ocean in the United Kingdom. The bank barn. A simple beauty of which I can't get enough. (Not to mention dairy barns, vaulted barrel barns, Dutch barns, prairie barns….)
Maybe it's the news I seek, but I feel as if there's an influx of articles and project profiles about converting old barns into residences, guest houses, schools, theatres — even a basketball court/recreational wonderland. Bring it on, I say. Converting an old building to a new use never gets old to an architect like me.
There's even a How to Guide (aptly titled, How to Take One Old Barn and Call it Home) from the team who can seemingly fix anything and everything: the experts at This Old House. Converting an old barn into a new home isn't a task for the faint of heart, but big things can yield even bigger rewards, I like to think. The article touches on common issues you'll face: structural (is it safe? how's the foundation?), is it energy-efficient (you can bet it's not — yet!) and water sealed (again — no way, no how), the pluses and minuses of such a large, open space, and more.
At Blackburn, we're working to revive a metal pole barn currently used as a recreational lodge in North Carolina. While the barn isn't centuries old, like many of the bank barns I admire, it's an interesting challenge for my staff and me. The owner would like to expand the barn's use so that it may host business events and entertainment functions. Our goal is to respect the barn's form and the local context, while providing a renewed aesthetic and use. Design plans include replacing the metal cladding with a painted wood or composite siding to provide a more traditional look. We'll also incorporate more natural light into the barn through an enclosed glass entrance, which will in turn make the space feel more inviting. The floor will be lowered to increase the space's capacity and the hayloft area will become a conference center for up to 80 people. Heavy timber framing with steel plate connections will add to the rustic yet finished interior.
I'll post updates about the project as the work progresses. In the meantime, how about some inspiration for your own conversion project? Here's just a sample of what I've found lately. If you stumble upon a great adaptive reuse project (whether it's a barn, an old warehouse, a church), I hope you'll share it here. I can't seem to get enough.
New York Times: The Call of Converted Barns 
New York Times: An Upstate Farm Brings a Fashion Photographer Back to His Roots 
Inhabitat: Beautiful Bank Barn Conversion (OK, a shameless plug for a Blackburn project)
Martha Stewart: Rustic and Refined Barn 
Martha Stewart: Summer Guesthouse 
Posted in
Equestrian News
,
Sustainable Design
|
Tagged Adaptive Reuse, Bank Barn, barn architecture, barn conversions, barn reuse, Barns, blackburn, conversion, old barn, Party Barn, This Old House
|
1 comment >
03.16.11
We've started a Facebook page for Blackburn Architects, which is a one-stop shop for all of our equestrian news, events, and projects. Please visit us and feel free to post questions about your next architecture project, equestrian design, party barn conversions… we'll do our best to answer any and all!